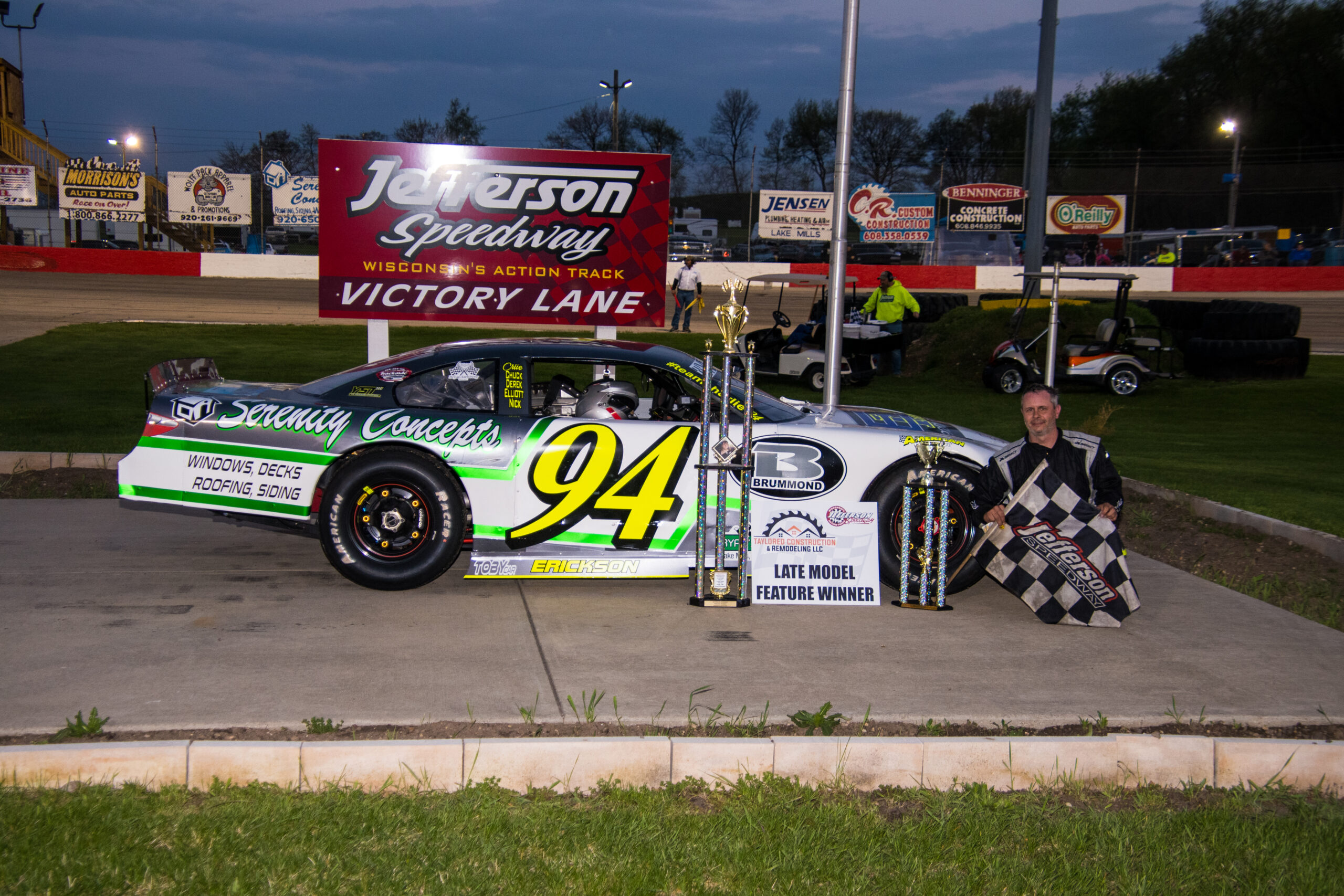 JASON ERICKSON CLAIMS SEASON OPENER RED LINE BBQ & CATERING 50
JEFFERSON SPEEDWAY RACE REPORT
Written by : Terry Tucker
FROM MAY 6, 2023
JASON ERICKSON CAPTURES RED LINE BAR-BE-CUE 50
Jason Erickson, Jefferson, came from deep in the field and bested a strong field of seasoned
veterans and talented rookies to take the Red Line Bar-Be-Cue 50 lap Late Model feature last
Saturday night at Jefferson Speedway. Erickson started in the 6th row and systematical worked through traffic to take the lead late in the race.
A pair of rookies to the Late Model division, Karter Stark, Waterloo and Shane Radtke Jr. ,
Johnson Creek led the 18 car field to the green flag. After a two lap spirited battle, Radtke took thelead while numerous battles raged through-out the rest of the field. Stark and another rookie in theLate Model division, Tyler Deporter sparred for the next couple of laps until Deporter moved intosecond place. Deporter closed on Radtke and the two rookies began a duel of wills. The battle forthe lead was interrupted on lap 12 by the race's first caution.With the restart, Radtke and Deporter raced side by side for the next couple of laps before Radtke
regained sole possession of first place. The race was about to get much more difficult for the lead
pair as a two past champions were closing in. Shaun Scheel, Lake Mills, and Erickson had battled
through the pack and were now in the top five. Both Erickson and Scheel worked their way past
Don Gaserude, Fort Atkinson, Chris Chenowith, Watertown, and Kyle Smith, Lake Mills.
Scheel and Erickson passed Deporter and took over second and third. Two laps later the second
and final caution of the event occurred. Radtke and Erickson lined up two abreast with Scheel and Deporter side by side in the second row. Everyone in the crowd new it was GO TIME.
Two past champions and two rookies led the field to the green. People expected carnage! It did not happen! Radtke and Erickson raced side by side for the next couple laps until Erickson gained the lead. Deporter followed Erickson around Radtke. Scheel and Radtke battled for the next two laps before Scheel moved into third place. As the laps wound down, Erickson cruised to a hard fought win with Deporter holding off Scheel for second. Scheel was third, Radtke fourth, Dylan Schuyler, fifth.
This was the first time in the 70 year history of the Jefferson Speedway that two rookies, Tyler
Deporter, and Shane Radtke, in their first race in a Late Model finished in the top 5. A Historic
event.
Mark English, Edgerton won the International Class feature event after a spirited battle with Jason Uttech, Watertown, Blake Nottestad, Cambridge, and Weston Strese, Jefferson.
Robbie Rucks, Deerfield won the Hobby Stock feature, passing defending champion Jim Tate Jr.,
Doylestown with seven laps remaining. Jimmie Robinson, Beloit finished second followed by
Matthew Tomah Jefferson, third, Bud Riedner, Waunakee, fourth, and Charles Vian, Waterloo.
Jordan Lamb, Fort Atkinson came from the back of the pack to win the Bandit feature event.
Gavin Smothers, Watertown was second, Tommy Bleeker, Watertown Third, Trent Rueth, Johnson Creek, Fourth and Zack Barnes, Sullivan fifth.
Jayden Johnson, Ixonia won the Bandolero feature methodically working his way through the 16
car feature field. The event went caution free with Bentley Thompson, West Salem, second and
Kaden Wangsness, Jefferson third, Easton Riedner, Waunakee, Fourth and Riley Smith, lake Mills,Fifth.
Last chance event were taken by Tyler Peterson, Lake Geneva, Late Model. Jon Benninger, Deforest, Hobby Stock. Austin Barns, Sullivan, International Class. Teegan Wangsness, Jefferson. Ransom Tate, Doylestown, and Wesley Baumeister won Bandolero consolation events.
Fast Qualifiers were: Jason Erickson, Late Model, 14.063 Weston Strese, International 15.357
Matthew Thoma, Hobby Stock 14.405 Jordan lamb, Bandit 14.013 Jayden Johnson, Bandolero
16.590
Racing continues next Saturday night as the Jefferson Speedway presents the Legacy Auto Sales 50 lap Model Feature plus a full program of Sportsman, International, Legend, and Bandoleros.
Photo Credit : Jeremy Libick Racing Photography