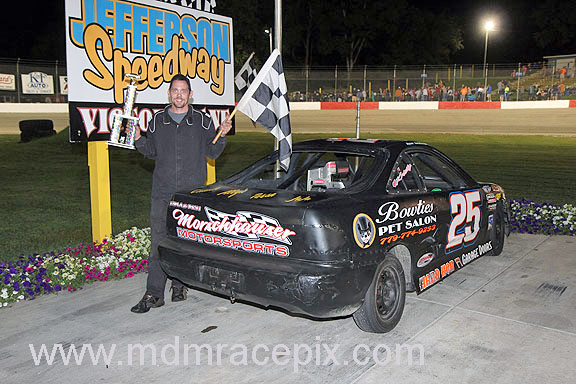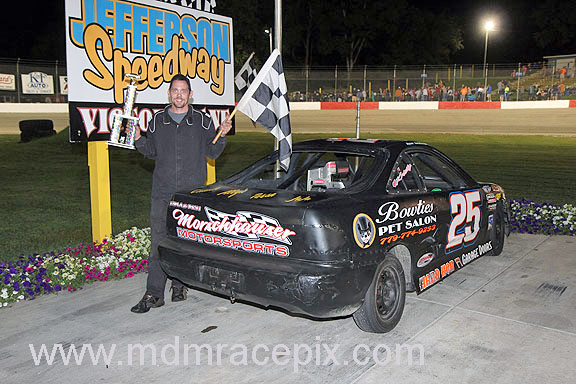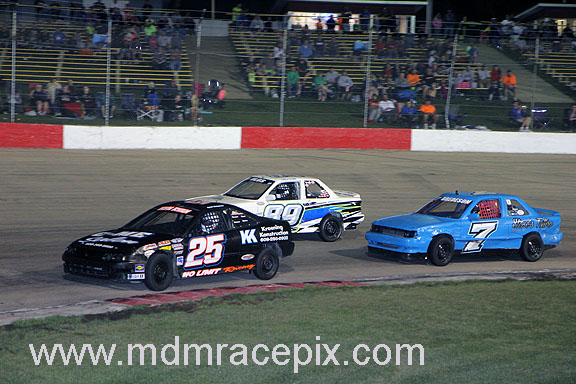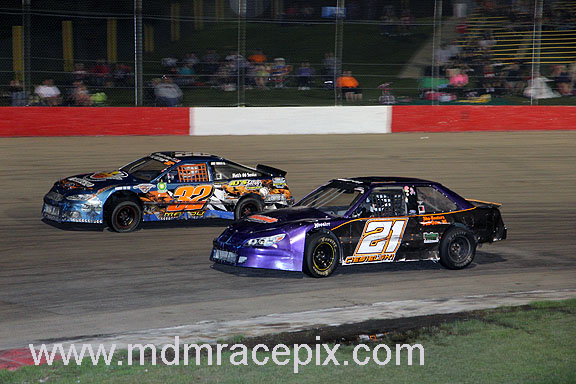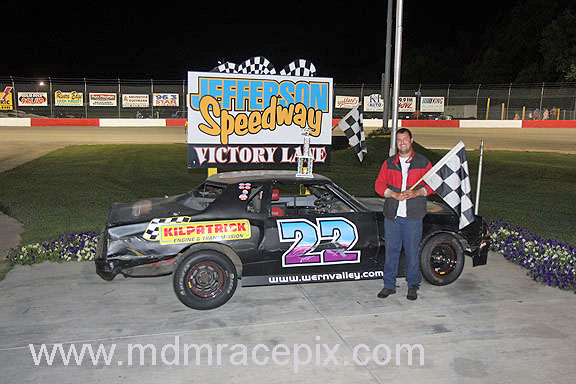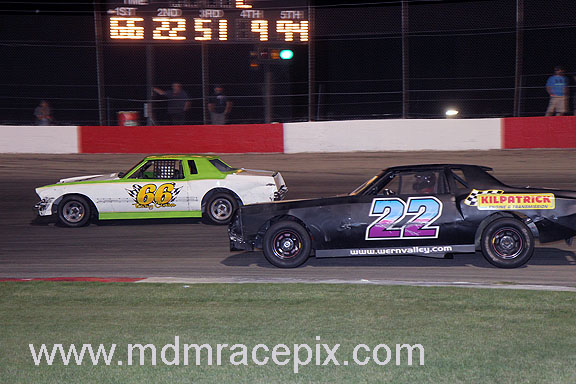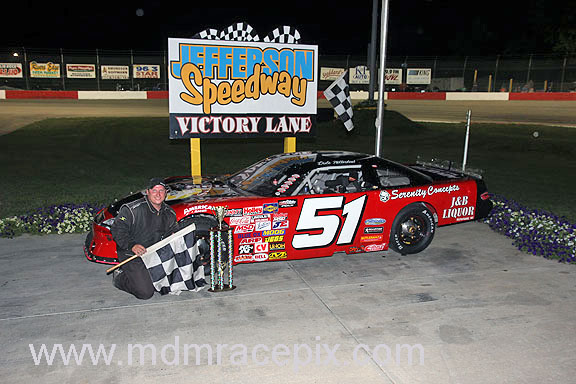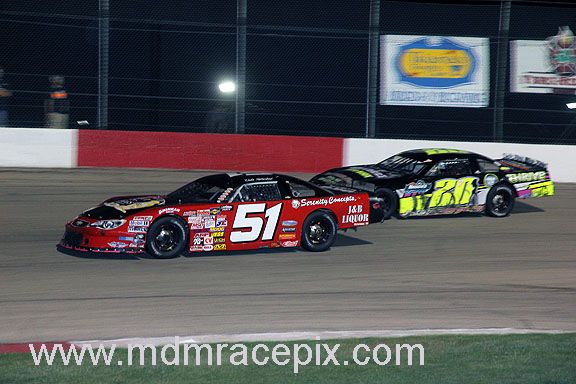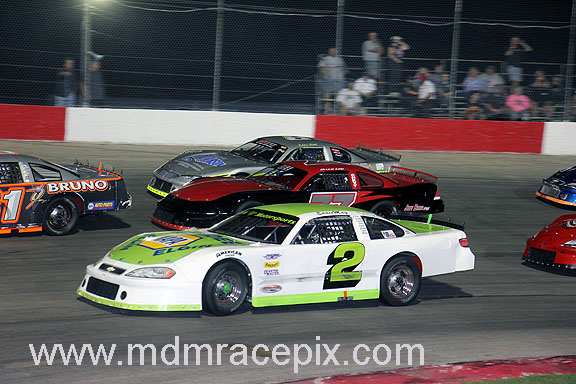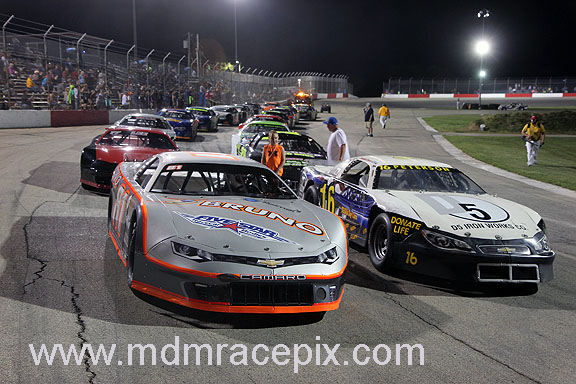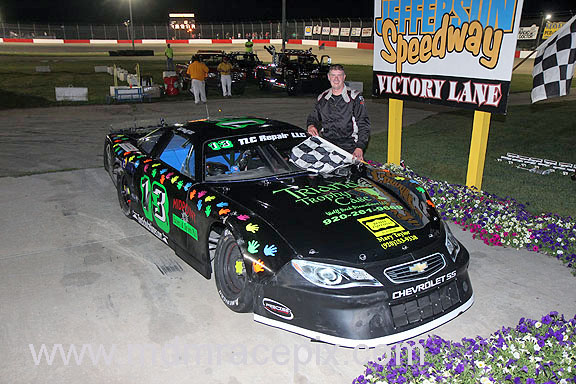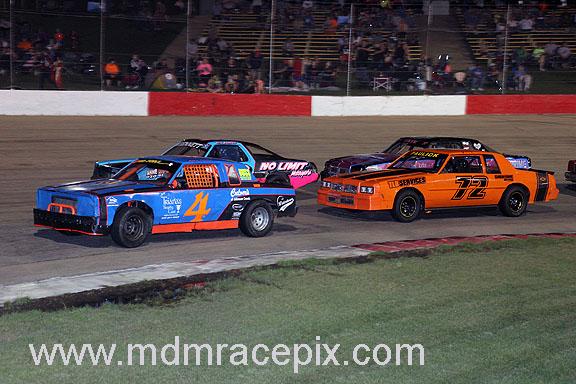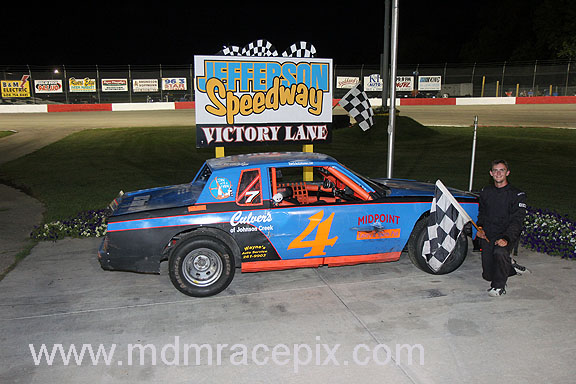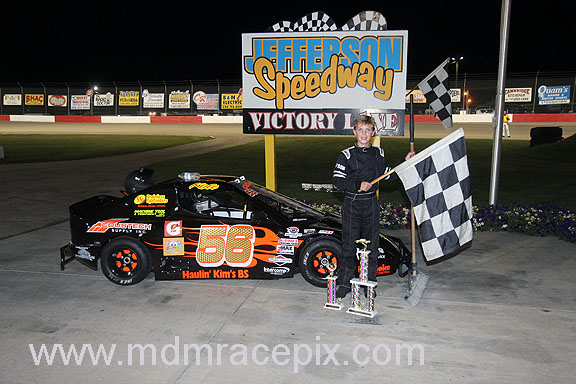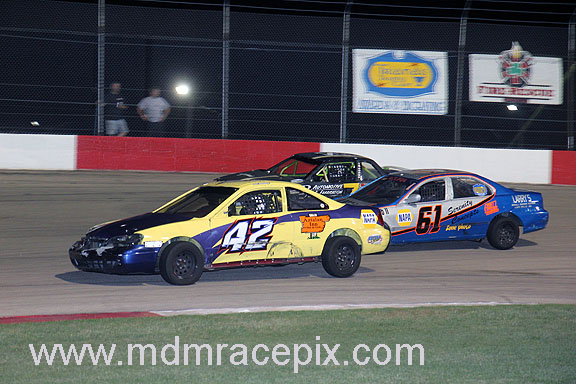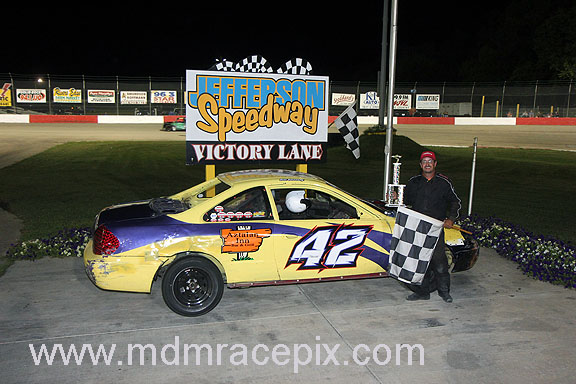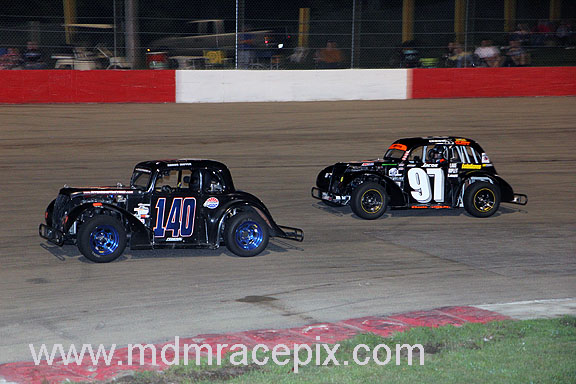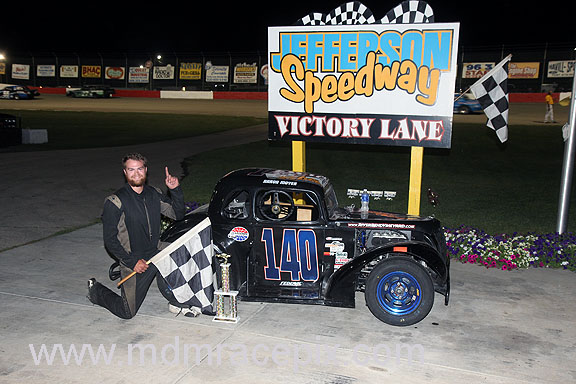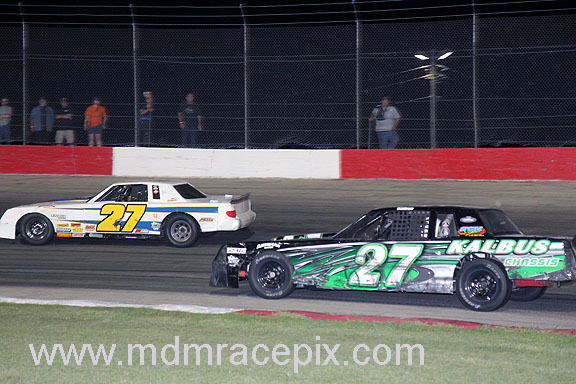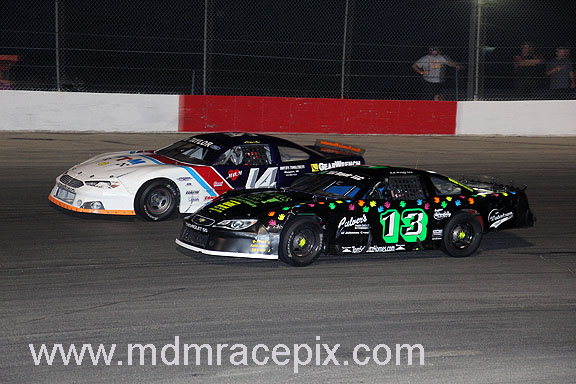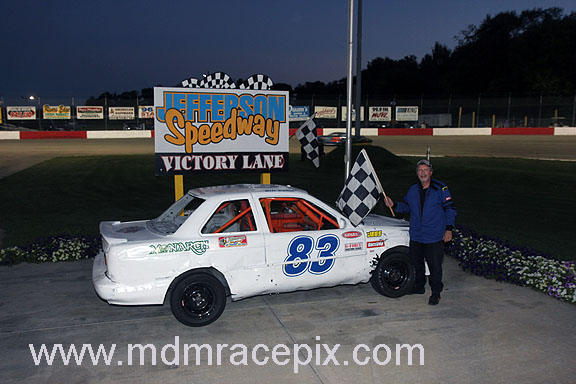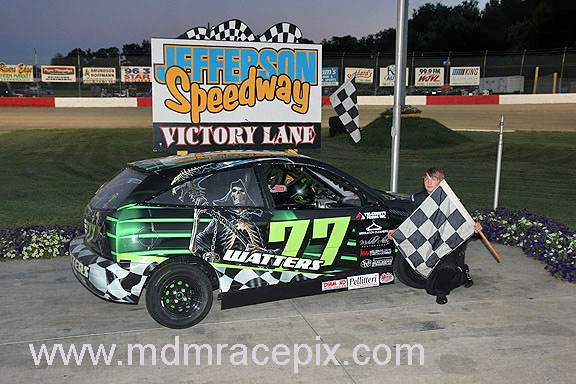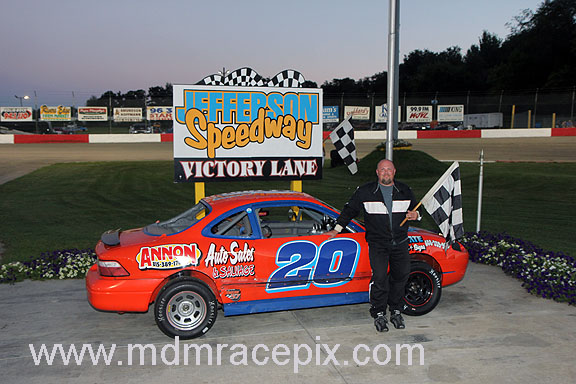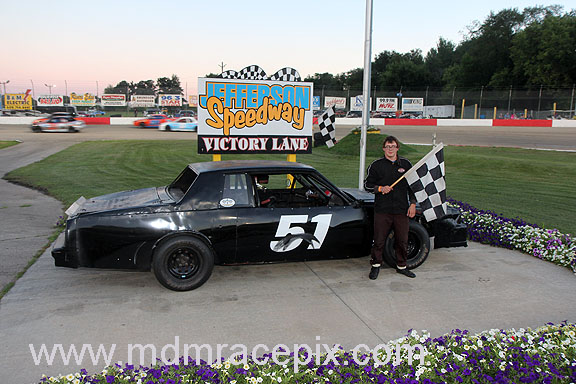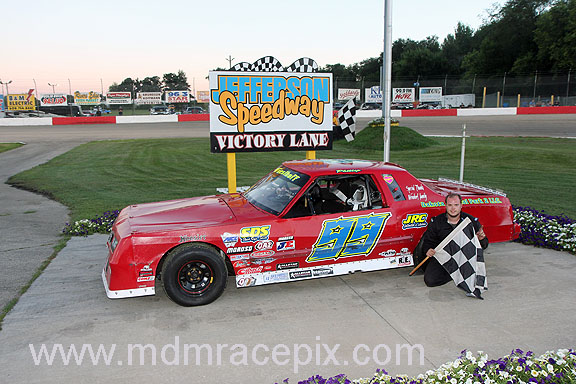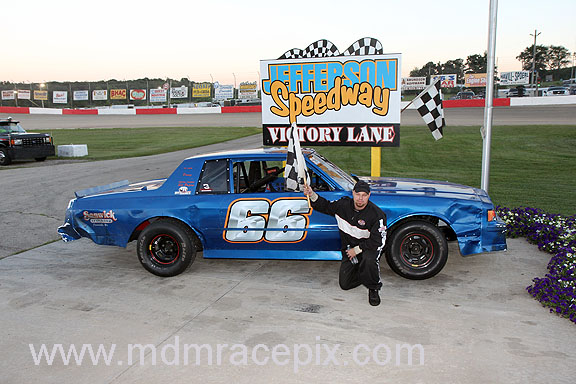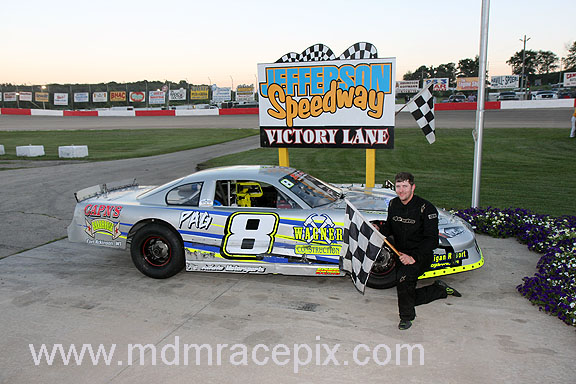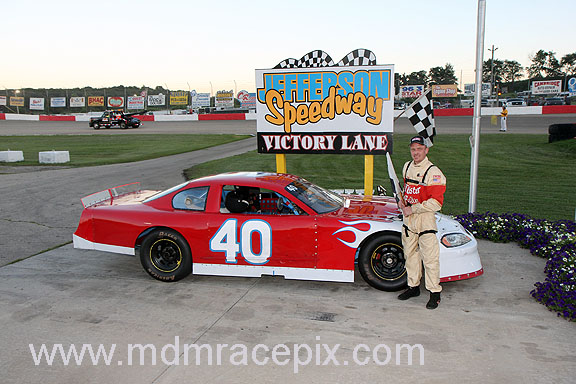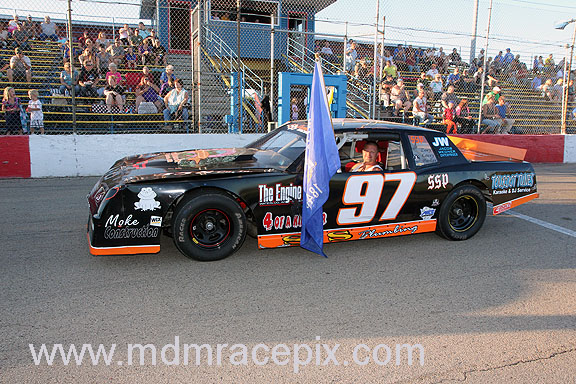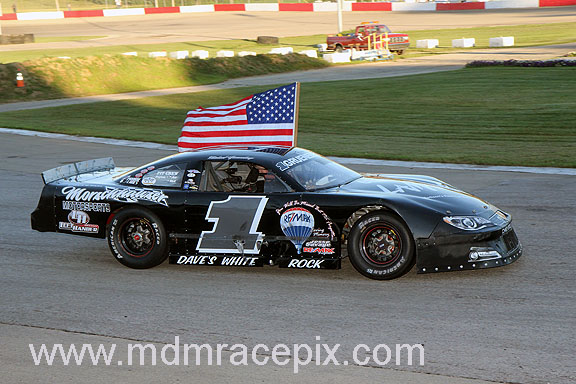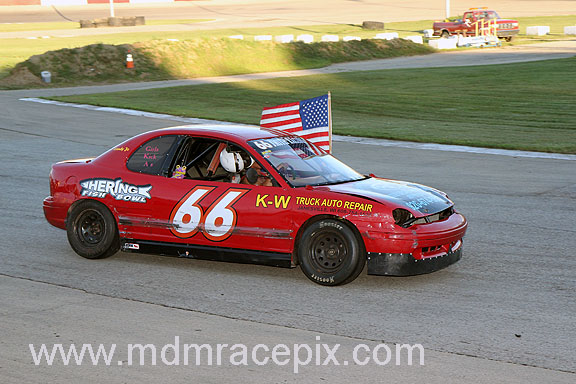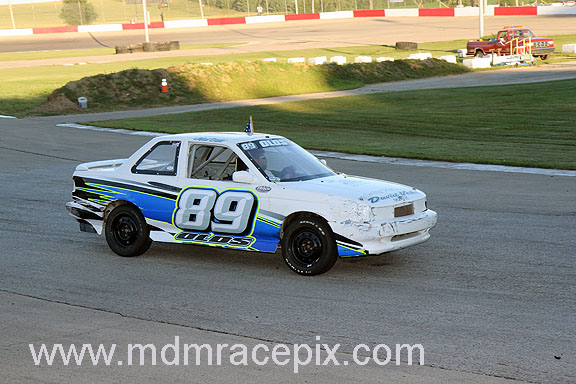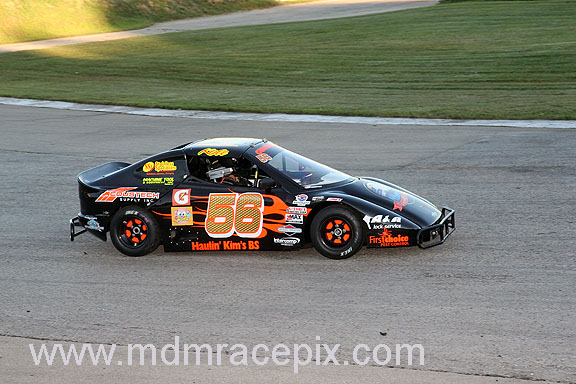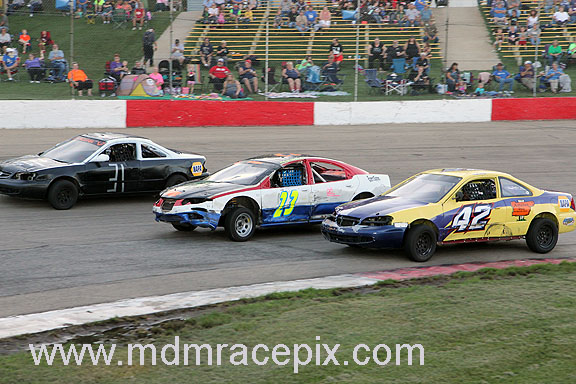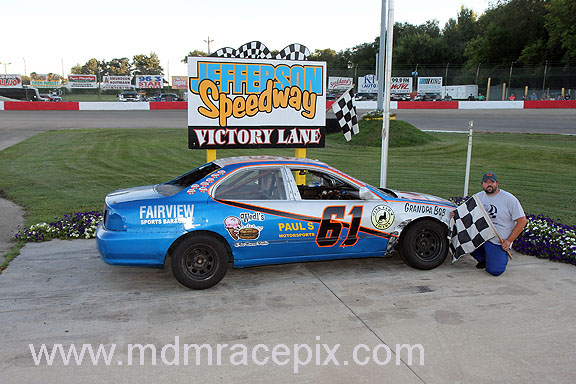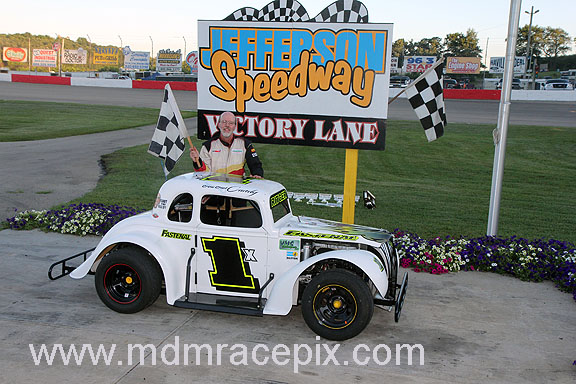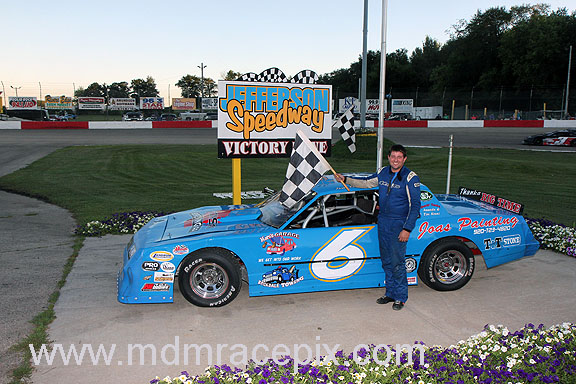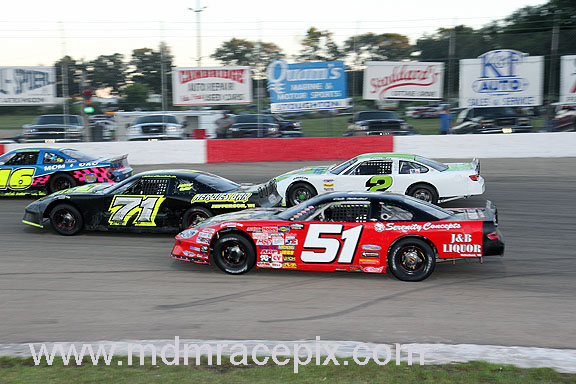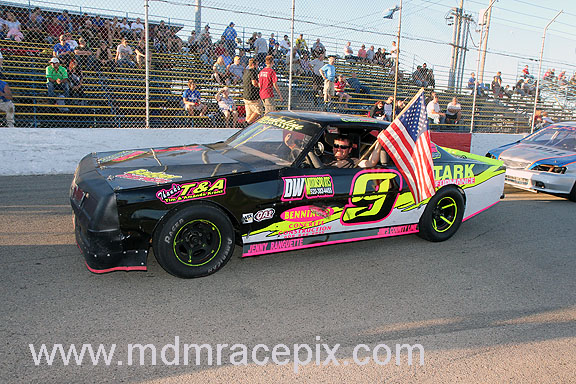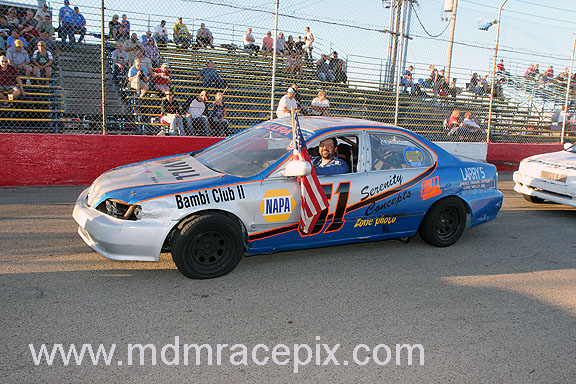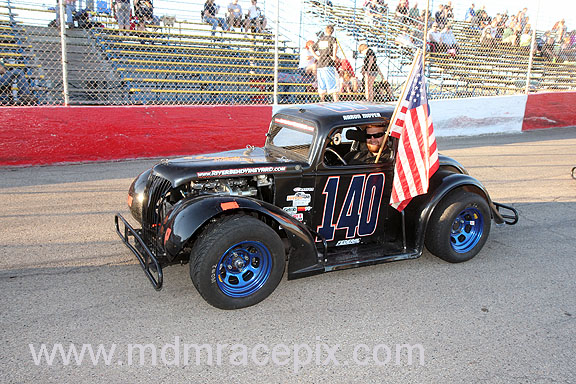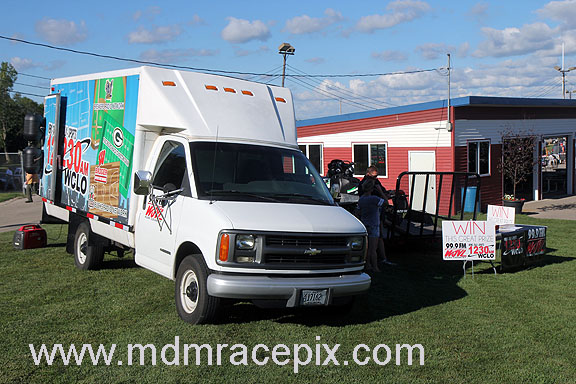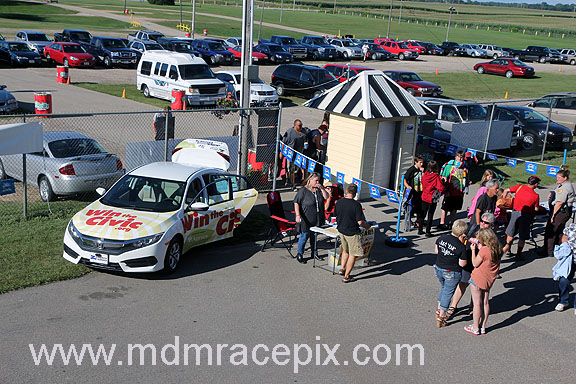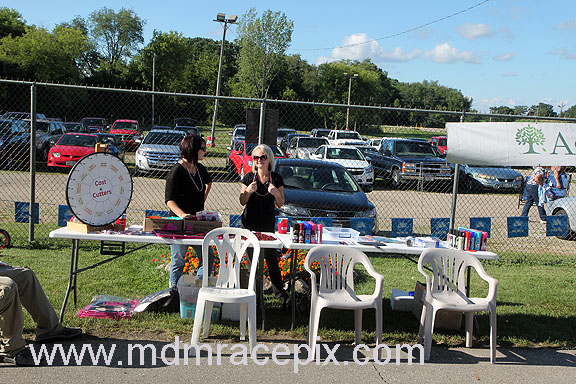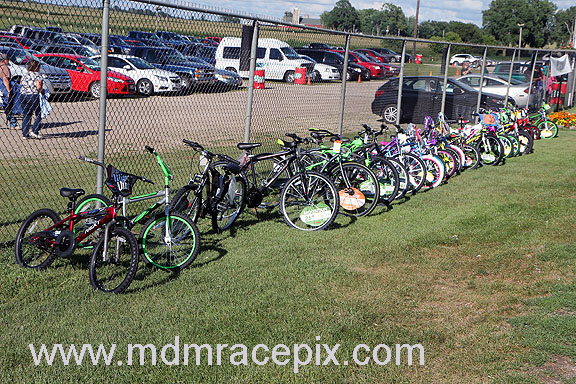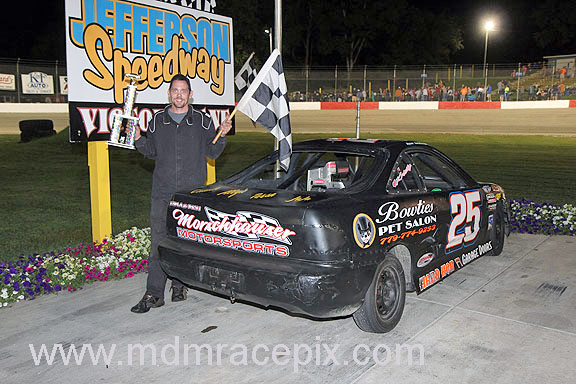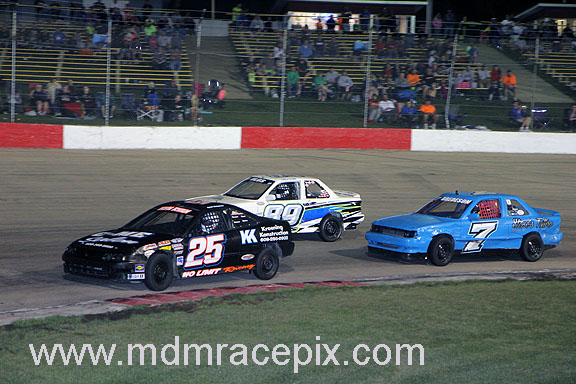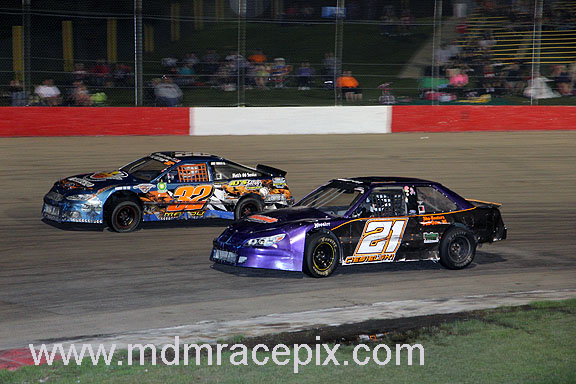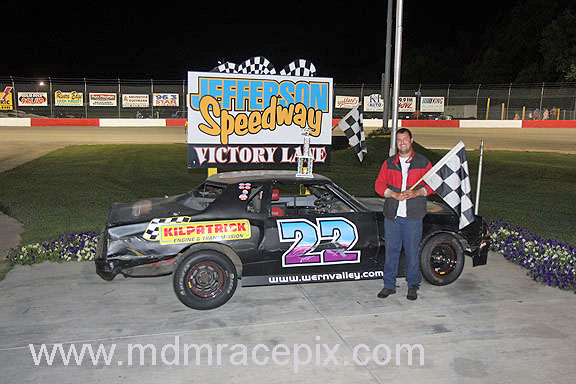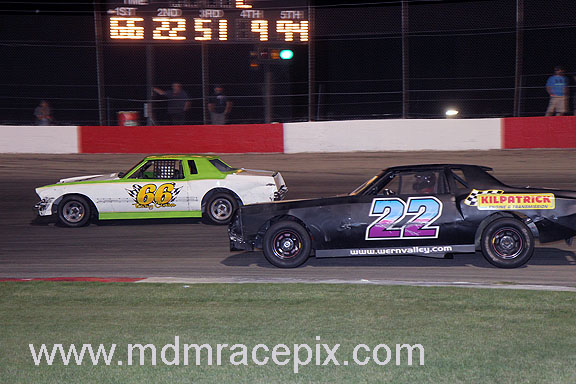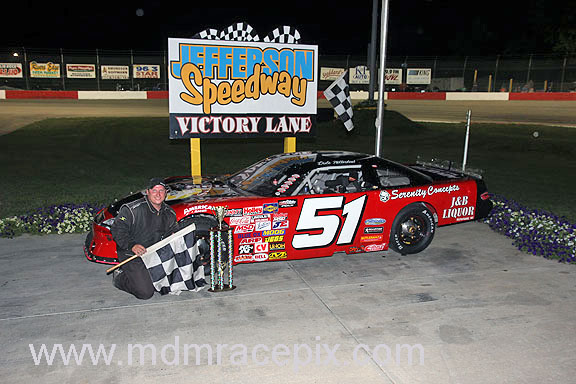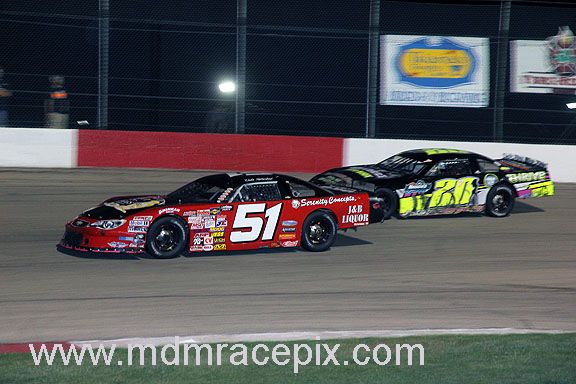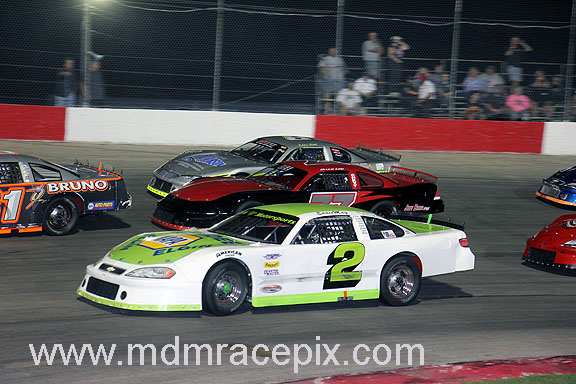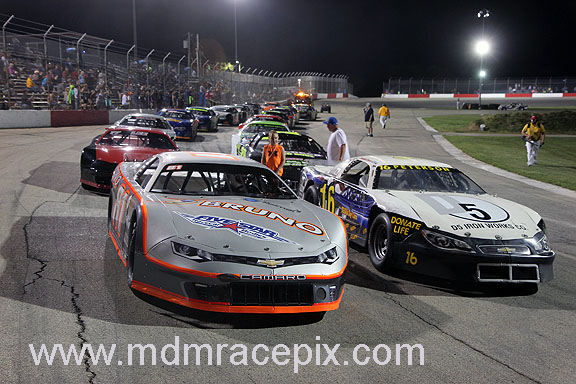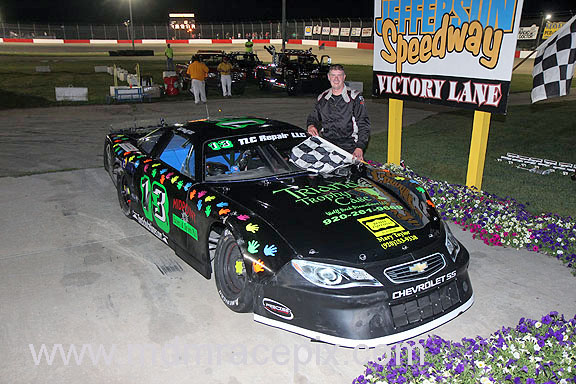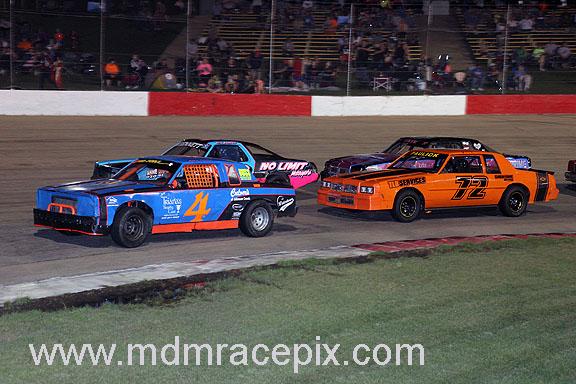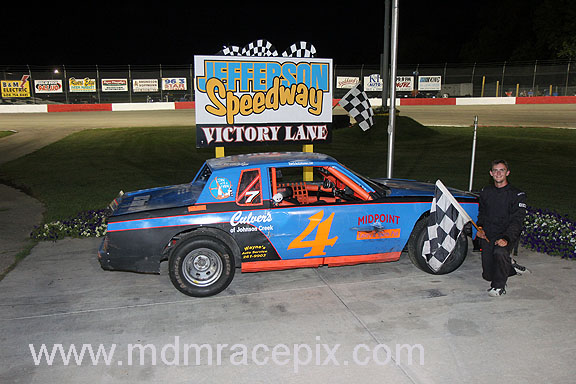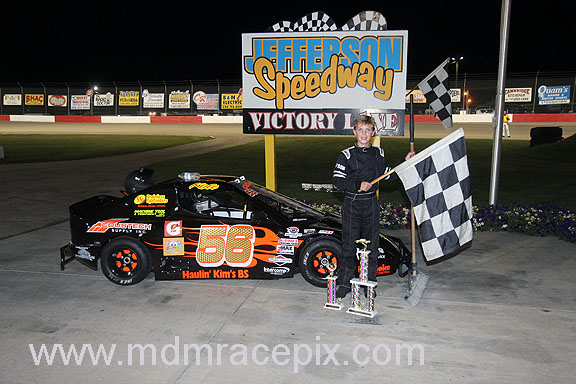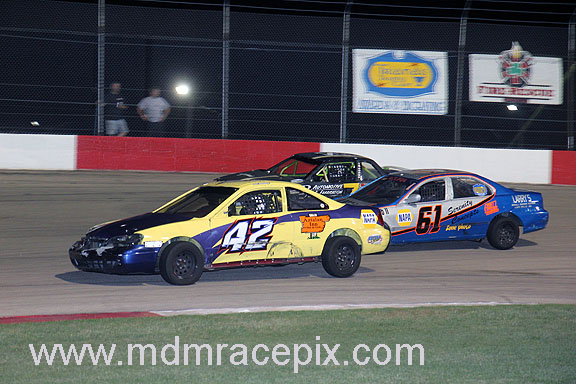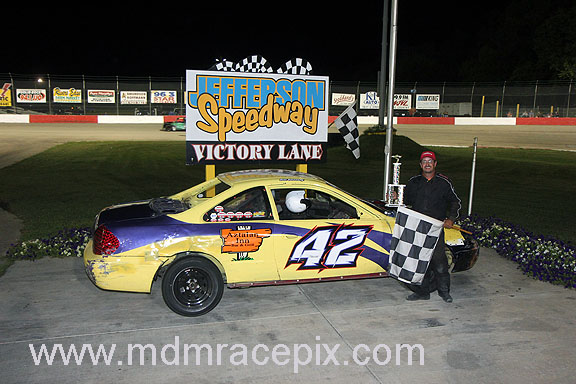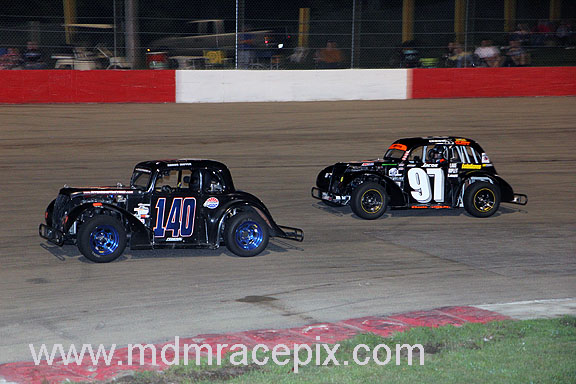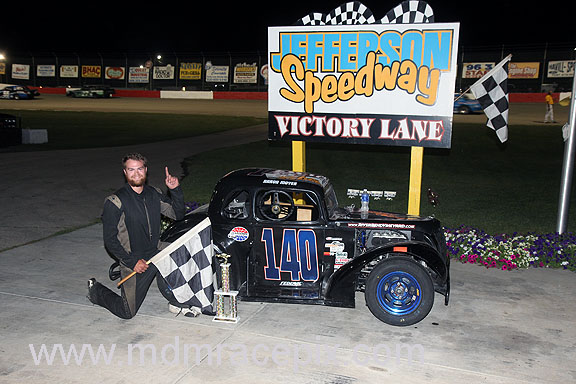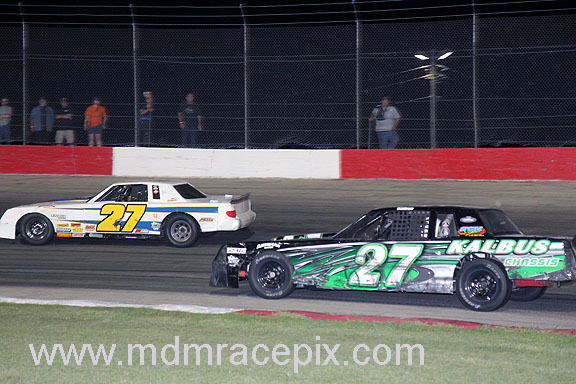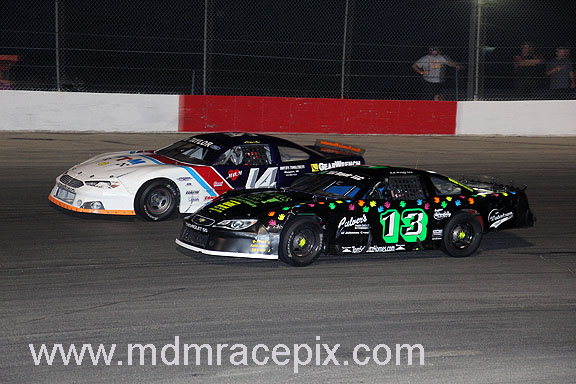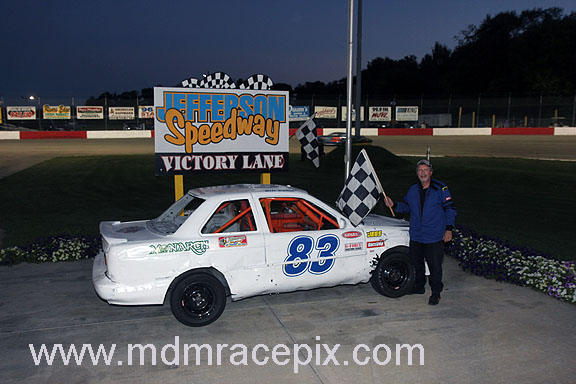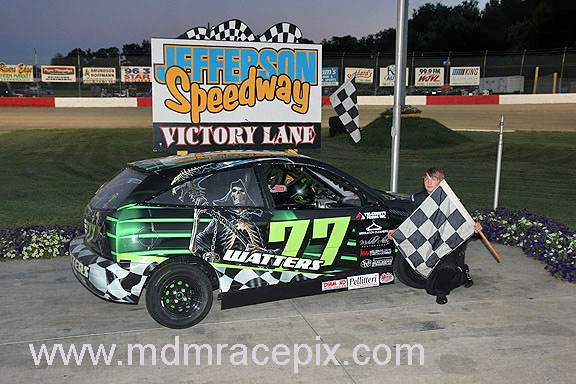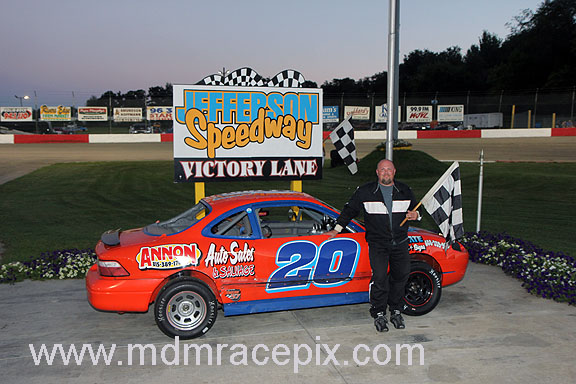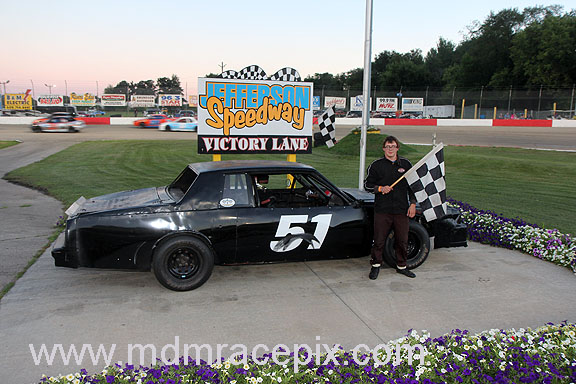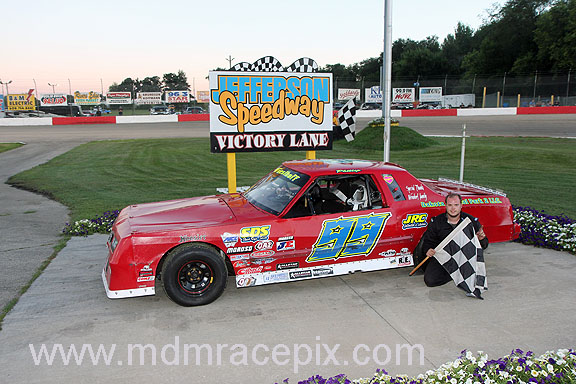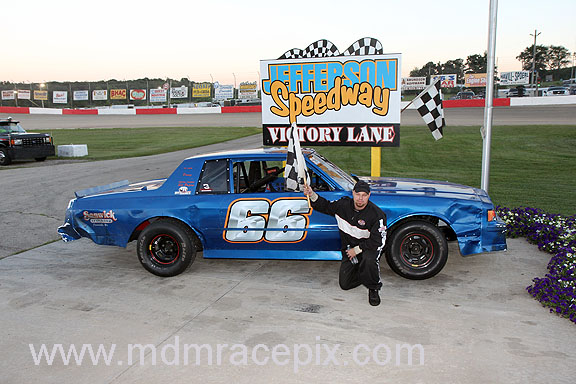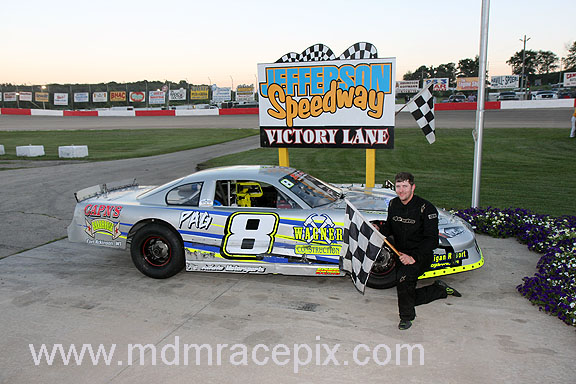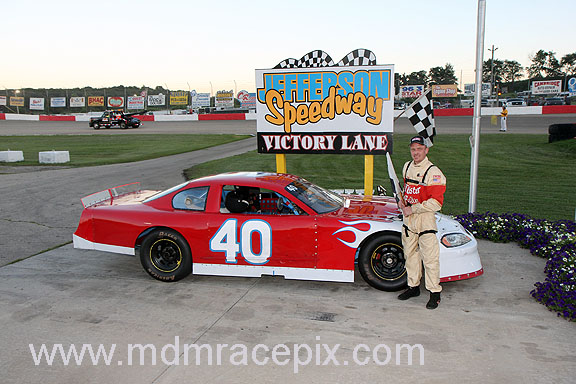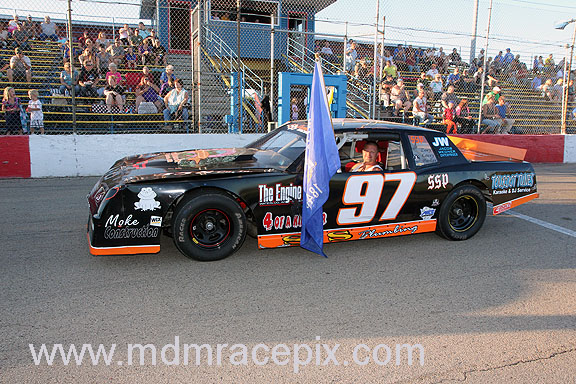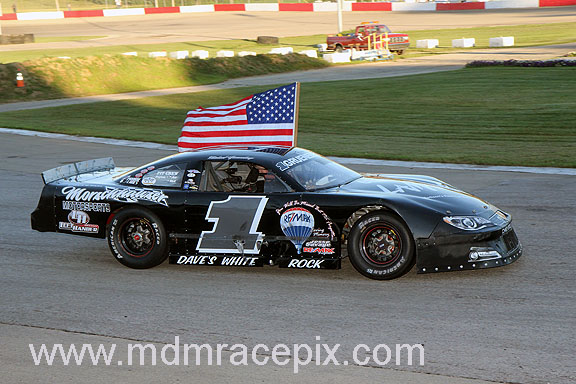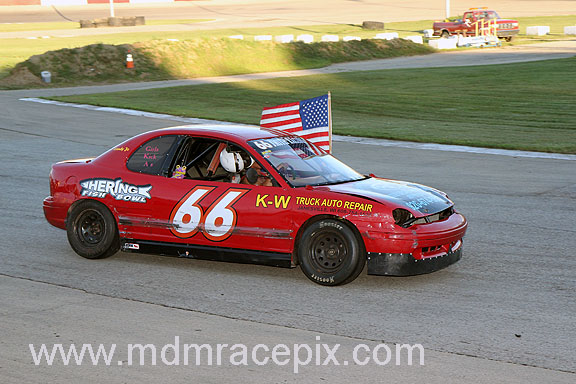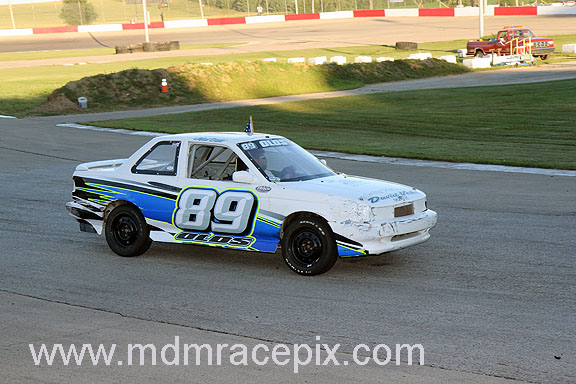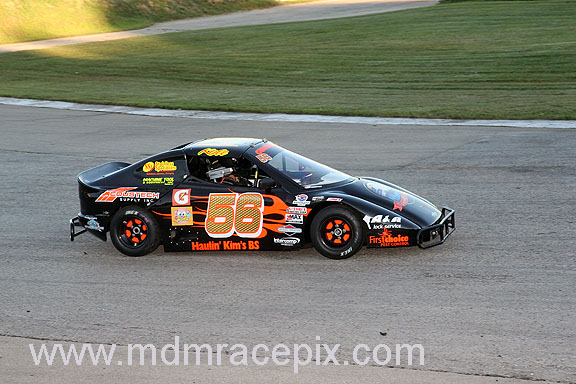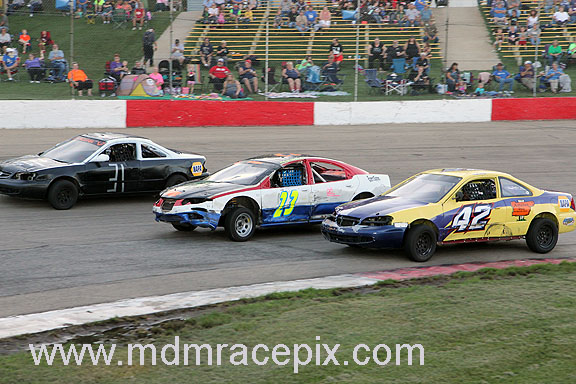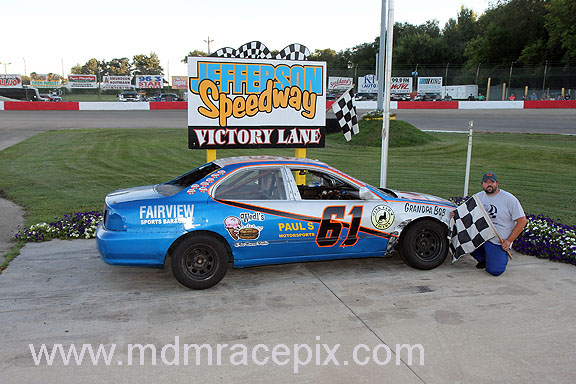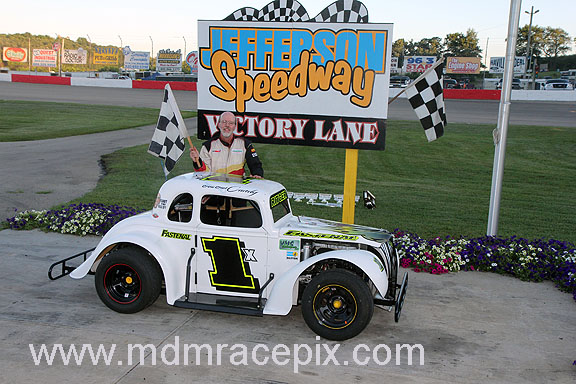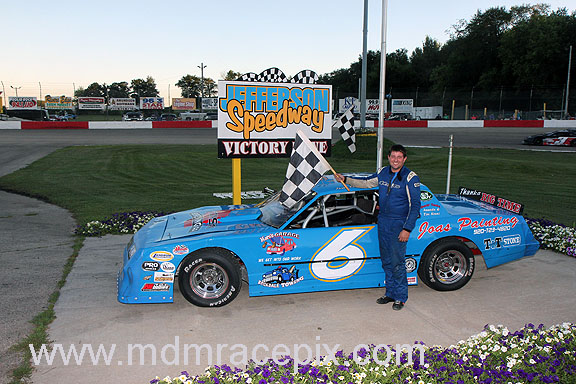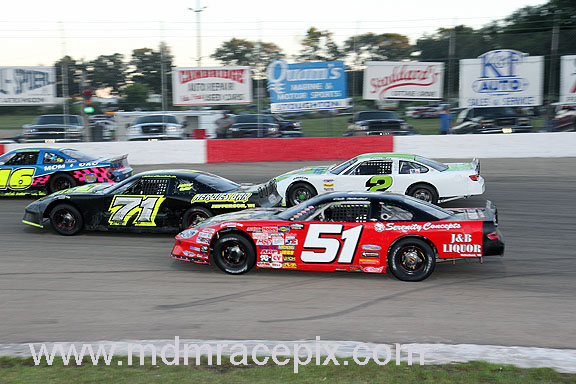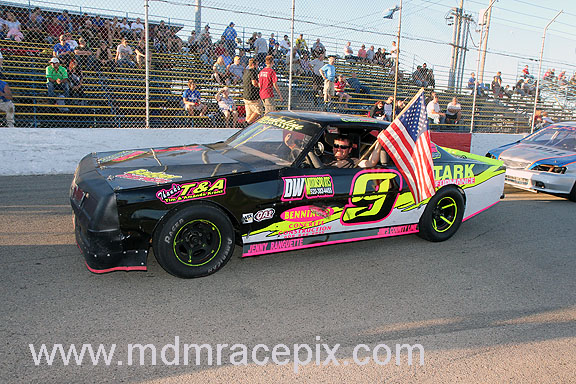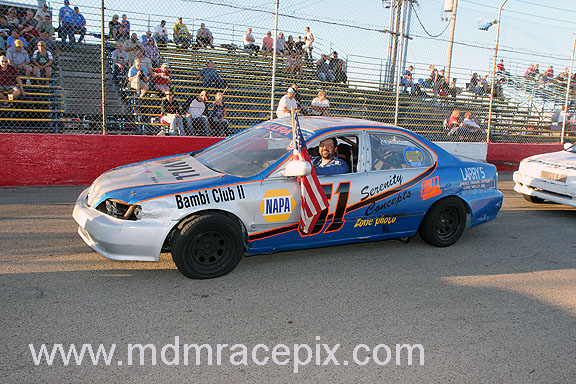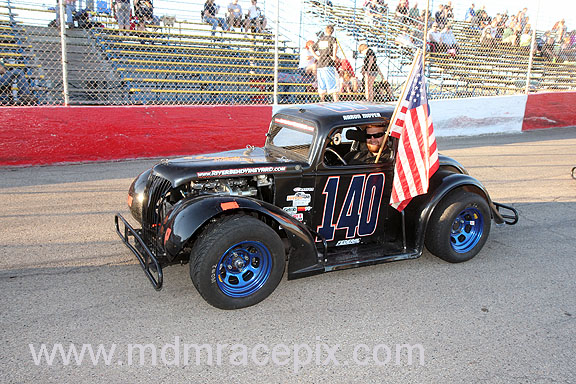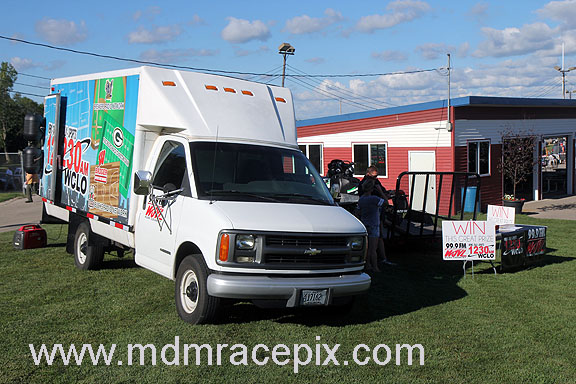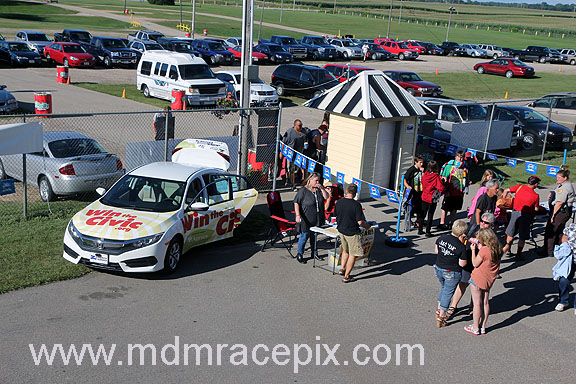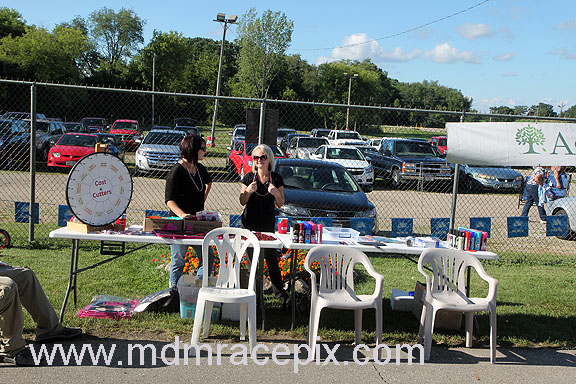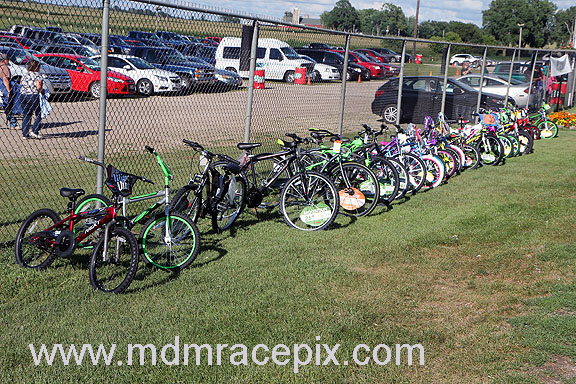 Cost Cutters Night Belongs to Nottestad
JEFFERSON, WI (Saturday, August 13, 2016)           Late Model point leader, Dale Nottestad of Cambridge, extended his advantage in the standings on Saturday night at Jefferson Speedway. Nottestad picked up feature win number four on the season after winning the Cost Cutters 50 lap main event. With only four point nights left in the 2016 racing season, Nottestad holds a commanding lead atop the standings.
Tyler Peterson and Don Gaserude led the field of 18 pilots to the drop of the green with Peterson taking the initial lead as they raced into turn three on the opening lap. Kody Hubred slipped under Peterson on lap two as they raced side by side for control. Hubred moved into possession of the top spot on lap four while Peterson dropped back to battle Eddie May for second. May claimed the position on lap eight with Stephen Scheel and Shaun Scheel following into third and fourth respectively. By lap 10, Nottestad was shadowing Peterson just outside the top five. Nottestad moved past Peterson on lap 13, and Shaun Scheel on lap 16. Nottestad dove under Stephen Scheel, looking for third on lap 20. Nottestad just completed the pass for third when the sole caution of the race slowed the pace at the halfway point. Once racing resumed, Nottestad quickly went to work on May for the second spot. Nottestad got a good run under May on lap 31, claiming second for himself one lap later. Nottestad closed in on Hubred at the point, catching him on lap 36. Using the inside groove, Nottestad made the pass for the lead on lap 37 and immediately pulled out to a healthy advantage. From there, Nottestad cruised to the checkers to score the win. Hubred finished second followed by May, Stephen Scheel and Shaun Scheel.
After a late caution closed the field up for the final four laps, Jay Kalbus of Watertown picked up the win in the 30 lap Sportsman feature event. Jim Taylor took the early lead from the front row with Jim Tate Jr up to second. Tate drove under Taylor on lap four with Tony Ciano watching from third. Tate moved out front on lap seven just before a caution slowed the action. As racing resumed, Ciano drove around Taylor for second with Kalbus following into third. Ciano began to pressure Tate at the front of the field until the second of three yellow flags waved on lap 17. Kalbus went to work on Ciano once the green returned while Tate continued to show the way out front. Kalbus got by Ciano just as the final caution waved on lap 26, setting up a four lap shootout to the finish. Once racing resumed, Kalbus began to search for a lane around Tate as the laps ticked away. Kalbus got a run on the low side with two laps remaining. The duo raced door to door with Kalbus inching forward. Kalbus cleared for the lead with one lap to go, holding the lead to cross under the checkers first. Tate settled for second with Ciano, Robert Hansberry Jr and Bobby Selsing rounding out the top five.
Phil Malouf of Manitowish Waters was awarded the victory in the 15 lap International feature event. Adam Schook led early with Malouf up to second and Scott Ciesielski in third. On lap four, Malouf motored past Schook with Ciesielski in tow for second. Ciesielski began to search for an opening around Malouf. On lap 12, Ciesielski got under the leader, drawing even as they raced into turn one. A lap later, Ciesielski was out front as he crossed the stripe first. Following post-race inspection, Ciesielski was forced to vacate his finish, handing the win to Malouf. Neil Higgins was second followed by Noah Pankow, Jason Uttech and Schook.
Chester Williams of Waukesha used a late race pass to score the win in the 25 lap Hobby Stock main event. Jim Robinson and Dan Snyder opened the action on row one as they battled for control. The pair of drivers raced door to door for the opening ten circuits with neither driver willing to give an inch. Robinson inched forward until he was in sole possession of the top spot on lap ten. Snyder fell in line behind for second with Jon Benninger a distant third. Chuck Egli and Williams moved past Benninger on lap 13. Two laps later, Williams got by Egli for third with Dustin Ward in his tracks for fourth. Williams began to run down the two leaders as the laps wound down. Williams caught Snyder for second on lap 20, taking the spot with Ward still in tow. Williams closed up behind Robinson with only two laps remaining. On the final circuit, Williams got under Robinson as they raced down the back stretch. Williams got good momentum off turn four and held it to the line to claim the win. Robinson was forced to settle for second followed by Ward, Snyder and Kenny Storkson.
Aztalan's Bill Sweeney edged Chris Gottschalk to win the 15 lap Road Warrior feature. Rodger Stephenson led lap one from the pole with Sweeney already up to second. Sweeney got by Stephenson on lap three with Gottschalk on his rear bumper for second. On lap five, Gottschalk drew even with Sweeney as they pair of drivers raced for control. Lap after lap, they battled side by side. Sweeney held a slight advantage as they crossed the stripe to begin the final lap. Sweeney maintained the edge as they flew past the checkers. Gottschalk finished second with Bill Reynolds, Kenny Storkson and Bryan Gottschalk completing the top five.
Ryan Ostenson of Beloit hung on to win the 15 lap Bandit feature event. After a caution on lap one, Ostenson split the front row of Jared Pinnow and Kevin Lentz as he rocketed into the lead. Jeremy Bredeson followed into second with Chad Olds up to third. Olds drove to the high side of Bredeson, claiming the second spot on lap eight. Olds continued forward in the outside lane, trying to get by Ostenson on the point. Olds drew even with five laps to go, but began to fade two laps later. Ostenson returned to the lead as Olds faded back to third. At the checkers, it was Ostenson for the win followed by Bredeson, Olds, Tyler Deporter and Bill Kohn.
Aaron Moyer of Allenton captured the 25 lap Legends feature event on the evening. Tony Moyer led lap one with Jacob Nottestad and Aaron Moyer already slicing their way towards the front of the field. Nottestad found himself in third on lap three with Aaron Moyer in his tracks. Frank Buetel drove to the outside of Tony Moyer on lap four, looking to lead. But Nottestad split the two cars and motored out front with Aaron Moyer right behind for second. The top two began to breakaway as Nottestad lead Aaron Moyer around the speedway. On lap 14, slight contact between the two drivers resulted in Nottestad floating a little high off the exit of turn four. Moyer pounced on the opening, taking over the lead with ten laps to go. Nottestad stayed close behind, waiting for an opportunity to get the top spot back. On the final circuit, lapped traffic forced Moyer to check up slightly allowing Nottestad to get under the leader. But Moyer hung on to cross the stripe first with Nottestad coming home second. Riley Stenjem finished third followed by Blaise Watters and Ryan Weyer.
Kolton Guralski of Wausau picked up the clean sweep in the Bandolero division after winning the 15 lap feature event. Karter Stark took the early lead on lap one with Jevin Guralski up to second and Kolton in third. Jevin got by Stark on lap two with Kolton in tow, looking for second. Contact between Stark and Kolton Guralski resulted in Guralski spinning in turn two. Anna Malouf slipped past both for second with Jevin Guralski still out front. A caution appeared on lap nine when Malouf spun in turn four. Jevin restarted as the leader with Kolton right behind in second and Stark in third. As racing resumed, Kolton began to apply heavy pressure to Jevin. On the final lap, Kolton got a run under Jevin exiting turn two. Kolton held the advantage as they crossed under the checkers to pick up the win. Jevin Guralski was second followed by Stark, Malouf and Robbie Rucks.
Next Saturday, August 20, is the finale of the Badgerland Challenge Series. The final leg of the three race event for Late Models and Sportsmen between Jefferson Speedway, Slinger Speedway and Madison International Speedway takes place along with the other four regular divisions of racing. Time trials begin at 5pm with racing at 7pm. Jefferson Speedway is located halfway between Jefferson and Cambridge on Hwy 18. Please visit www.jeffersonspeedway.com for more information.
JEFFERSON SPEEDWAY RACE SUMMARY
Late Model-
Feature Results- 1) Dale Nottestad, Cambridge  2) Kody Hubred, Utica  3) Eddie May, Crystal Lake (IL)  4) Stephen Scheel, Lake Mills  5) Shaun Scheel, Lake Mills  6) Luke Westenberg, Jefferson  7) Jason Erickson, Fort Atkinson  8) John Ovadal Jr, Watertown  9) Michael Grueneberg, Madison  10) Dylan Schuyler, Jefferson  11) Don Gaserude, Fort Atkinson  12) Bruce Lee, Cambridge  13) Kyle Smith, Lake Mills  14) Jerry Eckhardt, Johnson Creek  15) Ed Wolff III, Watertown  16) Kyle Chwala, Johnson Creek  17) Tyler Peterson, Lake Geneva  18) Chuck Duncan, Milwaukee
Fast Qualifier- Michael Grueneberg—14.291 seconds
Last Chance- Ed Wolff III, Chuck Duncan, Kyle Smith, Jerry Eckhardt
Heat Winners- 1) Chuck Duncan  2) Scott Patrick  3) Shaun Scheel
Sportsman-
Feature Results- 1) Jay Kalbus, Watertown  2) Jim Tate Jr, Doylestown  3) Tony Ciano, Janesville  4) Robert Hansberry Jr, Beloit  5) Bobby Selsing, Johnson Creek  6) Chris Chenoweth, Watertown  7) Terry Wangsness, Jefferson  8) Jim Taylor, Stoughton  9) Tim Belz, Sun Prairie  10) Ed Jackson, Madison  11) Boyd Eichelkraut, Stoughton  12) Jason Thoma, Jefferson  13) Josh Madell, Mayville  14) Mark Deporter, Fort Atkinson  15) Bryce Miller, Columbus
Fast Qualifier- Chris Chenoweth—14.976 seconds
Heat Winners- 1) Mark Deporter  2) Jason Thoma
International-
Feature Results- 1) Phil Malouf, Manitowish Waters  2) Neil Higgins, Watertown  3) Noah Pankow, Jefferson  4) Jason Uttech, Watertown  5) Adam Schook, Palmyra  6) Ryan Nelson, Rockton (IL)  7) Seth Reamer, Beaver Dam  8) Merek Pankow, Jefferson  9) Scott Ciesielski, Waupun
Fast Qualifier- Neil Higgins—16.011 seconds
Heat Winner- Ryan Nelson
Hobby Stock-
Feature Results- 1) Chester Williams, Waukesha  2) Jim Robinson, Beloit  3) Dustin Ward, Waterloo  4) Dan Snyder, Madison  5) Kenny Storkson, Edgerton  6) Chuck Egli, Stoughton  7) Phil Wuesthoff, Beaver Dam  8) Jon Benninger, Windsor  9) Jared Vike, Sussex  10) Cody Buchs, Mazomanie  11) Korey Bengsch, Fond du Lac  12) Jim Wolf, Watertown  13) Kris Chwala, Johnson Creek  14) Brandon DeLacy, Fort Atkinson  15) Terry Ciano, Janesville  16) AJ Lloyd, Loves Park (IL)
Fast Qualifier- Dustin Ward—15.913 seconds
Last Chance- Kris Chwala, Brandon DeLacy, Terry Ciano, Korey Bengsch
Heat Winners- 1) Terry Ciano  2) Dan Snyder  3) Phil Wuesthoff
Road Warrior-
Feature Results- 1) Bill Sweeney, Aztalan  2) Chris Gottschalk, Fort Atkinson  3) Bill Reynolds, Watertown  4) Kenny Storkson, Edgerton  5) Bryan Gottschalk, Jefferson  6) Rodger Stephenson, Cambridge  7) Mark Dewey, Janesville  8) David Pautsch Jr, Roscoe (IL)  9) Rickie Nelson, Evansville
Fast Qualifier- Chris Gottschalk—16.580 seconds
Heat Winner- Chris Gottschalk
Bandit-
Feature Results- 1) Ryan Ostenson, Beloit  2) Jeremy Bredeson, Deforest  3) Chad Olds, Whitewater  4) Tyler Deporter, Fort Atkinson  5) Bill Kohn, Madison  6) Jared Pinnow, Jefferson  7) CJ Hemiller,  8) Keven Lentz,  9) Tara Belz, Sun Prairie  10) Kade Watters, Sun Prairie
Fast Qualifier- Chad Olds—14.258 seconds
Heat Winners- 1) Cade Watters  2) Bill Kohn
Legends-
Feature Results- 1) Aaron Moyer, Allenton  2) Jacob Nottestad, Cambridge  3) Riley Stenjem, Utica  4) Blaise Watters, Mineral Point  5) Ryan Weyer, Hubertus  6) Anthony Metallo, S.Elgin (IL)  7) Frank Beutel, Racine  8) Mark Ritger, Elkhart Lake  9) Derek Mueller, Verona  10) Kyle Vergata, New Berlin  11) Tony Moyer, Allenton  12) Aryn Wilson, S.Beloit (IL)
Fast Qualifier- Aaron Moyer—15.557 seconds NEW TRACK RECORD
Heat Winners- 1) Mark Ritger  2) Jacob Nottestad
Bandoleros-
Feature Results- 1) Kolton Guralski, Wausau  2) Jevin Guralski, Wausau  3) Karter Stark, Marshall  4) Anna Malouf, Manitowish Waters  5) Robbie Rucks, Deerfield  6) Chase Wangsness, Jefferson  7) Emma Huntstiger, Helenville
Fast Qualifier- Kolton Guralski—14.134 seconds
Heat Winner- Kolton Guralski