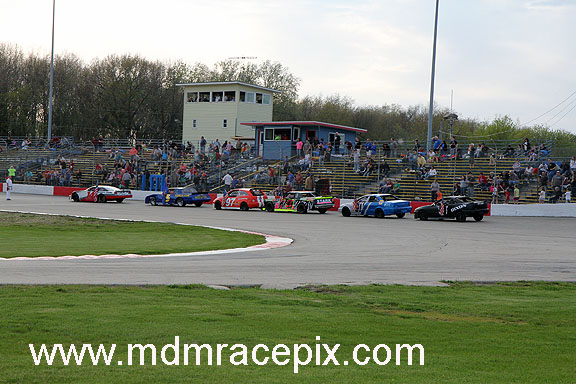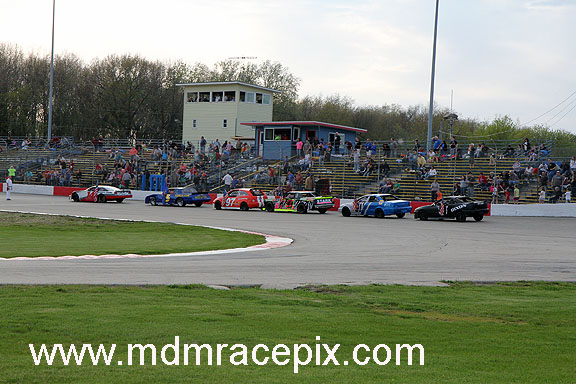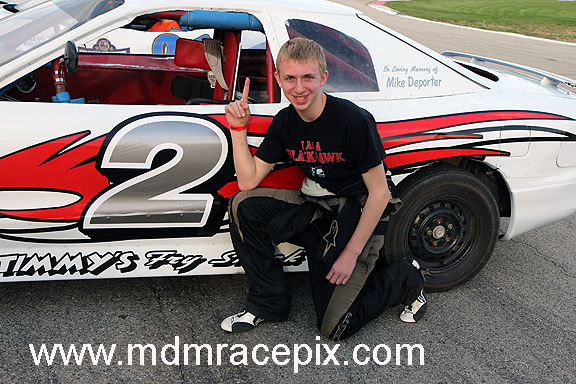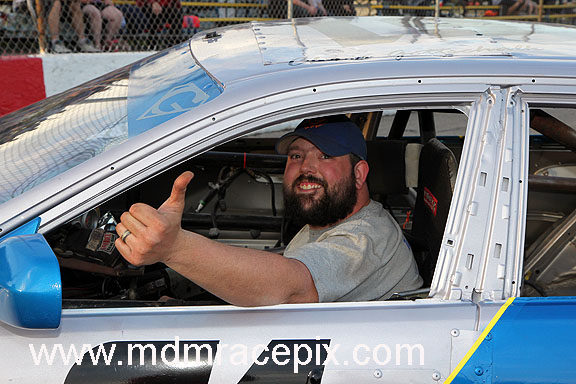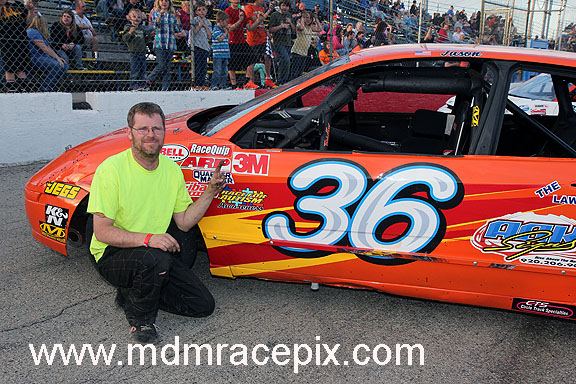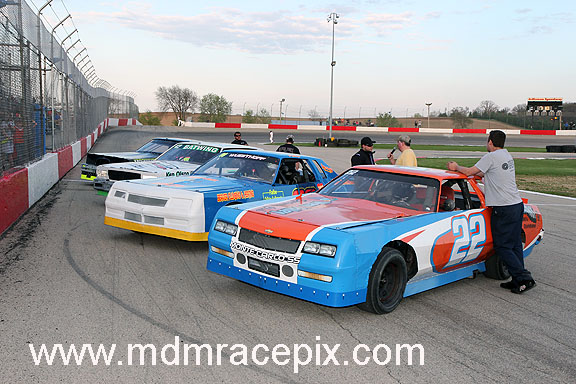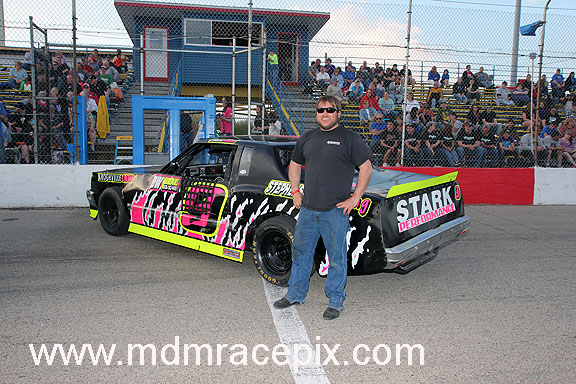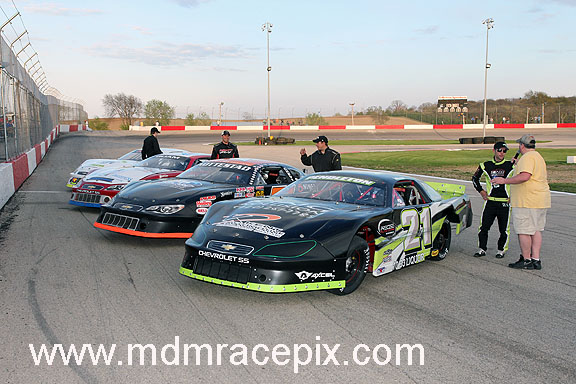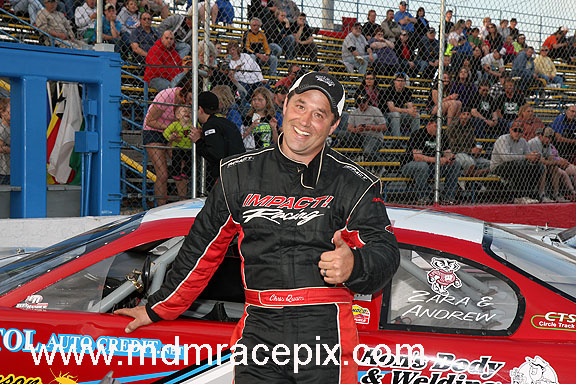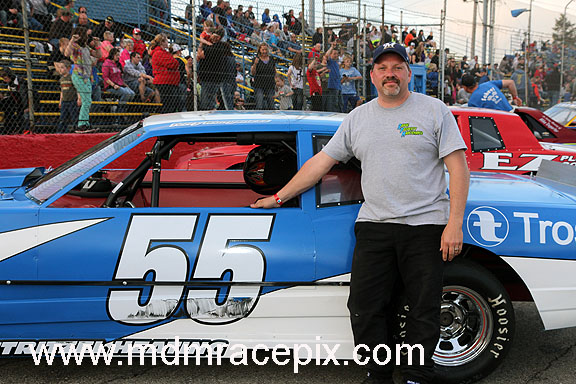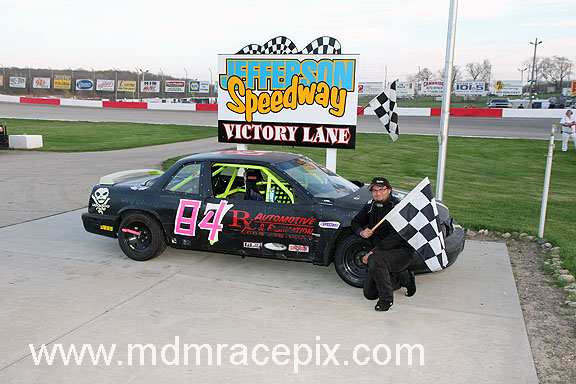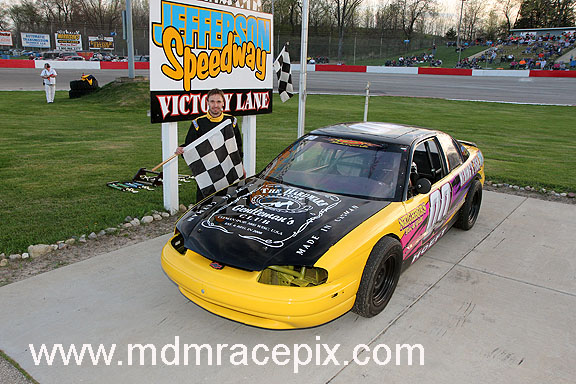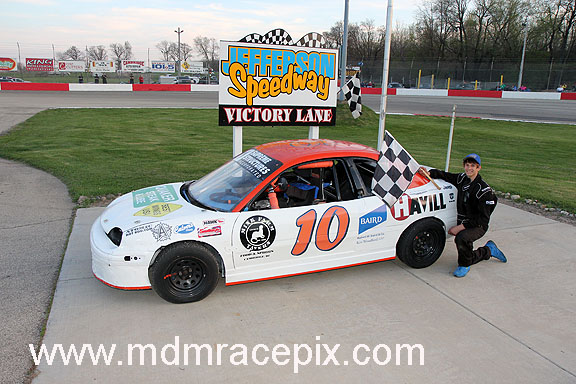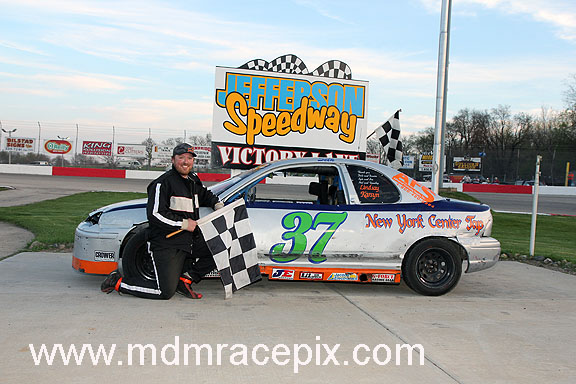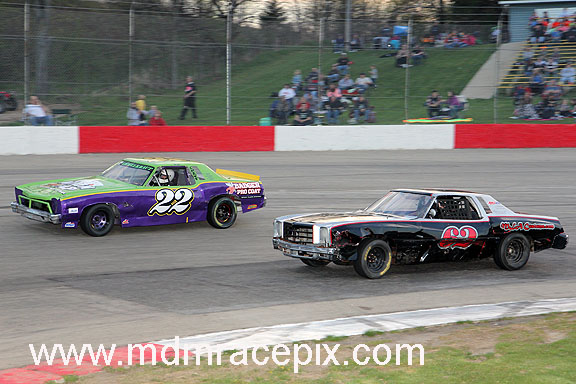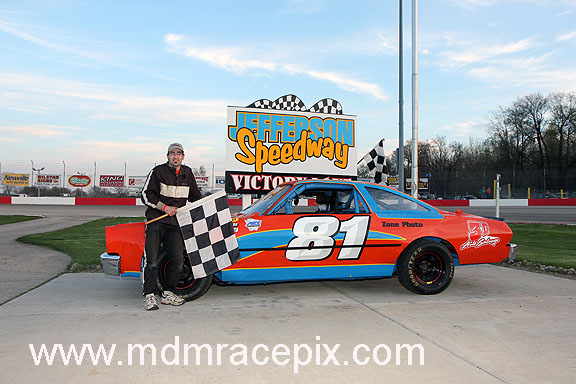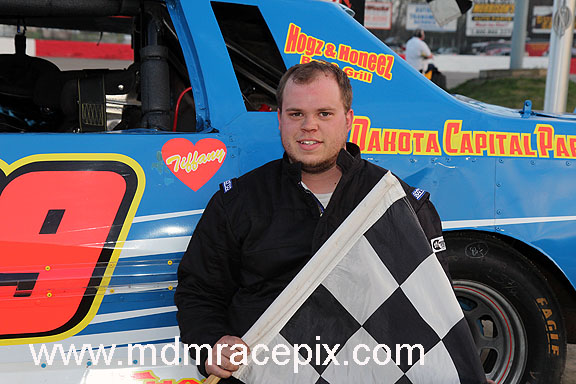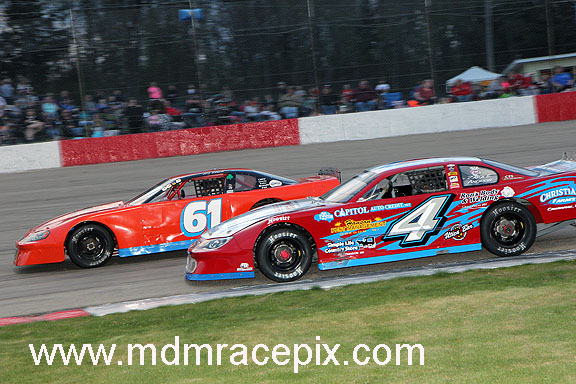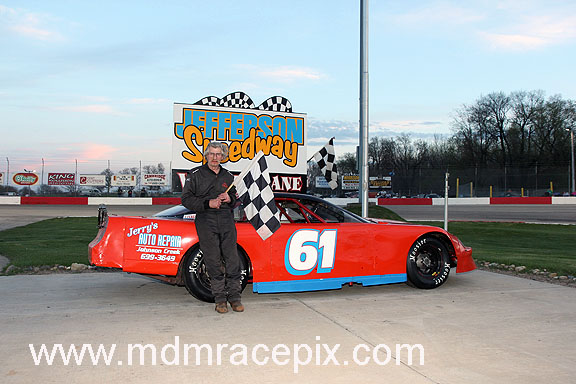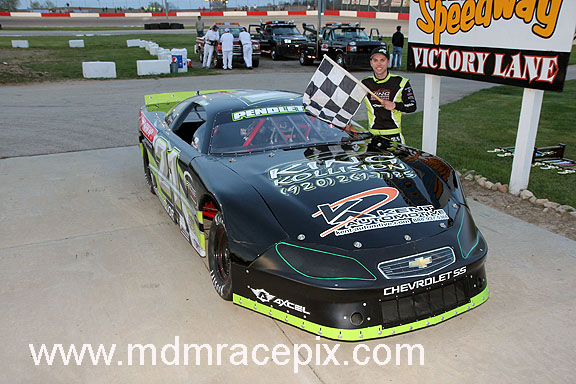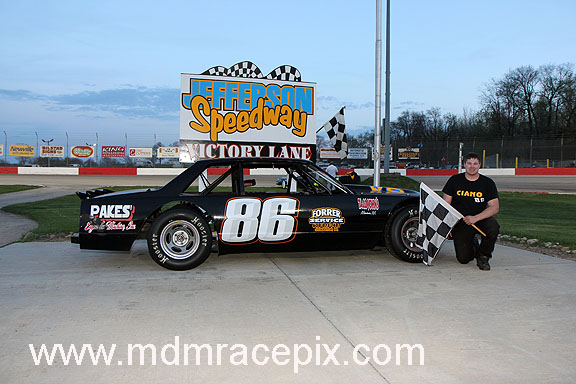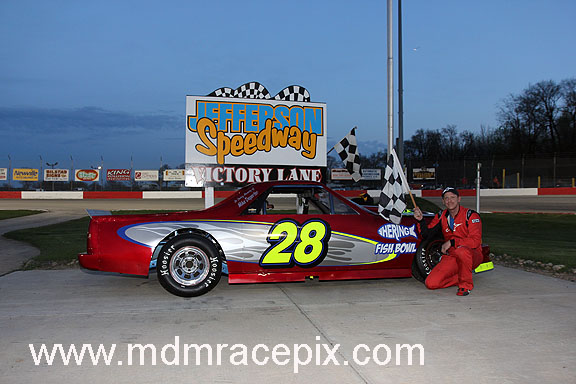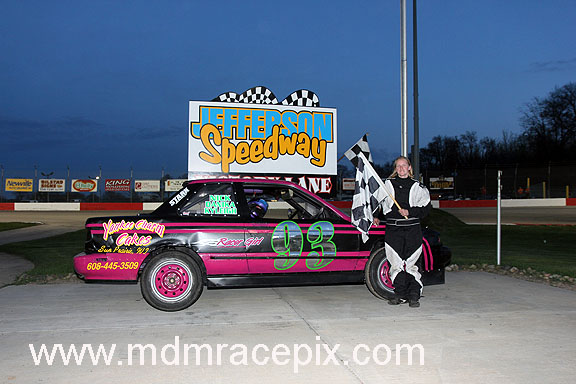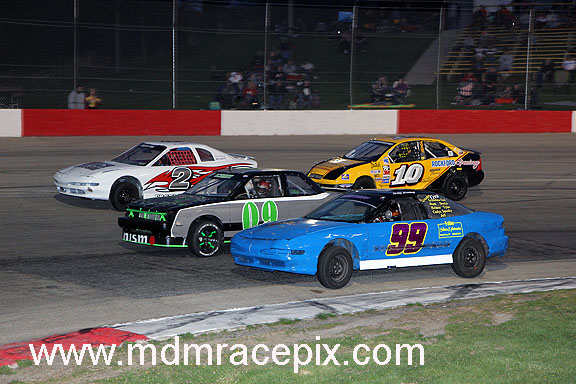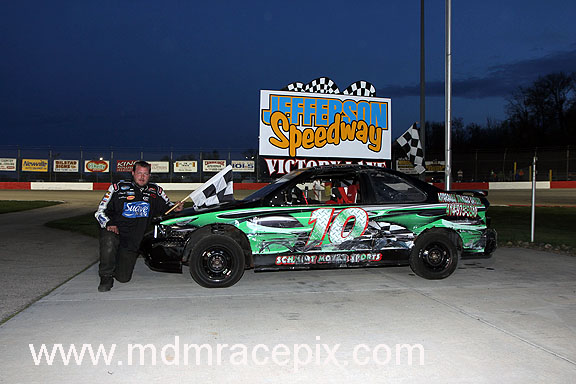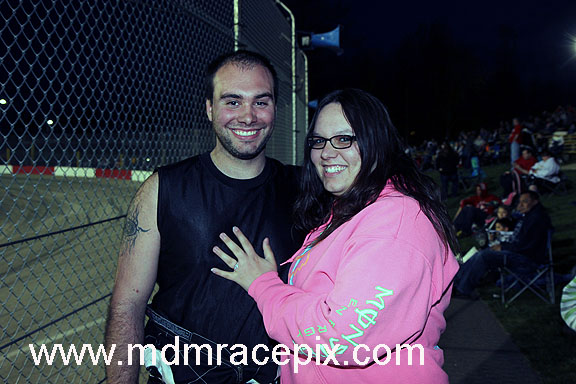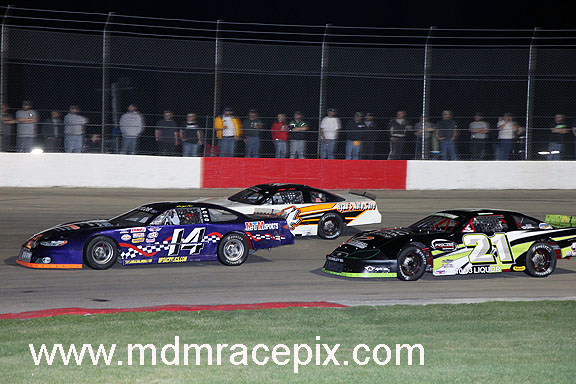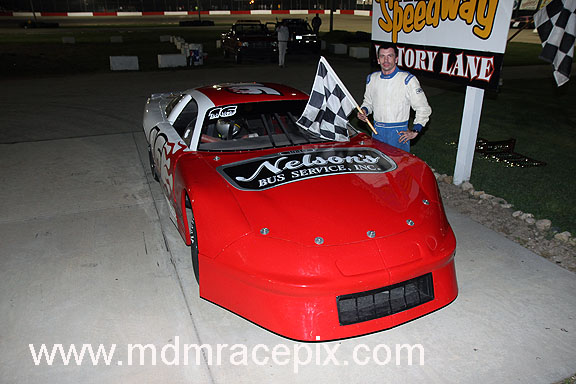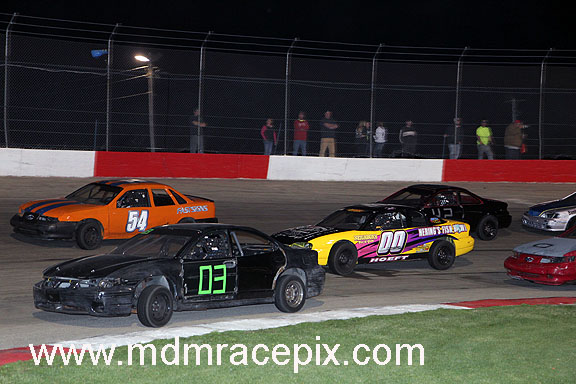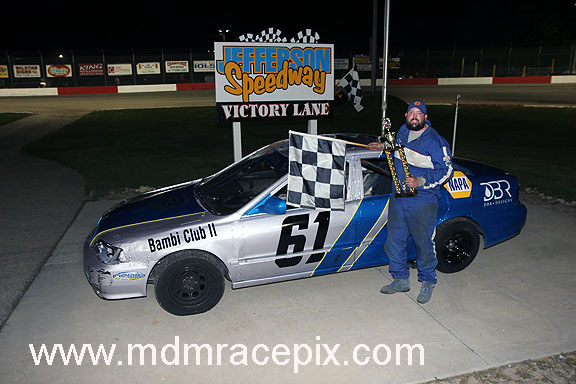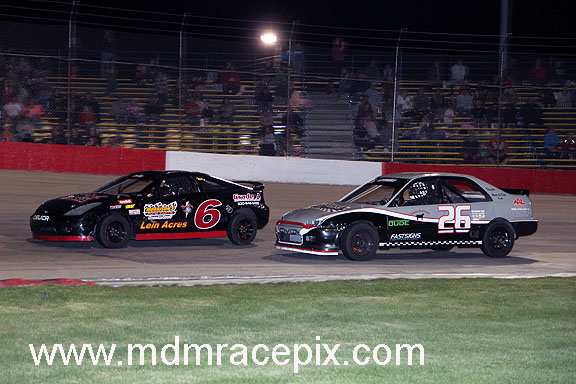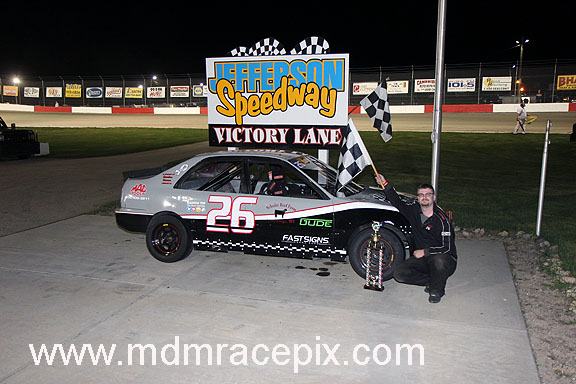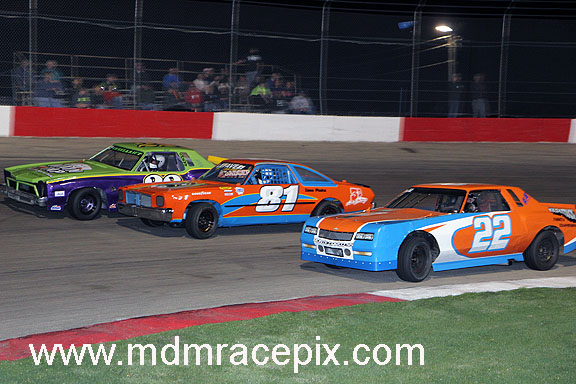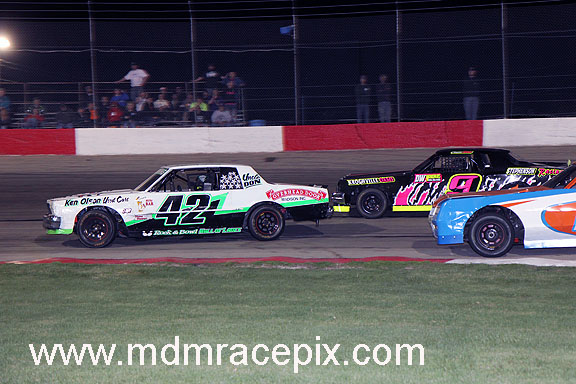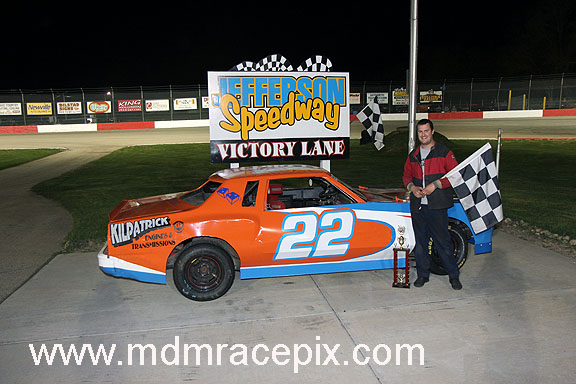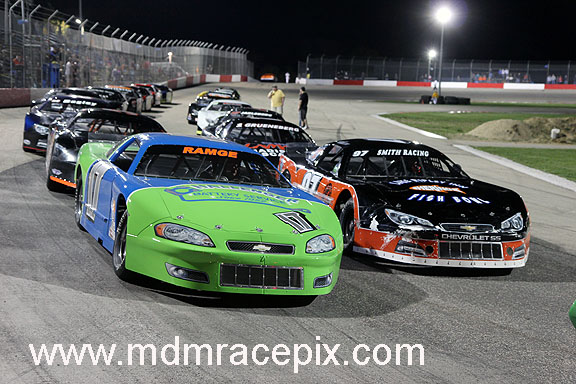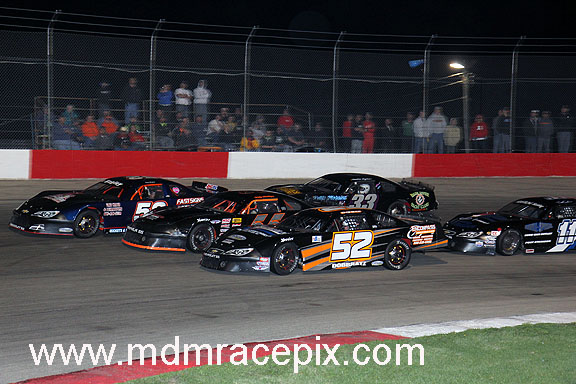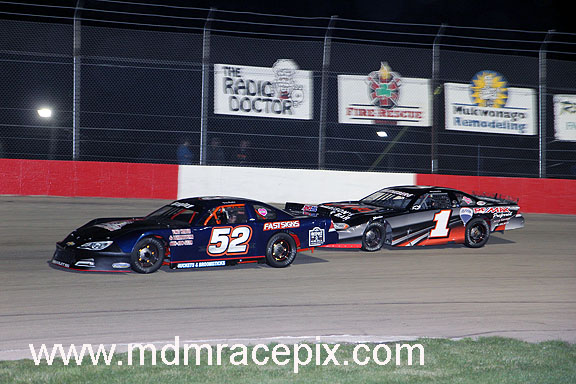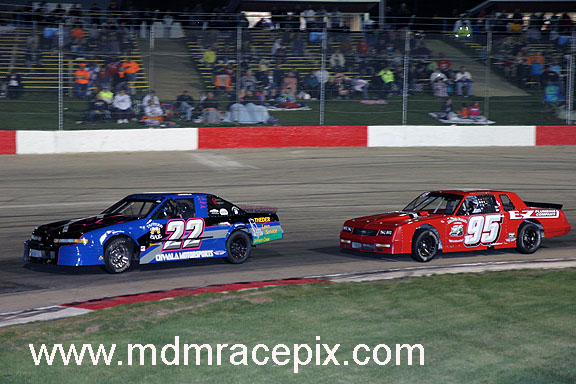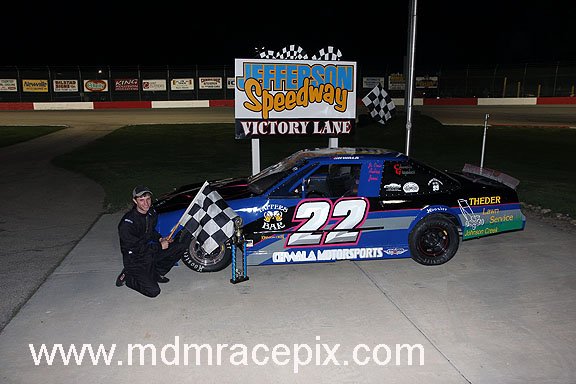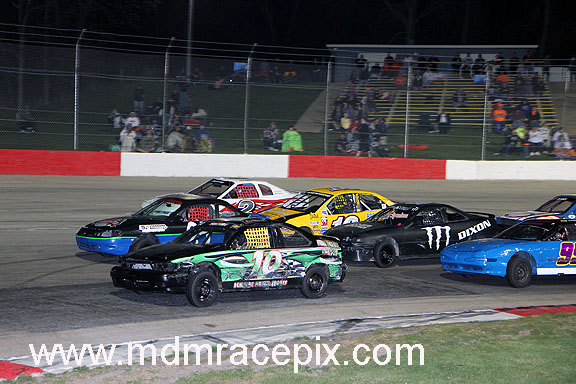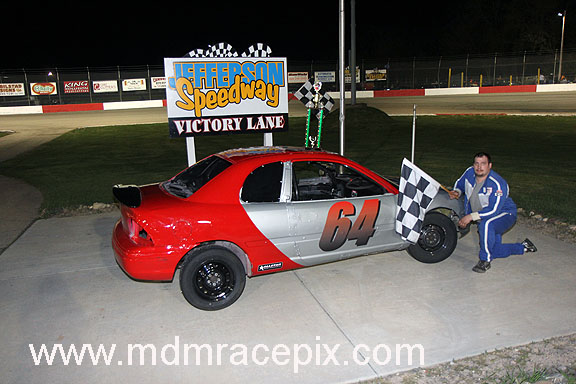 Bagley Bests Radio Doctor 50
JEFFERSON, WI (Saturday, May 10, 2014) Tory Bagley of Stoughton showed why he is a contender to challenge for the Late Model crown in 2014 as he drove to the front of the field and stayed there to pick up the Radio Doctor 50 lap Late Model feature win. The win marked Bagley's first career feature victory in a Late Model in only his second year of competition in Jefferson Speedway's premier division.
Kyle Smith and Noel Ramge brought the field to green with Ramge taking the early lead exiting turn four on lap one. Michael Grueneberg slid up alongside Smith as they battled side by side for second. Grueneberg claimed the spot on lap five while Kyle Jarlsberg and Shaun Scheel entered the top five. On lap ten, Grueneberg began to pressure Ramge on the point for the lead. Grueneberg drove up next to the leader, clearing for the top spot a lap later. Smith took a turn alongside Ramge as they battled for second allowing Grueneberg to slip away from the pack. Ramge reclaimed the second spot on lap 17 with Scheel following into third. Scheel moved to the low side of Ramge as he tried to take second on lap 18. The duo battled wheel to wheel until lap 25 when Scheel appeared to have something give way on his mount and he spun entering turn one collecting Ramge in the melee. Scheel was forced to retire for the evening with Ramge being relegated to the rear of the field on the restart. The caution erased Grueneberg's large lead and closed the field up with Bagley now filling Grueneberg's rear view mirror from second. As racing resumed, Bagley quickly charged under Grueneberg in turn two. A lap later, Bagley claimed sole possession of the top spot with Steve Dobbratz moving up to challenge Grueneberg for second. Bagley stretched his lead while the battle for second raged behind him. Dobbratz claimed the spot with Dale Nottestad up to third just before another caution slowed the action on lap 44. The leaders closed in for the restart with only six laps remaining, but Bagley was never seriously challenged while Nottestad slipped by Dobbratz for second in the closing laps. At the checkers, it was Bagley for the win followed by Nottestad, Dobbratz, Jarlsberg and Dylan Schuyler.
In Sportsman action, Kyle Chwala of Lake Mills hung on after a green/white/checkered finish to claim the win in the 25 lap feature event. Tony Ciano and Adam Bleskan opened the action from the front row with Ciano taking early control and Chwala already up to second. On lap four, Chwala launched his bid for the lead as he drew even with Ciano. After a brief two lap battle, Chwala stuck his nose out front to lead lap seven. Robert Hansberry followed into second on lap nine with Mark Deporter not far behind into third. The trio ran nose to tail until Deporter pounced on Hansberry to steal second with five laps to go. Deporter moved up to challenge Chwala who looked to be in control until the caution slowed the field with two laps remaining. As racing resumed, Deporter looked for an opening to take the lead for himself. Deporter got a good run exiting turn four as they raced past the white flag. Deporter pulled alongside Chwala on the final lap, but Chwala flew off turn four and drove under the checkers with the advantage to seal the win. Deporter settled for second with Hansberry, Terry Wangsness and Ciano rounding out the top five.
One week after experiencing major mechanical issues, Madison's Mike Lambert returned to victory lane by winning the 20 lap International feature event. Merek Pankow took the initial lead on lap one from the pole with Jason Uttech in second. Jamie Shelley moved past Uttech on lap five with John Handeland and Lambert in tow for third and fourth respectively. Handeland and Lambert got by Uttech as Lambert moved alongside Handeland looking for third. Lambert made the pass and drove alongside Shelley as they raced behind Pankow. On lap 12, Pankow entered turn one on the high side allowing Lambert to slide up next to the leader. Lambert cleared for the lead a lap later and began to pull away from the pack. Chris Chenoweth made a late race charge to second, but Lambert was already well on his way to the checkers for the win. Chenoweth finished second followed by Seth Reamer, James Bell and Pankow.
A thrilling Hobby Stock main event ended with Waukesha's Chester Williams in victory lane after the 25 lap affair. Boyd Eichelkraut and Jared Vike made up row one at the start. Dylan Buckingham joined them in a three wide fight for first as they raced down the backstretch on the opening circuit. Buckingham emerged with the lead on lap two while Williams followed him into second with Bobby Selsing in his tracks for third. On lap five, Williams drew even with Buckingham as they raced door to door for the top spot with Selsing watching from third. Williams cleared for first on lap seven with Selsing in tow for second. Selsing quickly began to challenge the new leader to his outside as Dustin Ward and Phil Wuesthoff battled right behind them for third. Selsing continued to inch forward as it looked like he would claim sole possession of the point. On lap 17, Selsing got very loose through turns three and four allowing Williams to charge back alongside him. The battle for first was back on with Williams now looking to take control. Williams held a slight advantage as they flew past the white flag with Ward now trying to hold off Cody Buchs for third. At the stripe, it was Williams in command for the win with Selsing finishing a close second. Ward hung on for third followed by Buchs and Wuesthoff rounding out the top five.
Chris Gottschalk of Jefferson took top honors in the 20 lap Road Warrior main event. Jordan Lamb led lap one with Keith Erickson and Brett Carson fighting for second. Gottschalk entered the top five on lap two as he quickly moved towards the front. Gottschalk flew past Erickson and Carson to claim second on lap three with Scott Hoeft in tow for third. On lap four, Gottschalk drove alongside the early leader, clearing at the stripe to complete the lap. Gottschalk immediately began to stretch his advantage as Hoeft moved into second with Bill Reynolds up to third. Hoeft and Reynolds battled for second over the closing laps while Gottschalk continued to show the way. At the checkers, it was Gottschalk with the convincing win followed by Reynolds, Hoeft, Bill Sweeney and Erickson.
Jefferson's Trent Rueth hung on to pick up the victory in the 18 lap Bandit feature event. Dustin Yanke led early from the pole with Rueth up to second on lap two. Rueth drew even with Yanke on lap three, clearing a lap later. Meanwhile, quick qualifier Devon Dixon was slicing his way through the field and up to third by lap eight. Dixon moved past Yanke on lap 11 as he looked to close in on Rueth at the front. But Rueth stayed strong on the point over the final circuits as he flew past the checkers first for the win. Dixon was second followed by Steve Dickson, Yanke and Dave Schmidt.
Next Saturday, May 17, is a full program of racing highlighted by the B&M Electric 50 lap Late Model feature. Time trials begin at 5pm with racing at 7pm sharp. Jefferson Speedway is located halfway between Jefferson and Cambridge on Hwy 18. Please visit www.jeffersonspeedway.com for more information.
Jefferson Speedway Race Summary
Late Model-
Feature Results- 1) Tory Bagley, Stoughton 2) Dale Nottestad, Cambridge 3) Steve Dobbratz, Rio 4) Kyle Jarlsberg, Jefferson 5) Dylan Schuyler, Jefferson 6) Trent Erdman, Fort Atkinson 7) Zack Riddle, Stoughton 8) Chris Quam, Stoughton 9) Greg Pawelski, Muskego 10) Noel Ramge, Helenville 11) Stephen Scheel, Lake Mills 12) Kyle Smith, Lake Mills 13) Michael Grueneberg, Madison 14) Craig Phillips, Edgerton 15) Luke Westenberg, Jefferson 16) Shaun Scheel, Lake Mills 17) Brandon Pendleton, Helenville 18) Casey Johnson, Edgerton
Fast Qualifier- Zack Riddle—14.549 seconds
Consi- Andrew Kiedrowski, Chuck Duncan
Last Chance- Luke Westenberg, Greg Pawelski, Brandon Pendleton, Stephen Scheel
Heat Winners- 1) Luke Westenberg 2) Brandon Pendleton 3) Jerry Eckhardt
Sportsman-
Feature Results- 1) Kyle Chwala, Lake Mills 2) Mark Deporter, Fort Atkinson 3) Robert Hansberry Jr, Beloit 4) Terry Wangsness, Jefferson 5) Tony Ciano, Janesville 6) Jason Thoma, Jefferson 7) Seth Lootans, Kenosha 8) Jay Kalbus, Watertown 9) Jim Taylor, Stoughton 10) Adam Bleskan, Menomonee Falls 11) Tim Coley, Madison 12) Russ Nicholson, Stoughton
Fast Qualifier- Jason Thoma—15.191 seconds
Heat Winners- 1) Tony Ciano 2) Mark Deporter
International-
Feature Results- 1) Mike Lambert, Madison 2) Chris Chenoweth, Watertown 3) Seth Reamer, Waupun 4) James Bell, Janesville 5) Merek Pankow, Jefferson 6) Jamie Shelley, Edgerton 7) John Handeland, Belleville 8) Dan Birkett, Arlington 9) Joe Cross, Sun Prairie 10) Neil Higgins, Watertown 11) Keith Bell, Brodhead 12) Jason Uttech, Watertown 13) Aaron Randle
Fast Qualifier- Chris Chenoweth—16.440 seconds
Heat Winners- 1) Merek Pankow 2) Seth Reamer
Hobby Stock-
Feature Results- 1) Chester Williams, Waukesha 2) Bobby Selsing Jr, Edgerton 3) Dustin Ward, Waterloo 4) Cody Buchs, Mazomanie 5) Phil Wuesthoff, Beaver Dam 6) Dylan Buckingham, Whitewater 7) Jeff LeFave, Fort Atkinson 8) Boyd Eichelkraut, Stoughton 9) Ricky Sanwick, 10) Jared Vike, Columbus 11) Gary Paulick, Union Grove 12) Lucas Buckingham, Whitewater
Fast Qualifier- Dustin Ward—15.660 seconds NEW TRACK RECORD
Heat Winners- 1) Jeff LeFave 2) Phil Wuesthoff
Road Warrior-
Feature Results- 1) Chris Gottschalk, Jefferson 2) Bill Reynolds, Watertown 3) Scott Hoeft, Watertown 4) Bill Sweeney, Edgerton 5) Keith Erickson, Columbus 6) Jordan Lamb, Fort Atkinson 7) Chad Olds, Whitewater 8) Matthew Melchiori, Milwaukee 9) Kenny Storkson, Evansville 10) Jeff LeFave, Fort Atkinson 11) Brett Carson, Fort Atkinson 12) Doug Harriman, Madison 13) Doug O'Grady, Stoughton 14) Tom Dorn, Fort Atkinson
Fast Qualifier- Chris Gottschalk—16.887 seconds
Heat Winners- 1) Matthew Melchiori 2) Scott Hoeft
Bandit-
Feature Results- 1) Trent Rueth, Jefferson 2) Devon Dixon, Janesville 3) Steve Dickson, Rockford (IL) 4) Dustin Yanke, Fort Atkinson 5) Dave Schmidt, Cudahy 6) Nick Schmidt, Oak Creek 7) Josh Marx, Dousman 8) Brandon DeLacy, Fort Atkinson 9) Adam Schook, Whitewater 10) Dennis Wuesthoff, Beaver Dam 11) Heather Stark, Watertown 12) Paul Reagles, 13) Tyler Deporter, Fort Atkinson 14) Carl Benn, 15) Sueter Bennett, 16) Noah Pankow, Jefferson
Fast Qualifier- Devon Dixon—17.131 seconds
Heat Winners- 1) Heather Stark 2) Dave Schmidt