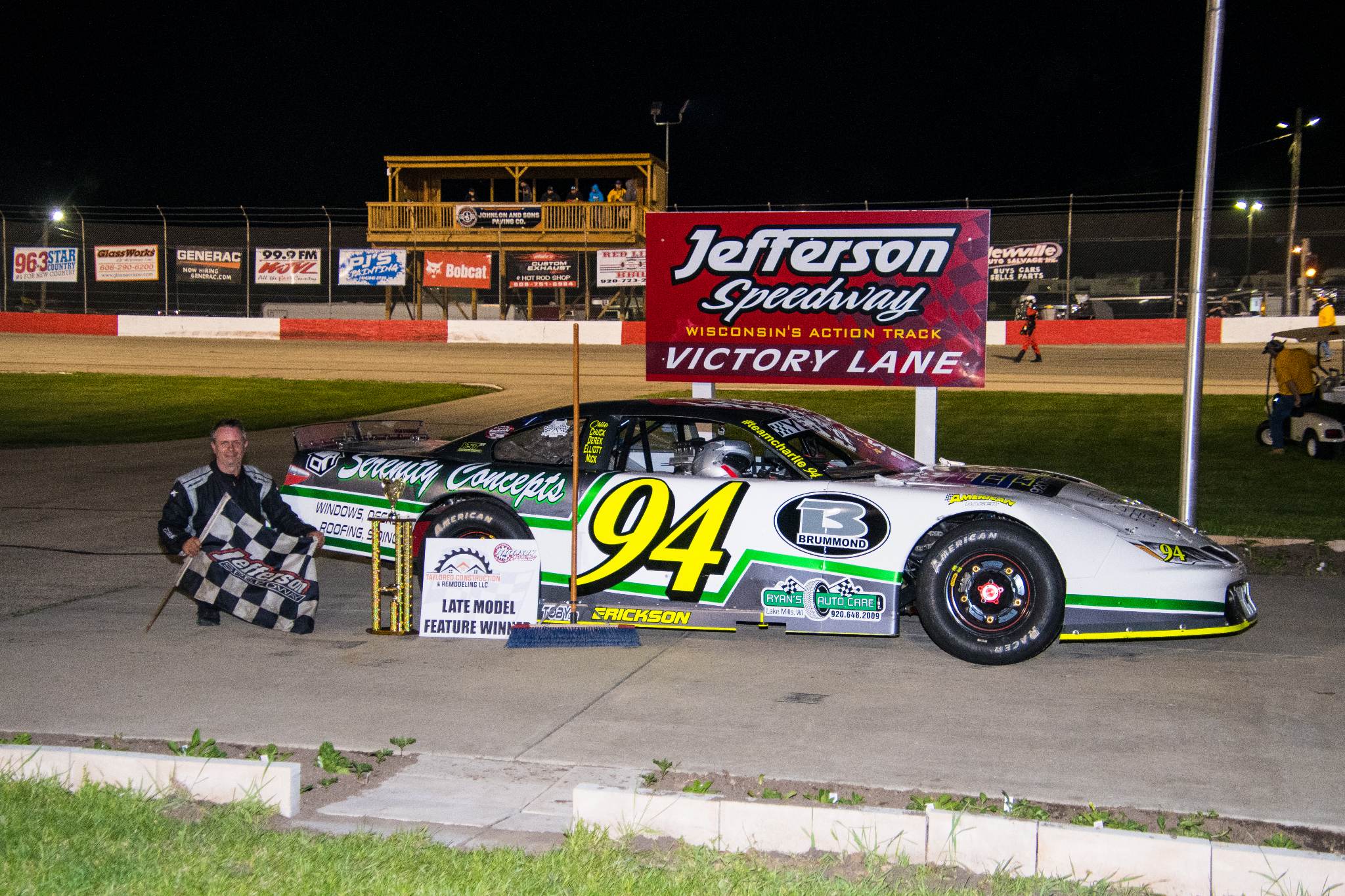 JASON ERICKSON CAPTURES LEGACY AUTO SALES 50
Jason Erickson, Jefferson, won the Legacy Auto Sales 50 lap Late Model feature in convincing fashion last Saturday Night at the Jefferson Speedway.  Erickson came from the 11th starting position to take the lead just before the halfway mark in the event.  It was Erickson's second win of the young season and along with setting fast time and winning his heat earned him a rare clean sweep in the Late Model class. 
Kyle Smith, Lake Mills and Stephen Scheel, Lake Mills led the 18 car feature field to the green flag.  Scheel took the initial lead but after a spirited battle Smith took over the top spot.  As close battles raged thruout the top ten, Erickson methodically picked his way towards the front.  A single car spin caused the first caution on lap 16.  As the drivers chose their lanes, Erickson and Schaun Scheel, Lake Mills took the outside lane and moved alongside the leaders. 
With the green flag Erickson worked his was past Smith while Dylan Schuyler, Jefferson moved up to challenge Smith for second.  While the two fought intensely for second place, other battles raged between Steven Scheel, Steven Sauer, Watertown, Michael Grueneberg, Wisconsin Dells, and Schaun Scheel for third through sixth place.
The final caution of the race occurred with two laps to go.  Erickson led the field to the green flag with Smith on this outside.  Stephen Scheel and Schuyler made up the second row.  On the last lap Schuyler tagged the backstretch wall dropping his finishing position to fifth.
Erickson won the event, Smith was second, Steven Scheel third, Schaun Scheel fourth, and Schuyler fifth.
Bruce lee, Edgerton won the last chance event with Tyler Peterson Second.
Erickson, Smith, and Jerry Eckhardt, Johnson Creek won heat races.
Erickson set the fat time with a 14.086 second lap.
Jason Tomah, Jefferson won the Sportsman 35 lap feature after a spirited battle with Jeff Steenbergen, Waupun, Kurt Kleven, Jefferson, and Mark DePorter, Fort Atkinson.  Kleven finished second with Deporter third and Jake Biever, Janesville, fourth.
Heat races were won by Sean Eurick, Steenbergen and Biever.
Deporter set fast time with a 14.637 second lap.
Weston Strese, Jefferson won the International class feature over Jason Uttech, Watertown Second, Timothy Higgins, Bonduel, third, and James Bohling, Fort Atkinson fourth.
Heat races were won by Carson Strese, Jefferson, and Bohling.
Weston Strese set fast time with a 15.257
Colin Stocker won the Legends feature with Ben Massman Second, Tyler Ledbetter third and Adam Powers fourth.
Spencer Polacek won the last chance event.
Heat winners were Marianna Kubicz, Ledbetter, and Jacob Tiegen.
Fast time was set by Stocker with a 15.299 second lap
Penn Sauter, Deforest won the Bandolero feature with Teegan Wangsness, Jefferson second, Bentley Thompson, West Salem Third, and Easton Riedner, fourth 
Ace Oldenhoff, Lake Mills won the last chance race.
Consolation winners were Ransom Tate, Doylestown and Peyton Kubicz, Whitewater
Heat winners were McKenna Turner, Marcus Obermeyer, Oldenhoff, Riedner and Jayden Johnson, Ixonia.
Kayden Wangsness, Jefferson set fast time with a 15.569 second lap.
Racing continues next Saturday night with a full program of Late Models, Sportsman, Hobby Stock, Bandit, and Bandolero racing topped off by the Tim's Detailing 50 lap Late Model feature.