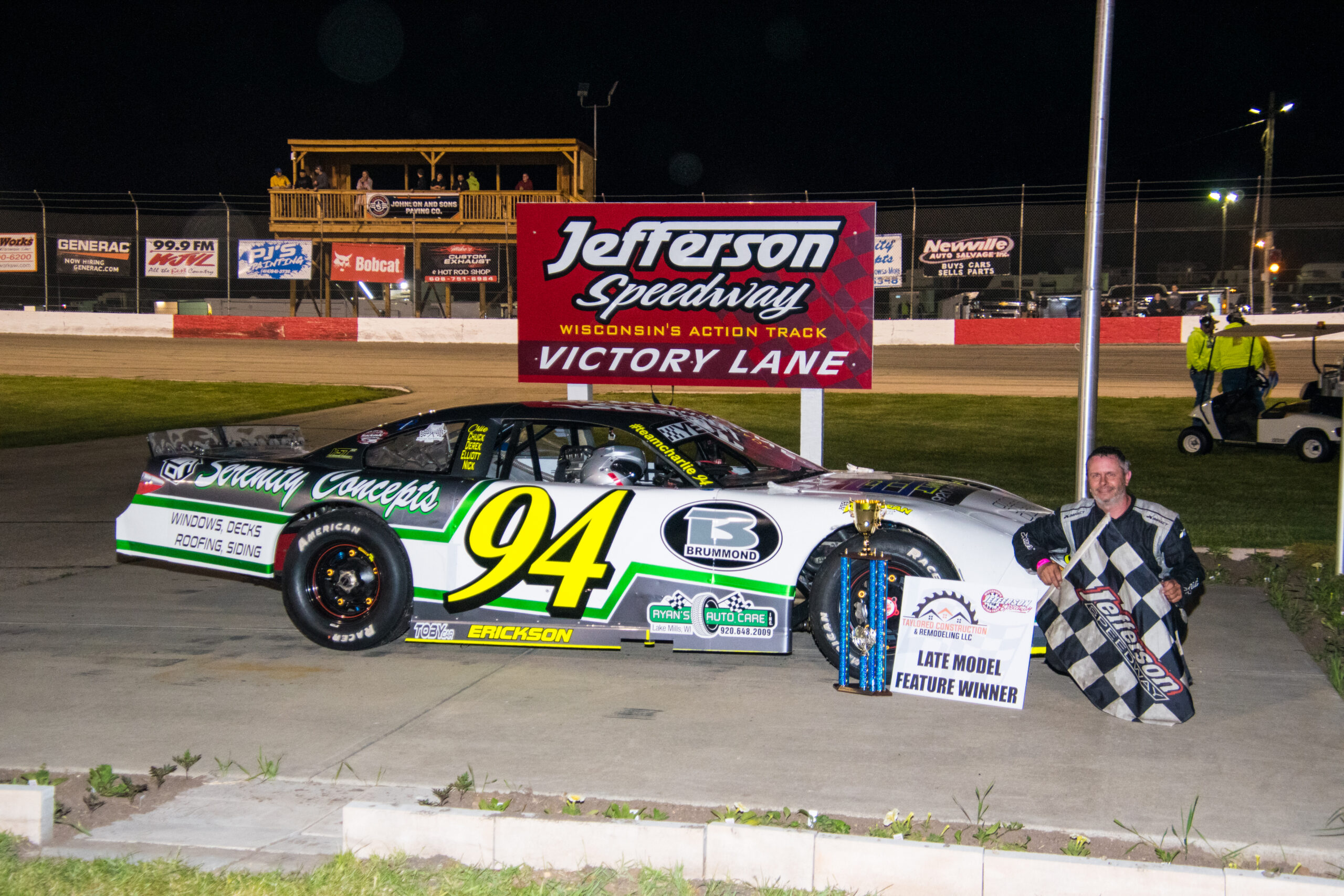 JASON ERICKSON CAPTURES TIM'S DETAILING 50
Jason Erickson, Jefferson, continued his domination of the Late Model division by capturing the Tim's Detailing 50 lap Late Model feature last Saturday night at the Jefferson Speedway.  Erickson came from the 14thstarting position to take the lead just before the halfway mark in the event.  It was Erickson's third feature win in a row and his second clean sweep in a row.  Erickson set fast time and won his heat that coupled with the feature win earned him his second clean, sweep in the Late Model class, a once in a generation event.  Erickson avoided numerous accidents, choose his lane on the restarts well and powered past other top contenders in convincing fashion
Shane Radtke, Jr. of Johnson Creek and Laney Osborne, of Janesville led the 18 car feature field to the green flag.   Radtke  took the initial lead after a spirited battle with Osborne.  The first of 6 cautions in the event took place during lap 8 when Steven Sauer, Waterloo, Kyle Smith, Lake Mills, and Schaun Scheel, Lake Mills went spinning down the front straight.  All other cars avoided the accident and the trio was able to rejoin the race at the rear of the field. 
With the restart, Radtke and Osborne resumed their battle.  Another caution involving Ryan Weyer, Hubertus, Don Gaserude, Fort Atkinson, and Craig Phillips, Edgerton during lap 12 moved Dylan Schuyler, Jefferson, Steven Scheel, Lake Mills, and Karter Stark, Waterloo into the lead pack. Schuyler passed Osborn for second and began to battle Radtke for the lead.  Schuyler moved into the lead on lap 18 with Steven Scheel and Stark in close pursuit.  Meanwhile Erickson was methodically picking his way to the front.  Another caution on lap 22 found Schuyler in the lead with Scheel, Stark and now Erickson in fourth place.  As the drivers chose their lanes, Schuyler, Scheel, and Stark choose the inside line with Erickson choosing the outside lane pulling along side Schuyler.
With the green flag Erickson worked his was past Dylan Schuyler, and into the lead on lap 26.   Other spirited battles ragged throughout the field and an additional two cautions occurred in the second half of the event.  Scheel worked his way into second but was unable to unseat Erickson.  At the finish it was Erickson the winner, Steven Scheel second, Karter Stark third, Michael Grueneberg, Wisconsin Dells fourth, and Schulyer fifth,
Logan Graham, Cuba City, won the last chance event with Jerry Eckhardt, Johnson Creek, Second.
Michael Guderski, Manchester, Steven Scheel, and Erickson, won heat races.
Erickson set the fat time with a 14.228 second lap.
Kurt Kleven, Jefferson won the Sportsman 35 lap feature after a spirited battle with Nick Bruley, Johnson Creek,  Bruley finished second, Mark Deporter, Fort Atkinson, third, and Jared Vike, Lannon, fourth.
Heat races were won by Paul Johnson Jr., and Bruley.
Deporter set fast time with a 14.893 second lap.
The Hobby Stock feature  was won by Charles Vian, Sparta by surviving a long determined challenge from Tony Ciano, Janesville, Brandon Riedner, Waunakee was third and Matthew Thoma, Jefferson fourth.
Avery Linnerude, won the last chance race with Lucas Buckingham, Jefferson, second.
Heat winners were Chuck Egli, Waterloo, Scott Riedner, Waunakee, and Ciano.
Fast time was set by Robbie Rucks, Deerfield with a time of 15.422 second lap.
Trent Rueth, Johnson Creek won the Bandit feature after an intense battle with Tommy Schuette, Fort Atkinson.  Schuette finished second, Nick Schmidt, Watertown third, and Ryan Oetzel, Broadhead fourth.
Scott Barlss, Janesville won the last chance race with Carli Lenz, lake Mills second.
Heat winners were: Barlass, Schmidt, and Mason Wilcox, Watertown
Jordan Lamb, Fort Atkinson set the fast time with a 14.893 second lap.
Bentley Thompson, West Salem won the Bandolero feature with Jayden Johnson, Ixonia, Lincoln Johnson,  third, and Easton Riedner,  Waunakee, fourth,
Teegan Wangsness, Jefferson won the last chance race.
Peyton Kubicz, Whitewater, won the consolation race.
Heat winners were Kinsleigh Webber, Whitewater, Teegan Wangsness, Jefferson, Chase Gottschalk, Fort Atkinson, and Thompson.
Jayden Johnson set fast time with a 16.507 second lap.
Racing continues next Saturday night with the ASA Midwest Tour Super Late Models, battling in the Salute the Troops 100 lap feature plus qualifying races.  The Sportsman will run a 50 lap feature along with a full schedule of preliminary events.   The Hobby Stocks will do battle in a 40 lap main event plus a full program of prelininary events.