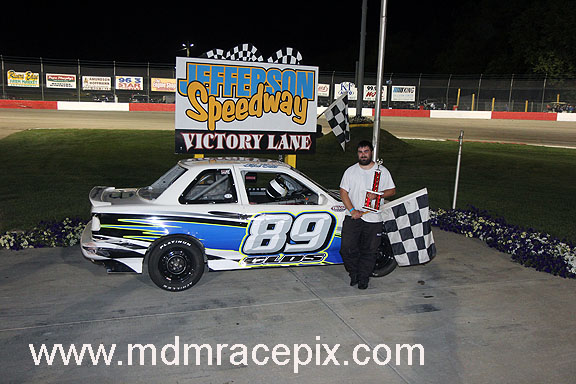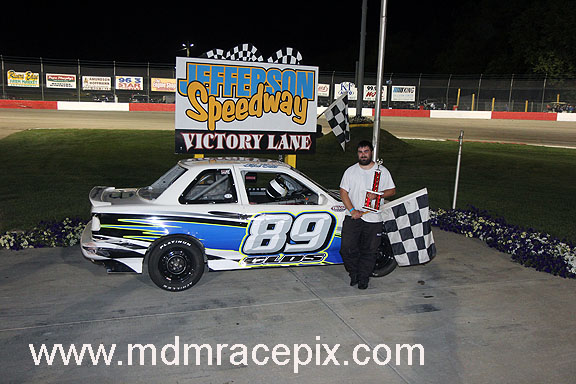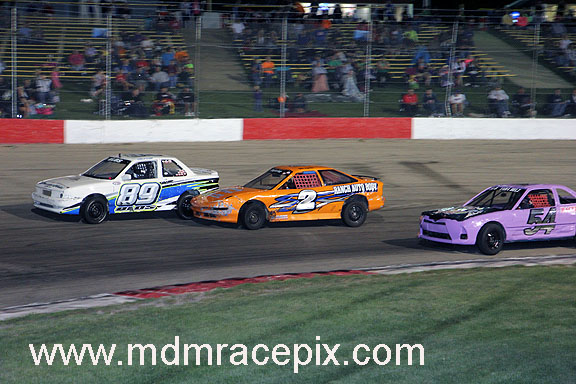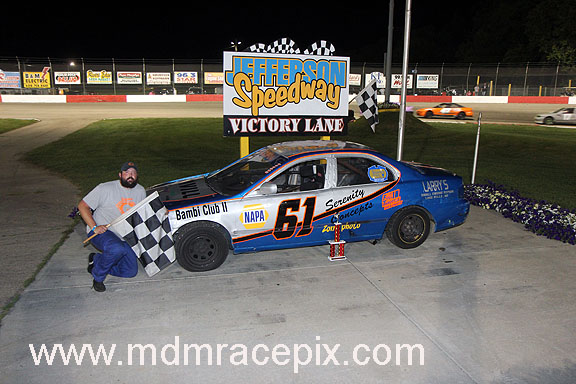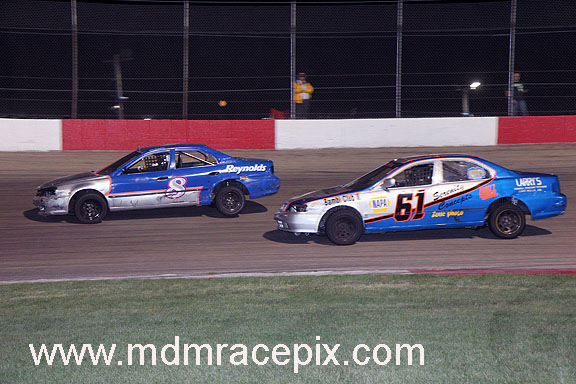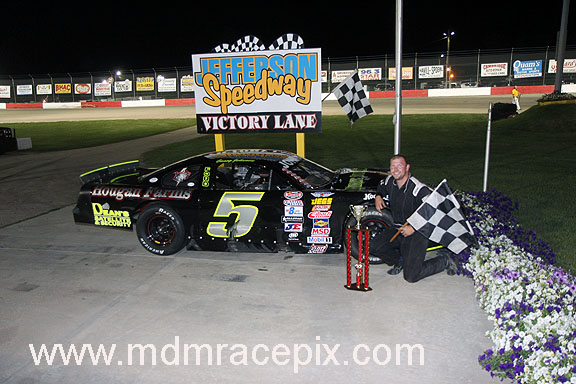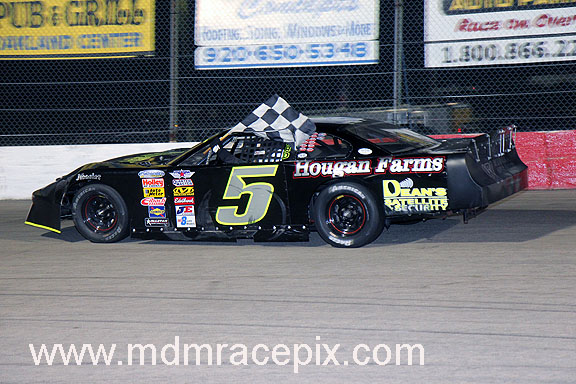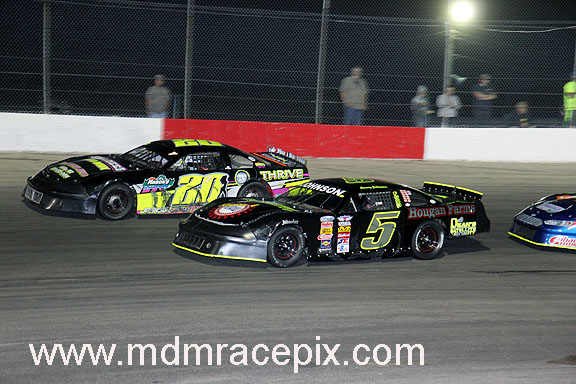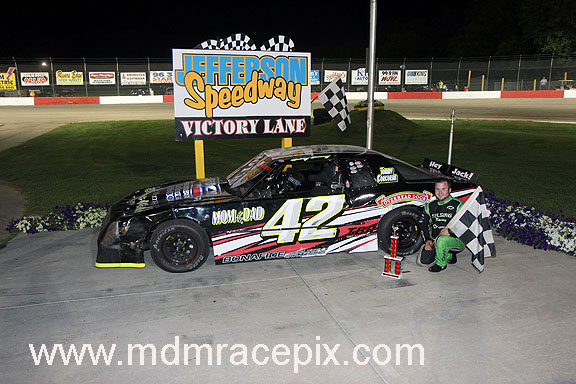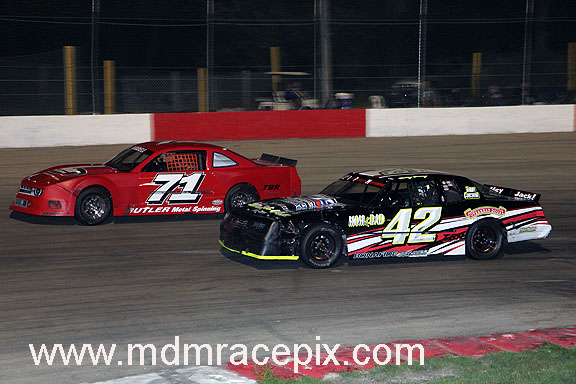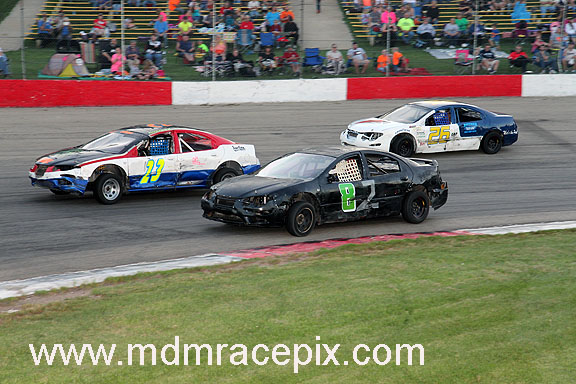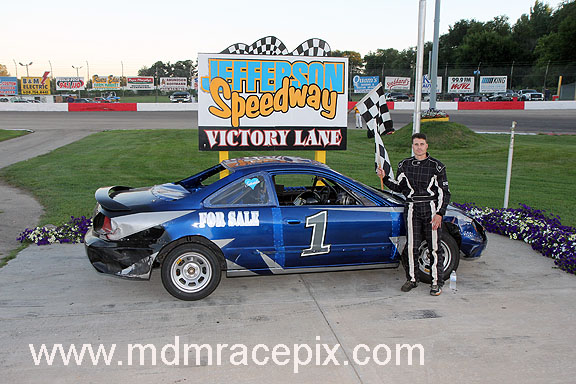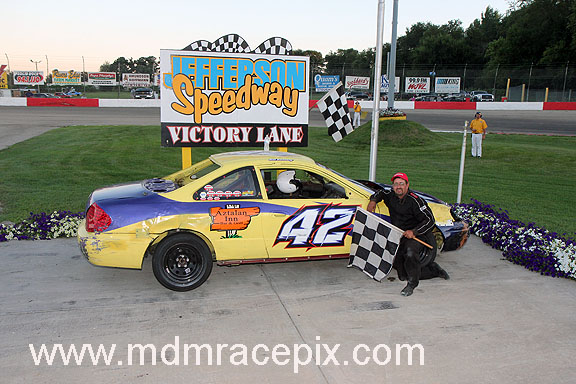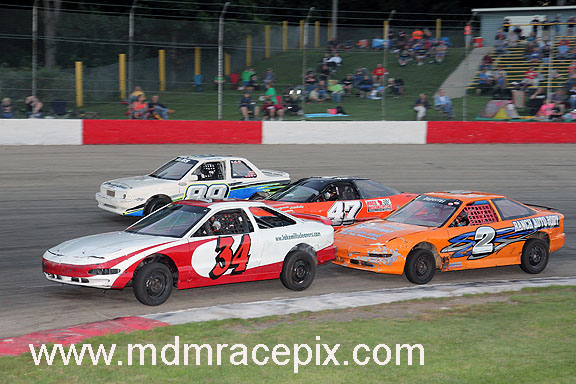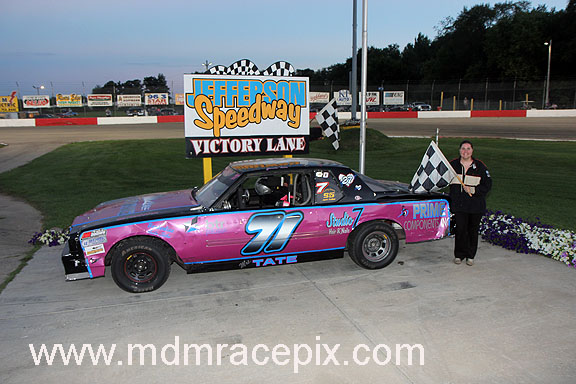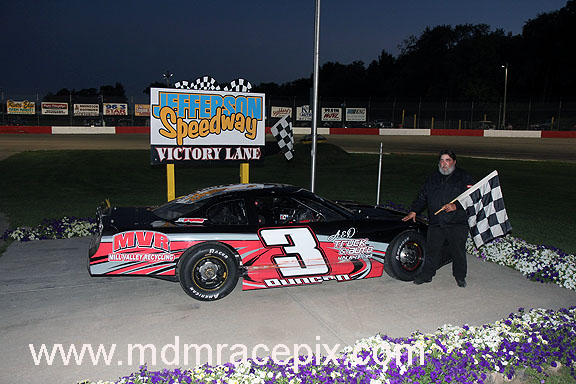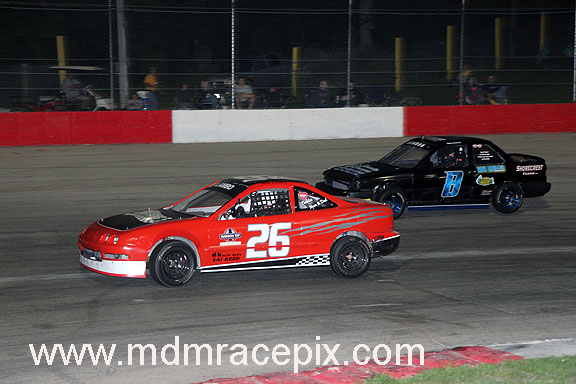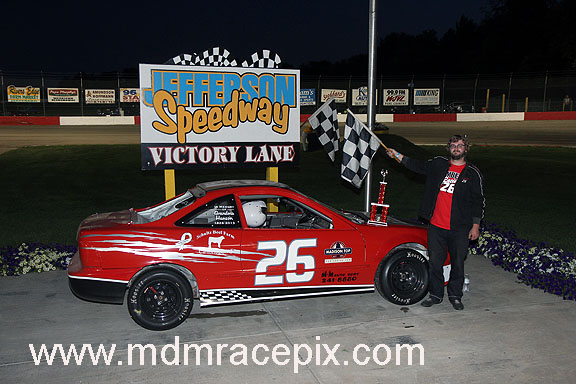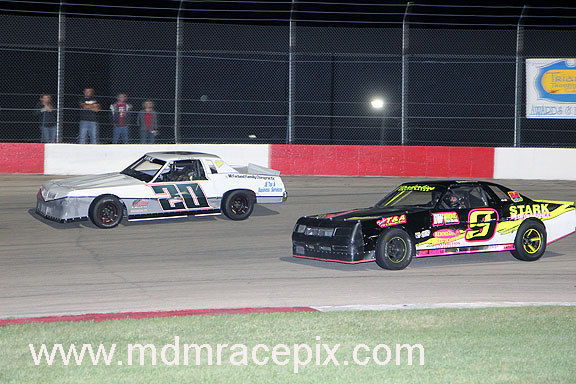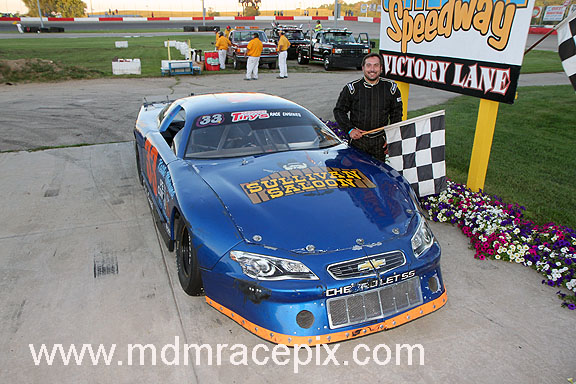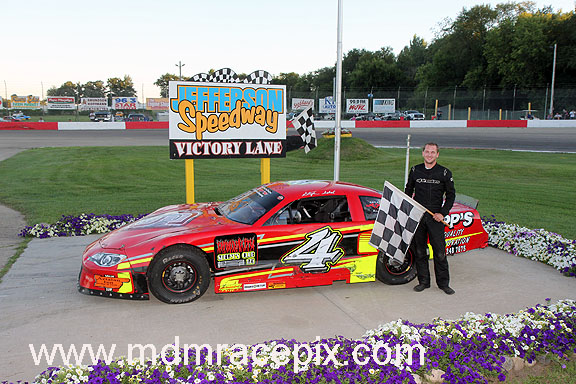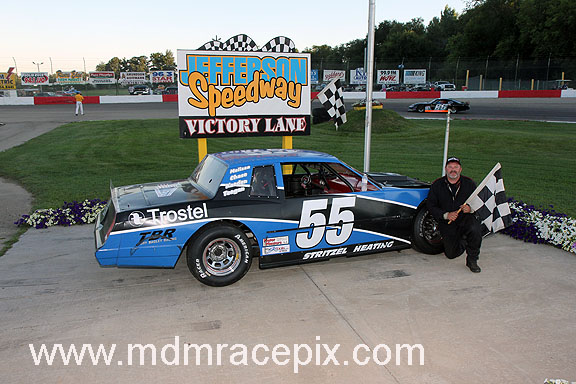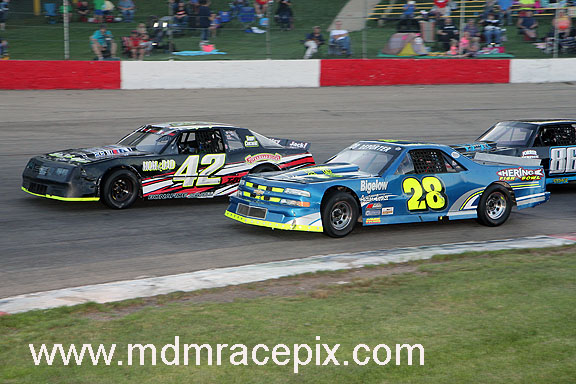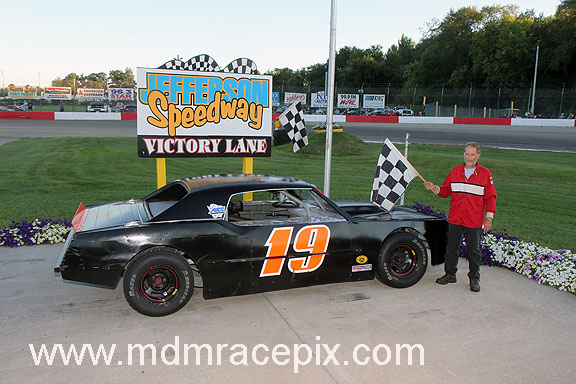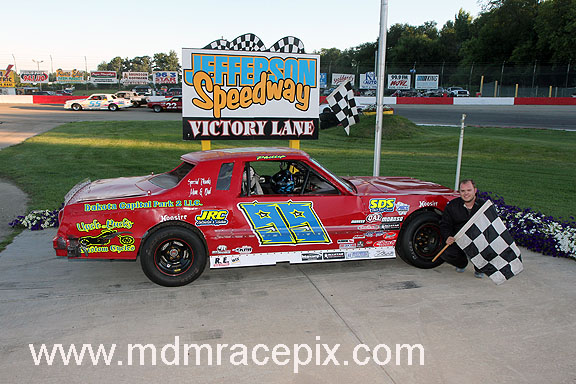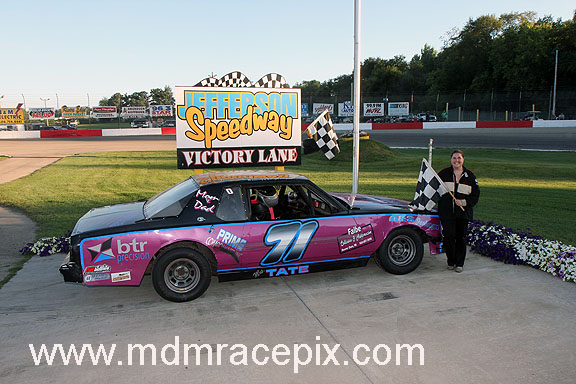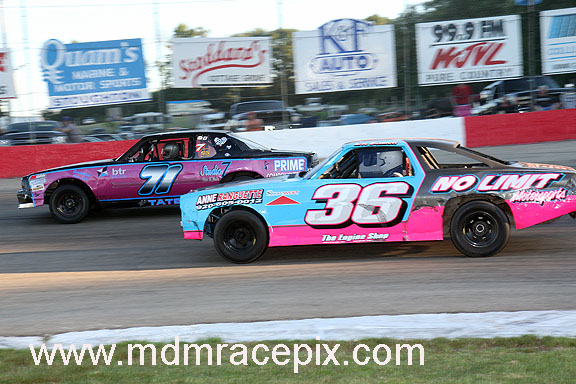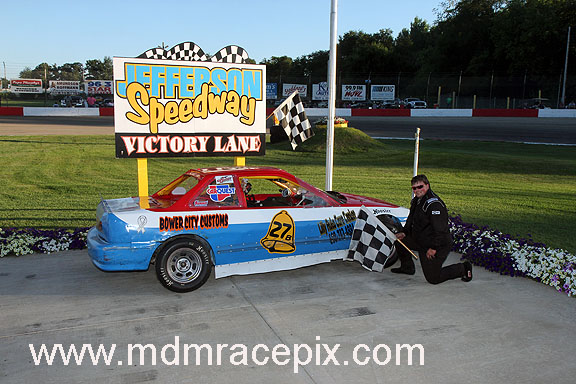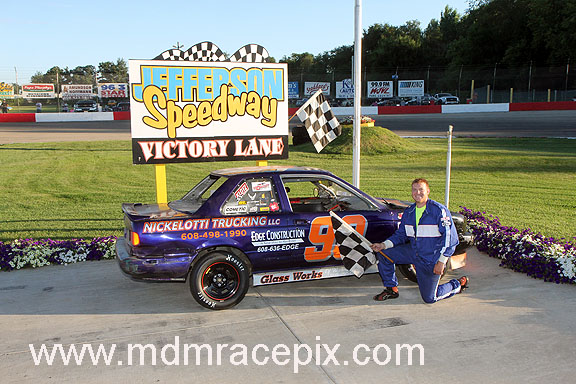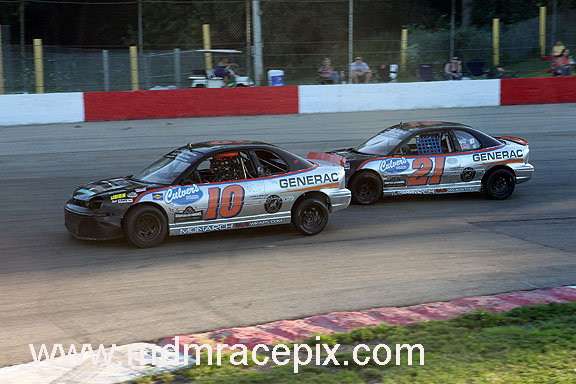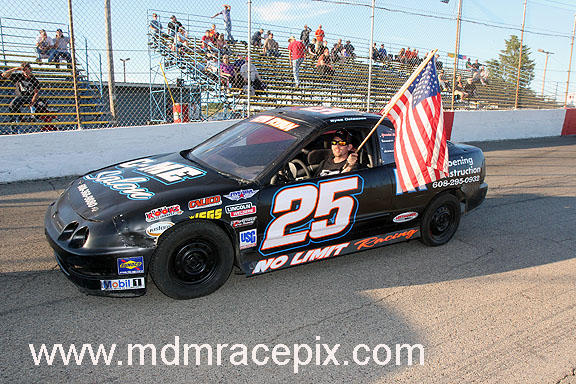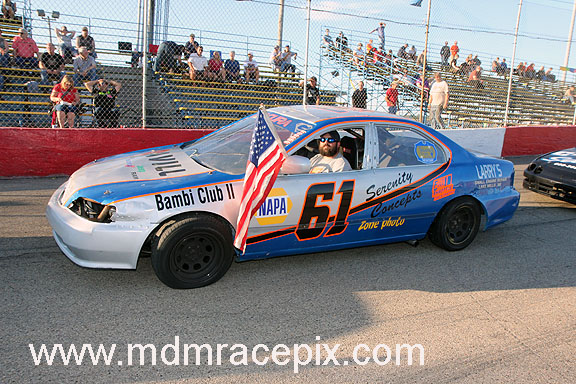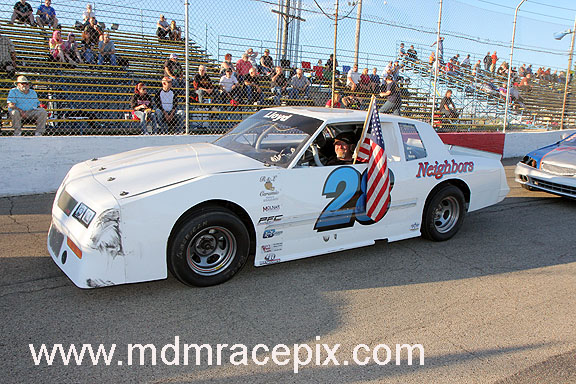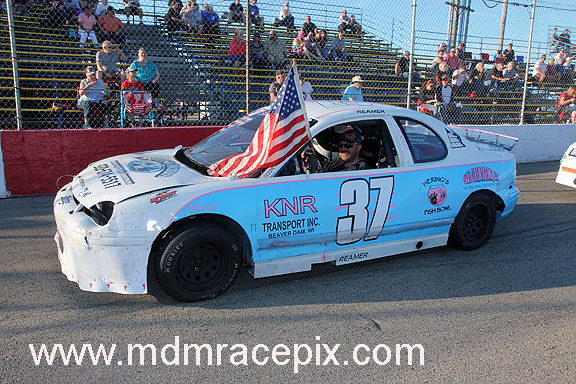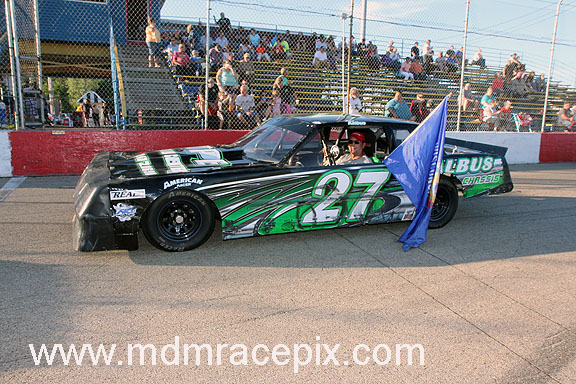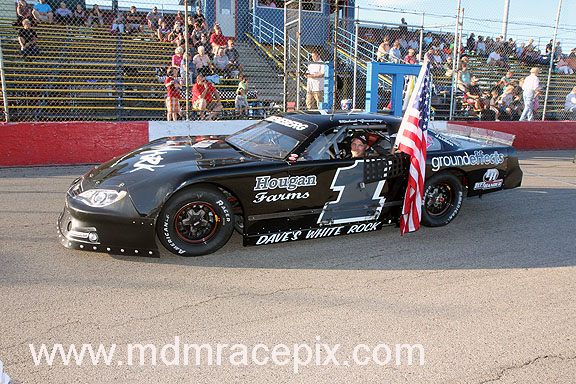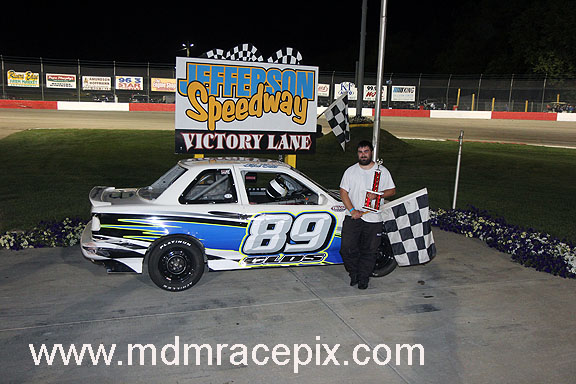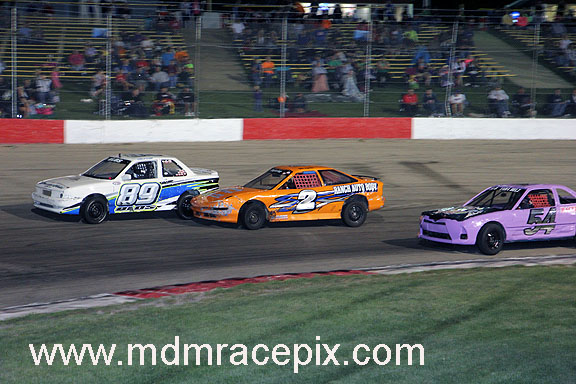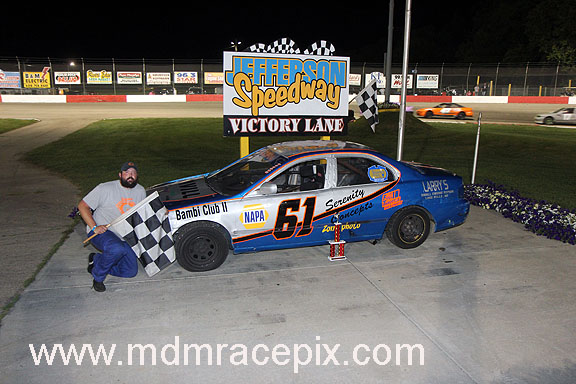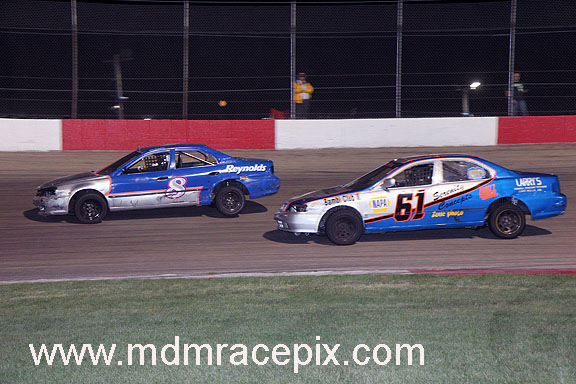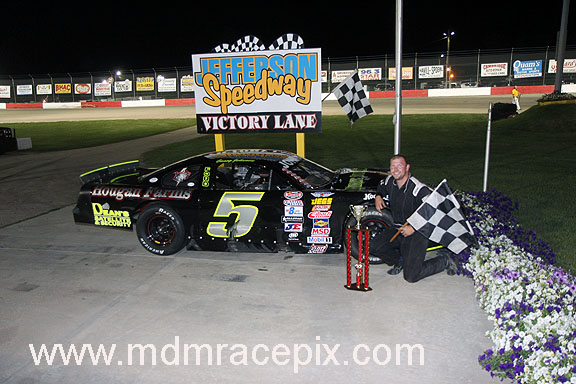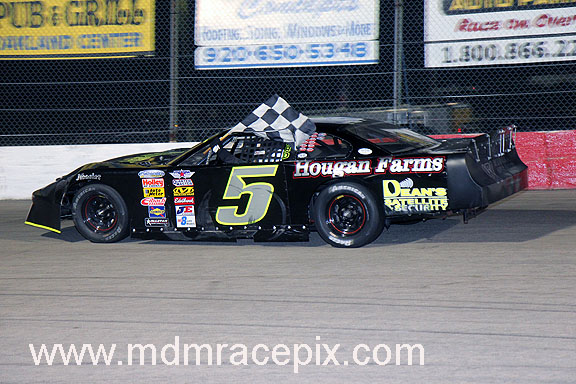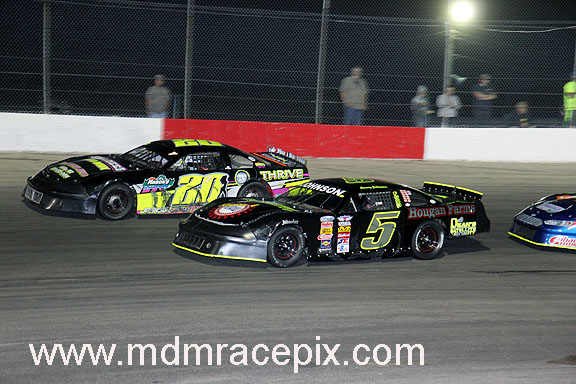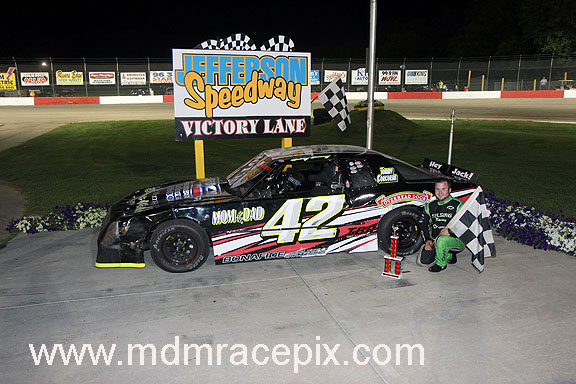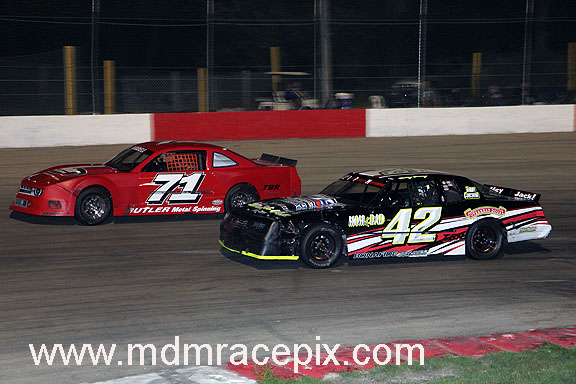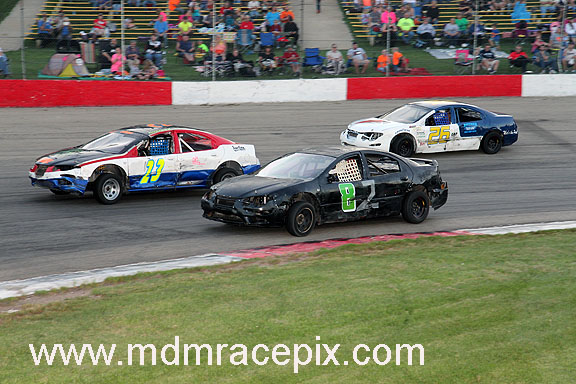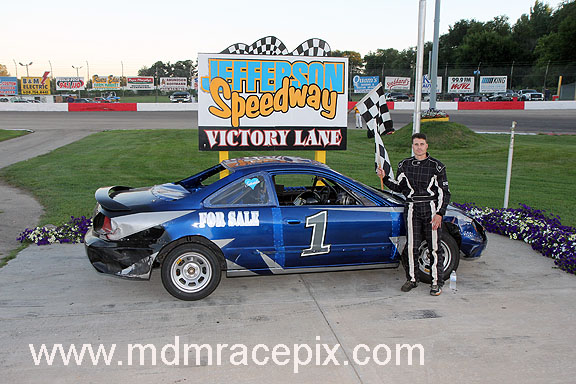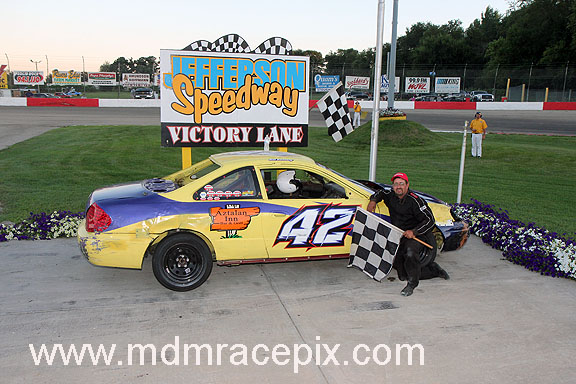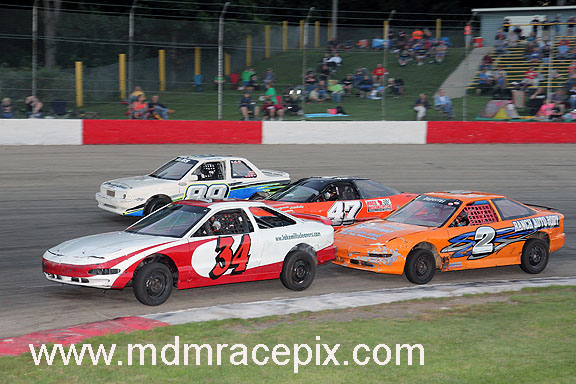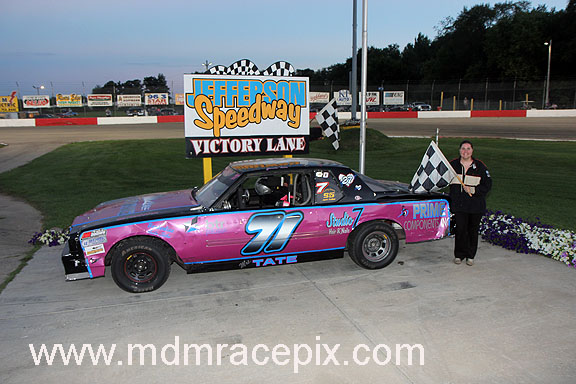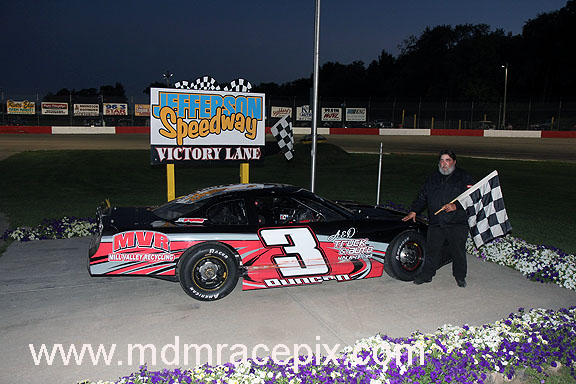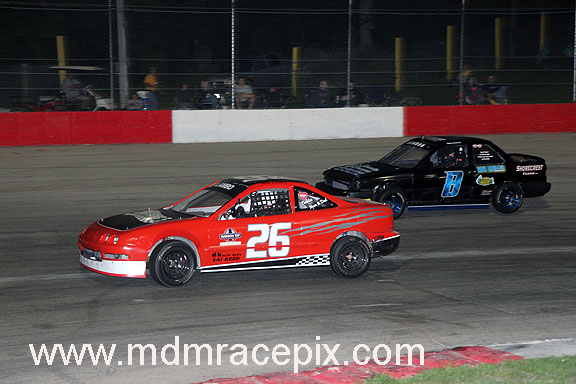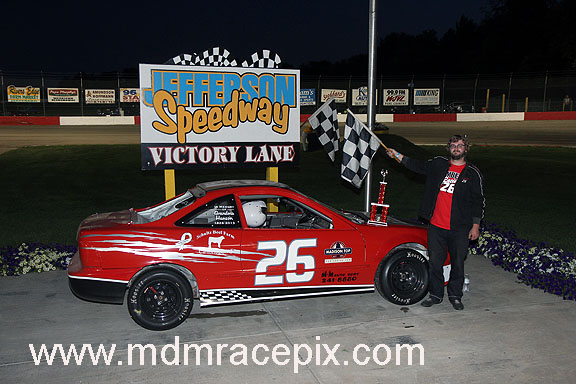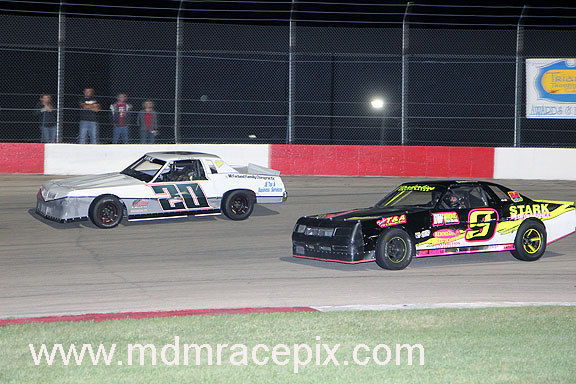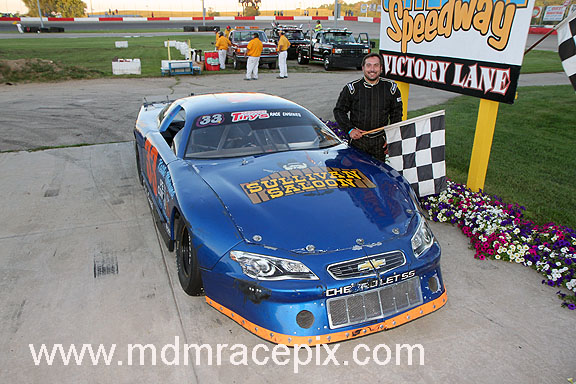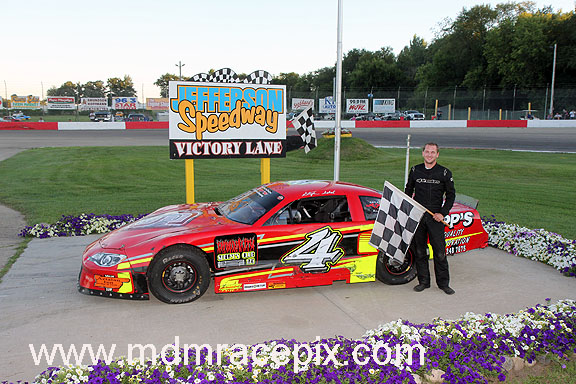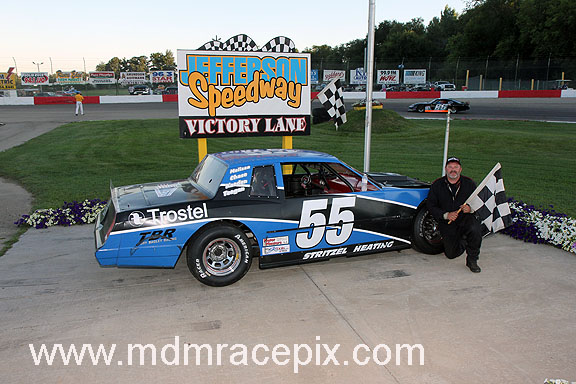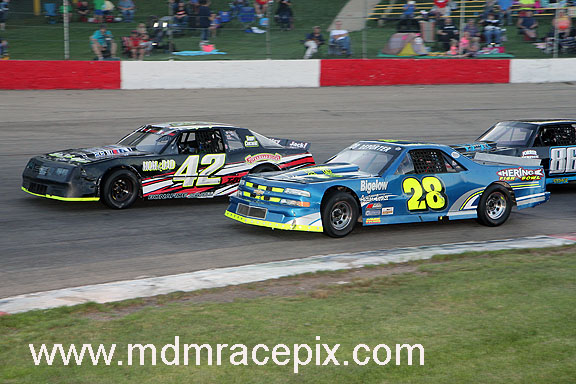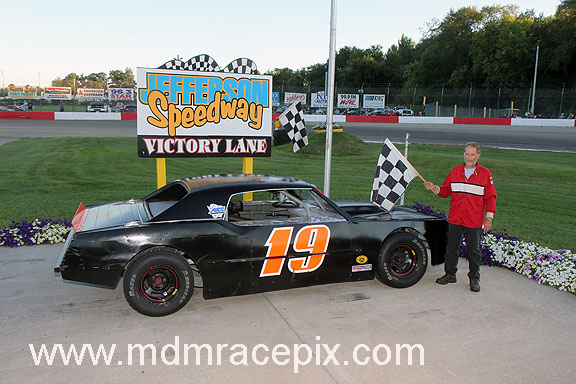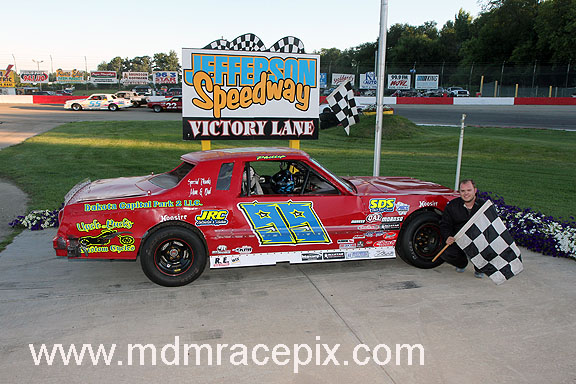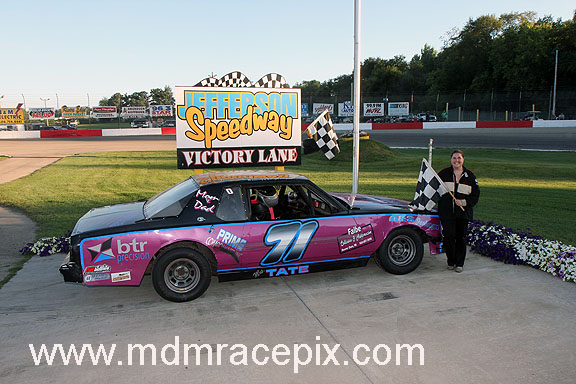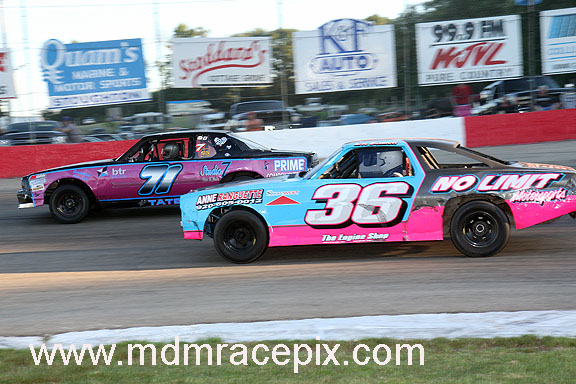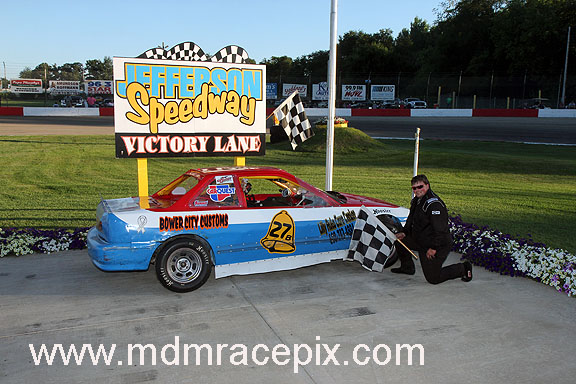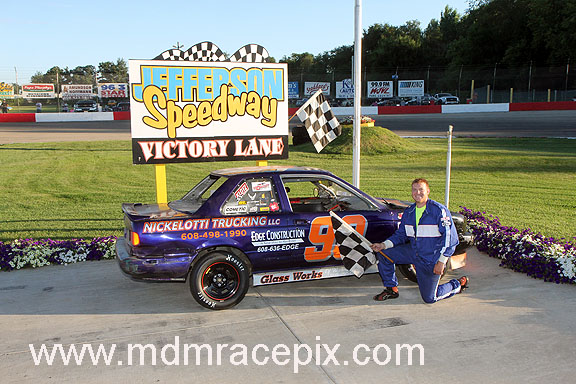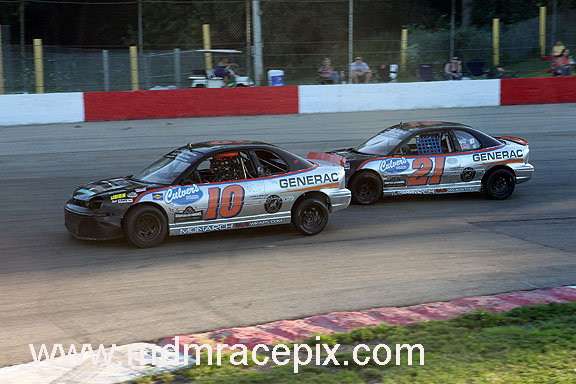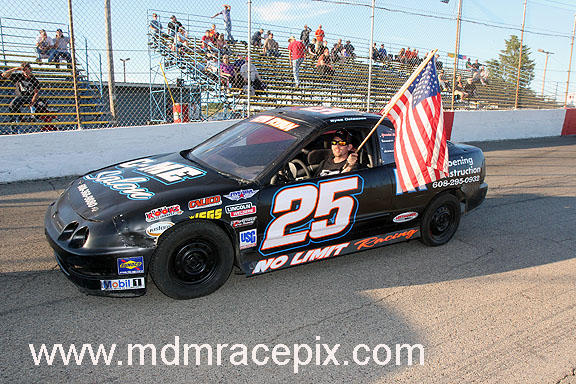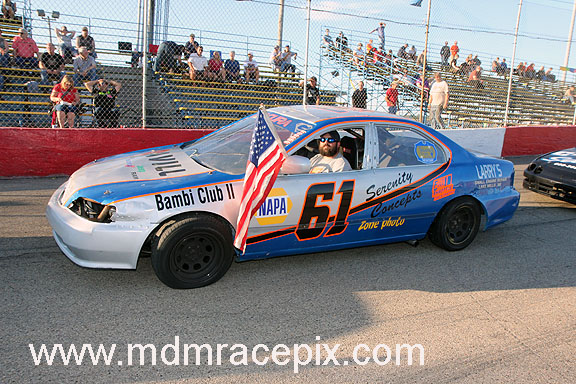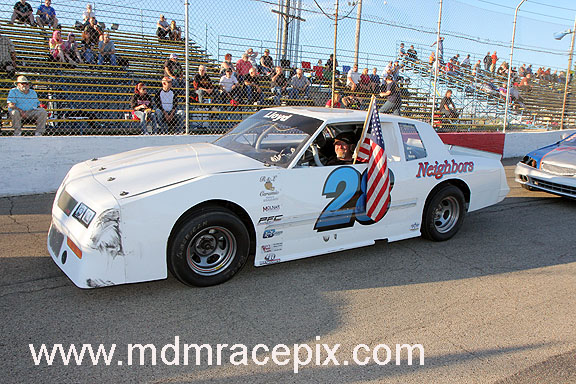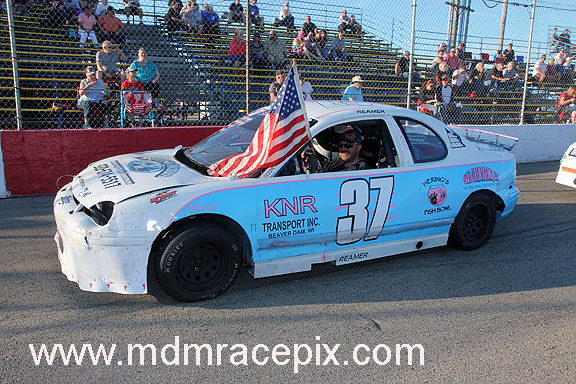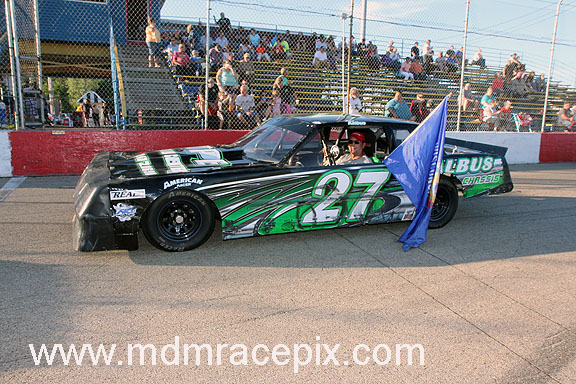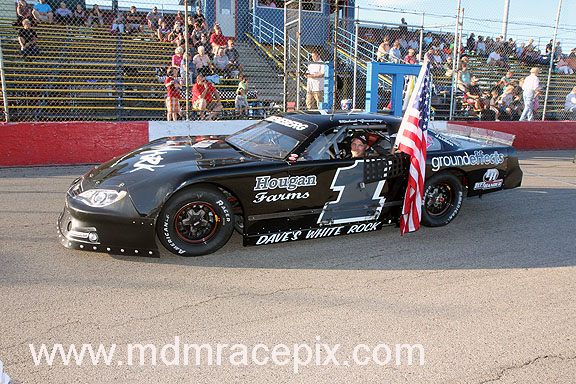 Johnson Grabs Miller Lite 50
JEFFERSON, WI (Saturday, July 30, 2016)                 Edgerton's Casey Johnson returned to Jefferson Speedway victory lane on Saturday night, for the first time since back to back feature wins in late May. Johnson methodically picked his way to the front of the field and showed why he is a three time track champion.
Cody Erdman and Bruce Lee paced the field of 18 drivers to the drop of the green flag. Lee held the advantage at the completion of lap one as Cody Erdman dropped back into a battle for second with Trent Erdman. Trent completed the pass for second on lap three with Dylan Schuyler in his tracks for third. The first of two cautions waved on lap three for an incident involving several cars including the current point leader, Dale Nottestad. Nottestad and others were forced the restart from the rear with Lee still leading the pack in front of Trent Erdman and Schuyler. Racing resumed with the leaders running single file while Jason Erickson and Johnson zeroed in on the top five. Erickson claimed fifth on lap ten with Johnson sticking close by in sixth. On lap 12, Schuyler made his move on Trent Erdman, picking up the second position with Kody Hubred in tow for third. Erickson moved up to fourth with Johnson right behind just before the second caution waved on lap 20 for a spinning Nottestad. Lee led the field back to green with Erickson and Johnson looking to advance. Erickson took a peek to the high side of Hubred for third, which allowed Johnson to sneak underneath and grab the spot from Erickson. Johnson continued forward next to Hubred, clearing for third on lap 24. Erickson followed past Hubred while Johnson pulled up behind Schuyler in second. On lap 30, Johnson got a good run off turn two as he drew even with Schuyler. Johnson cleared for second on lap 33 and set his sights on Lee at the front. Johnson pulled up behind the leader as he searched for an opening. On lap 39, Lee drifted high exiting turn four. Johnson tried to pounce on the opening, but Lee held him at bay. The next lap, Lee once again went high on the exit of turn two, and this time Johnson took advantage. The duo raced wheel to wheel down the backstretch. Johnson moved into sole possession of the top spot on lap 41 as Lee dropped back to second. From there, Johnson cruised to the checkers to score the win. Lee finished second followed by Schuyler, Erickson and John Ovadal Jr.
Bobby Selsing Jr of Johnson Creek got the front of the 30 lap Sportsman feature and hung on to secure the victory. Jim Taylor grabbed the lead on lap one from the pole with Selsing up to battle Josh Madell for second. On lap two, Selsing took second from Madell and pulled up behind Taylor. The pair of competitors was side by side on lap three with Selsing looking to gain the advantage. Selsing did just that as he cleared for the point on lap four while Mike Rahn took a turn battling Taylor for position. Rahn took second from Taylor on lap eight just before the first of two cautions slowed the pace. On the restart, Robert Hansberry Jr moved into third past Taylor while Rahn began to pressure Selsing at the front. His efforts were slowed on lap 16 for the second yellow flag. Once racing resumed, Rahn again began to apply heavy pressure to the leader while Jay Kalbus worked his way up to fourth. Kalbus got past Hansberry for third with seven laps remaining while Selsing remained in control at the front. On lap 26, Kalbus went to work on Rahn for the second spot, taking it for himself a lap later. Kalbus looked to close on Selsing out front, but ran out of time as Selsing flew past the checkers for the win. Kalbus settled for second with Rahn, Hansberry and Terry Wangsness rounding out the top five.
Fort Atkinson's Mike Lambert picked up the 20 lap International feature victory. Noah Pankow and Adam Schook led the field to green as they fought side by side for control of the top spot. Pankow eventually moved out front on lap four while Schook dropped back into a fight for second with Joe Cross. Lambert joined Schook and Cross on lap six, moving into second and drawing up behind the leader, Pankow. Lambert dove under Pankow on lap seven, clearing for the lead a lap later. James Bell moved up to battle with Pankow for second on lap ten. Bell grabbed the position, but immediately began to fade with mechanical issues. Pankow reclaimed the second spot while Seth Reamer moved past Bell for third. Reamer ran Pankow down while Lambert increased his lead. Reamer managed to slip by Pankow for the second spot in the closing laps, but Lambert was already well on his way to the win. Reamer finished second followed by Pankow, Jamie Kohn and Cross.
Dustin Ward of Waterloo claimed the win in the 25 lap Hobby Stock main event. Gary Paulick and Brandon DeLacy brought the field to green with DeLacy grabbing the early lead. Mike Storkson followed into second, and continued forward next to DeLacy for the lead. Storkson claimed the point on lap three with Lucas Buckingham following into second. On lap six, Buckingham dropped to the low side of Storkson looking to lead. The duo launched a battle that lasted the next seven circuits. The action was slowed on lap 13 for the first of two cautions. Buckingham restarted out front after being scored the leader with Storkson right behind in second and Jared Vike third. Racing resumed briefly, but contact between Storkson and Buckingham resulted in a second caution when Buckingham spun as a result in turn two. The incident ended Buckingham's evening while Storkson was relegated to the rear. Vike was handed the top spot with Ward now running second and Cody Buchs in third. As racing resumed, Ward began to peek to the low side of Vike. On lap 14, Ward drew even with Vike. Two laps later, Ward was out front and pulling away. Ward cruised to the checkers from there to pick up the win with Vike, Buchs, AJ Lloyd and Phil Wuesthoff completing the top five.
Chris Gottschalk of Fort Atkinson picked up another feature win by claiming the 15 lap Road Warrior main event. Rodger Stephenson led early from the front row with Tim Ellis up to second and Bill Sweeney in third. Ellis moved to the low side of Stephenson on lap two with Sweeney watching from third. Sweeney drove his mount right up the middle on lap four as Ellis and Sweeney emerged side by side for the lead. Sweeney claimed the point on lap five with Gottschalk following into second. Gottschalk wasted little time, pulling up next to Sweeney on lap six. Gottschalk was clear for the lead on lap eight as he began to pull away. At the checkers, it was Gottschalk for the win followed by Sweeney, Bill Reynolds, Craig Henning and Kenny Storkson.
Whitewater's Chad Olds picked up the convincing win in the 15 lap Bandit feature event. Tara Belz led lap one with DJ Hill riding in second. Tyler Deporter and Olds took the outside groove as they charged towards the front of the pack. By lap four, it was a three wide fight for first with Belz down low, Deporter in the middle and Olds on the high side. Olds fired into command on lap five and immediately began to check out from the field. Deporter moved into second, but Olds had the field covered on his way to the stripe for the win. Deporter came home second followed by Jeremy Bredeson, Belz and Ryan Ostenson.
Next Saturday, August 6, the regular racing takes the week off as Jefferson Speedway hosts round three of the Tournament of Destruction. Men, metal and mayhem all starts at 7pm. Jefferson Speedway is located halfway between Jefferson and Cambridge on Hwy 18. Please visit www.jeffersonspeedway.com for more information.
JEFFERSON SPEEDWAY RACE SUMMARY
Late Model-
Feature Results- 1) Casey Johnson, Edgerton  2) Bruce Lee, Cambridge  3) Dylan Schuyler, Jefferson  4) Jason Erickson, Fort Atkinson  5) John Ovadal Jr, Watertown  6) Kody Hubred, Cambridge  7) Luke Westenberg, Jefferson  8) Trent Erdman, Fort Atkinson  9) Dale Nottestad, Cambridge  10) Michael Grueneberg, Madison  11) Shaun Scheel, Lake Mills  12) Jerry Eckhardt, Johnson Creek  13) Scott Patrick, Dousman  14) Cody Erdman, Horicon  15) Don Gaserude, Fort Atkinson  16) Eddie May, Crystal Lake (IL)  17) Chuck Duncan, Milwaukee  18) Kyle Smith, Lake Mills
Fast Qualifier- Michael Grueneberg—14.207 seconds
Last Chance- Chuck Duncan, Scott Patrick, Don Gaserude, Jerry Eckhardt
Heat Winners- 1) Ed Wolff III  2) Stephen Scheel  3) Dylan Schuyler
Sportsman-
Feature Results- 1) Bobby Selsing Jr, Johnson Creek  2) Jay Kalbus, Watertown  3) Mike Rahn, DePere  4) Robert Hansberry Jr, Beloit  5) Terry Wangsness, Jefferson  6) Jim Taylor, Stoughton  7) Chris Chenoweth, Watertown  8) Josh Madell, Mayville  9) Tony Ciano, Janesville  10) Jim Tate Jr, Doylestown  11) Dan Schmidt, Farmington  12) Bryce Miller,  13) Ed Jackson, Madison  14) Tim Belz, Sun Prairie  15) Boyd Eichelkraut, Stoughton  16) Mark Deporter, Fort Atkinson
Fast Qualifier- Jay Kalbus—14.981 seconds
Heat Winners- 1) Dan Schmidt  2) Terry Wangsness
International-
Feature Results- 1) Mike Lambert, Fort Atkinson  2) Seth Reamer, Beaver Dam  3) Noah Pankow, Jefferson  4) Jamie Kohn, Madison  5) Joe Cross, Sun Prairie  6) Mark English, Edgerton  7) Neil Higgins, Watertown  8) Seth Green, Janesville  9) James Bell, Janesville  10) Adam Schook, Palmyra  11) Merek Pankow, Jefferson  12) Keith Bell, Brodhead  13) Tim Petrie, Whitewater  14) Jason Uttech, Watertown
Fast Qualifier- Seth Reamer—15.931 seconds
Heat Winners- 1) Seth Green  2) James Bell
Hobby Stock-
Feature Results- 1) Dustin Ward, Waterloo  2) Jared Vike, Sussex  3) Cody Buchs, Mazomanie  4) AJ Lloyd, Loves Park (IL)  5) Phil Wuesthoff, Beaver Dam  6) Chester Williams, Waukesha  7) Brandon DeLacy, Stoughton  8) Gary Paulick, Union Grove  9) Jon Benninger, Windsor  10) Jamie Tate, Doylestown  11) Jim Wolf, Watertown  12) Lucas Buckingham, Whitewater  13) Mike Storkson, Evansville  14) Chuck Egli, Stoughton  15) Korey Bengsch, Fond du Lac  16) Mike Manley, Fort Atkinson  17) Austin Stitz, Watertown  18) Jim Robinson, Beloit
Fast Qualifier- AJ Lloyd—15.732 seconds
Last Chance- Jamie Tate, Jon Benninger, Jim Wolf, Mike Manley, Austin Stitz
Heat Winners- 1) Jamie Tate  2) Lucas Buckingham  3) Phil Wuesthoff
Road Warrior-
Feature Results- 1) Chris Gottschalk, Fort Atkinson  2) Bill Sweeney, Aztalan  3) Bill Reynolds, Watertown  4) Craig Henning, Helenville  5) Kenny Storkson, Edgerton  6) Tim Ellis, Rockford (IL)  7) Rodger Stephenson, Cambridge  8) David Pautsch Jr, Roscoe (IL)  9) Rickie Nelson, Evansville  10) Todd Dillinder, Cross Plains  11) Bryan Gottschalk, Jefferson
Fast Qualifier- Chris Gottschalk—16.641 seconds
Heat Winners- 1) Tim Ellis  2) Bill Sweeney
Bandit-
Feature Results- 1) Chad Olds, Whitewater  2) Tyler Deporter, Fort Atkinson  3) Jeremy Bredeson, Deforest  4) Tara Belz, Sun Prairie  5) Ryan Ostenson, Beloit  6) Bill Kohn, Madison  7) Josh Lenz, Lake Mills  8) Tad Douglas, Jefferson  9) DJ Hill, Watertown  10) Grace Spencer,
Fast Qualifier- Ryan Ostenson—14.205 seconds
Heat Winner- Chad Olds