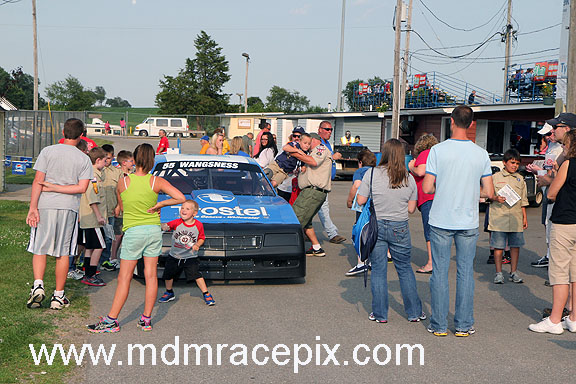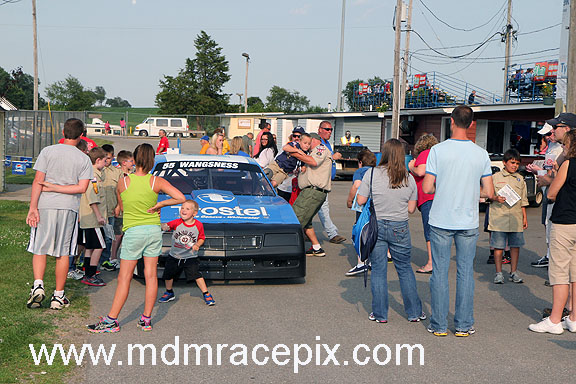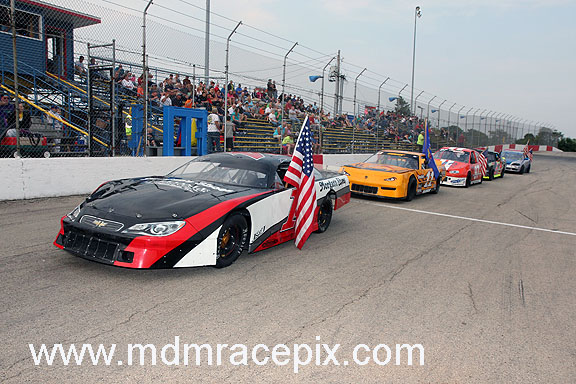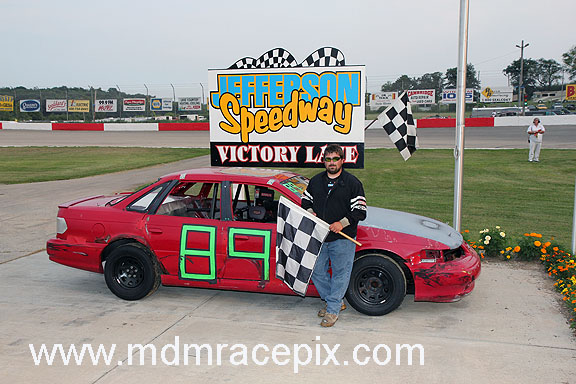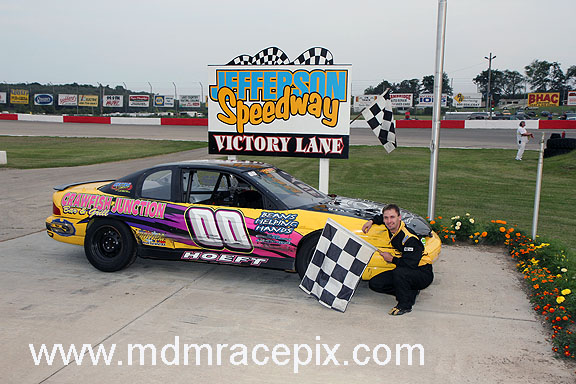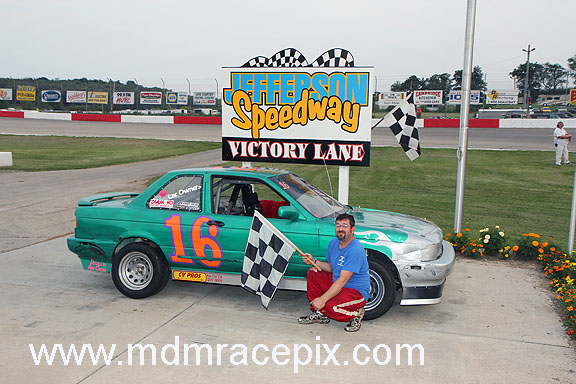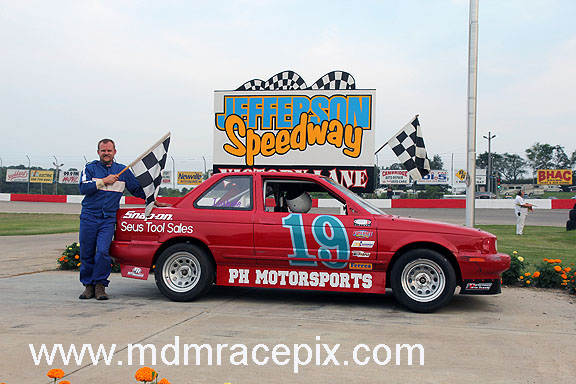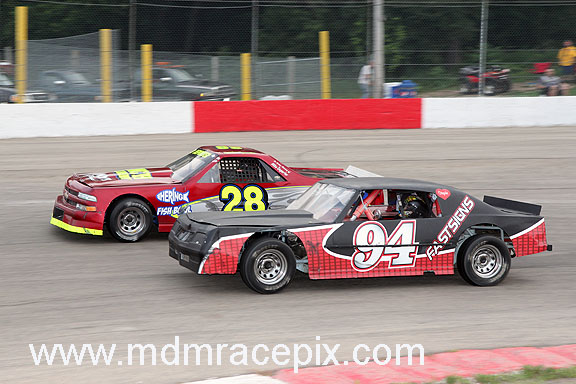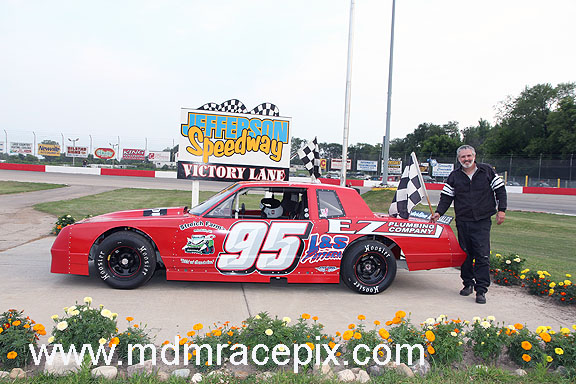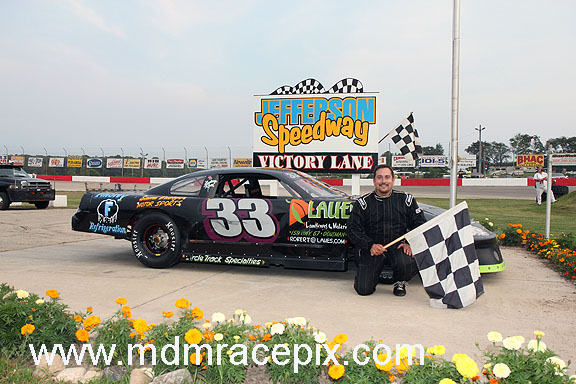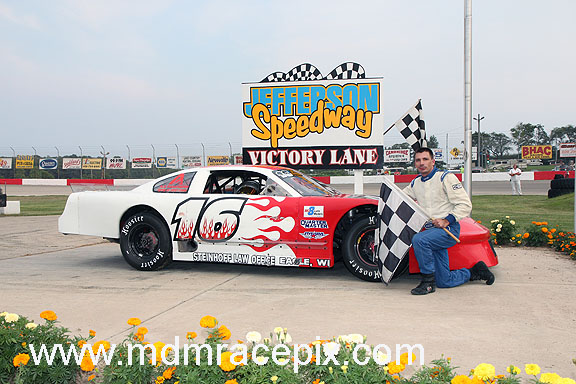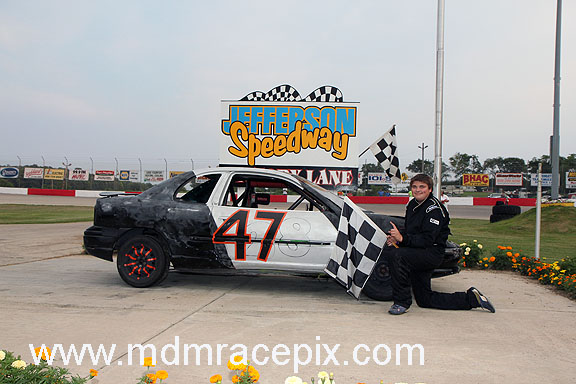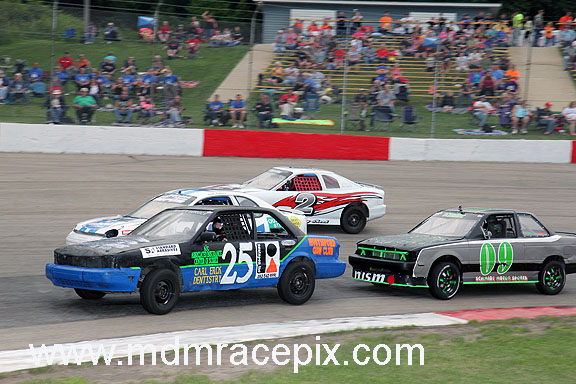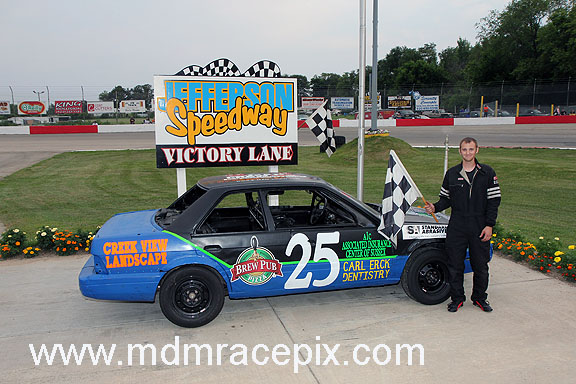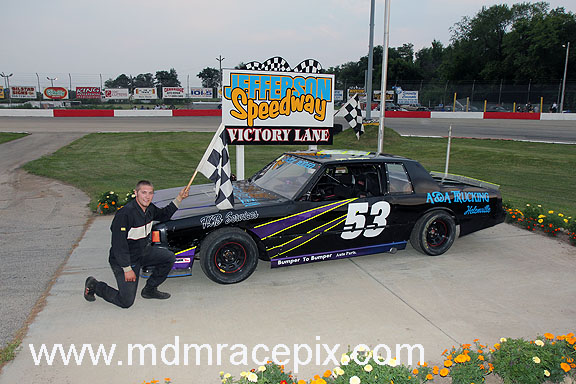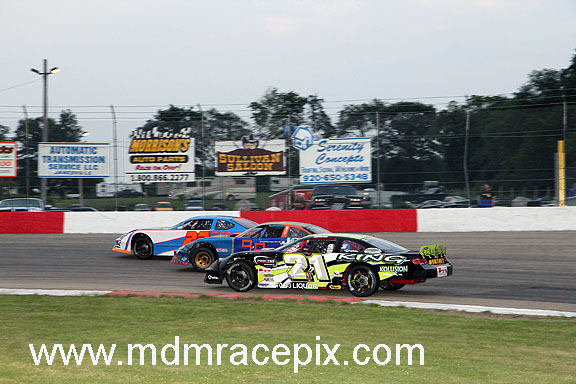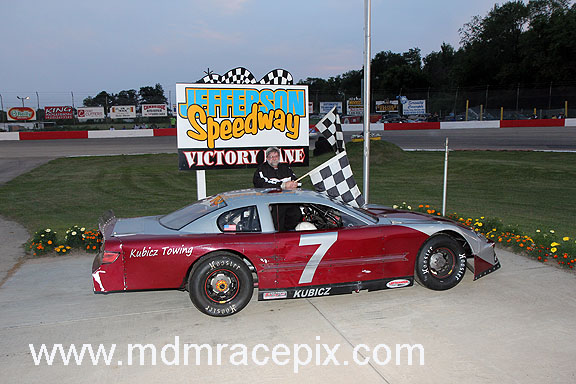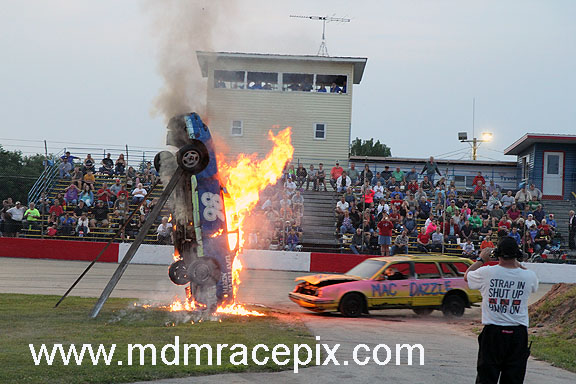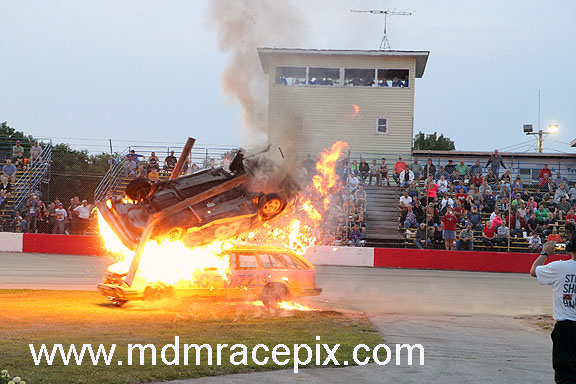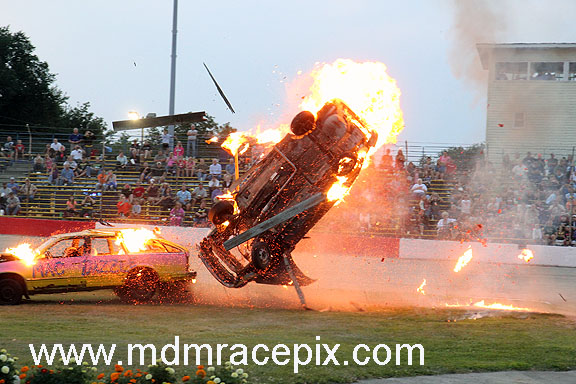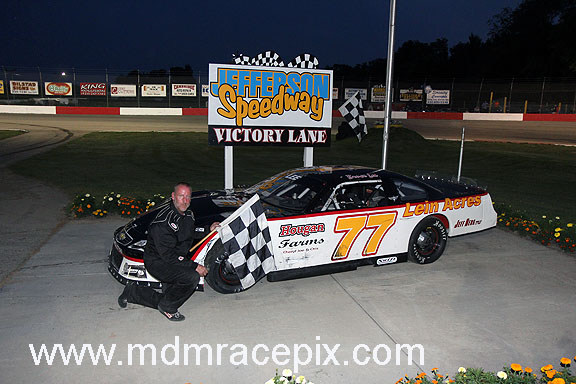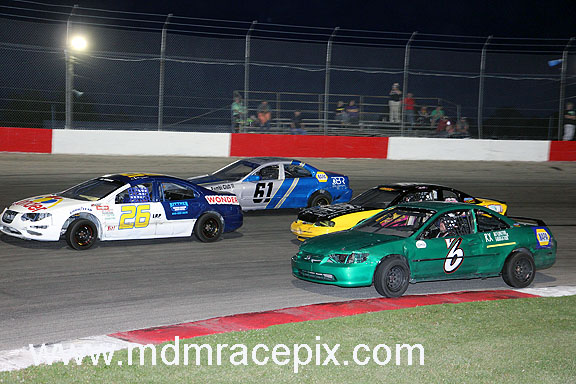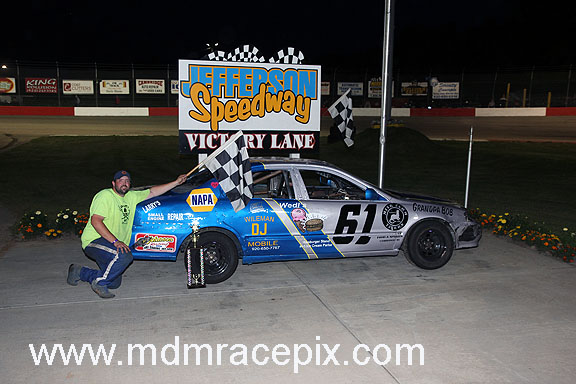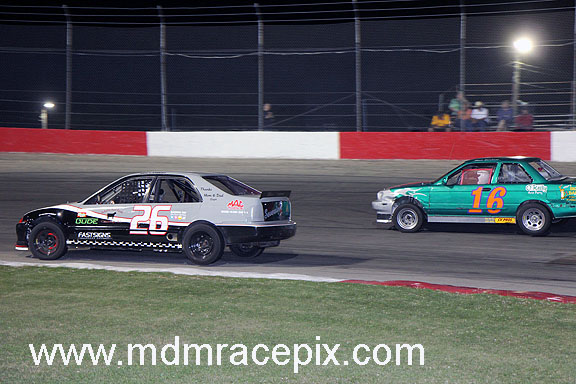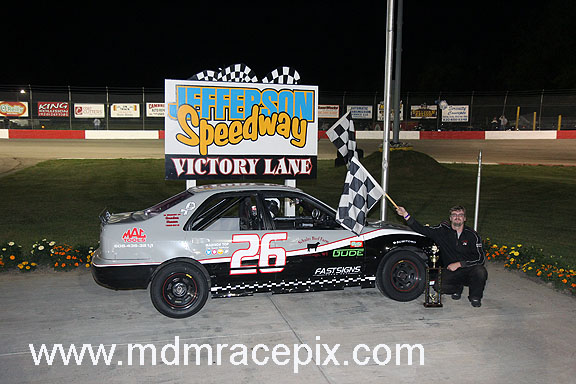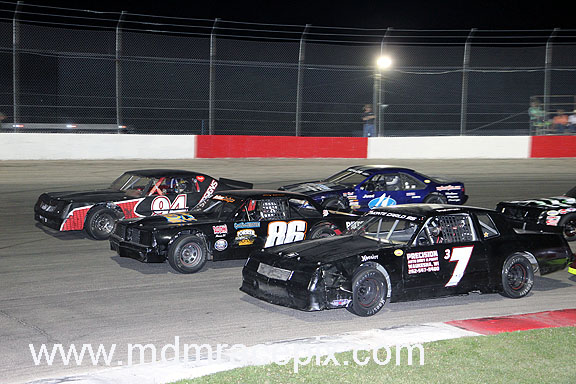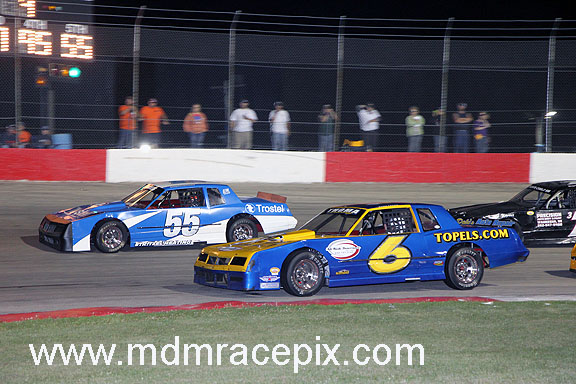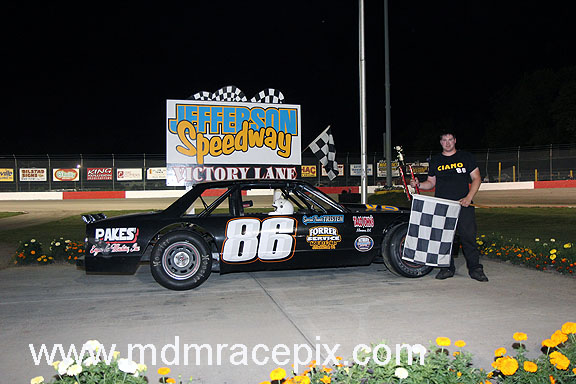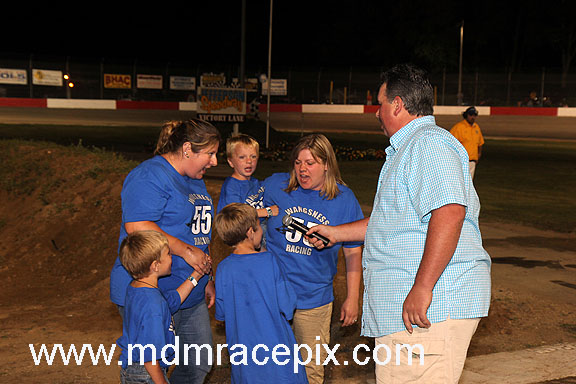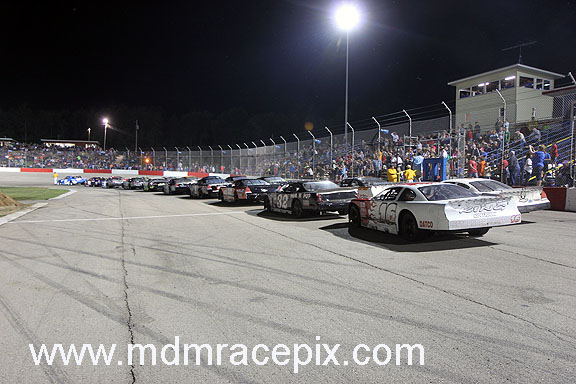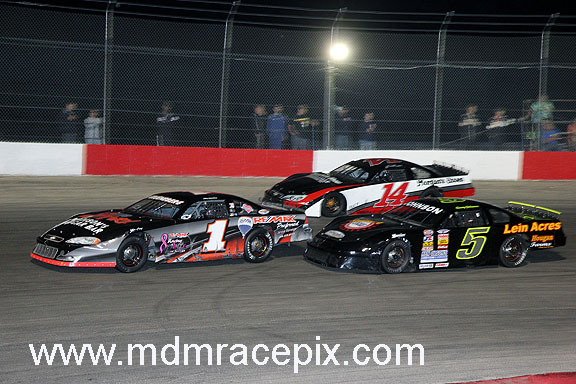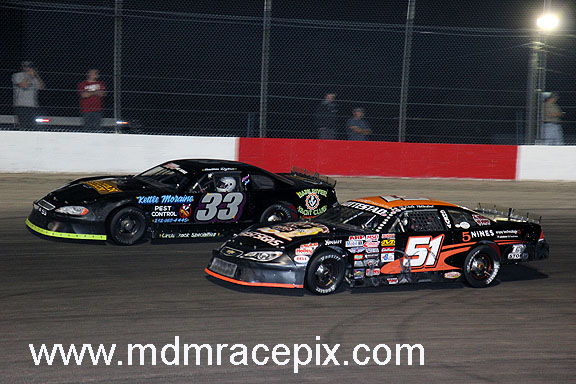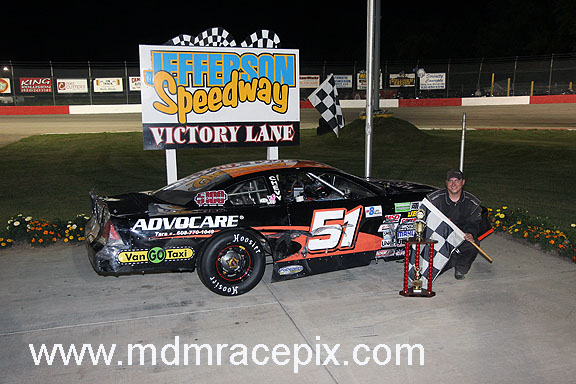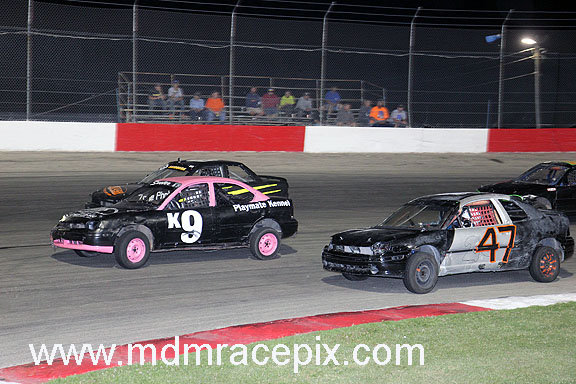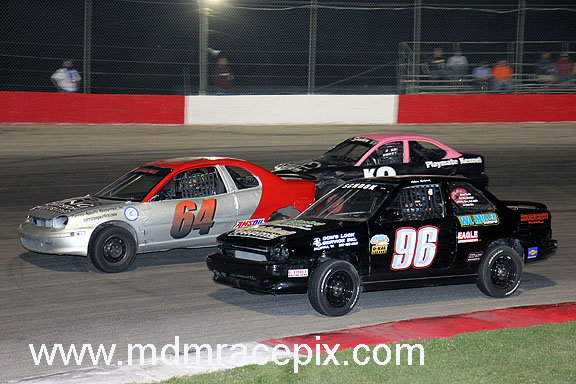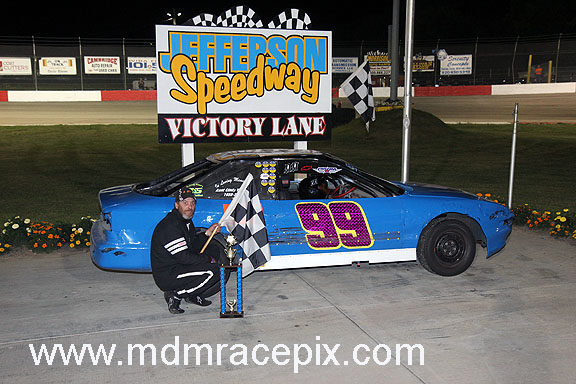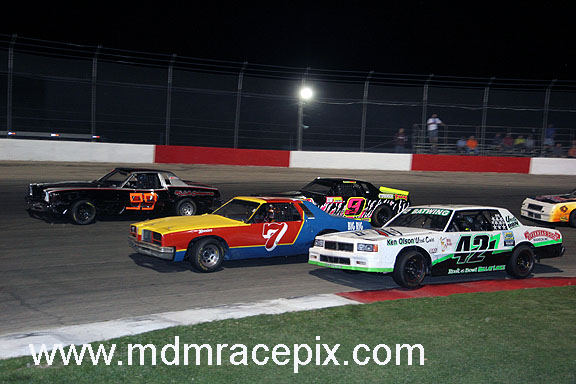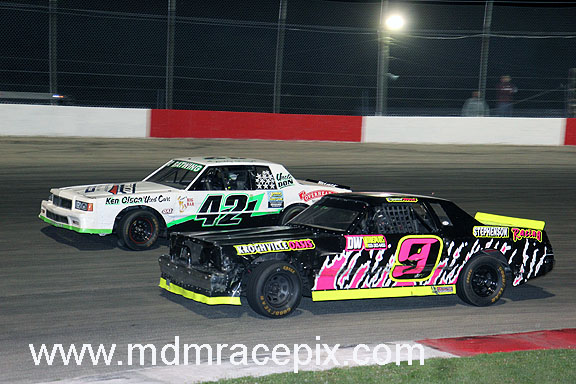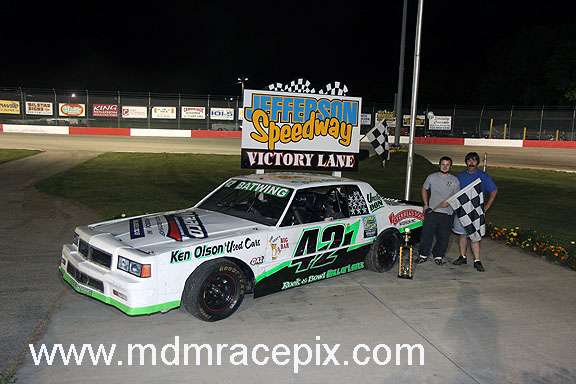 Nottestad Flexes Muscle at Jefferson Speedway
JEFFERSON, WI (Saturday, July 19, 2014) Current point leader and defending Late Model champion, Dale Nottestad of Cambridge, added to his long list of accomplishments at Wisconsin's Action Track on Saturday night. Nottestad picked his way to the front of the Trostel Limited 50 lap feature event and ended in victory lane with his third feature win of the season.
Tory Bagley and John Ovadal Jr paced the stout field to the green with Ovadal grabbing control on lap one as they exited turn four. Bagley dropped into line in second with Kyle Jarlsberg third and Dylan Schuyler up to fourth. On lap six, Schuyler drove by Jarlsberg for third and quickly set his sights on Bagley. Two laps later, Schuyler and Bagley were door to door for the second spot while Ovadal tried to extend his advantage. The first of four cautions slowed the field on lap ten for fluid on the racing surface. As racing got back underway, Ovadal still held the point with Schuyler now filling his rear view mirror. Meanwhile, Shaun Scheel was making his way into the top five with Nottestad in tow the whole way. While Ovadal and Schuyler began to slip away from the pack, Scheel and Nottestad made their way up to third and fourth respectively. Another caution just before the halfway point of the race closed the leaders back up on the restart, As racing resumed, Scheel dove off the speedway with mechanical difficulties handing the third position to Nottestad. Schuyler went to work on the leader as he drove under Ovadal on lap 27. After a four lap battle, Schuyler cleared for the lead with Nottestad in his tracks for second. With 15 laps remaining, Nottestad launched his bid for the top spot, drawing even with Schuyler a lap later. Nottestad inched his mount ahead of Schuyler just as another caution waved on lap 39. Nottestad restarted as the leader with Schuyler now in second and Ovadal third. The leaders raced single file through one more caution with Nottestad never seriously challenged in the closing laps. At the checkers it was Nottestad out front followed by Schuyler, Ovadal, Jarlsberg and Michael Grueneberg.
In Sportsman action, Tony Ciano of Janesville got out front and ran away with the 25 lap feature victory. Bob Hansberry Sr took the initial lead on lap one as a three way fight for second raged behind him between Mike Storkson, Ciano and Seth Lootans. Lootans and Ciano emerged side by side for second with Ciano eventually taking control of the position on lap four. Ciano charged alongside Hansberry on lap six with Ciano taking the top spot for himself exiting turn four. Ciano began to pull away from the field while Mark Deporter made his way up to second by lap eight. The two leaders continued to separate themselves from the rest of the pack while Jason Thoma was slicing his into the top five. Thoma made it up to third in the closing laps, but Ciano remained in complete control on his way to picking up the win. Deporter finished second followed by Thoma, Steven Sauer and Jay Kalbus.
Defending International champion, Mike Lambert of Madison, captured the 20 lap feature event for his division. Dan Birkett led early from the front row with Keith Bell in second. John Handeland pulled into third on lap four with Lambert in his tracks. Handeland moved up to challenge Bell for second allowing Birkett to slip away slightly in front of them, Handeland claimed the second spot on lap then with Lambert in tow for third. Lambert quickly went to work on Handeland, drawing even with Handeland as they closed in on Birkett. On lap 15, Lambert slid past Handeland and up alongside Birkett as he looked to lead. Two laps later, Lambert owned the top spot with Chris Chenoweth trying to follow into second. At the checkers, it was Lambert for the win followed by Chenoweth, Birkett, Handeland and Seth Reamer.
Edgerton's Bobby Selsing Jr hung on to claim the 20 lap Hobby Stock main event. Jim Wolf led early with a gaggle of cars fight for position behind him. Scott Riemer and Phil Wuesthoff emerged wheel to wheel for second with Selsing watching from fourth. On lap four, Wuesthoff used the outside groove to charge alongside Wolf at the front. Wuesthoff was scored as the leader just as the caution waved on lap five. As racing resumed, Selsing drove to the outside of Wolf to claim second with Dustin Ward in tow for third. Selsing pulled up behind Wuesthoff on the point and began to peek to the low side of the leader with nine laps to go. Selsing drew even with Ward watching from third on lap 12. Selsing cleared for the lead as Ward followed into second and immediately began to apply heavy pressure to the new leader. Lap after lap, Ward searched for a way past Selsing. But Selsing kept Ward at bay as he saw the checkers first for the win. Ward settled for second with Wuesthoff, Cody Buchs and Riemer rounding out the top five.
Jefferson's Chris Gottschalk claimed the win in the 20 lap Road Warrior feature event. Bryan Gottschalk and Mike Storkson led the field to green as they battled side by side on the opening lap. Storkson got loose on lap two allowing Gottschalk to take control with Jeff LeFave up to second. LeFave quickly worked past Gottschalk on lap four bringing Bill Sweeney along for second. Sweeney began to challenge LeFave at the front while Bill Reynolds and Chris Gottschalk waged their own battle for the third position right behind them. Using the outside groove, Sweeney claimed the top spot on lap ten with Gottschalk following into second. Gottschalk crossed over to the low side of Sweeney, grabbing the top spot for himself on lap 12. After a caution on lap 14, the leaders began to pull away from the rest of the field with Gottschalk hanging onto the lead. At the checkers, it was Gottschalk in control followed by Sweeney, Reynolds, Scott Hoeft and Craig Henning.
Beaver Dam's Dennis Wuesthoff captured the 15 lap Bandit feature event. Starting on the pole, Wuesthoff grabbed control of the lead on lap one. Josh Marx used the high groove to pull into second on lap two. Marx tried to stay on the high side to get past Wuesthoff, but lapped traffic on lap five forced Marx to pull back in line behind the leader. Marx went back to the outside as he tried to draw even with Wuesthoff. Nick Schmidt joined the leaders as he tucked in behind Wuesthoff with Marx to his outside. Marx was never able to get the momentum he needed to overtake Wuesthoff allowing Wuesthoff to pick up the win. Schmidt nipped Marx at the stripe to claim second with Trent Rueth and Noah Pankow completing the top five.
Next Saturday, July 26, is a full program of racing in all divisions. There will also be kids stock car rides following time trials. Qualifying begins at 4:30pm with kids rides to follow and racing at 7pm. Jefferson Speedway is located halfway between Jefferson and Cambridge on Hwy 18. Please visit www.jeffersonspeedway.com for more information.
Jefferson Speedway Race Summary
Late Model-
Feature Results- 1) Dale Nottestad, Cambridge 2) Dylan Schuyler, Jefferson 3) John Ovadal Jr, Watertown 4) Kyle Jarlsberg, Jefferson 5) Michael Grueneberg, Madison 6) Noel Ramge, Helenville 7) Trent Erdman, Fort Atkinson 8) Bruce Lee, Cambridge 9) Jason Erickson, Fort Atkinson 10) Zack Riddle, Stoughton 11) Luke Westenberg, Jefferson 12) Kyle Smith, Lake Mills 13) Tyler Peterson, Lake Geneva 14) Paul Dygon, Wind Lake 15) Casey Johnson, Edgerton 16) Shaun Scheel, Lake Mills 17) Tory Bagley, Stoughton 18) Chris Quam, Stoughton
Fast Qualifier- Zack Riddle—14.557 seconds
Consi- Ed Kubicz, Brandon Pendleton
Last Chance- Bruce Lee, Paul Dygon, Tyler Peterson, Luke Westenberg
Heat Winners- 1) Brandon Pendleton 2) Tyler Peterson 3) Dylan Schuyler 4) Luke Westenberg
Sportsman-
Feature Results- 1) Tony Ciano, Janesville 2) Mark Deporter, Fort Atkinson 3) Jason Thoma, Jefferson 4) Steven Sauer, Waterloo 5) Jay Kalbus, Whitewater 6) Terry Wangsness, Jefferson 7) Robert Hansberry Sr, Beloit 8) Tim Coley, Madison 9) Seth Lootans, Kenosha 10) Jim Taylor, Stoughton 11) Mike Storkson, Evansville 12) Scott Scholl, Pewaukee
Fast Qualifier- Steven Sauer—15.240 seconds
Heat Winners- 1) Robert Hansberry Sr 2) Tony Ciano
International-
Feature Results- 1) Mike Lambert, Madison 2) Chris Chenoweth, Watertown 3) Dan Birkett, Jefferson 4) John Handleand, Belleville 5) Seth Reamer, Waupun 6) Keith Bell, Brodhead 7) Merek Pankow, Jefferson 8) Jason Uttech, Watertown 9) Josh Lenz, Lake Mills 10) Devon Dixon, Janesville 11) Joe Cross, Sun Prairie 12) Neil Higgins, Watertown
Fast Qualifier- Chris Chenoweth—16.441 seconds
Heat Winners- 1) Dan Birkett 2) John Handeland
Hobby Stock-
Feature Results- 1) Bobby Selsing Jr, Edgerton 2) Dustin Ward, Waterloo 3) Phil Wuesthoff, Beaver Dam 4) Cody Buchs, Mazomanie 5) Scott Reimer, Brookfield 6) Dylan Buckingham, Whitewater 7) Lucas Buckingham, Whitewater 8) Jeff LeFave, Fort Atkinson 9) Jim Wolf, Watertown 10) Boyd Eichelkraut, Stoughton 11) Rick Coppernoll, Cottage Grove
Fast Qualifier- Dustin Ward—15.804 seconds
Heat Winners- 1) Jim Wolf 2) Dylan Buckingham
Road Warrior-
Feature Results- 1) Chris Gottschalk, Jefferson 2) Bill Sweeney, Edgerton 3) Bill Reynolds, Watertown 4) Scott Hoeft, Watertown 5) Craig Henning, Jefferson 6) Kenny Storkson, Evansville 7) Tom Dorn, Fort Atkinson 8) Chad Olds, Whitewater 9) Matthew Melchiori, Milwaukee 10) Brian Gottschalk, Jefferson 11) Mike Storkson, Evansville 12) Jeff LeFave, Fort Atkinson 13) Rodger Stephenson, Cambridge 14) Brandon DeLacy, Fort Atkinson 15) Don Goergeson Jr,
Fast Qualifier- Chris Gottschalk—16.851 seconds
Heat Winners- 1) Chad Olds 2) Scott Hoeft
Bandit-
Feature Results- 1) Dennis Wuesthoff, Beaver Dam 2) Nick Schmidt, Oak Creek 3) Josh Marx, Dousman 4) Trent Rueth, Jefferson 5) Noah Pankow, Jefferson 6) Paul Reagles, Colgate 7) Tyler Deporter, Fort Atkinson 8) Brandon DeLacy, Fort Atkinson 9) Adam Schook, Whitewater 10) Matt Rusch, Fort Atkinson 11) Sueter Bennett, Franksville 12) Robert Taylor, 13) Josh Rusch, Cambridge
Fast Qualifier- Trent Rueth—17.345 seconds
Heat Winners- 1) Brandon DeLacy 2) Paul Reagles