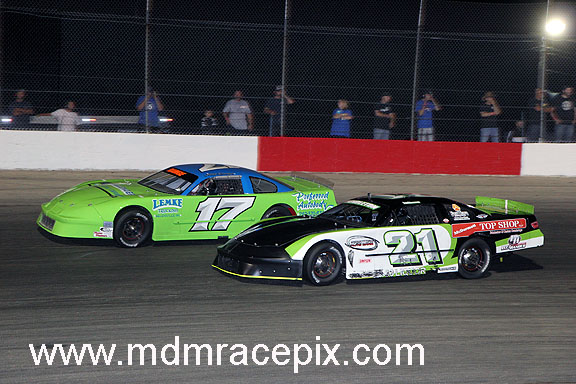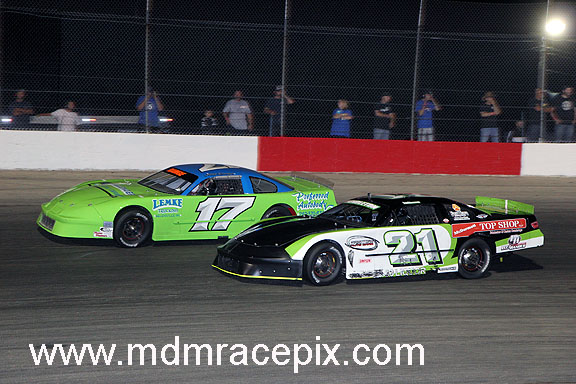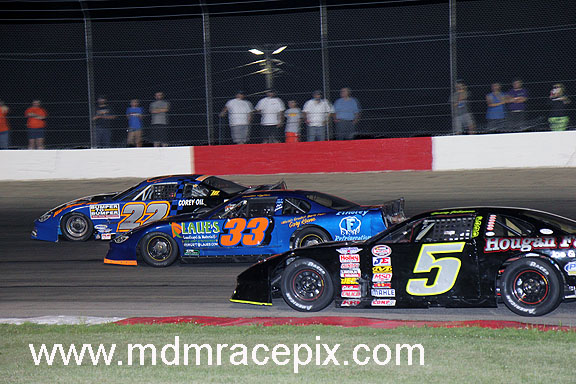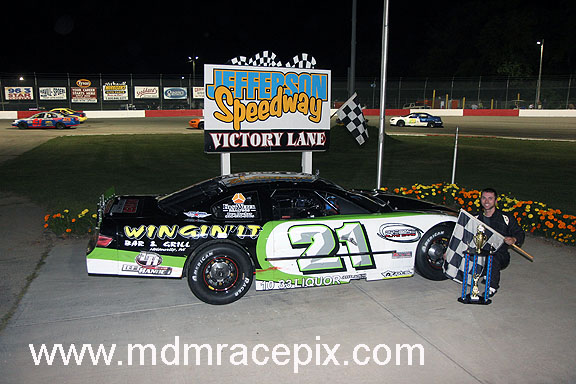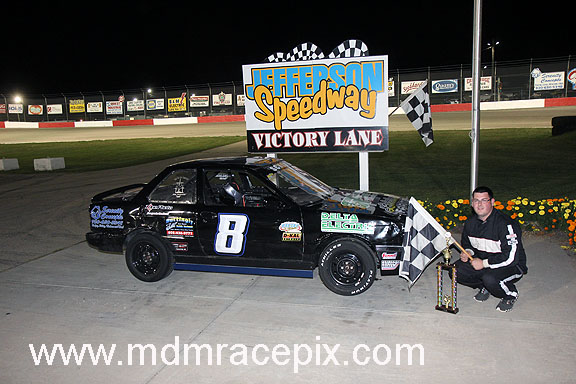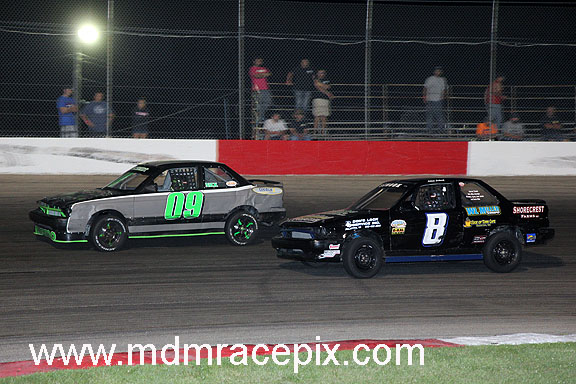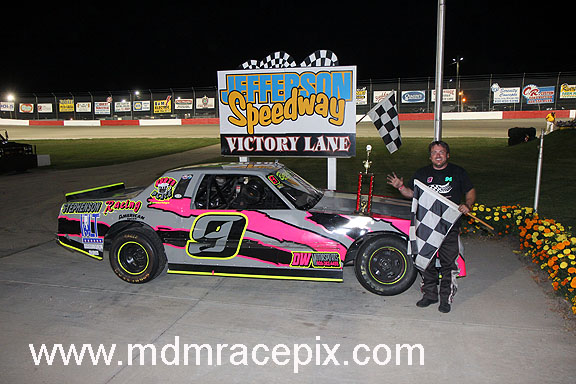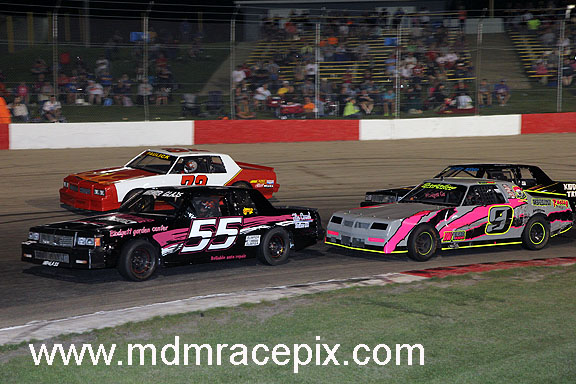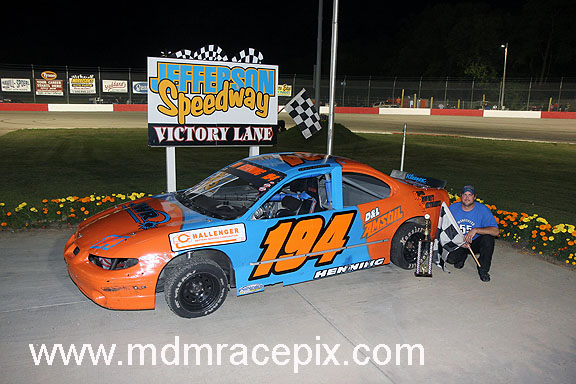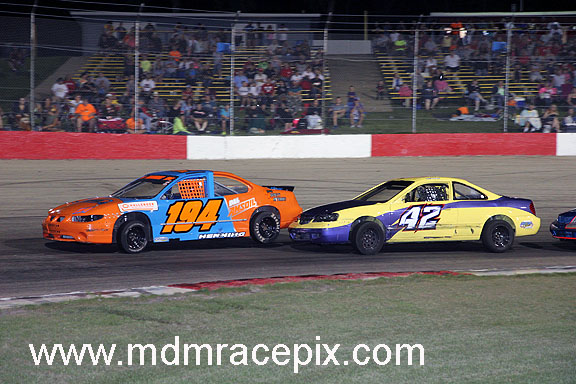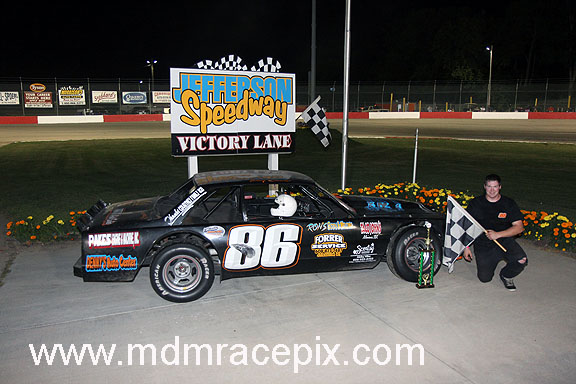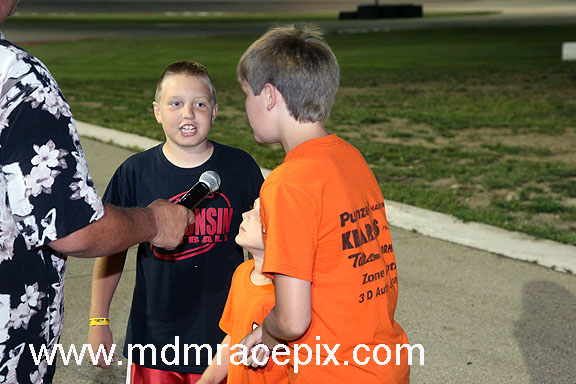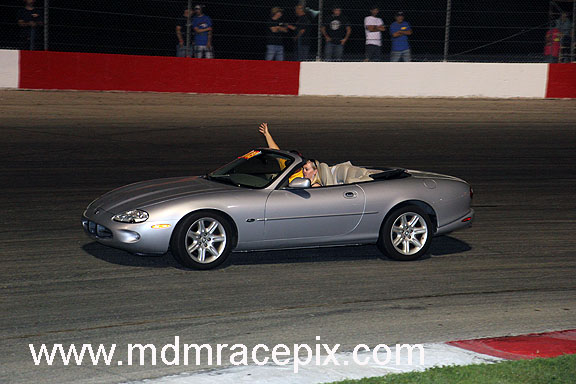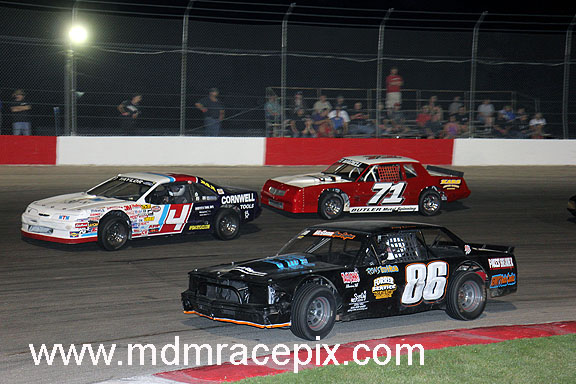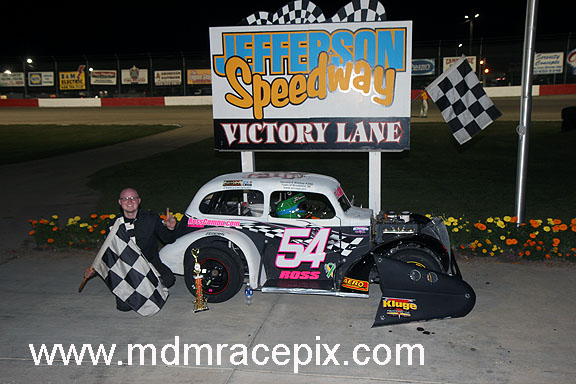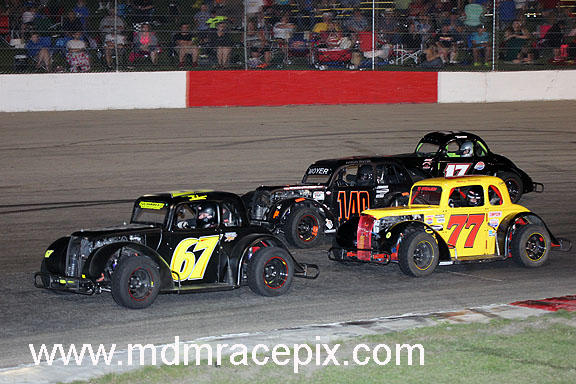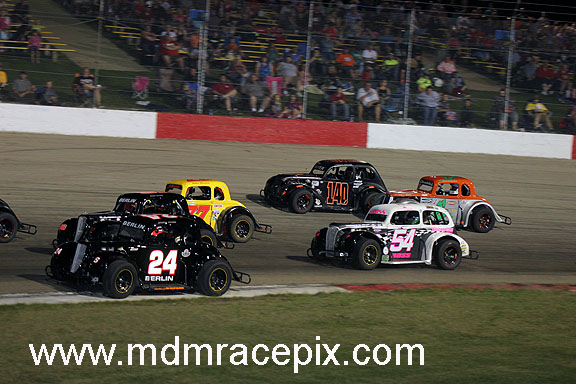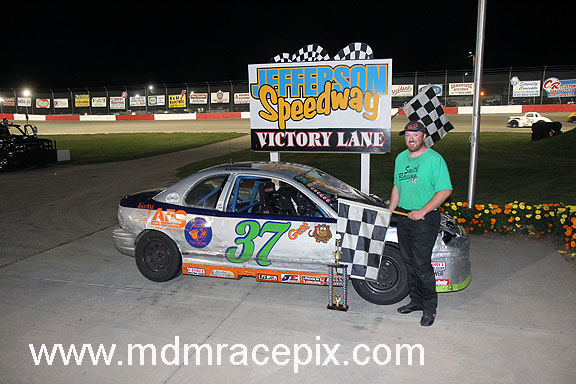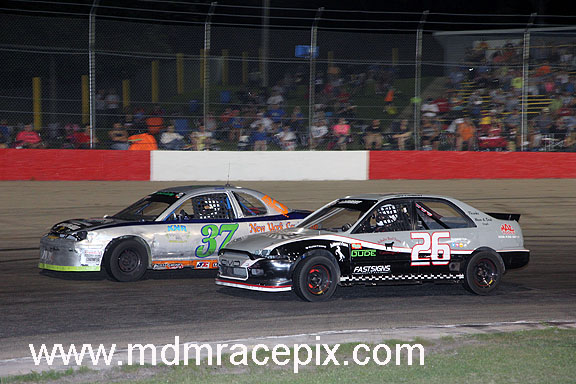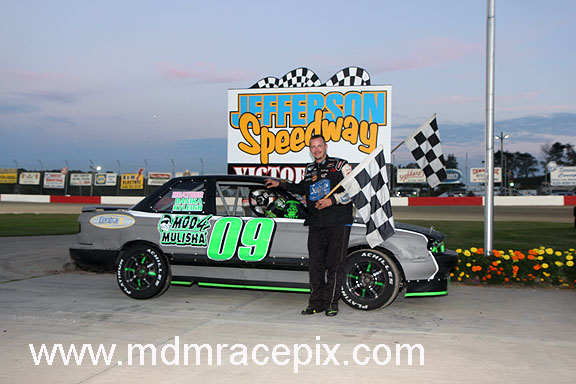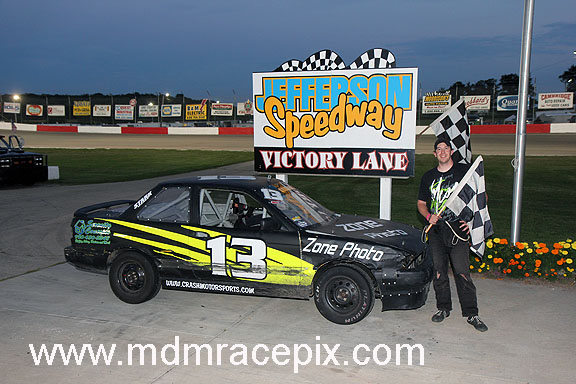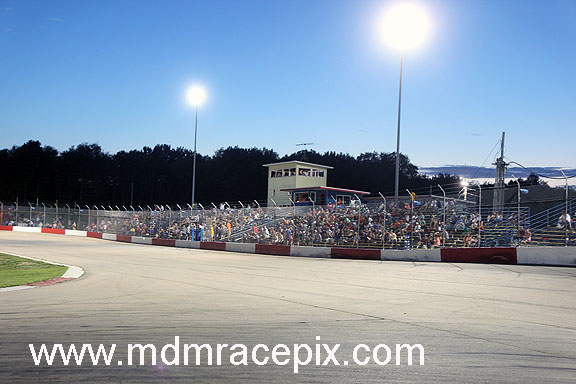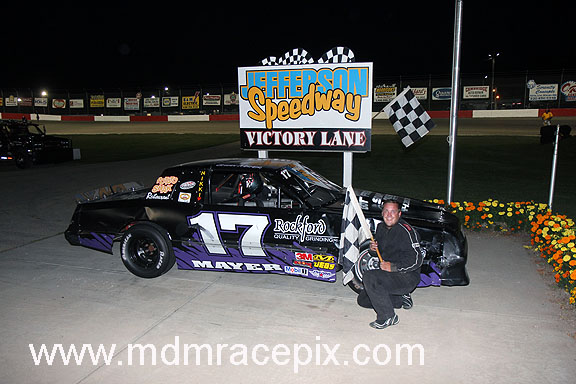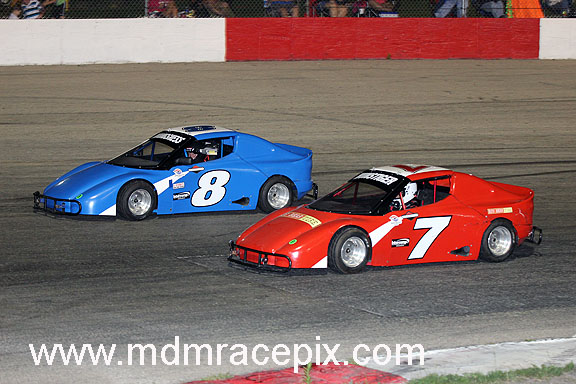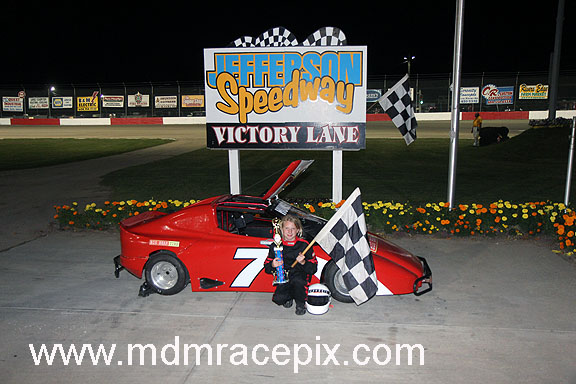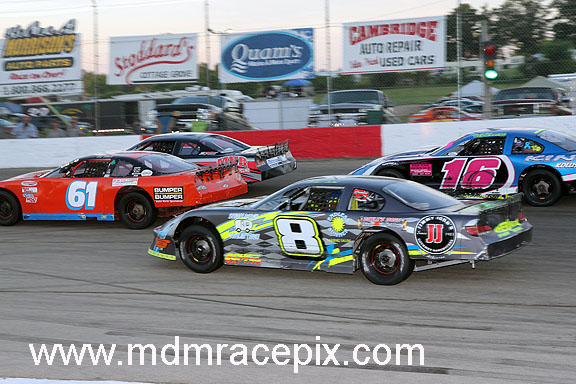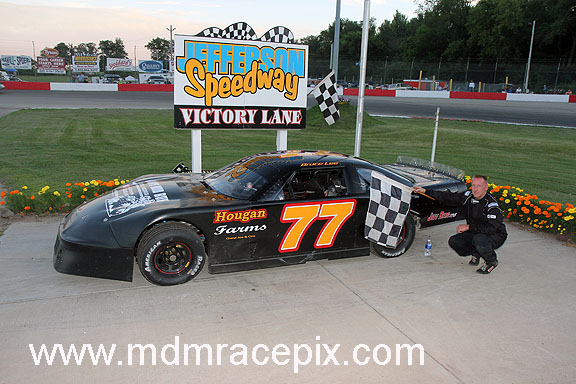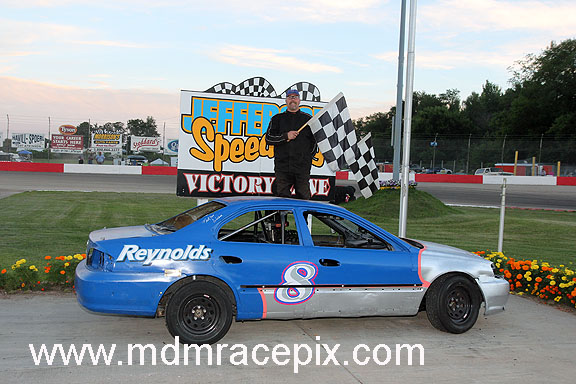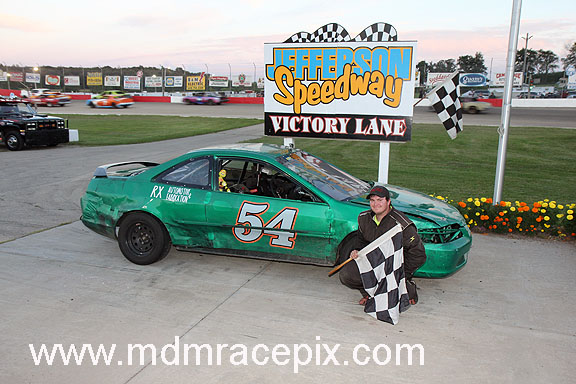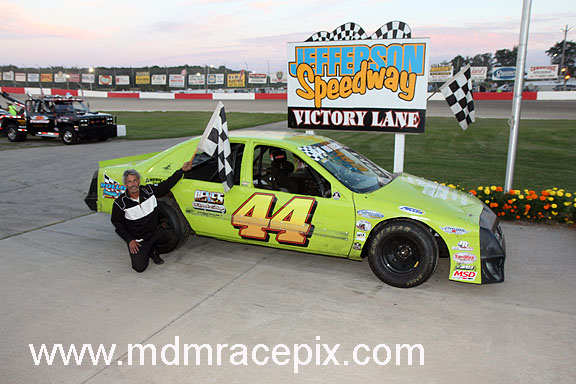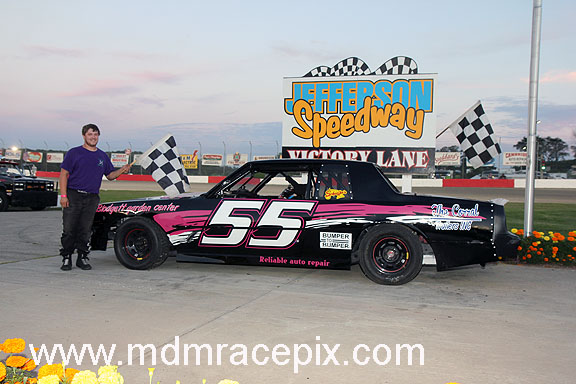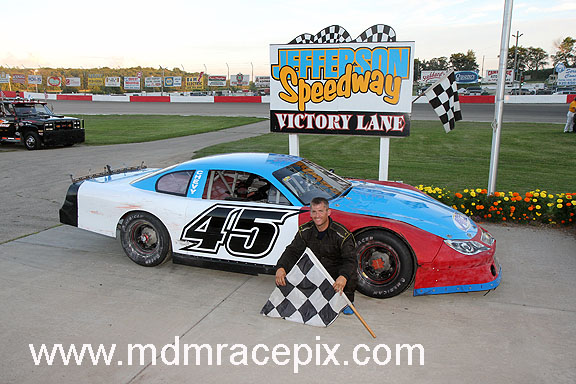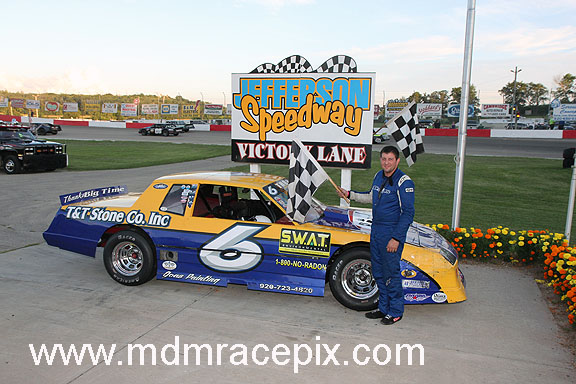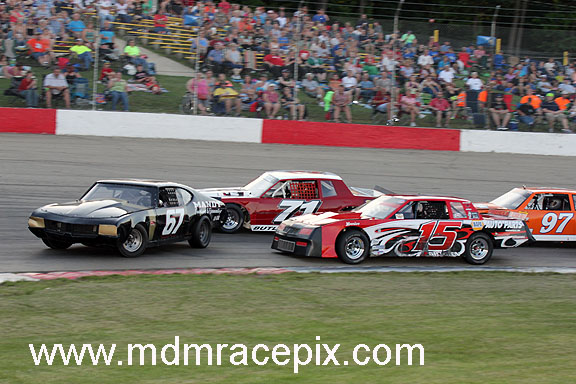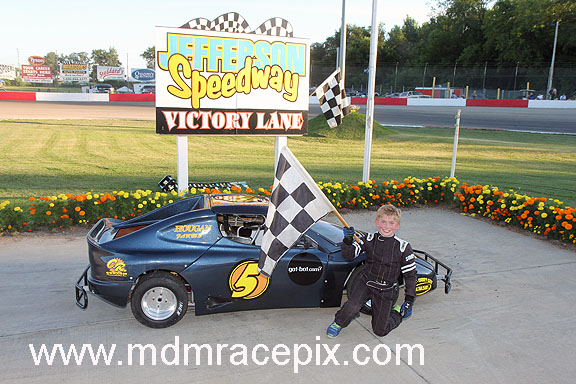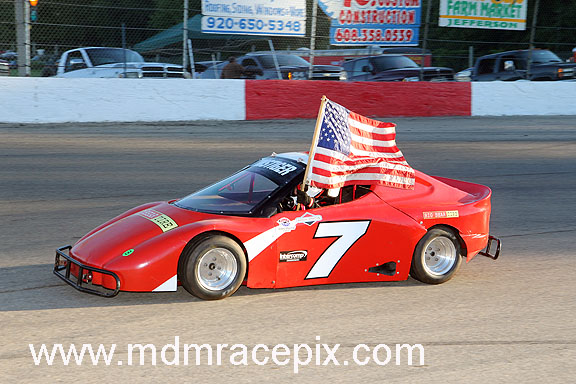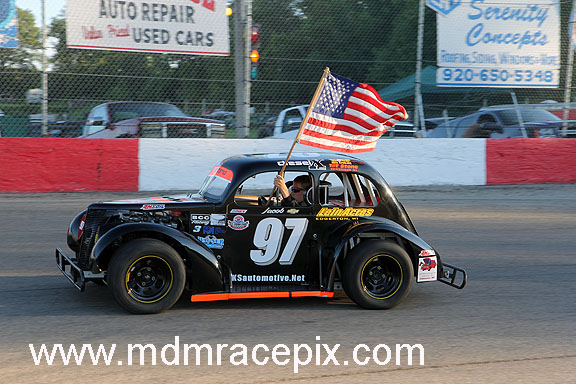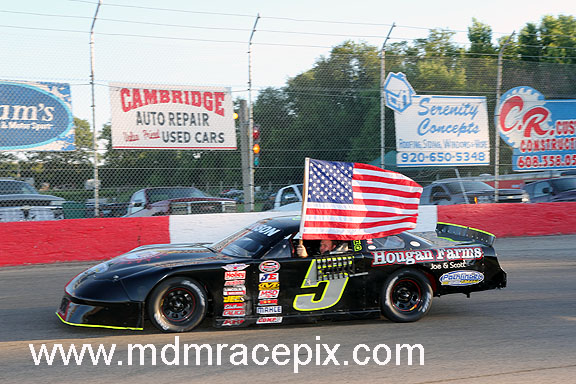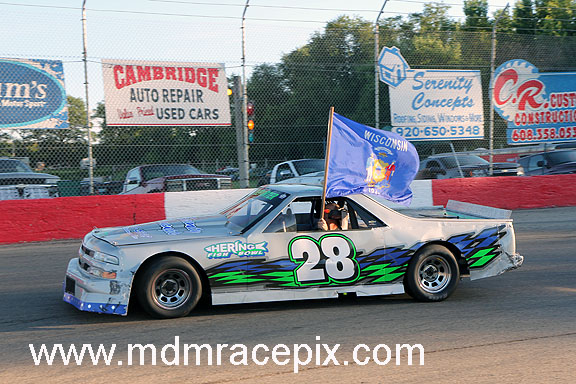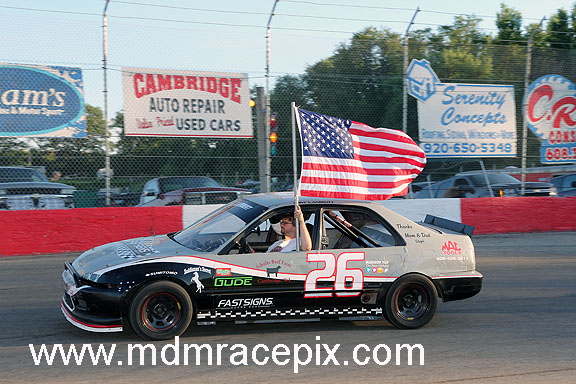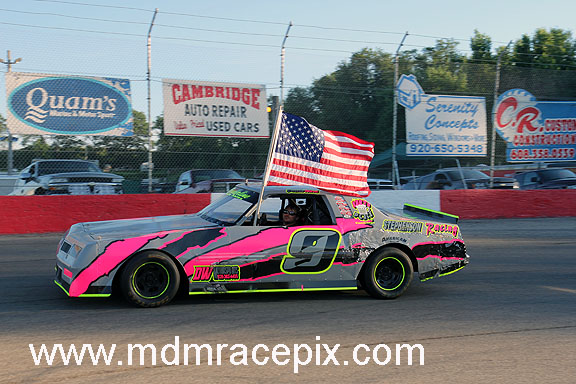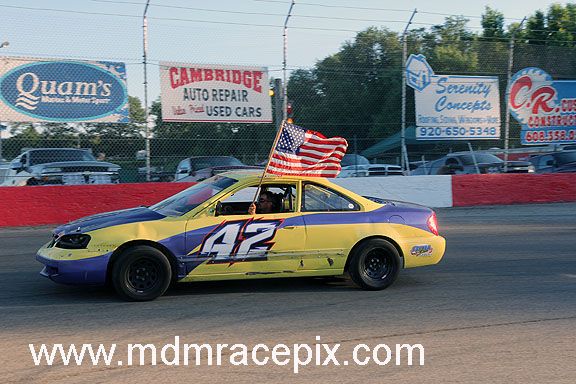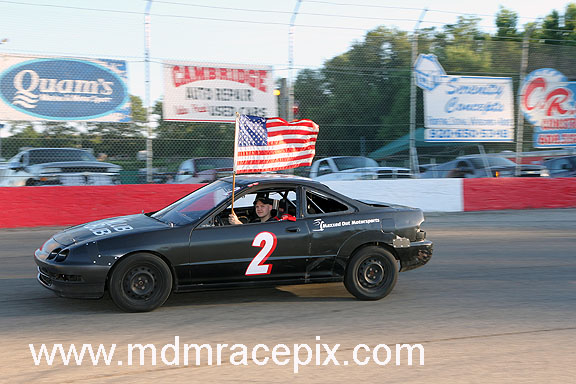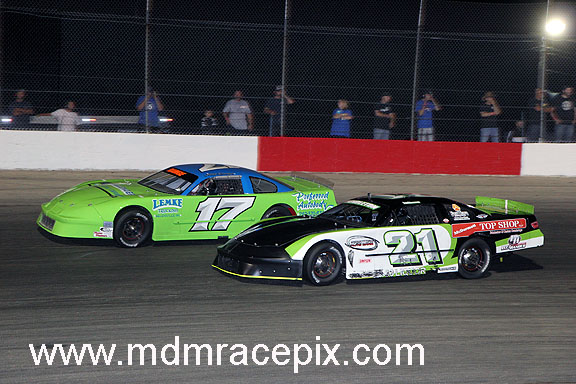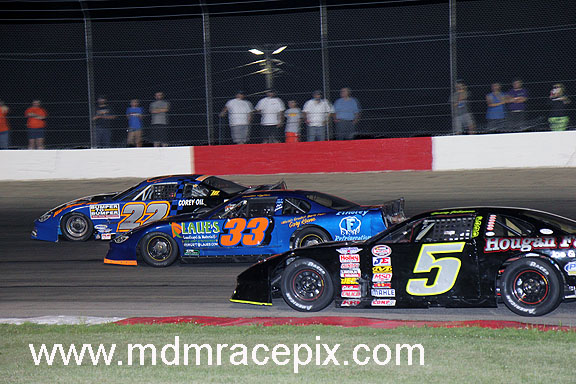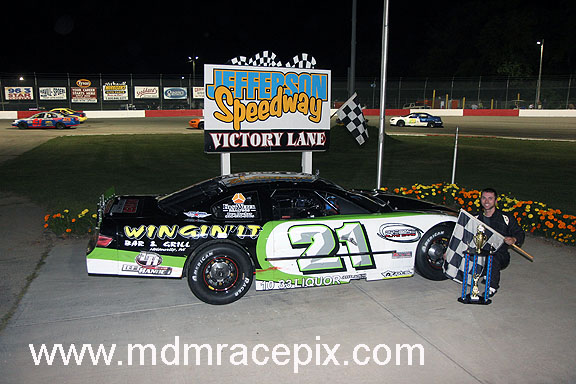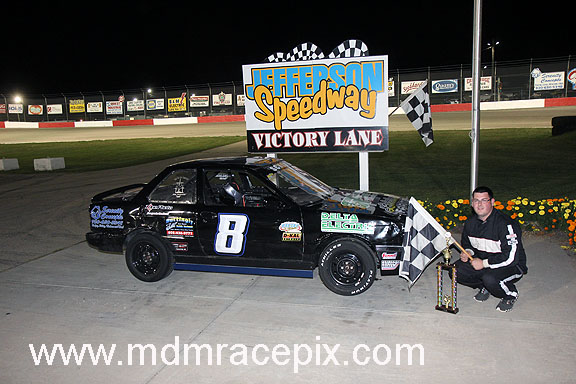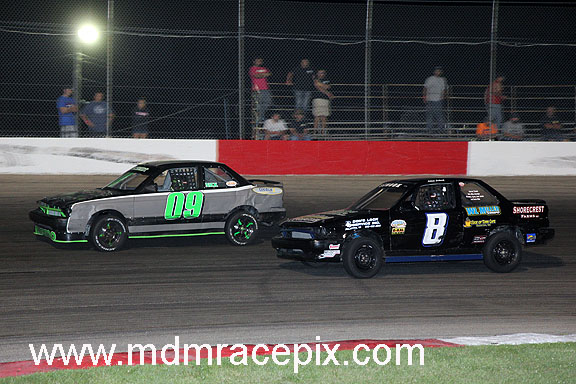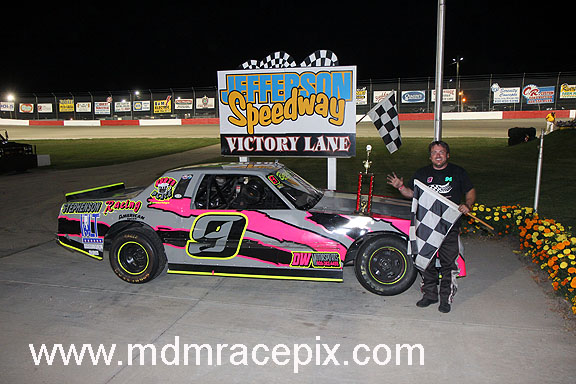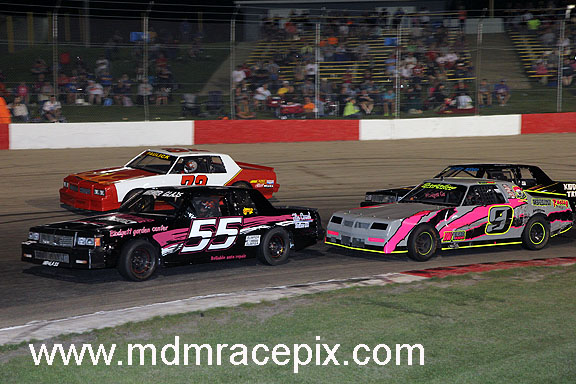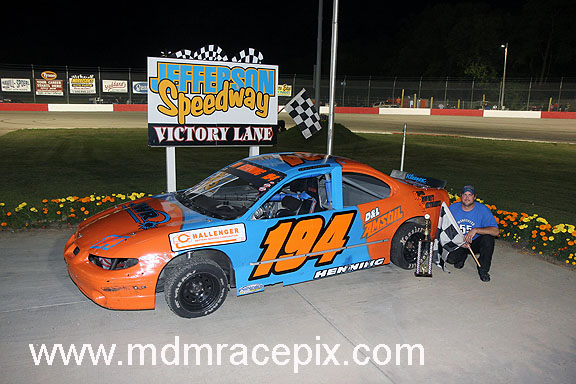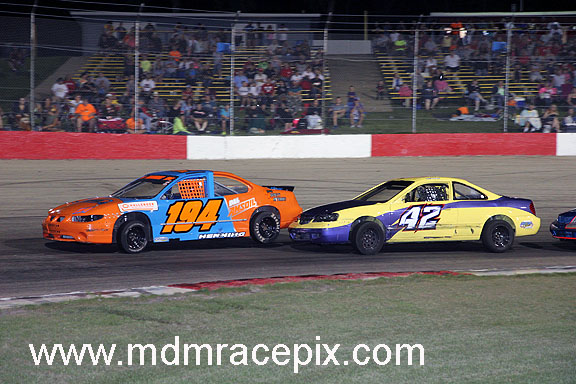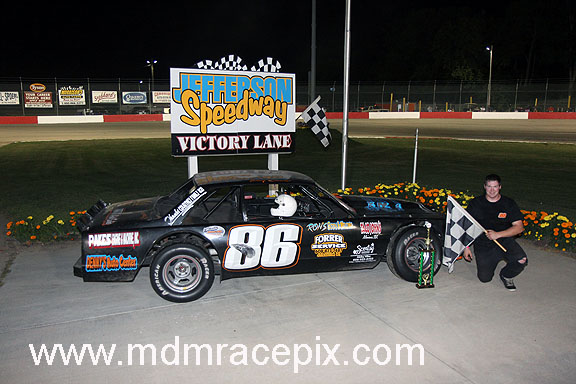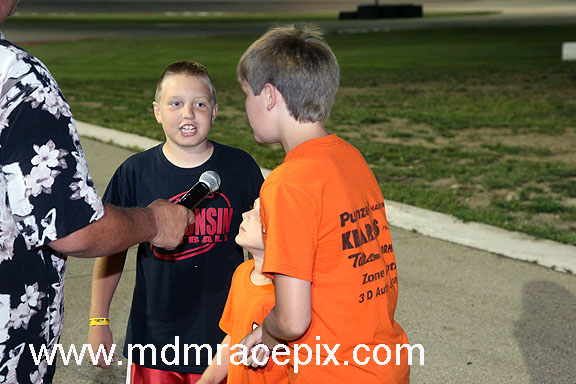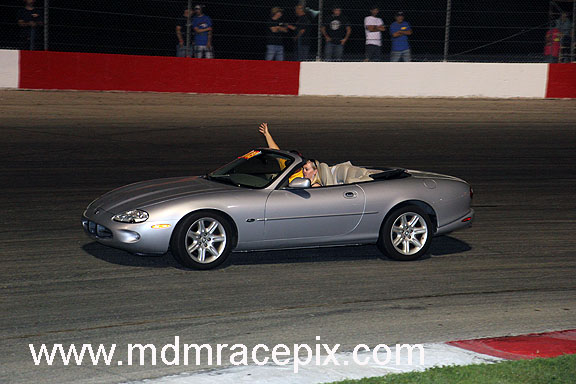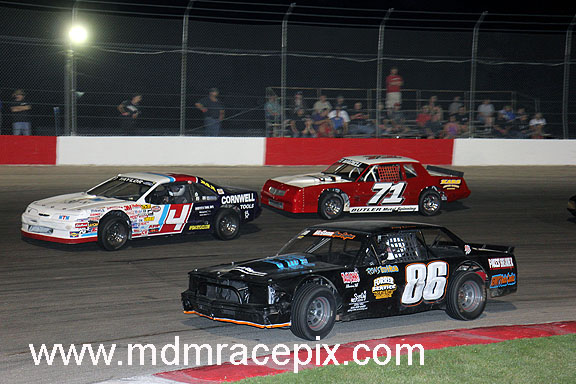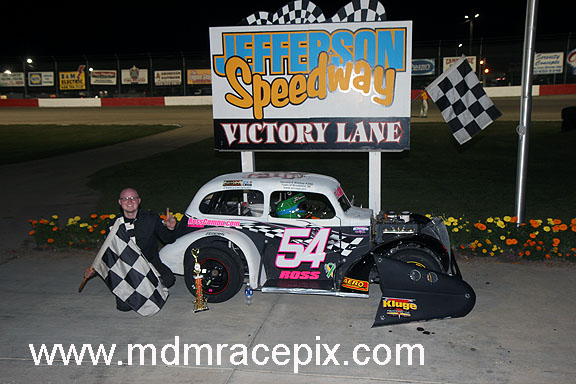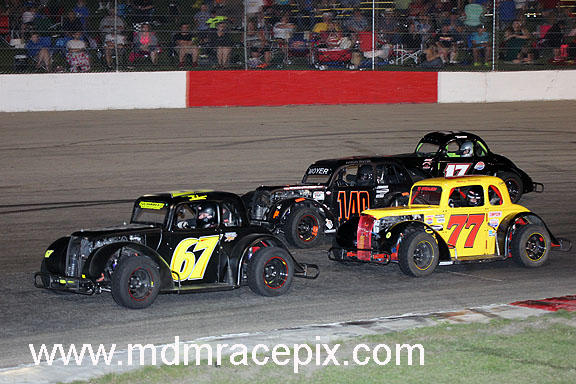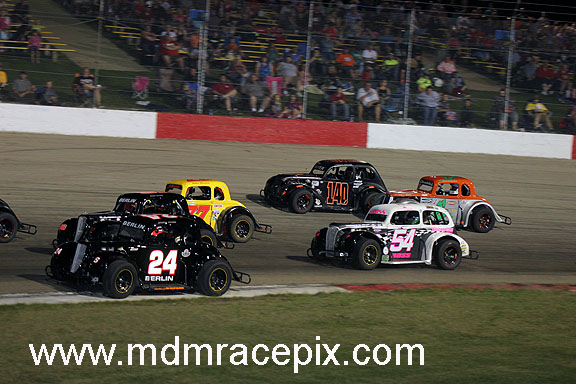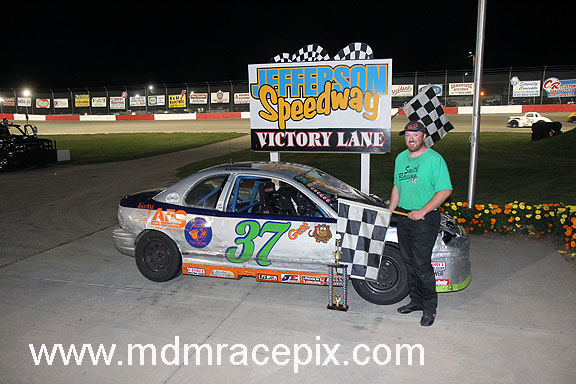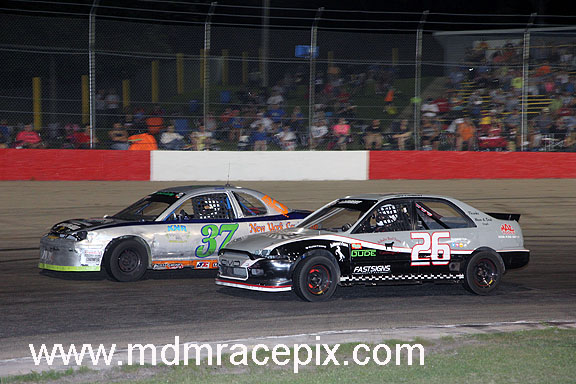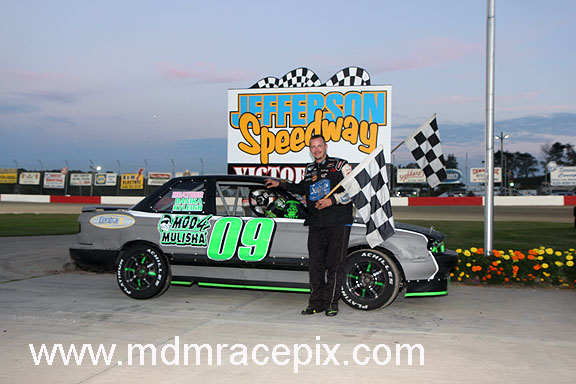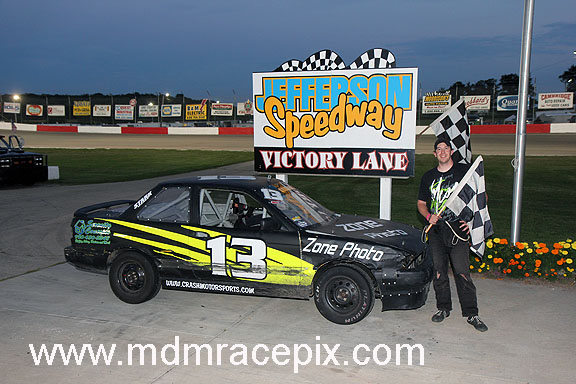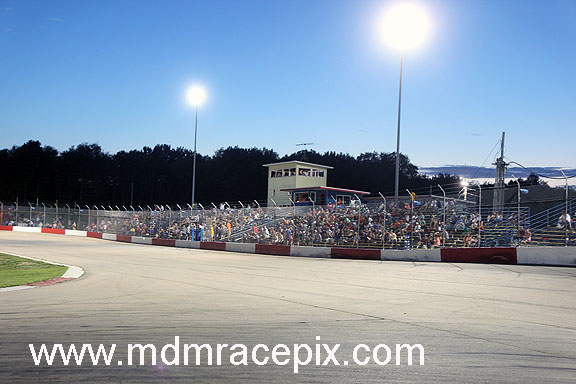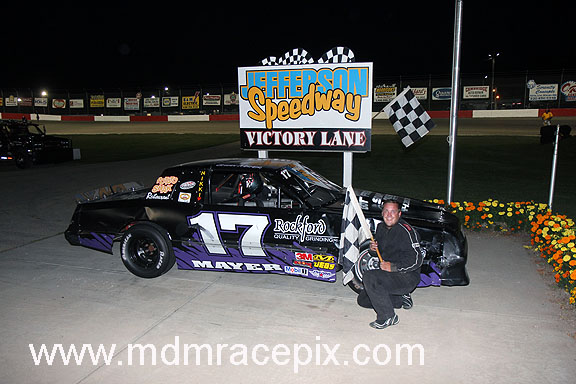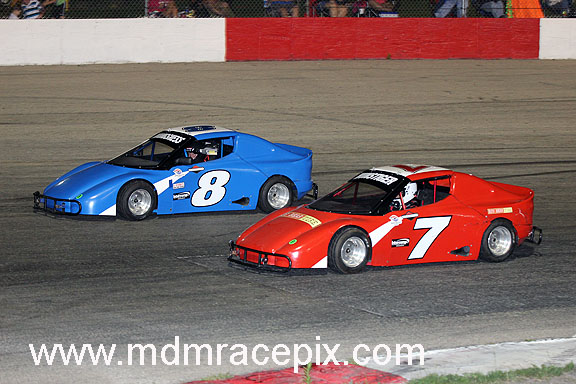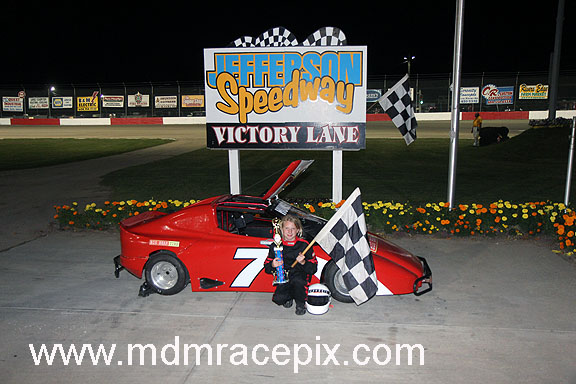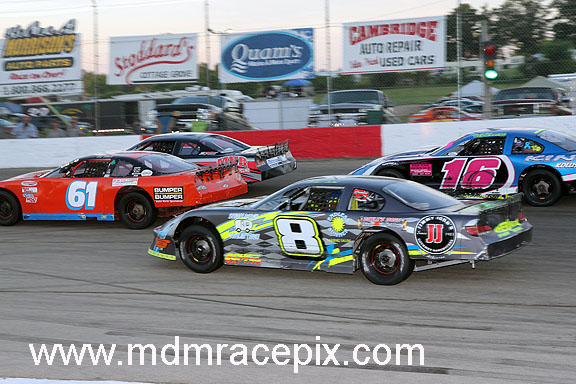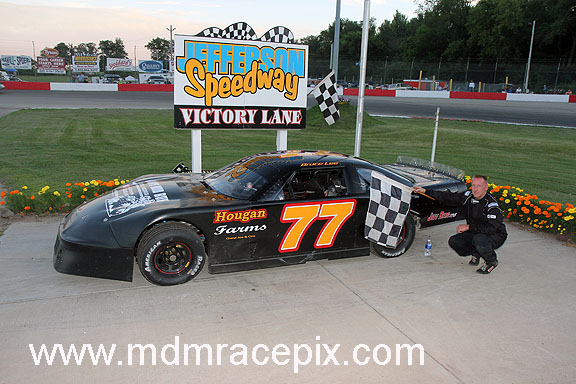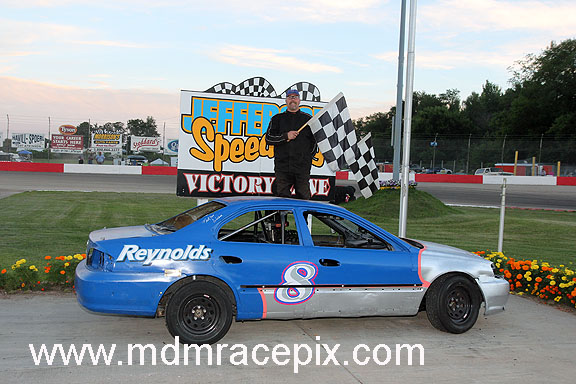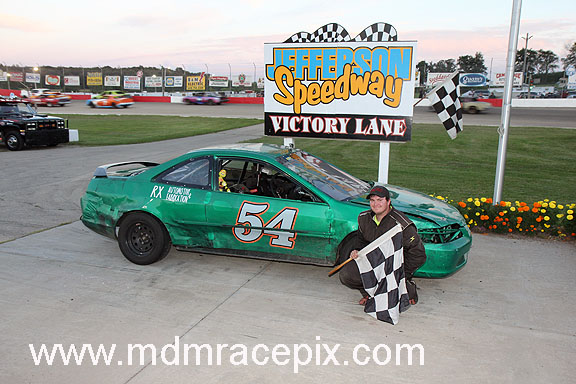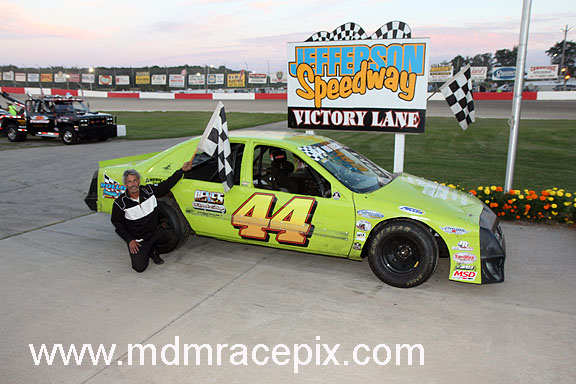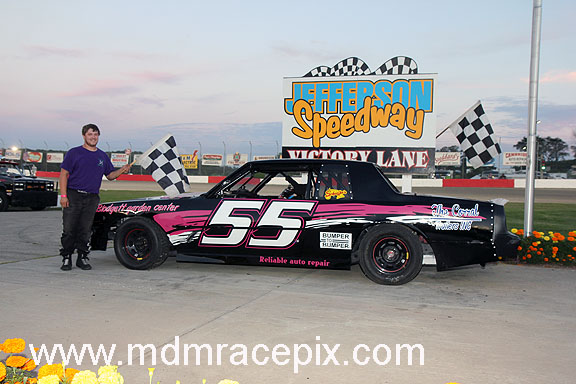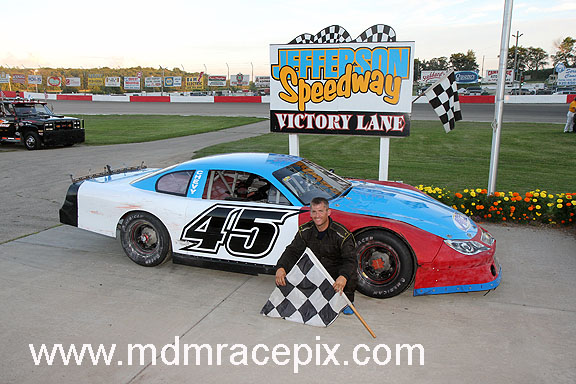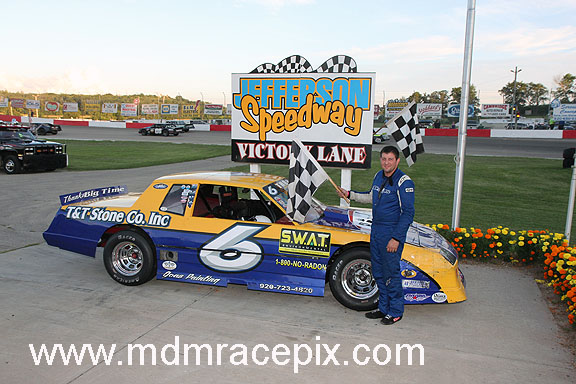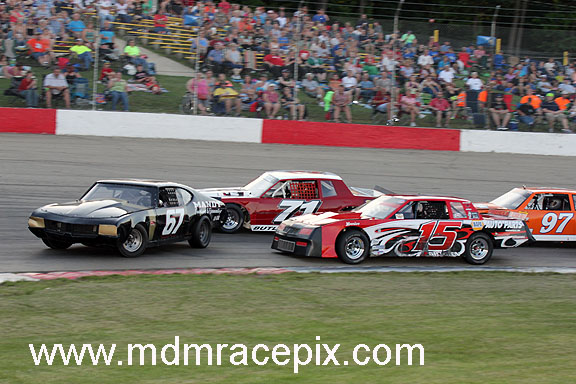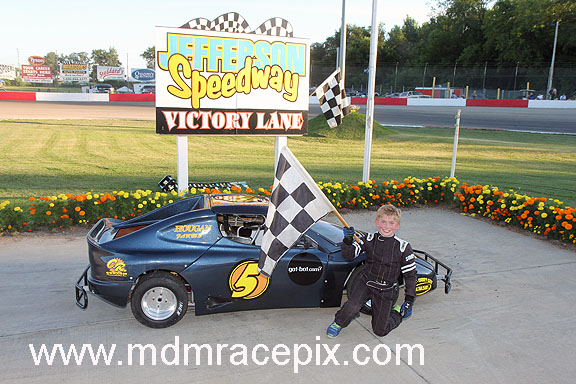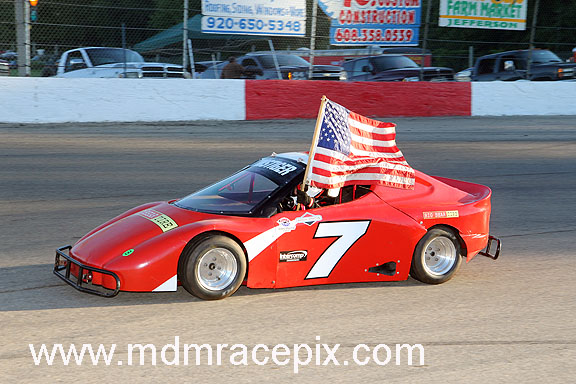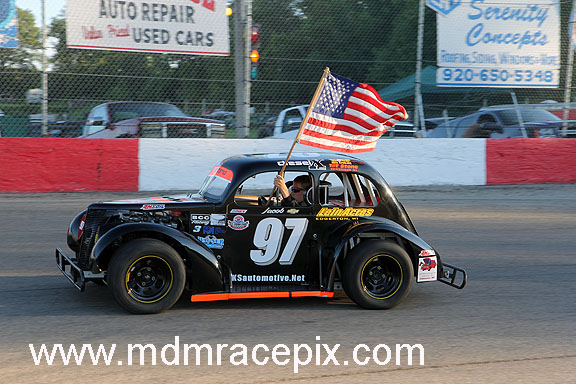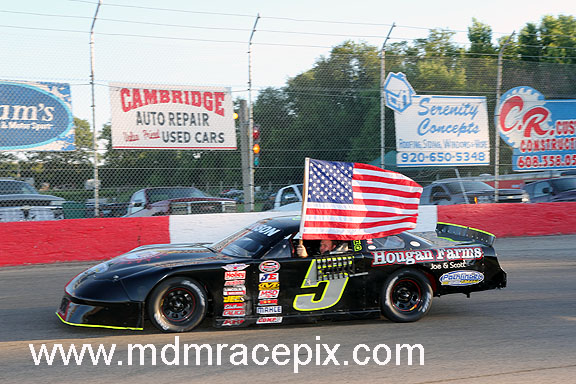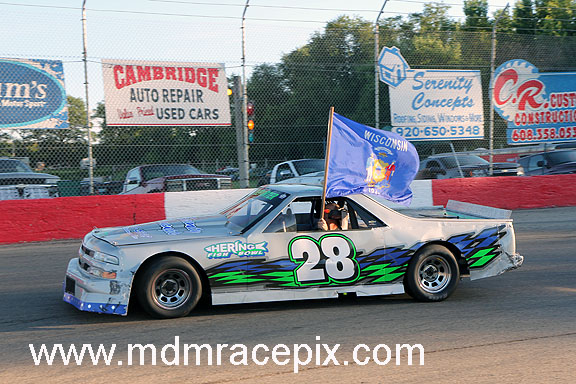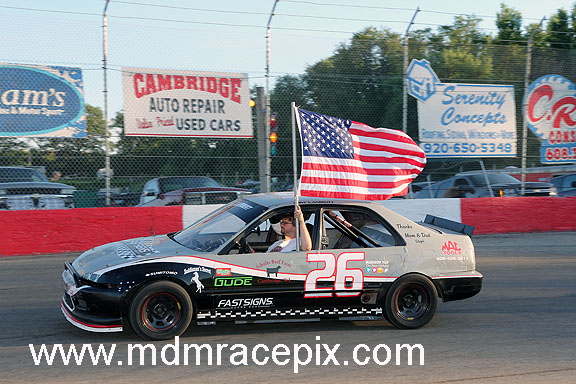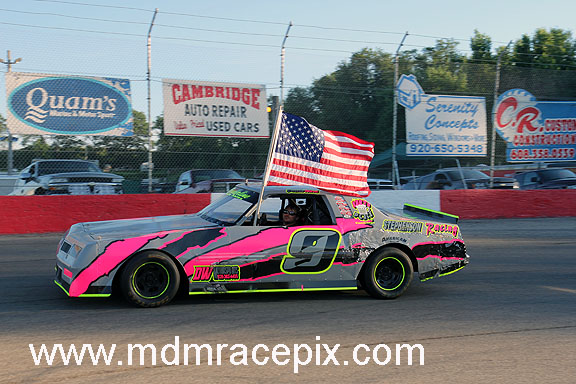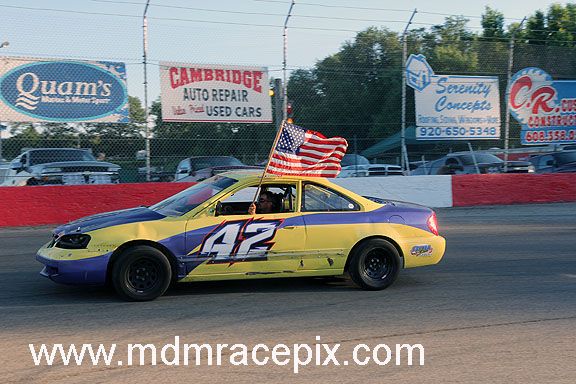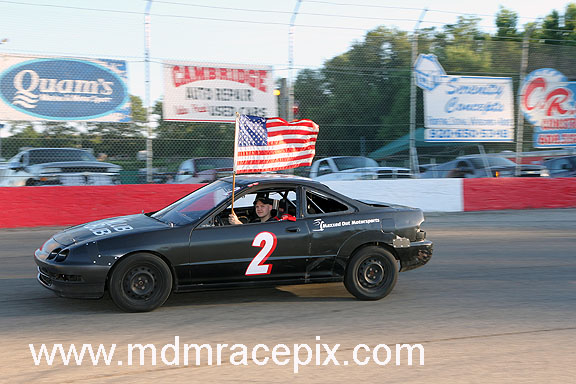 Pendleton Prevails in CARS 50
JEFFERSON, WI (Saturday, July 25, 2015)                                Helenville's Brandon Pendleton made his way from the outside of row three at the start of the Cambridge Auto Repair 50 lap Late Model feature to the front of the pack as he claimed the checkered flag. The win marks Pendleton's second feature victory of the 2015 season. He joins point leader Casey Johnson as the only drivers with multiple wins on the season.
Bruce Lee and Don Gaserude brought the stout field of 18 drivers to the drop of the green flag. Gaserude quickly grabbed control at the front with Noel Ramge up to battle Lee for second. Ramge claimed the second position on lap three with Pendleton already challenging for third. Pendleton moved past Lee for the spot on lap eight bringing Chris Quam along for fourth. On lap 11, Pendleton drove to the inside of Ramge as they raced into turn one. The duo battled side by side with Pendleton inching his way forward lap after lap. Pendleton finally cleared for second on lap 18 and pulled up behind the leader, Gaserude. On lap 19, Pendleton powered under Gaserude as they exited turn four. Before the completion of lap 20, Pendleton was out front as Gaserude dropped to second. Pendleton began to stretch his advantage over Gaserude while Ramge tried to hold off Quam for third. Quam took control of the position on lap 30 with Michael Grueneberg up to battle Ramge for fourth. Grueneberg and Ramge waged a war for the position as both drivers traded paint. On lap 35, Dylan Schuyler experience a flat rear tire forcing him to spin and bring out the first caution of the race. The yellow flag ended a string of 160 straight Late Model feature laps without a caution, all spanning four races. Pendleton continued to show the way as racing resumed with 15 laps to go. The leaders ran nose to tail until lap 47 when Quam and Gaserude made contact as they battled for position. Both drivers were forced to check up allowing Grueneberg, Stephen Scheel and Johnson to join the fight. Grueneberg grabbed second as Pendleton drove away to pick up the win. Following post race inspection, Grueneberg was forced to vacate his finishing position handing second to Stephen Scheel. Rounding out the top five were Johnson, Gaserude and Ramge.
Tony Ciano of Janesville held off a late race charge to grab the win in the 30 lap Sportsman main event. Chester Williams took the initial lead from the pole with Mike Storkson up to second. Ciano joined the leaders on lap two as he charged into third. On lap four Ciano, Storkson and Williams entered into a three wide fight for first with Ciano and Williams emerging side by side. Ciano cleared Williams a lap later to take over the top spot with Jay Kalbus slipping by Williams for second. Kalbus continued to follow Ciano around the quarter mile speedway while Mark Deporter and Jason Thoma made their way up to third and fourth respectively by lap 14. The leaders continued to run single file as the laps ticked away. With three laps remaining, Kalbus decided it was time to make his move on the leader, Ciano. Kalbus dropped to the low side of the speedway and drew even with Ciano. The pair of drivers fought door to door past the white flag to begin the final circuit. As they came to checkered flag, it was Ciano by mere inches over Kalbus to get the win. Deporter was third followed by Thoma and Tim Coley.
Seth Reamer of Waupun held off a hard charging Mike Lambert to get the win in the 20 lap International feature event. Brandon DeLacy led lap one with Joe Cross up to second and Reamer already in third. Cross drove under DeLacy on lap three, clearing for the lead and bringing Reamer along for second in the process. Reamer didn't wait long to make his move on Cross, driving under him on lap four and clearing a lap later to become the new leader. Lambert followed Reamer through the traffic to take over second on lap seven. Lambert pulled up to the rear bumper of Reamer as he began to shadow the leader. On lap 13, Lambert charged under Reamer as they raced into turn one. Reamer held him off to reclaim sole possession of the top spot on lap 15. But Lambert made a second attempt with three laps to go in the race. The duo raced side by side past the white flag. As they exited turn four for the final time, they made slight contact. At the stripe, it was Reamer for the win followed by Lambert, Cross, Jason Uttech and Neil Higgins.
In Hobby Stock action, Waterloo's Dustin Ward took control and claimed the 25 lap feature event. Korey Bengsch led early from the pole with Gary Paulick flanked to his outside. Paulick mounted a charge as he drew back even with Bengsch on lap five. Paulick continued to surge forward, claimed the top spot for himself on lap six with Lucas Buckingham in tow for second. Dylan Buckingham followed into third with Ward in his tracks for fourth on lap seven. A lap later, Lucas Buckingham pulled alongside Paulick for the lead with Ward and Dylan Buckingham side by side right behind them. Lucas Buckingham took over the top spot on lap 12 bringing Ward along behind him for second. Ward quickly drove under Buckingham, clearing for the lead on lap 14. Ward raced through a caution with eight laps to go as he cruised to the checkers for the win. Cody Buchs made a late race charge to second followed by Lucas Buckingham, Paulick and Boyd Eichelkraut.
Craig Henning of Helenville captured the 20 lap Road Warrior feature event. Nick Newton led lap one with Bill Reynolds up to second. Reynolds quickly dispatched of Newton to grab the lead on lap two with Bill Sweeney following into second. Sweeney and Reynolds launched a battle for the top spot on lap three with Sweeney taking over first on lap four and immediately beginning to pull away. Meanwhile, Henning was slicing his way to third by lap eight. Henning moved past Reynolds on lap ten as he tried to cut into Sweeney 's already large advantage. A caution lap 14 erased Sweeney big lead. Sweeney and Henning restarted side by side with just six laps to go. Henning inched forward until he cleared for the lead on lap 15. Henning remained in control as he saw the checkers first to get the win. Sweeney was second with Chris Gottschalk, Kenny Storkson and Bryan Gottschalk completing the top five.
Adam Schook of Palmyra claimed his second career feature victory by winning the 20 lap Bandit main event. Dalton Jones took the lead from pole sitter, DJ Hill on lap one with Nick Schmidt up to second. Schmidt drew even with Jones on lap two while Jeremy Bredeson and Schook battled for third behind them. Schmidt cleared for the lead on lap four with Schook following past Jones for second. Schook began to apply heavy pressure to the new leader. Lap after lap, Schook searched for an opening to get by Schmidt. On lap 13, Schook got a good run under the leader as they raced wheel to wheel into turn one. Schook cleared Schmidt on lap 14 and drove away to secure the win. Schmidt finished second followed by Josh Marx, Dustin Yanke and Jamie Kohn.
The INEX Legends joined the program this week as  Ethan Ross of Waupun came home the winner of the 20 lap feature event. Tony Moyer led early from the outside of row one. A sole caution slowed the pace on lap two with Moyer and Derek Mueller restarting side by side. Moyer reclaimed the lead as racing resumed with Ross quickly up to second on lap three. Ross motored past Moyer to take over the point while Jacob Nottestad, Moyer and Shelby Berlin battled for second. Nottestad eventually claimed the position on lap five as he began to cut into Ross' lead. Nottestad inched closer and closer to Ross with every passing lap. Nottestad finally found himself on the rear bumper of the leader with four laps to go. Aaron Moyer joined the fight at the front as they came to the white flag. Moyer went to the high side with Nottestad staying low as they both looked to fire past Ross. But Ross held off their advances to cross the stripe first for the win. Moyer beat Nottestad for the second spot with Riley Stenjem fourth and Berlin in fifth.
Also joining the program was the Bandolero division which was won by Emma Hunstiger of Helenville. Chase Wangsness lead early with Hunstiger second and Robbie Rucks in third. Hunstiger slipped past Wangsness  with Rucks in tow. On lap two, contact between Rucks and Hunstiger forced a caution which slowed the action. On the restart, Hunstiger charged past Wangsness to reclaim the lead for herself. Rucks followed into second and spent the remainder of the race trying to run Hunstiger down. But Emma hung on to see the checkers first and claim the win. Rucks was second followed by Wangsness.
Next Saturday, August 1, is a full program of racing in all six divisions with time trials at 5pm and racing at 7pm sharp. Jefferson Speedway is located halfway between Jefferson and Cambridge on Hwy 18. Please visit www.jeffersonspeedway.com for more information.
JEFFERSON SPEEDWAY RACE SUMMARY
Late Model-
Feature Results- 1) Brandon Pendleton, Helenville  2) Stephen Scheel, Lake Mills  3) Casey Johnson, Edgerton  4) Don Gaserude, Fort Atkinson  5) Noel Ramge, Helenville  6) Chris Quam, Stoughton  7) Bruce Lee, Cambridge  8) Kyle Chwala, Johnson Creek  9) Trent Erdman, Fort Atkinson  10) Jason Erickson, Fort Atkinson  11) Craig Phillips, Edgerton  12) Luke Westenberg, Jefferson  13) Shaun Scheel, Lake Mills  14) Jerry Eckhardt, Johnson Creek  15) Tony Koepke, Jefferson  16) Kyle Smith, Lake Mills  17) Dylan Schuyler, Jefferson  18) Michael Grueneberg, Madison
Fast Qualifier- Casey Johnson—14.205 seconds
Last Chance- Jerry Eckhardt, Luke Westenberg, Shaun Scheel, Tony Koepke
Consi- Lincoln Keeser, Tiffany Desjarlais
Heat Winners- 1) Tony Koepke  2) Shaun Scheel  3) Bruce Lee  4) Brandon Pendleton
Sportsman-
Feature Results- 1) Tony Ciano, Janesville  2) Jay Kalbus, Whitewater  3) Mark Deporter, Fort Atkinson  4) Jason Thoma, Jefferson  5) Tim Coley, Madison  6) Jim Taylor, Stoughton  7) Chris Chenoweth, Watertown  8) Terry Wangsness, Jefferson  9) Mike Winters, Sun Prairie  10) Mike Storkson, Evansville  11) Michael Giloman, Nerstrand (MN)  12) Josh Madell, Mayville  13) Scott Hoeft, Watertown  14) Chester Williams, Waukesha  15) Dan Schmidt, Farmington  16) Ed Jackson, Madison  17) Brian Mayer, Machesney Park (IL)  18) Russ Nicholson, Madison
Fast Qualifier- Mark Deporter—15.018 seconds
Last Chance- Brian Mayer, Scott Hoeft, Dan Schmidt, Ed Jackson
Heat Winners- 1) Scott Hoeft  2) Jay Kalbus  3) Jason Thoma
International-
Feature Results- 1) Seth Reamer, Waupun  2) Mike Lambert, Fort Atkinson  3) Joe Cross, Sun Prairie  4) Jason Uttech, Watertown  5) Neil Higgins, Watertown  6) Keith Bell, Brodhead  7) Merek Pankow, Jefferson  8) Matt Cooper,  9) Brandon DeLacy, Fort Atkinson
Fast Qualifier- Mike Lambert—16.444 seconds
Heat Winner- Seth Reamer
Hobby Stock-
Feature Results- 1) Dustin Ward, Waterloo  2) Cody Buchs, Mazomanie  3) Lucas Buckingham, Whitewater  4) Gary Paulick, Union Grove  5) Boyd Eichelkraut, Stoughton  6) Wayne Buchs, Mazomanie  7) Korey Bengsch, Sun Prairie 8) Jim Wolf, Watertown  9) Dylan Buckingham, Whitewater  10) Jamie Tate, Doylestown  11) Jeff LeFave, Fort Atkinson 12) Jon Benninger, Sun Prairie
Fast Qualifier- Dustin Ward—15.895 seconds
Heat Winners- 1) Wayne Buchs  2) Lucas Buckingham
Road Warrior-
Feature Results- 1) Craig Henning, Helenville  2) Bill Sweeney, Aztalan  3) Chris Gottschalk, Jefferson  4) Bryan Gottschalk, Jefferson  5) Kenny Storkson, Indianford  6) Bill Reynolds, Watertown  7) Charles Novotny, Fort Atkinson  8) Lucas Stevenson, Beloit  9) Nick Newton, Lake Mills  10) Anthony Accardi, Watertown  11) Brandon Johnson, Elkhorn
Fast Qualifier- Bill Sweeney—16.652 seconds
Heat Winners- 1) Bill Reynolds  2) Kenny Storkson
Bandit-
Feature Results- 1) Adam Schook, Palmyra  2) Nick Schmidt, Watertown  3) Josh Marx, Dousman  4) Dustin Yanke, Fort Atkinson  5) Jamie Kohn, Madison  6) Jeremy Bredeson, Columbus  7) Dalton Jones, Sun Prairie  8) Brody Chilvers, Milton  9) Chad Olds, Whitewater  10) Bill Kohn, Madison  11) Dillon Scott, Rio  12) DJ Hill, Fort Atkinson
Fast Qualifier- Brody Chilvers—17.095 seconds
Heat Winners- 1) Nick Schmidt  2) Josh Marx
INEX Legends-
Feature Results- 1) Ethan Ross, Waupun  2) Aaron Moyer, Allenton  3) Jacob Nottestad, Stoughton  4) Riley Stenjem, Utica  5) Shelby Berlin, Mequon  6) Todd Schmitz, Verona  7) Matt Berlin, Mequon  8) Vince Bartolotta, Vernon  9) Mark Ritger, Elkhart Lake  10) Tony Moyer, Allenton  11) Blaise Watters, Mineral Point  12) Derek Mueller, Verona  13) Aryn Wilson, S.Beloit (IL)
Fast Qualifier- Jacob Nottestad—15.923 seconds
Heat Winners- 1) Shelby Berlin  2) Matt Berlin
Bandoleros-
Feature Results- 1) Emma Huntstiger, Helenville  2) Robbie Rucks, Deerfield  3) Chase Wangsness, Jefferson