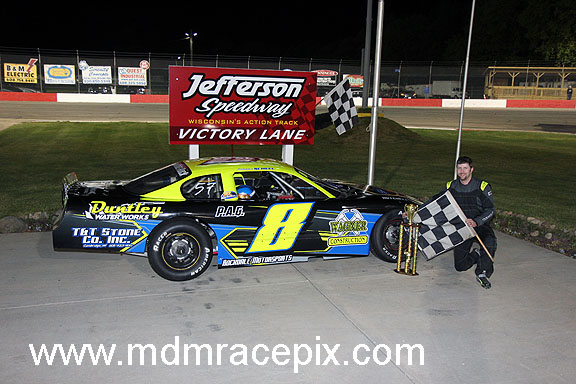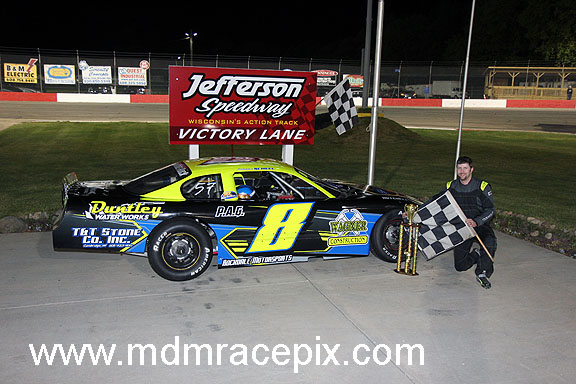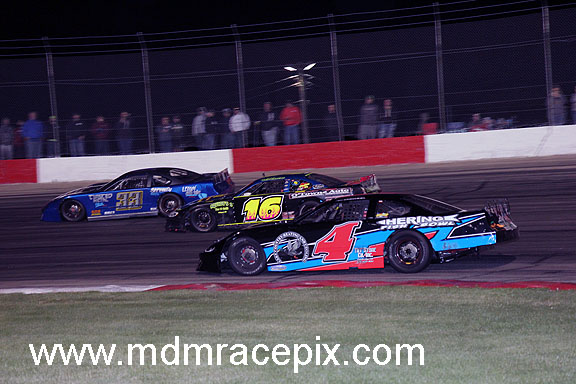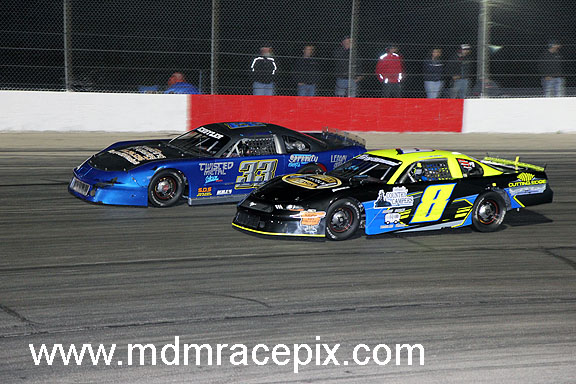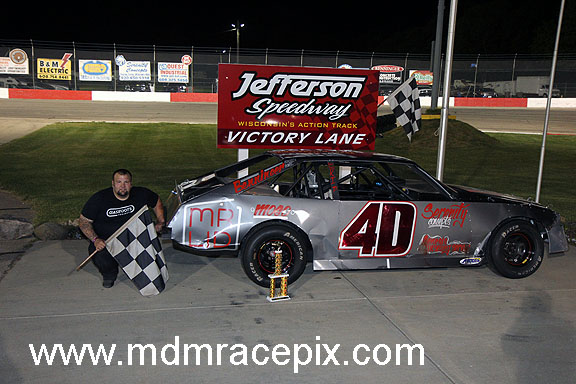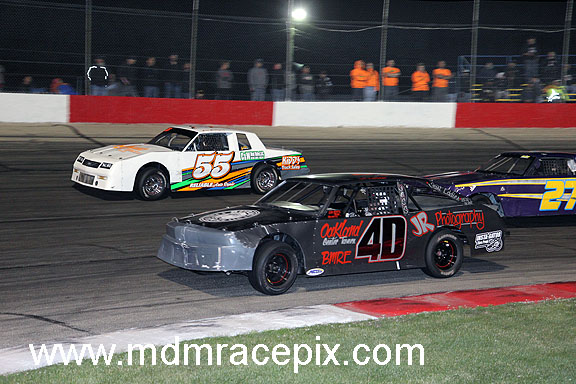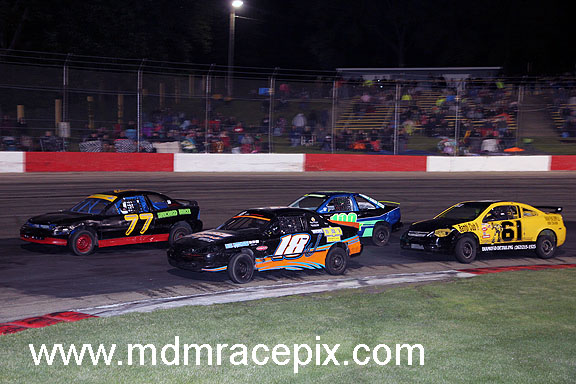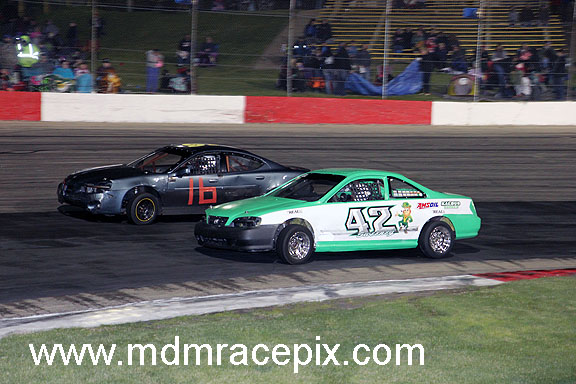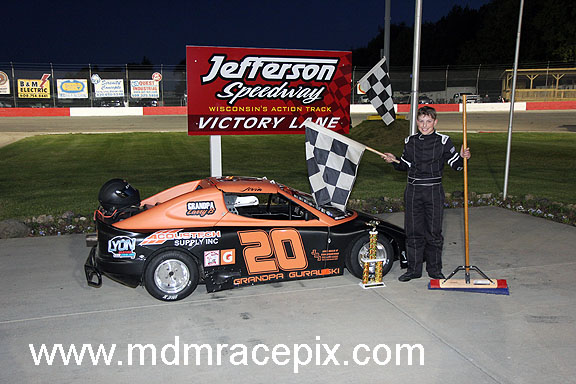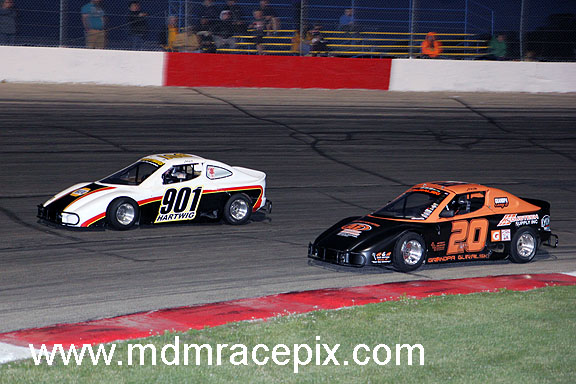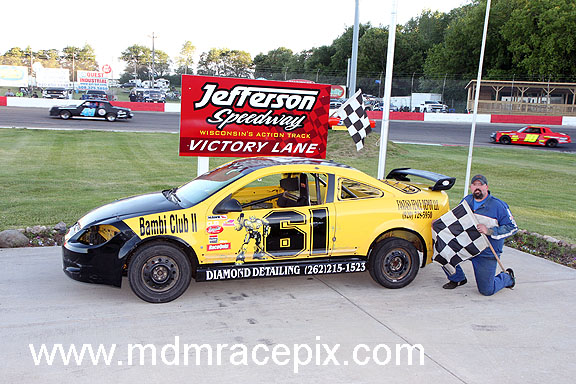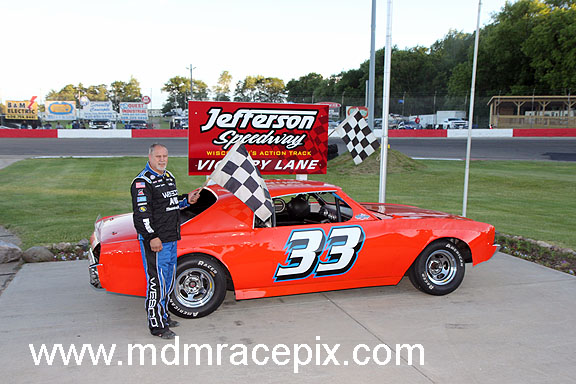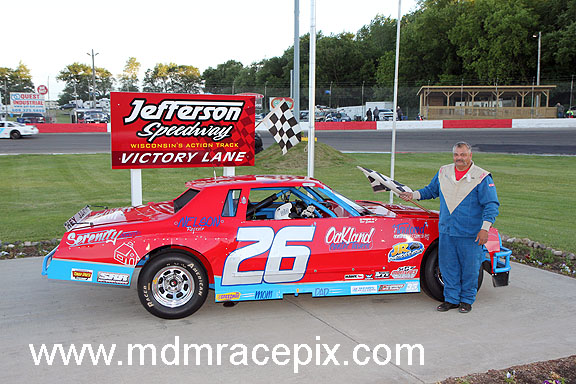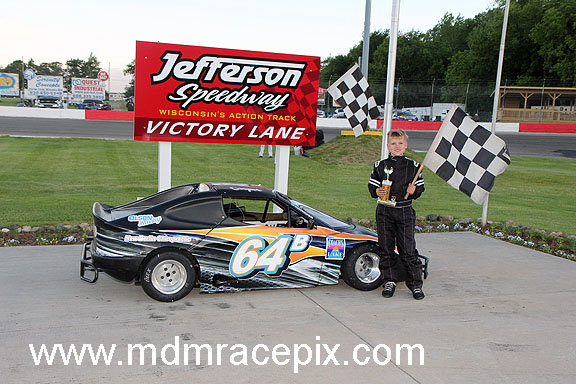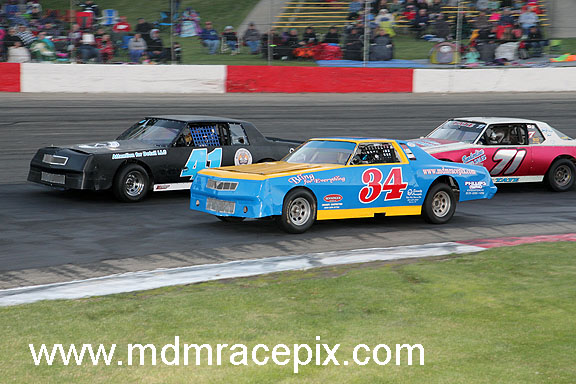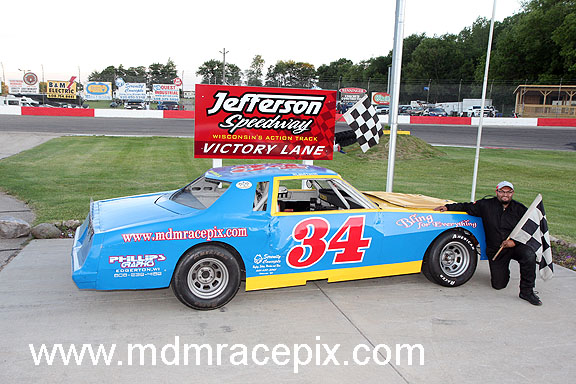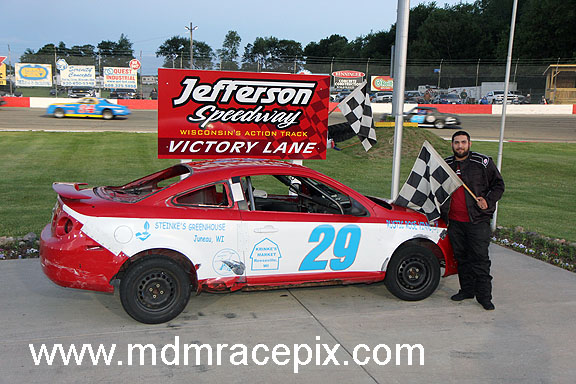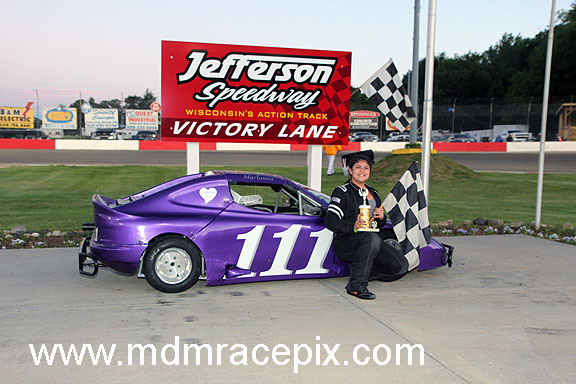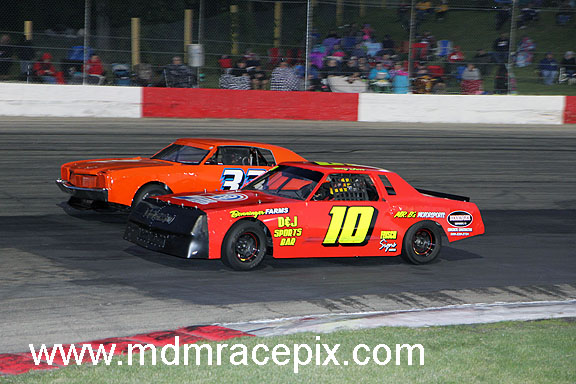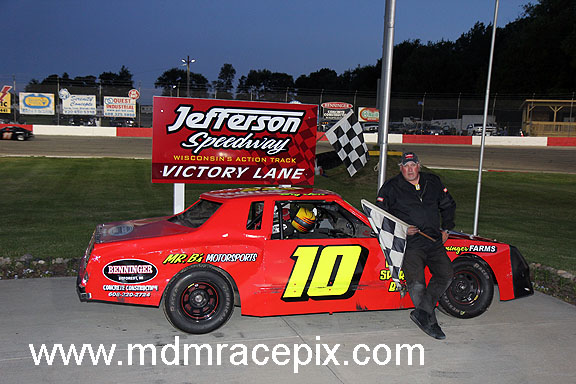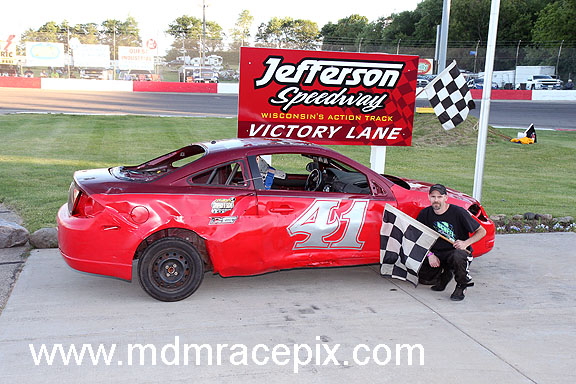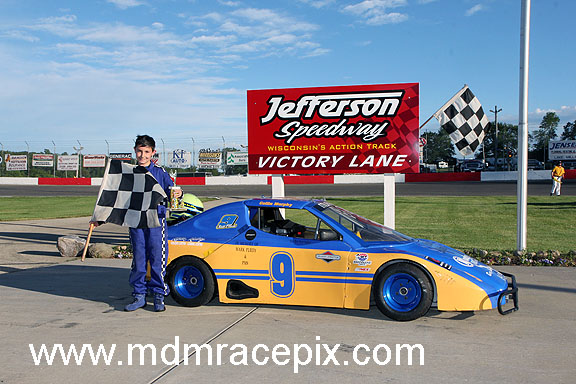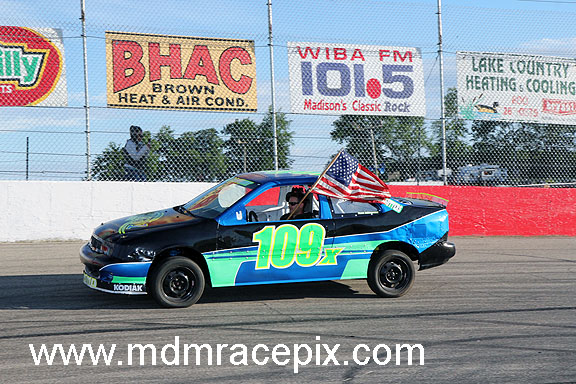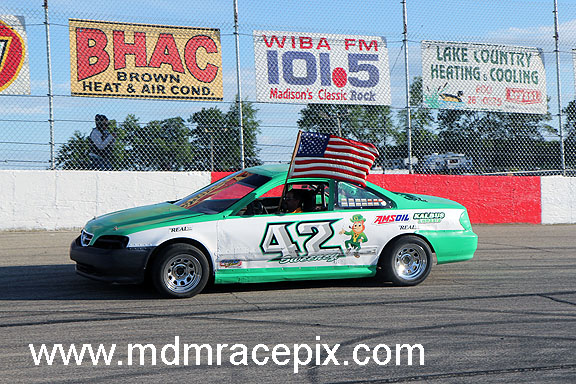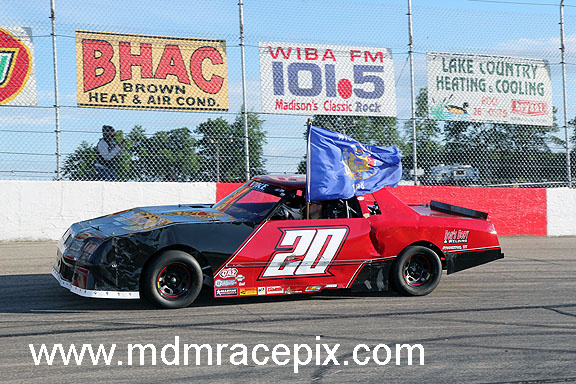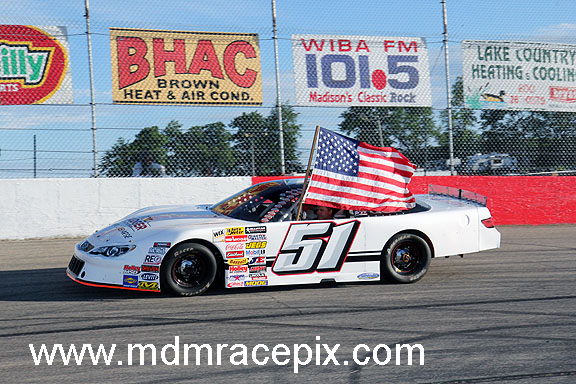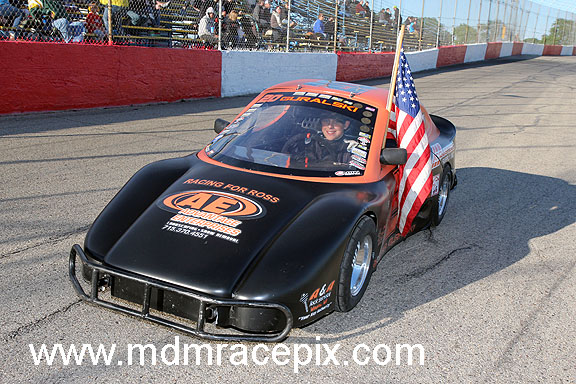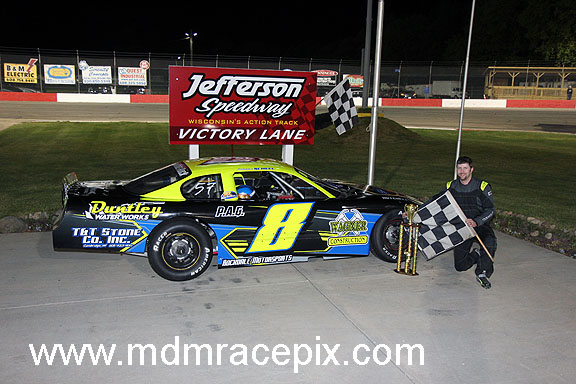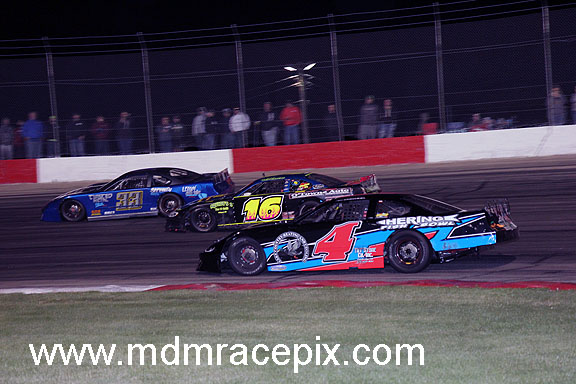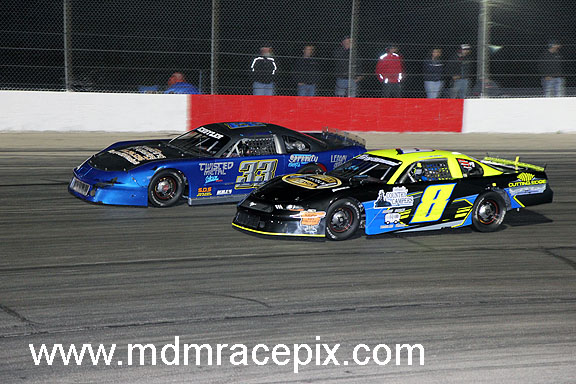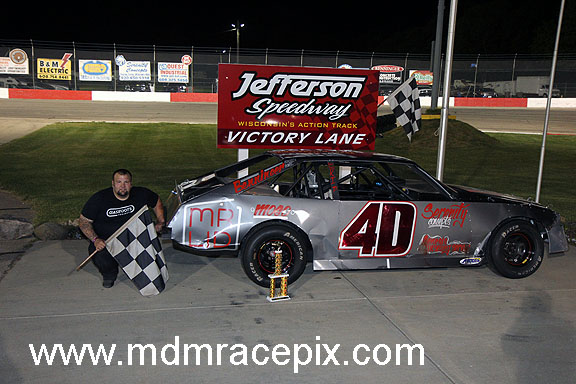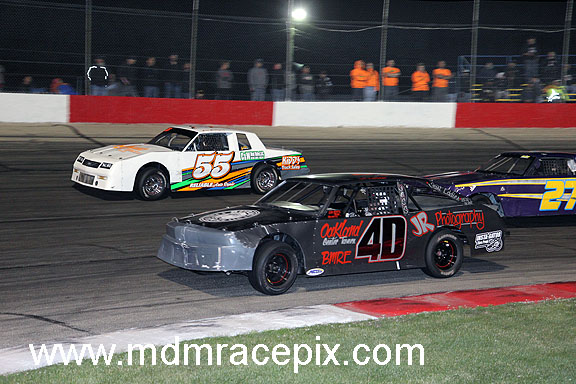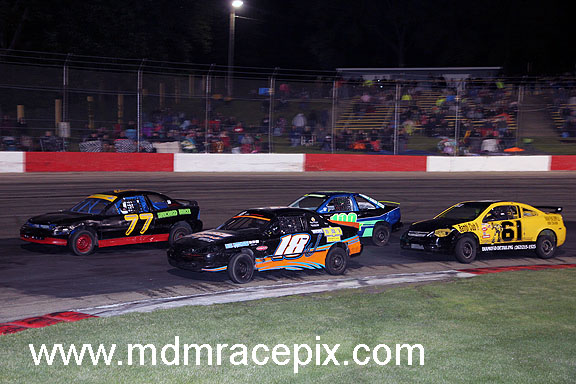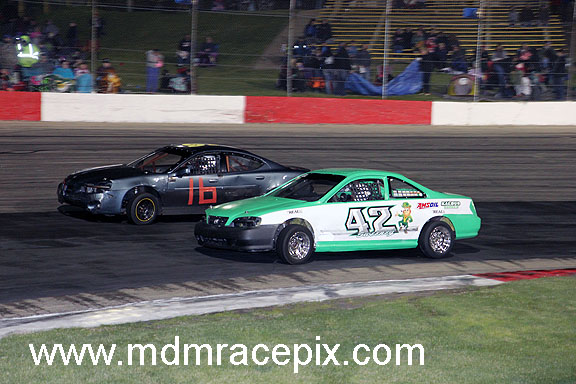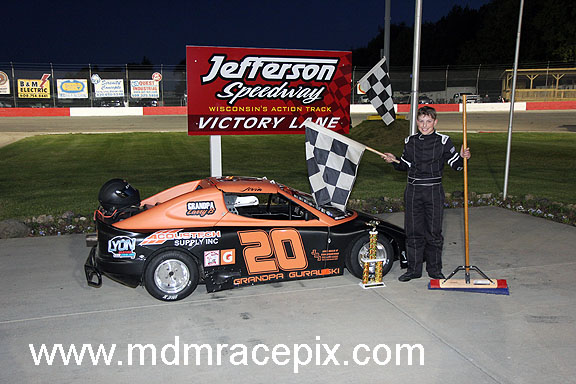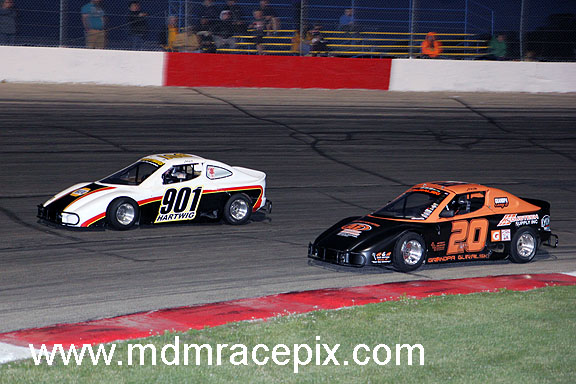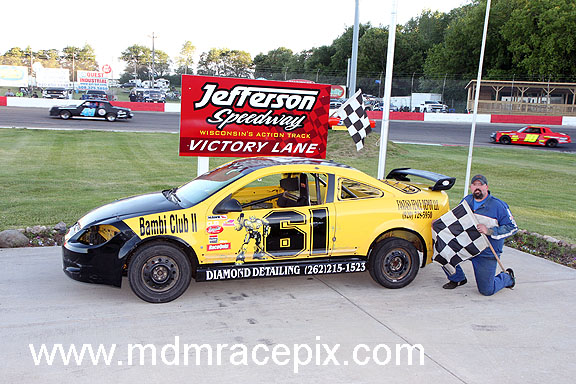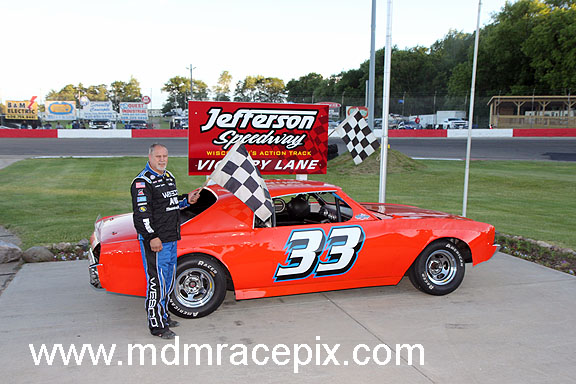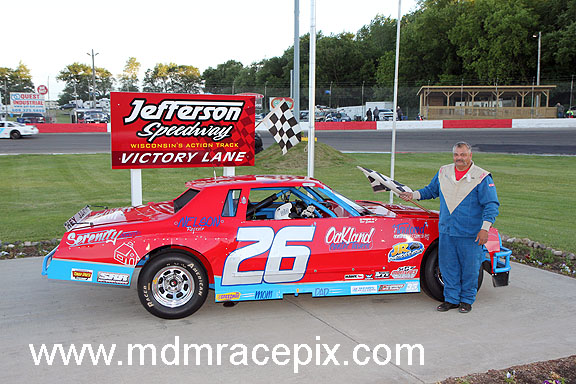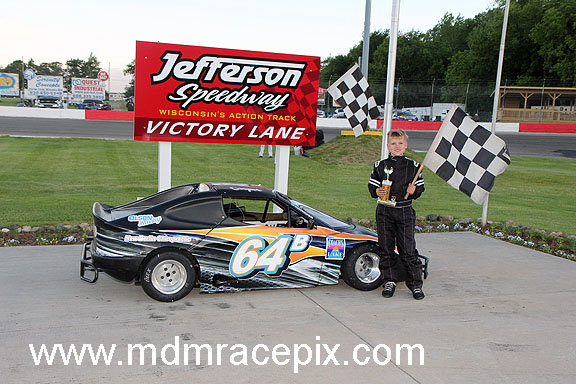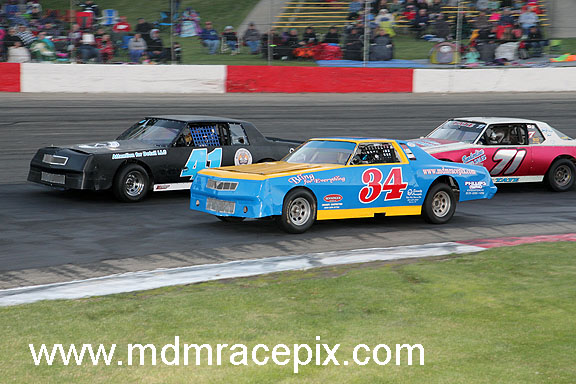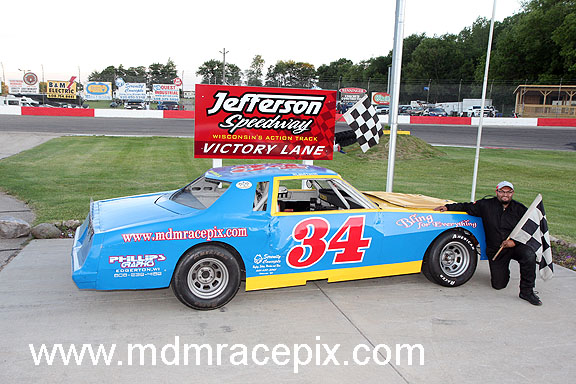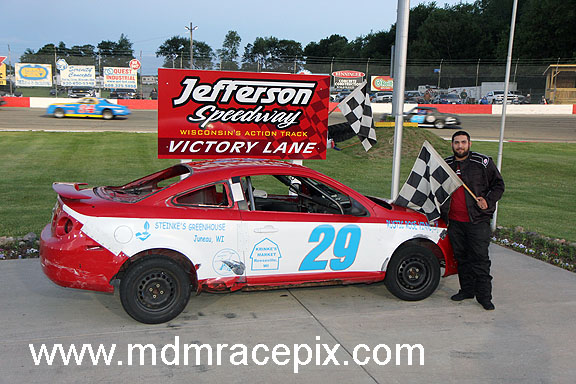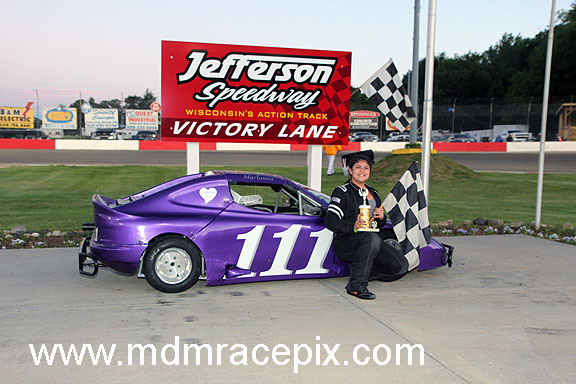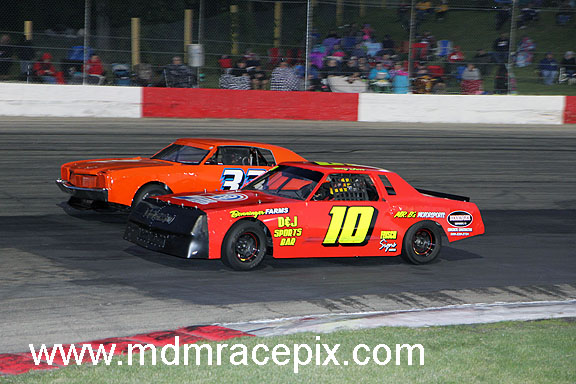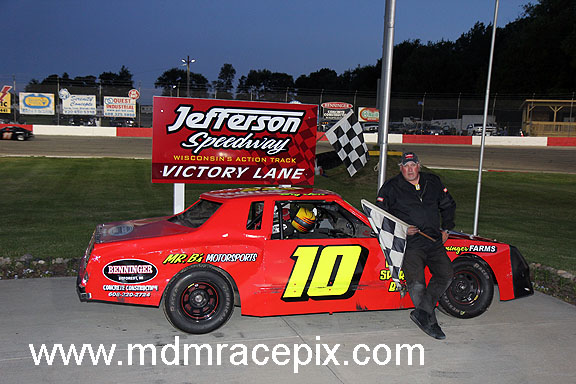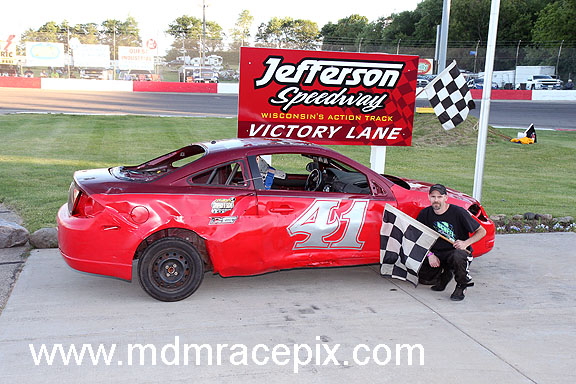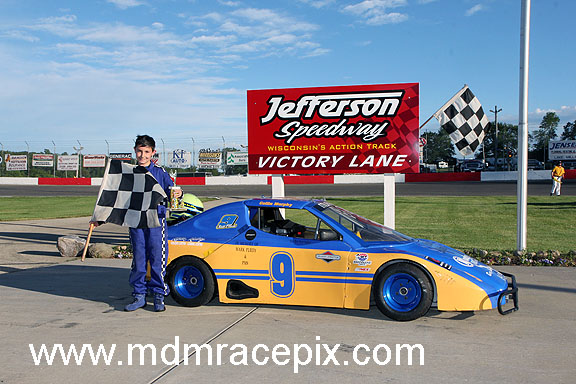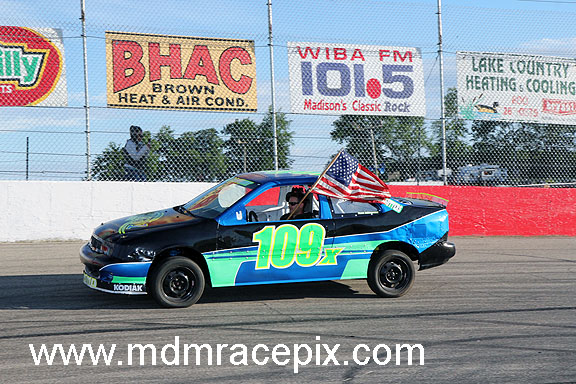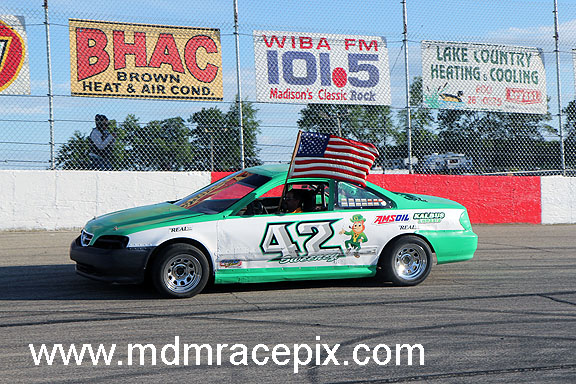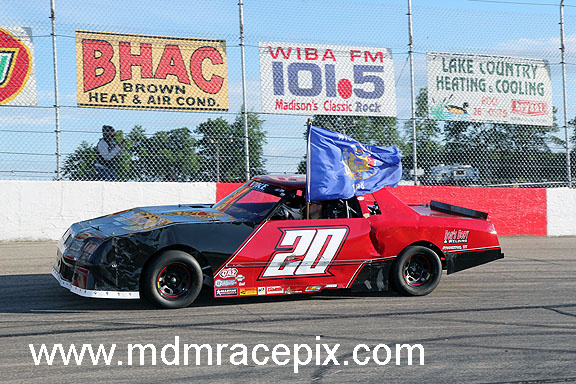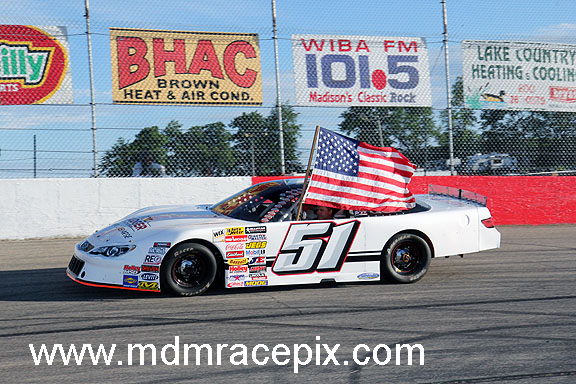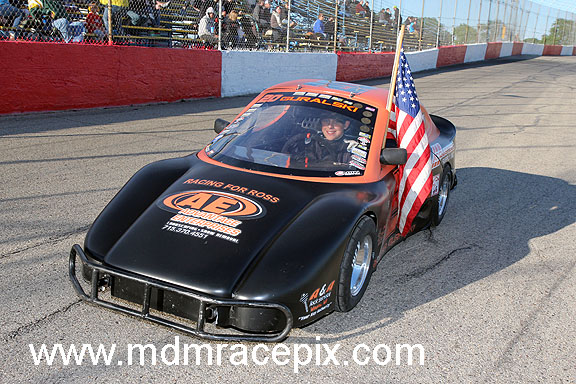 Scheel Wins Late Model Feature at Jefferson Speedway
Defending track champion Shaun Scheel from Lake Mills won the Brown Heating and Air Conditioning 50 lap Late Model feature event last Saturday Night at the Jefferson Speedway.  Scheel came from his second row outside ro take the lead on lap 20 from Dylan Schuyler of Dousman.   Scheel led the remainder of the event while intense battles were being waged throughout  the remainder of the field.  Schuyler and Luke Westenberg of Jefferson battled for second place for the remainder of the event with Westenberg taking over the spot repeatedly only to have Schuyler take it back.  Meanwhile Stephen Scheel, Lake Mills, Craig Phillips, Edgerton, Michael Grueneberg, Wisconsin Dells, and Riley Stenjem of Utica battled intensely for the remainder of the event.
At the finish it was Schaun Scheel, the winner, followed by Schuyler, Westenberg, Stephan Scheel, Michael Grueneberg, Riley Stenjem and Seth Reamer of Beaver Dam.  Craig Phillips rounded out the top eight.
Brandon Riedner of Waunakee won the 25 lap Hobby Stock Feature following a spirited battle with Lucas Buckingham of Jefferson, Chester Williams, Waukesha, Jim Tate jr., Doylestown, and Jared Vike, Lannon.  Riedner  took the lead at the halfway mark and stayed ahead of the intense battle for second through fifth place.  At the finish it was Reidner with the victory, followed by Vike, Buckingham, Tate, and Christian Janssen of Richman, Illinois rounding out the top five.
Bill Sweeney, Cambridge won the Road Warrior Feature, with Anthony Accardy, Janesville second, Roger Stephenson, Cambridge third, and Jasper Gronert, Jefferson fourth.
Chris Gottschalk, Fort Atkinson won the Bandit feature after the apparent winner failed post race inspection.  Brandon Johnson, Janesville was second, followed by Karter Stark, Waterloo, third, and Kyle Reidner, Waunakee fourth.
Jevin Guralski, Wausau won the Bandolero feature after a spirited battle with Alex Hartwig, Portage.  The pair were followed by Tucker Bodendorfer, Muskego, and Laney Osborne, Janesville with Anna Price, Rhinelander, rounding out the top five.  Final results are subject to review by the INEX technical staff.  Rulings were not released as of the completion of this summary.
Racing continues next Saturday night with full program including the Papa Murphy's Pizza 50 lap late model feature.  Gates open at 3pm, time trials, 5pm, and the first race 7pm.
JEFFERSON SPEEDWAY RACE SUMMARY
Late Model-
Qualifying
| | | | |
| --- | --- | --- | --- |
| Pos | Start Number | Competitor | Best Lap |
| 1 | 51N | Dale Nottestad | 14.226 |
| 2 | 77S | Riley Stenjem | 14.343 |
| 3 | 1G | Michael Gruenberg | 14.373 |
| 4 | 4SC | Stephan Scheel | 14.433 |
| 5 | 37R | Seth Reamer | 14.457 |
| 6 | 8S | Shaun Scheel | 14.486 |
| 7 | 79P | Craig Phillips | 14.515 |
| 8 | 33S | Dylan Schuyler | 14.523 |
| 9 | 16W | Luke Westenberg | 14.584 |
| 10 | 99PK | Paul Kisow | 14.597 |
| 11 | 15PR | Patrick Richgels | 14.64 |
| 12 | 61E | Jerry Eckhardt | 14.668 |
| 13 | 99W | Phillip Wuesthoff | 14.704 |
| 14 | 47M | David Malisch | 14.728 |
| 15 | 18L | Ryan Laatsch | 14.73 |
| 16 | 97S | Kyle Smith | 14.749 |
| 17 | 97C | Chris Chenoweth | 14.815 |
Heat Races-
| | | |
| --- | --- | --- |
| Pos | Start Number | Competitor |
| 1 | 97C | Chris Chenoweth |
| 2 | 15PR | Patrick Richgels |
| 3 | 16W | Luke Westenberg |
| 4 | 47M | David Malisch |
| 5 | 97S | Kyle Smith |
| 6 | 61E | Jerry Eckhardt |
| 7 | 99PK | Paul Kisow |
| 8 | 99W | Phillip Wuesthoff |
| 9 | 18L | Ryan Laatsch |
| | | |
| --- | --- | --- |
| Pos | Start Number | Competitor |
| 1 | 8S | Shaun Scheel |
| 2 | 79P | Craig Phillips |
| 3 | 33S | Dylan Schuyler |
| 4 | 1G | Michael Gruenberg |
| 5 | 77S | Riley Stenjem |
| 6 | 37R | Seth Reamer |
| 7 | 4SC | Stephan Scheel |
| 8 | 51N | Dale Nottestad |
Feature
| | | |
| --- | --- | --- |
| Pos | Start Number | Competitor |
| 1 | 8S | Shaun Scheel |
| 2 | 33S | Dylan Schuyler |
| 3 | 16W | Luke Westenberg |
| 4 | 4SC | Stephan Scheel |
| 5 | 1G | Michael Gruenberg |
| 6 | 77S | Riley Stenjem |
| 7 | 37R | Seth Reamer |
| 8 | 79P | Craig Phillips |
| 9 | 15PR | Patrick Richgels |
| 10 | 61E | Jerry Eckhardt |
| 11 | 99PK | Paul Kisow |
| 12 | 99W | Phillip Wuesthoff |
| 13 | 97S | Kyle Smith |
| 14 | 47M | David Malisch |
| 15 | 18L | Ryan Laatsch |
| 16 | 97C | Chris Chenoweth |
| 17 | 51N | Dale Nottestad |
Hobby Stock-
Qualifying
| | | | |
| --- | --- | --- | --- |
| Pos | Start Number | Competitor | Best Lap |
| 1 | 20V | Jared Vike | 15.649 |
| 2 | 27T | Jim Tate  Jr | 15.674 |
| 3 | 43J | Christian Janssen | 15.697 |
| 4 | 4D | Bud Riedner | 15.716 |
| 5 | 2W | Chester Williams | 15.82 |
| 6 | 56G | Kolton Guralski | 15.826 |
| 7 | 55B | Lucas Buckingham | 15.827 |
| 8 | 0K | Jordan Egli | 15.858 |
| 9 | 23NB | Nick Bruley | 15.924 |
| 10 | 114 | Chris Flairty | 15.944 |
| 11 | 9W | Dustin Ward | 15.966 |
| 12 | 71D | Jason Dunn | 16.025 |
| 13 | 26R | Chico Riedner | 16.028 |
| 14 | 5R | Robbie Rucks | 16.052 |
| 15 | 22B | Korey Bengsch | 16.074 |
| 16 | 39S | Ken Scott | 16.083 |
| 17 | 22E | Chuck Egli | 16.097 |
| 18 | 11S | Dylan Scott | 16.197 |
| 19 | 52R | Shane Radtke Jr | 16.218 |
| 20 | 99K | Chris Kern | 16.281 |
| 21 | 33J | John Janssen | 16.289 |
| 22 | 10B | Jon Benninger | 16.291 |
| 23 | 71T | Jamie Tate | 16.338 |
| 24 | 41L | Jordan Lamb | 16.39 |
| 25 | 01B | Mike Bollinger | 16.406 |
| 26 | 34M | Matthew Melchiori | 16.462 |
| 27 | 16S | Shane Strothman | 16.758 |
Heat Races
| | | |
| --- | --- | --- |
| Pos | Start Number | Competitor |
| 1 | 33J | John Janssen |
| 2 | 71T | Jamie Tate |
| 3 | 10B | Jon Benninger |
| 4 | 41L | Jordan Lamb |
| 5 | 99K | Chris Kern |
| 6 | 01B | Mike Bollinger |
| 7 | 34M | Matthew Melchiori |
| 8 | 16S | Shane Strothman |
| 9 | 52R | Shane Radtke Jr |
| | | |
| --- | --- | --- |
| Pos | Start Number | Competitor |
| 1 | 114 | Chris Flairty |
| 2 | 56G | Kolton Guralski |
| 3 | 71D | Jason Dunn |
| 4 | 0K | Jordan Egli |
| 5 | 27T | Jim Tate  Jr |
| 6 | 4D | Bud Riedner |
| 7 | 39S | Ken Scott |
| 8 | 11S | Dylan Scott |
| 9 | 5R | Robbie Rucks |
| | | |
| --- | --- | --- |
| Pos | Start Number | Competitor |
| 1 | 26R | Chico Riedner |
| 2 | 22E | Chuck Egli |
| 3 | 23NB | Nick Bruley |
| 4 | 2W | Chester Williams |
| 5 | 9W | Dustin Ward |
| 6 | 43J | Christian Janssen |
| 7 | 55B | Lucas Buckingham |
| 8 | 22B | Korey Bengsch |
| 9 | 20V | Jared Vike |
Consy
| | | |
| --- | --- | --- |
| Pos | Start Number | Competitor |
| 1 | 34M | Matthew Melchiori |
| 2 | 41L | Jordan Lamb |
| 3 | 71T | Jamie Tate |
| 4 | 01B | Mike Bollinger |
| 5 | 16S | Shane Strothman |
| | | |
Last Chance
| | | |
| --- | --- | --- |
| Pos | Start Number | Competitor |
| 1 | 10B | Jon Benninger |
| 2 | 33J | John Janssen |
| 3 | 52R | Shane Radtke Jr |
| 4 | 22E | Chuck Egli |
| 5 | 39S | Ken Scott |
| 6 | 11S | Dylan Scott |
| 7 | 41L | Jordan Lamb |
| 8 | 34M | Matthew Melchiori |
| 9 | 22B | Korey Bengsch |
| 10 | 99K | Chris Kern |
Feature
| | | |
| --- | --- | --- |
| Pos | Start Number | Competitor |
| 1 | 4D | Bud Riedner |
| 2 | 20V | Jared Vike |
| 3 | 55B | Lucas Buckingham |
| 4 | 27T | Jim Tate  Jr |
| 5 | 43J | Christian Janssen |
| 6 | 56G | Kolton Guralski |
| 7 | 2W | Chester Williams |
| 8 | 9W | Dustin Ward |
| 9 | 26R | Chico Riedner |
| 10 | 71D | Jason Dunn |
| 11 | 22E | Chuck Egli |
| 12 | 5R | Robbie Rucks |
| 13 | 23NB | Nick Bruley |
| 14 | 33J | John Janssen |
| 15 | 0K | Jordan Egli |
| 16 | 10B | Jon Benninger |
| 17 | 52R | Shane Radtke Jr |
| 18 | 114 | Chris Flairty |
Road Warrior
Qualifying
| | | | |
| --- | --- | --- | --- |
| Pos | Start Number | Competitor | Best Lap |
| 1 | 42S | Bill Sweeney | 16.22 |
| 2 | 14A | Anthony Accardi | 16.458 |
| 3 | 8R | Bill Reynolds | 16.549 |
| 4 | 13G | Jasper Gronert | 17.147 |
| 5 | 16S | Rodger Stevenson | 17.35 |
| 6 | 26M | Garrett Miester | 17.484 |
| 7 | 68Z | Kevin Zimmerman | 19.891 |
Heat Race
| | | |
| --- | --- | --- |
| Pos | Start Number | Competitor |
| 1 | 42S | Bill Sweeney |
| 2 | 8R | Bill Reynolds |
| 3 | 14A | Anthony Accardi |
| 4 | 16S | Rodger Stevenson |
| 5 | 13G | Jasper Gronert |
| 6 | 26M | Garrett Miester |
| 7 | 68Z | Kevin Zimmerman |
Feature
| | | |
| --- | --- | --- |
| Pos | Start Number | Competitor |
| 1 | 42S | Bill Sweeney |
| 2 | 14A | Anthony Accardi |
| 3 | 16S | Rodger Stevenson |
| 4 | 13G | Jasper Gronert |
| 5 | 26M | Garrett Miester |
| 6 | 68Z | Kevin Zimmerman |
| 7 | 8R | Bill Reynolds |
Bandit-
Qualifying
| | | | |
| --- | --- | --- | --- |
| Pos | Start Number | Competitor | Best Lap |
| 1 | 109S | Nick Schmidt | 14.509 |
| 2 | 18J | Brandon Johnson | 14.555 |
| 3 | 61G | Chris Gottschalk | 14.635 |
| 4 | 92S | Karter  Stark | 14.659 |
| 5 | 77M | Chris Matz | 14.698 |
| 6 | 31G | Bryan Gottschalk | 14.756 |
| 7 | 02C | Brody Chilvers | 14.772 |
| 8 | 12J | Ashlynn Jarlsberg | 14.796 |
| 9 | 5O | Ryan Oetzel | 14.876 |
| 10 | 83R | Travis Rose | 14.883 |
| 11 | 18S | Gavin Smothers | 14.989 |
| 12 | 41N | Nick Newton | 15.006 |
| 13 | 29K | Matt Krinke | 15.046 |
| 14 | 189 | Kyle Riedner | 15.086 |
| 15 | 175 | Josh Dearborn | 15.394 |
| 16 | 72R | Rianne Ramsik | 15.5 |
| 17 | 2W | Matt Weber | 15.688 |
| 18 | 425 | Kolbe Pankow | 16.109 |
| 19 | 95L | Georgia Lacroix | 19.145 |
Heat Races
| | | |
| --- | --- | --- |
| Pos | Start Number | Competitor |
| 1 | 189 | Kyle Riedner |
| 2 | 425 | Kolbe Pankow |
| 3 | 2W | Matt Weber |
| 4 | 175 | Josh Dearborn |
| 5 | 72R | Rianne Ramsik |
| 6 | 95L | Georgia Lacroix |
| | | |
| --- | --- | --- |
| Pos | Start Number | Competitor |
| 1 | 41N | Nick Newton |
| 2 | 83R | Travis Rose |
| 3 | 92S | Karter  Stark |
| 4 | 31G | Bryan Gottschalk |
| 5 | 12J | Ashlynn Jarlsberg |
| 6 | 18J | Brandon Johnson |
| | | |
| --- | --- | --- |
| Pos | Start Number | Competitor |
| 1 | 61G | Chris Gottschalk |
| 2 | 18S | Gavin Smothers |
| 3 | 5O | Ryan Oetzel |
| 4 | 109S | Nick Schmidt |
| 5 | 77M | Chris Matz |
| DQ | 02C | Brody Chilvers |
Last Chance
| | | |
| --- | --- | --- |
| Pos | Start Number | Competitor |
| 1 | 29K | Matt Krinke |
| 2 | 189 | Kyle Riedner |
| 3 | 175 | Josh Dearborn |
| 4 | 2W | Matt Weber |
| 5 | 72R | Rianne Ramsik |
| 6 | 425 | Kolbe Pankow |
Feature
| | | |
| --- | --- | --- |
| Pos | Start Number | Competitor |
| 1 | 61G | Chris Gottschalk |
| 2 | 18J | Brandon Johnson |
| 3 | 92S | Karter  Stark |
| 4 | 189 | Kyle Riedner |
| 5 | 83R | Travis Rose |
| 6 | 12J | Ashlynn Jarlsberg |
| 7 | 5O | Ryan Oetzel |
| 8 | 77M | Chris Matz |
| 9 | 41N | Nick Newton |
| 10 | 18S | Gavin Smothers |
| 11 | 29K | Matt Krinke |
| 12 | 175 | Josh Dearborn |
| 13 | 109S | Nick Schmidt |
| 14 | 31G | Bryan Gottschalk |
| 15 | 2W | Matt Weber |
| DQ | 02C | Brody Chilvers |
Bandolero-
Qualifying
| | | | |
| --- | --- | --- | --- |
| Pos | Start Number | Competitor | Total Time |
| 1 | 20G | Jevin Guralski | 16.38 |
| 2 | 901H | Alex Hartwig | 16.441 |
| 3 | 5B | Paxton Benz | 16.783 |
| 4 | 64P | Anna Price | 16.847 |
| 5 | 05B | Tucker Bodendorfer | 16.927 |
| 6 | 3O | Laney Osborne | 16.971 |
| 7 | 52L | Avery Linnerud | 16.972 |
| 8 | 17B | Keagn Benz | 17.013 |
| 9 | 78M | Tyler Muller | 17.197 |
| 10 | 111 | Marianna Kubicz | 17.253 |
| 11 | 88H | Cohen Henze | 17.271 |
| 12 | 8W | Chase Wangsness | 17.285 |
| 13 | 54.3S | Riley Smith | 17.366 |
| 14 | 11W | Kaeden Wangsness | 17.396 |
| 15 | 29O | Axel Oldenhoff | 17.443 |
| 16 | 9M | Collinh Murphy | 18.146 |
| 17 | 7R | Easton Riedner | 18.154 |
| 18 | 64B | Cooper Bodendorfer | 18.26 |
| 19 | 22G | Chase Gronert | 18.705 |
| 20 | 17W | Teegan Wangsness | 18.952 |
| 21 | 114 | Peyton Kubicz | 20.28 |
Heat Races
| | | |
| --- | --- | --- |
| Pos | Start Number | Competitor |
| 1 | 9M | Collinh Murphy |
| 2 | 29O | Axel Oldenhoff |
| 3 | 64B | Cooper Bodendorfer |
| 4 | 7R | Easton Riedner |
| 5 | 17W | Teegan Wangsness |
| 6 | 22G | Chase Gronert |
| 7 | 114 | Peyton Kubicz |
| | | |
| --- | --- | --- |
| Pos | Start Number | Competitor |
| 1 | 901H | Alex Hartwig |
| 2 | 3O | Laney Osborne |
| 3 | 64P | Anna Price |
| 4 | 8W | Chase Wangsness |
| 5 | 11W | Kaeden Wangsness |
| 6 | 17B | Keagn Benz |
| 7 | 111K | Marianna Kubicz |
| | | |
| --- | --- | --- |
| Pos | Start Number | Competitor |
| 1 | 20G | Jevin Guralski |
| 2 | 88H | Cohen Henze |
| 3 | 52L | Avery Linnerud |
| 4 | 78M | Tyler Muller |
| 5 | 54.3S | Riley Smith |
| 6 | 5B | Paxton Benz |
| 7 | 05B | Tucker Bodendorfer |
Consy
| | | |
| --- | --- | --- |
| Pos | Start Number | Competitor |
| 1 | 64B | Cooper Bodendorfer |
| 2 | 9M | Collinh Murphy |
| 3 | 22G | Chase Gronert |
| 4 | 17W | Teegan Wangsness |
| 5 | 114 | Peyton Kubicz |
| 6 | 7R | Easton Riedner |
Last Chance
| | | |
| --- | --- | --- |
| Pos | Start Number | Competitor |
| 1 | 111K | Marianna Kubicz |
| 2 | 88H | Cohen Henze |
| 3 | 8W | Chase Wangsness |
| 4 | 11W | Kaeden Wangsness |
| 5 | 64B | Cooper Bodendorfer |
| 6 | 9M | Collinh Murphy |
| 7 | 54.3S | Riley Smith |
| 8 | 29O | Axel Oldenhoff |
Feature
| | | |
| --- | --- | --- |
| Pos | Start Number | Competitor |
| 1 | 20G | Jevin Guralski |
| 2 | 901H | Alex Hartwig |
| 3 | 05B | Tucker Bodendorfer |
| 4 | 3O | Laney Osborne |
| 5 | 64P | Anna Price |
| 6 | 17B | Keagn Benz |
| 7 | 88H | Cohen Henze |
| 8 | 5B | Paxton Benz |
| 9 | 78M | Tyler Muller |
| 10 | 8W | Chase Wangsness |
| 11 | 111K | Marianna Kubicz |
| 12 | 11W | Kaeden Wangsness |
| 13 | 52L | Avery Linnerud |