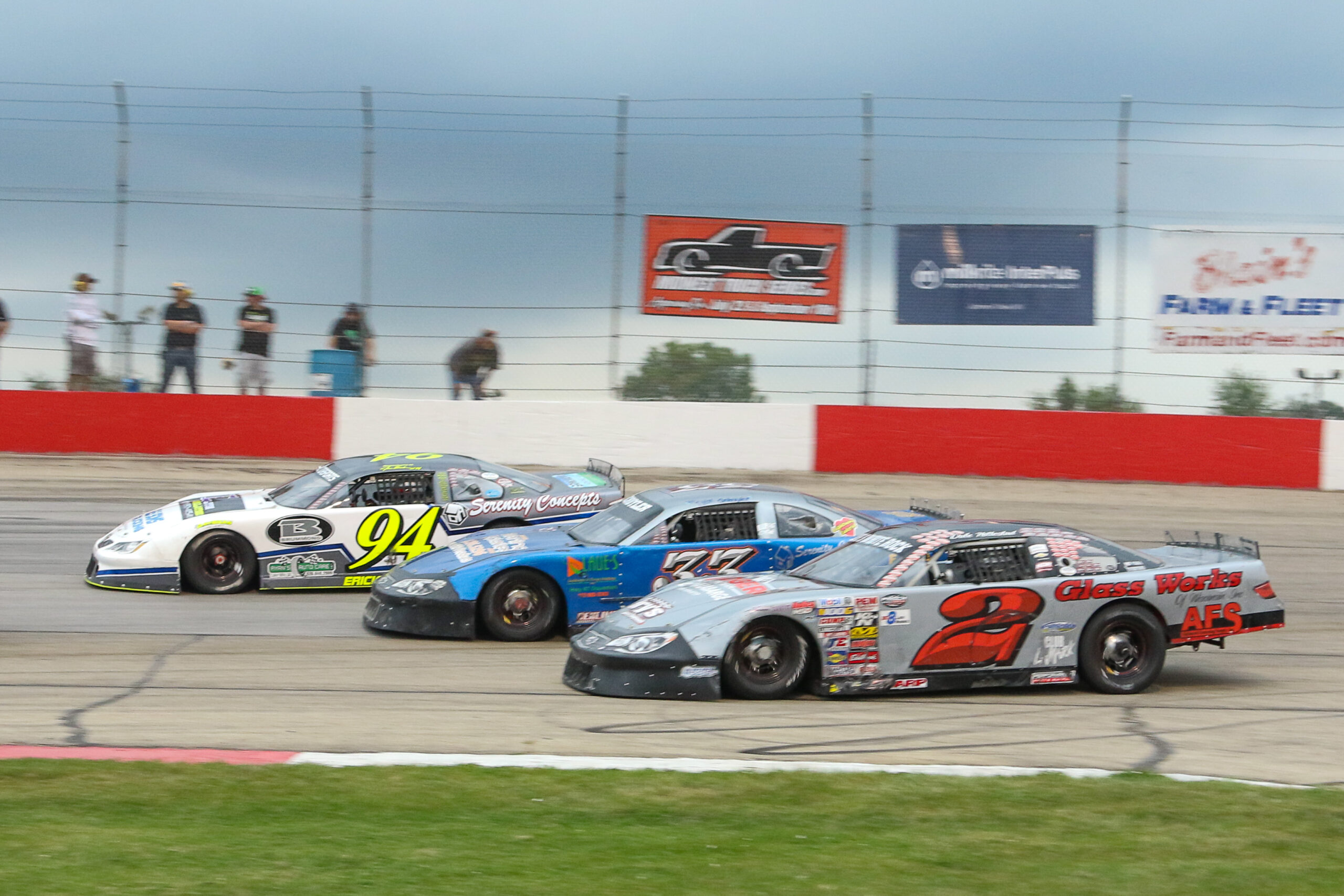 WI STATE CHAMPIONSHIPS INVADE JEFFERSON SPEEDWAY THIS WEEKEND
CAMBRIDGE, WI (Tuesday, September 13, 2022)               As the 2022 racing season begins to head into the home stretch, one event always looms large on the calendars of racing fans and competitors alike each year. That event has arrived this week, as the Wisconsin State Championships are scheduled to pack the weekend full of action at Jefferson Speedway. The event, affectionately referred to as the "Two Day Show", takes place this Friday and Saturday, September 16-17. Let's take a look at what's on tap for the 42nd annual version of this exciting program.
The Friday night version of the program is highlighted by the return of the Midwest Truck Series. Drivers in this traveling series will compete in the Wolff Pack Apparel 50 lap feature event. The series has grown into an entertaining and action packed show sure to entertain. Former Jefferson Speedway drivers such as Kody Hubred and Bryce Miller help headline this group of aggressive and talented drivers looking to add their name to the list of winners at the tricky quarter mile known as Wisconsin's Action Track. James Swan sits atop the point standings as the series winds down it's season. Each driver will look to use this race to propel themselves toward a possible run at the championship with only three races remaining.
Joining the trucks will be regular Jefferson Speedway divisions including the Late Models, Sportsmen, Internationals, Hobby Stocks and Bandits. Each division will compete in a feature event on Friday which will help determine the overall weekend's champions. This includes the Glassworks of Wisconsin 50 lap Late Model feature. The Bandit division, who is only competing on Friday night, will race in twin 20 lap feature events while each other division will race a single feature. Qualifying on Friday night begins at 4pm with racing at 6:30pm.
Day two of the racing extravaganza is highlighted by a plethora of twin feature events in each division. This includes twin Brown Heating and AC 50 lap features for the Late Models. The Sportsmen, Internationals and Hobby Stocks will once again compete along with the Legends and Bandoleros.
In Late Model competition, the season long battle in the point standings between Jason Erickson of Jefferson and Dale Nottestad of Cambridge will once again take center stage as they both look to build on very successful seasons. Each driver scored multiple feature wins on the season and look to assert themselves one final time and claim the overall title. While it was Nottestad who laid claim to the overall Late Model track championship at Jefferson Speedway in 2022, Erickson is the defending Wisconsin State Champ. Erickson picked up the title in last year's version of the event, his third such accomplishment. Nottestad owns two State Titles of his own and looks to tie Erickson this year in the overall yearly standings.
Other annual Late Model front runners promise to give Nottestad and Erickson a run for their money as well. Two time track champion and former winner of this event, Shaun Scheel of Lake Mills, will surely be in the mix of contenders looking to finish their season strong. And don't count out Dylan Schuyler, Kyle Smith or Chris Chenoweth. All three drivers are capable of putting their best foot forward this weekend and etching their names on the trophy. Former NASCAR Camping World Truck Series champion, Johnny Sauter will be in the Pathfinder Chassis house car and has added his name to the list of entries for this weekend's festivities. His presence promises to raise the level of intensity in a division which already provides a high level of excitement every single week. In addition, you never know which drivers from other local tracks will throw their hat in the ring in a quest to conquer Wisconsin's Action Track, including Jesse Bernhagen, a top driver at several tracks in the area.
The Sportsman division is stacked top to bottom on a weekly basis and provides a laundry list of names capable to winning this event as well. Two time defending track champ, Bobby Selsing Jr of Fort Atkinson, will no doubt be a favorite to win. Last season's winner of the event, Mark Deporter, is looking to win the event for the fourth time in his career. And season runner up in the standings, Jason Thoma of Jefferson, is hungry to capture his fourth championship as well. Several other drivers will undoubtedly be in contention in a division that will provide lots of fantastic racing all weekend including Dave Trute, Christian Janssen and many others.
Seven time Jefferson Speedway International champ, Mark English of Janesville, will be on hand looking to cap off his strong season. His late season surge in the standings netted him the track title; but he won't be without stiff competition from the likes of Jason Uttech, Mark Dewey, Weston Strese and others. Midwest Dash Series rules will be in effect for this program, allowing the Series' top drivers to travel to Jefferson Speedway and compete with the local regulars.
The Hobby Stock division provides some of the best racing action each and every week, and this weekend promises to be no different. Fresh off his fourth track championship, Jim Tate Jr of Doylestown will try to fend off some of the best drivers in the area in a quest to claim his fourth State Title. The list of drivers who stand in his way is lengthy and includes several past season champions and state title holders. Brandon Riedner leads a pack including Shane Radtke, Robbie Rucks, Chris Flairty and several others looking to unseat Tate. While also competing in the Truck Series on Friday, Kody Hubred will hop in a Hobby Stock and add his name to the list of top contenders in the Hobby Stocks.
The Legends and Bandoleros also join the stacked program. Jacob Tiegan of Marion, IA, owned the regular season in his Legend to capture the track championship. Can his dominance continue? Dillon Schwanbeck of Poynette plans to do double duty as well on the weekend as he will race his truck on Friday and his Legend on Saturday. He's looking to claim a third consecutive state title and will certainly challenge Tiegan, among others.
The Bandoleros consistently had the largest group of drivers whenever they raced throughout the season. 30+ drivers participated each week, with that many or more planning on racing this Saturday. Alex Hartwig of Portage claimed the season title and looks like to maintain that success. Hartwig picked up the state title in 2020 and looks to add a second such award. But last year's champ, Avery Linnerud, will most definitely have something to say about that, including a host of other top contenders.
Qualifying on Saturday begins at 4pm with the first green flag at 5pm. Two day passes are available to be able to catch every lap on Friday and Saturday. Individual day passes are also available. All the information for this two day event are available on our website, jeffersonspeedway.com, as well as our Facebook page. Jefferson Speedway is located halfway between Jefferson and Cambridge on Hwy 18.