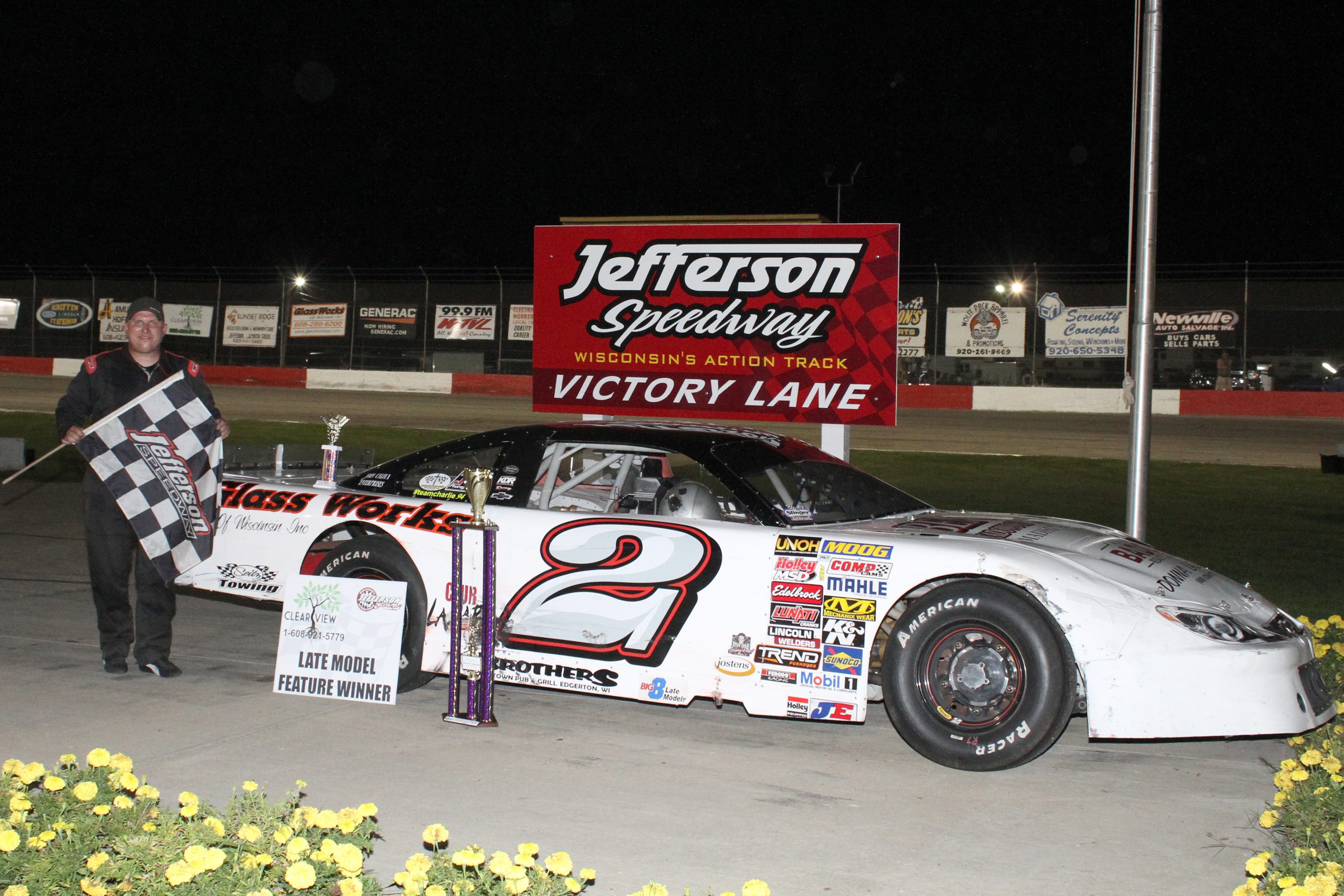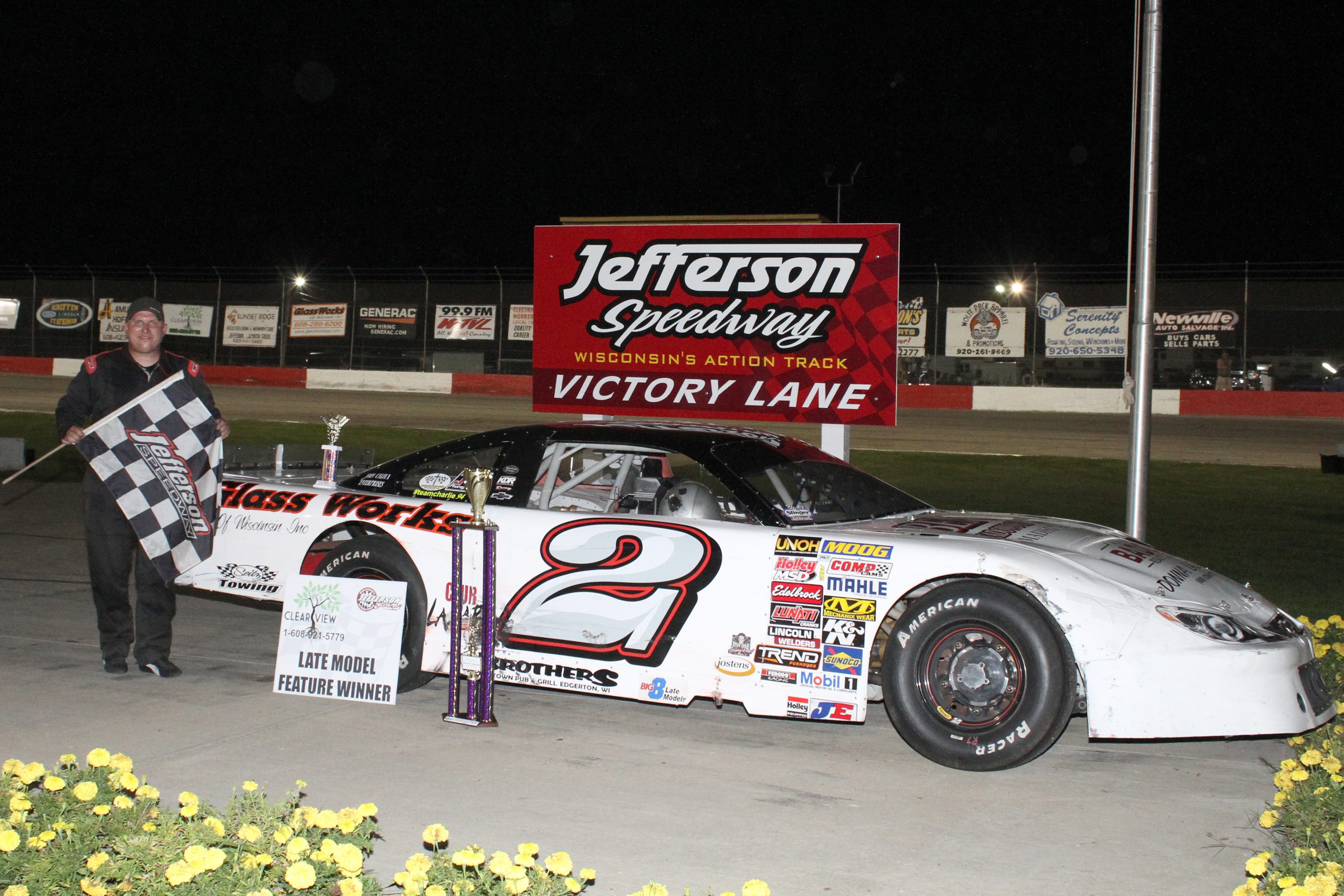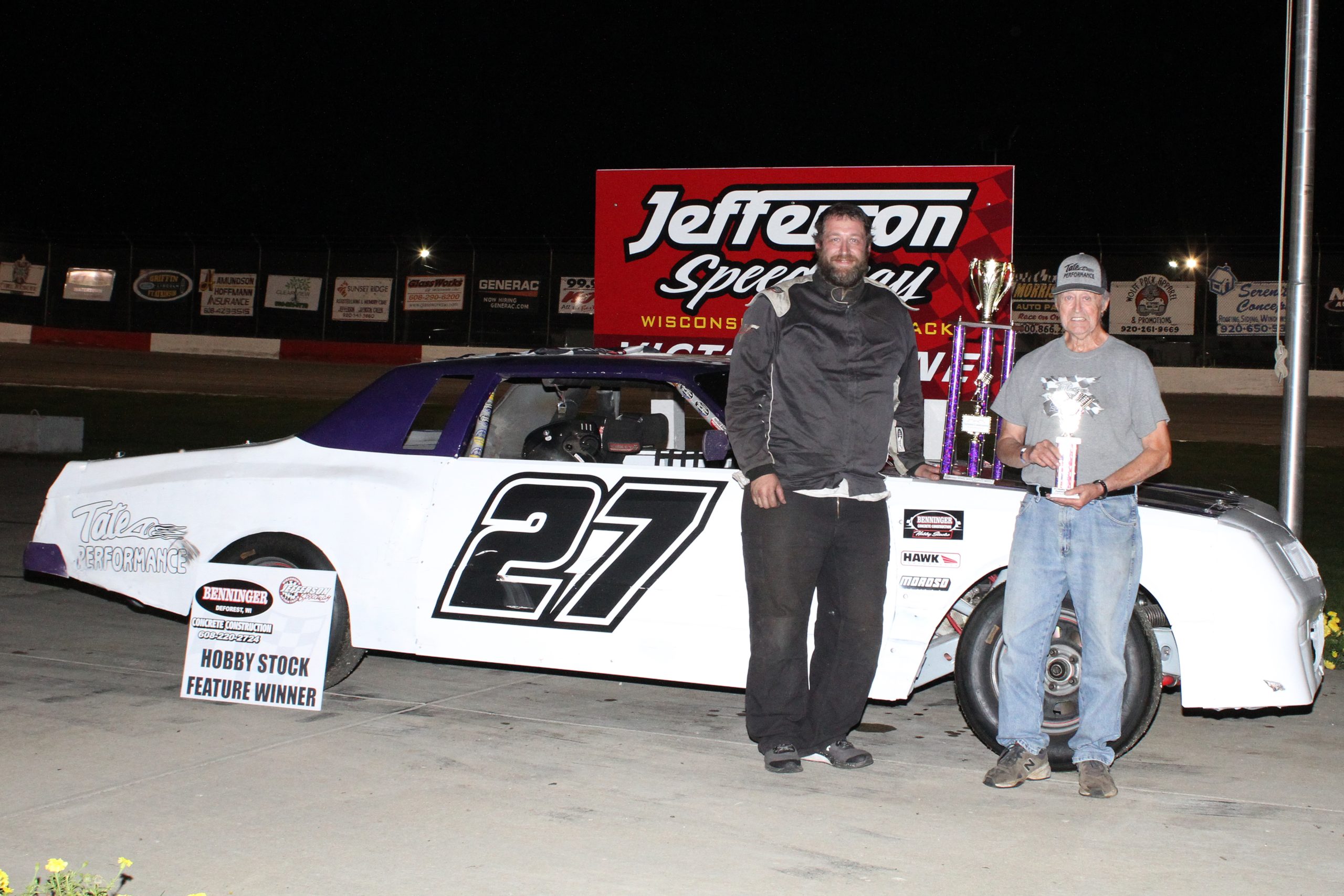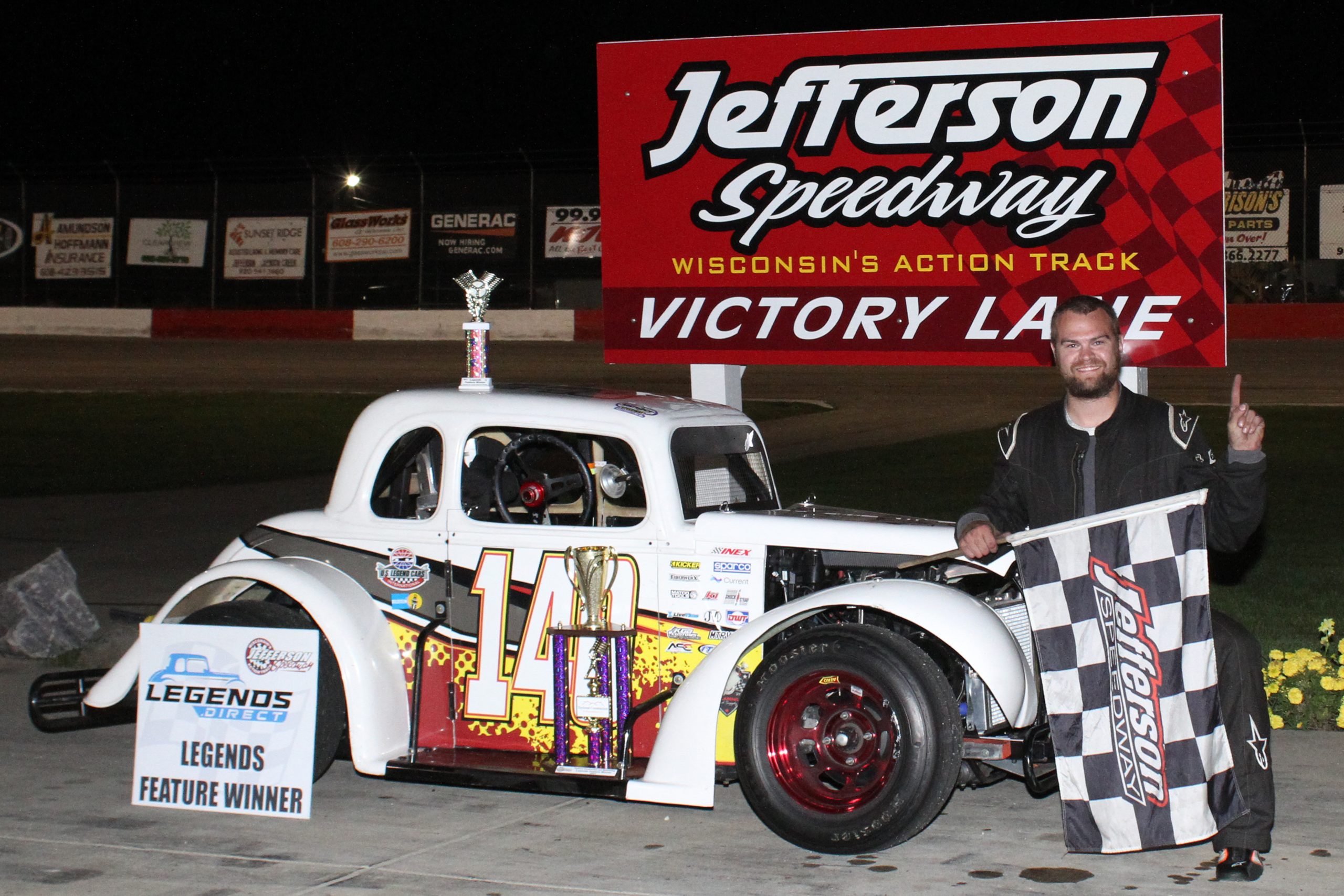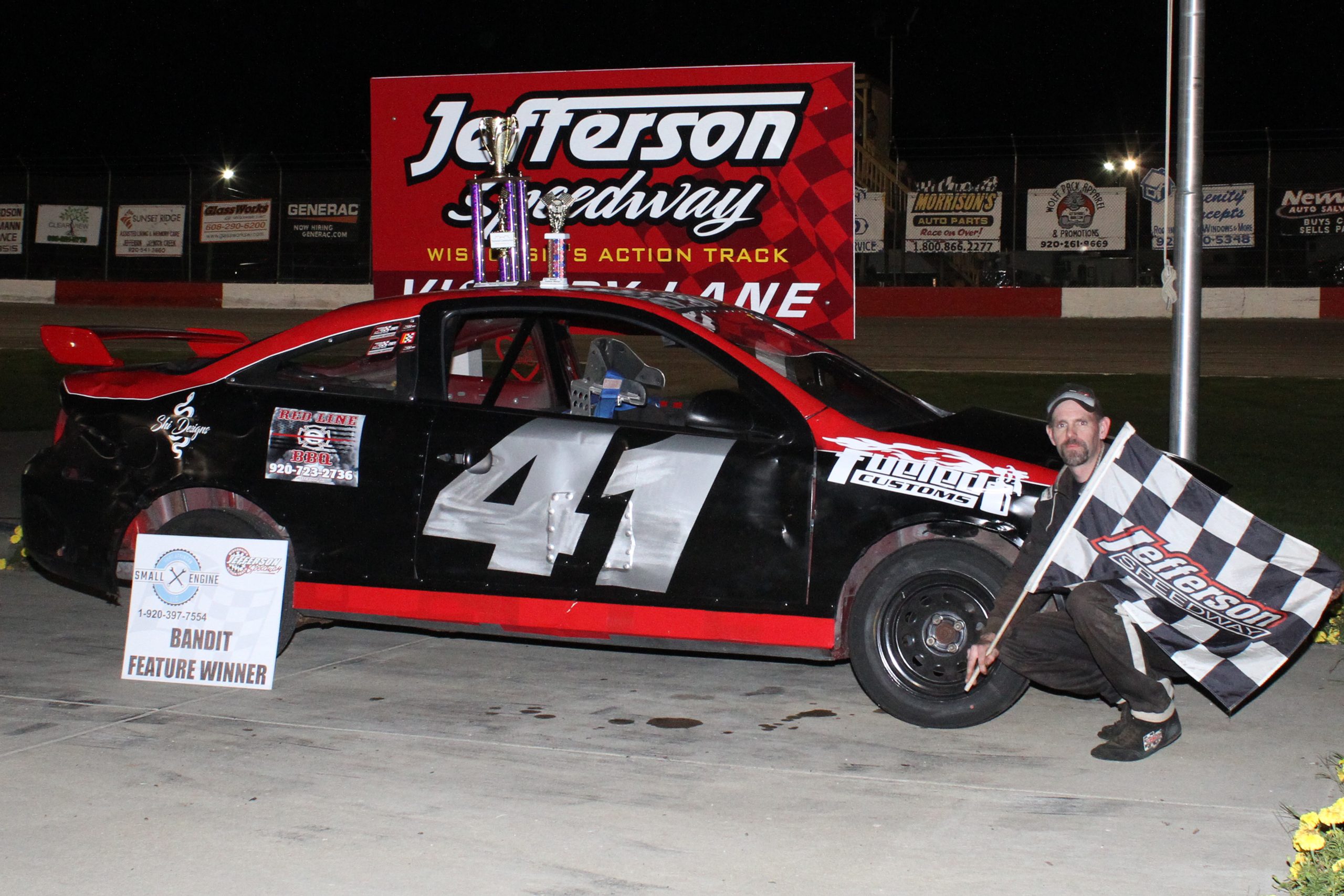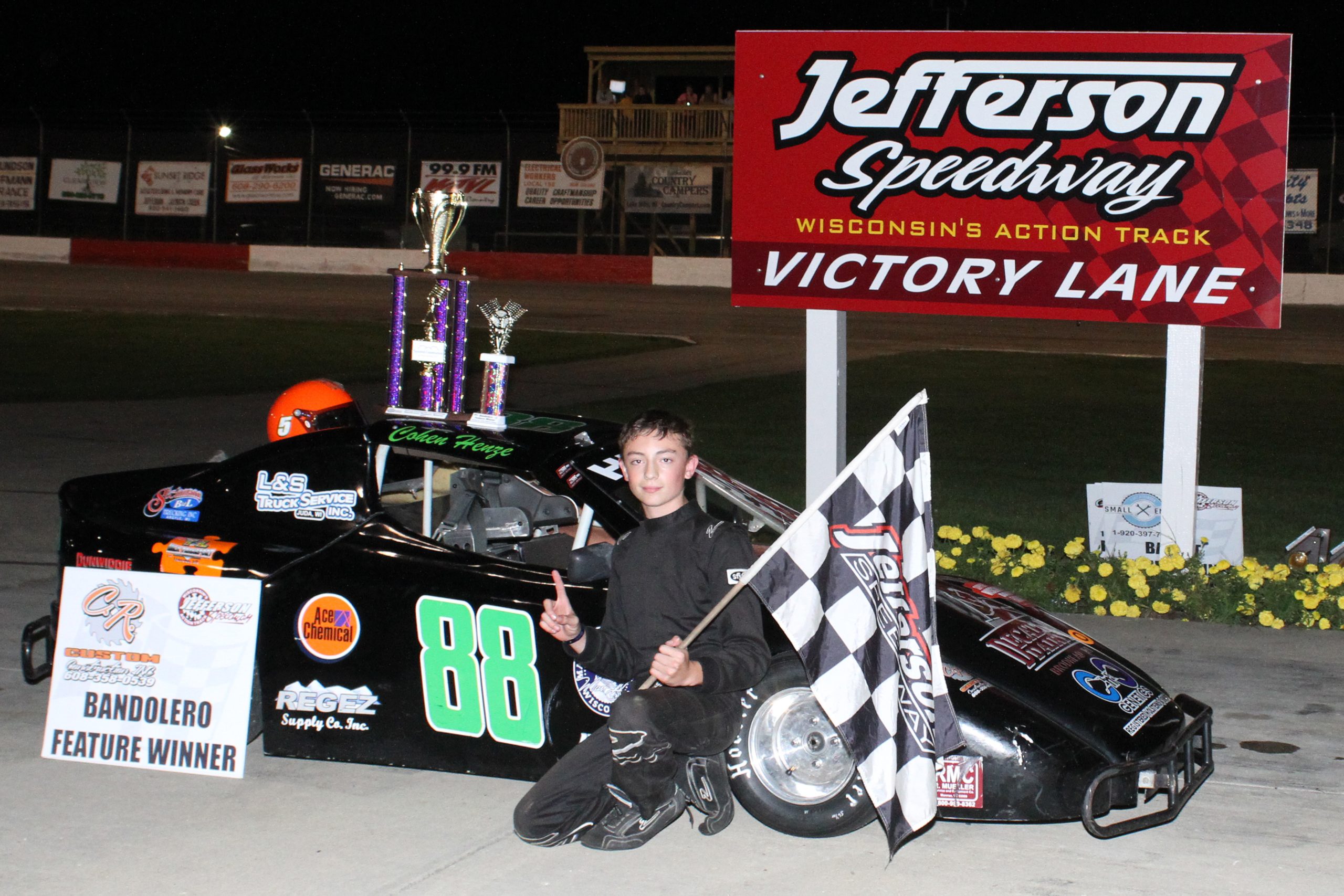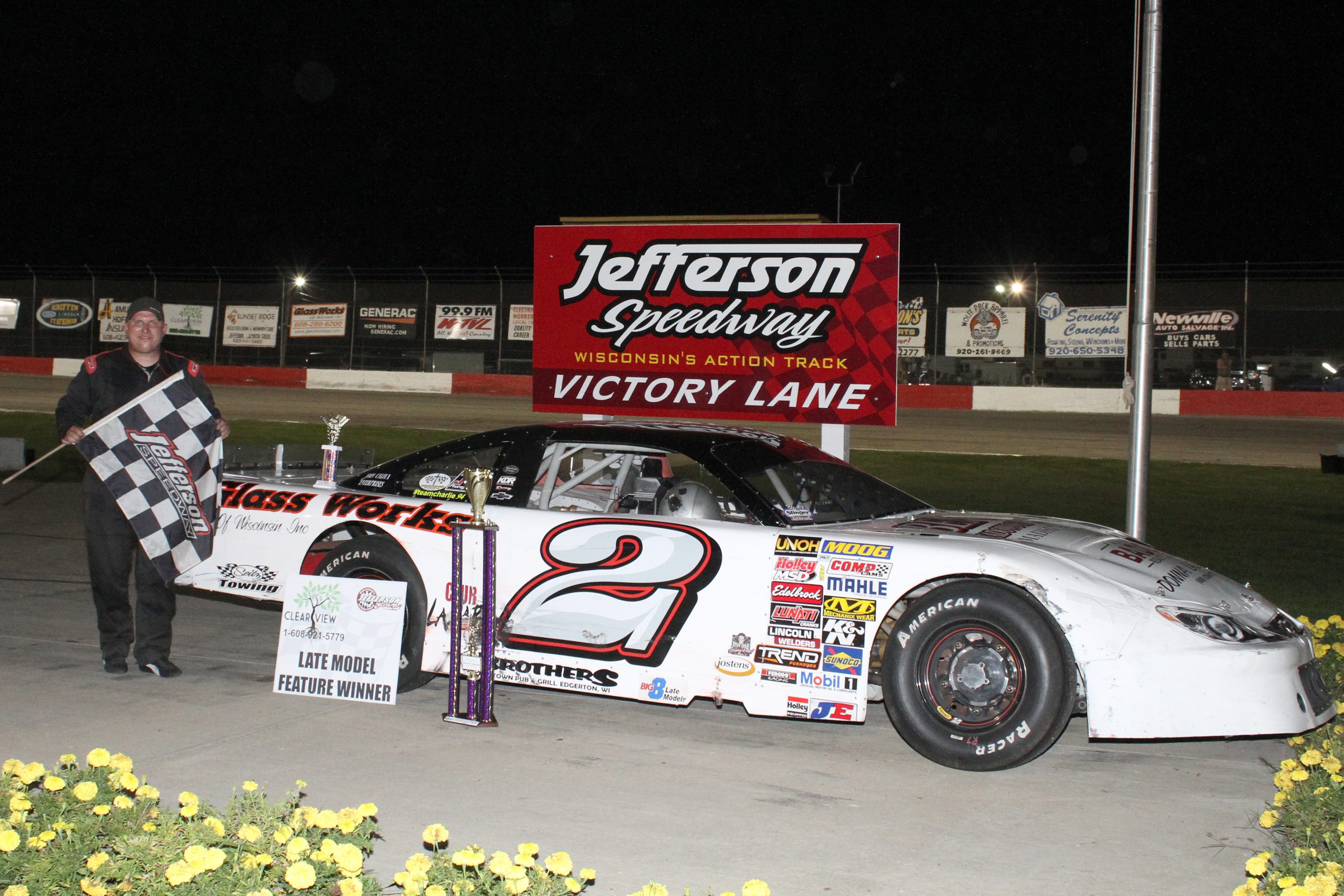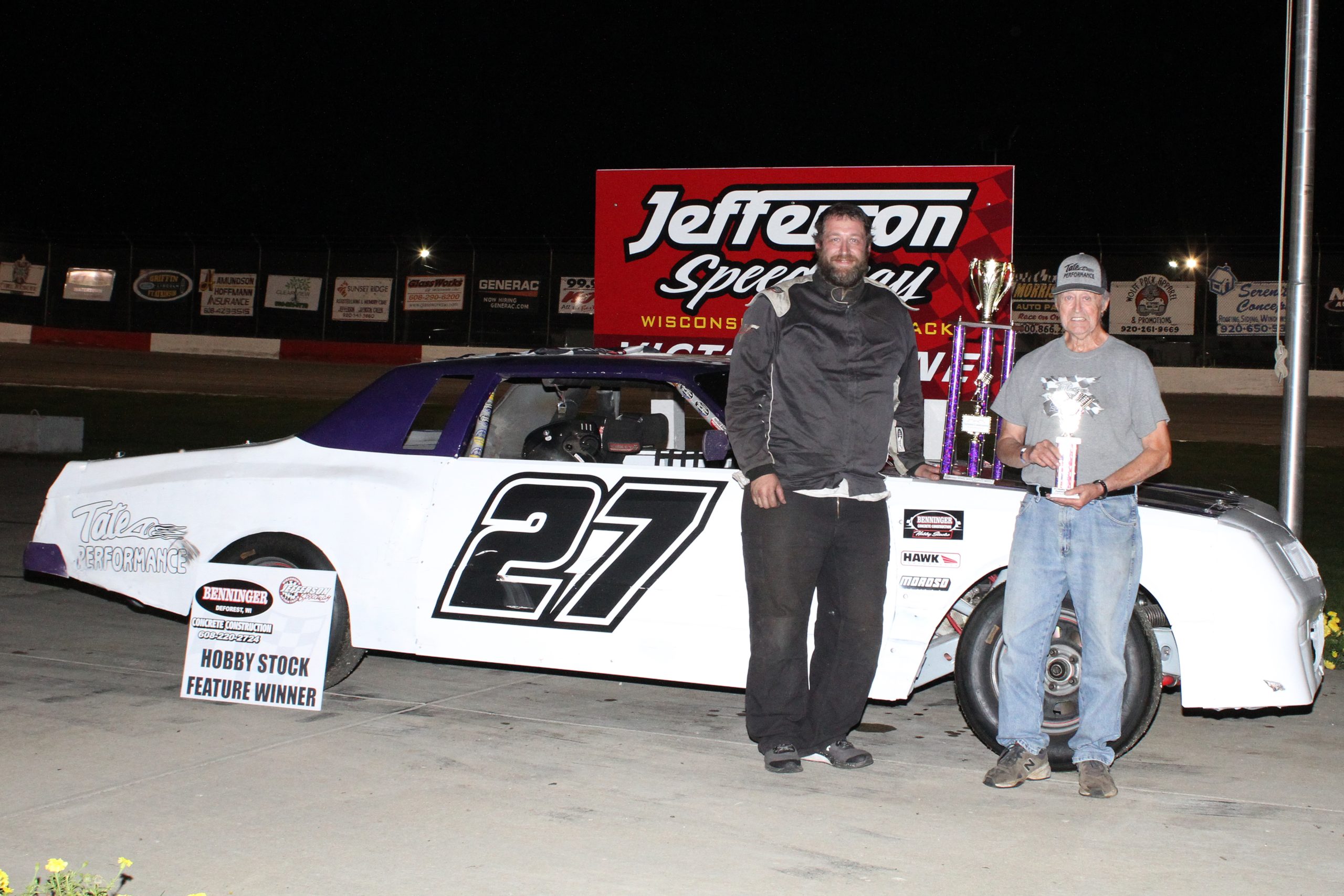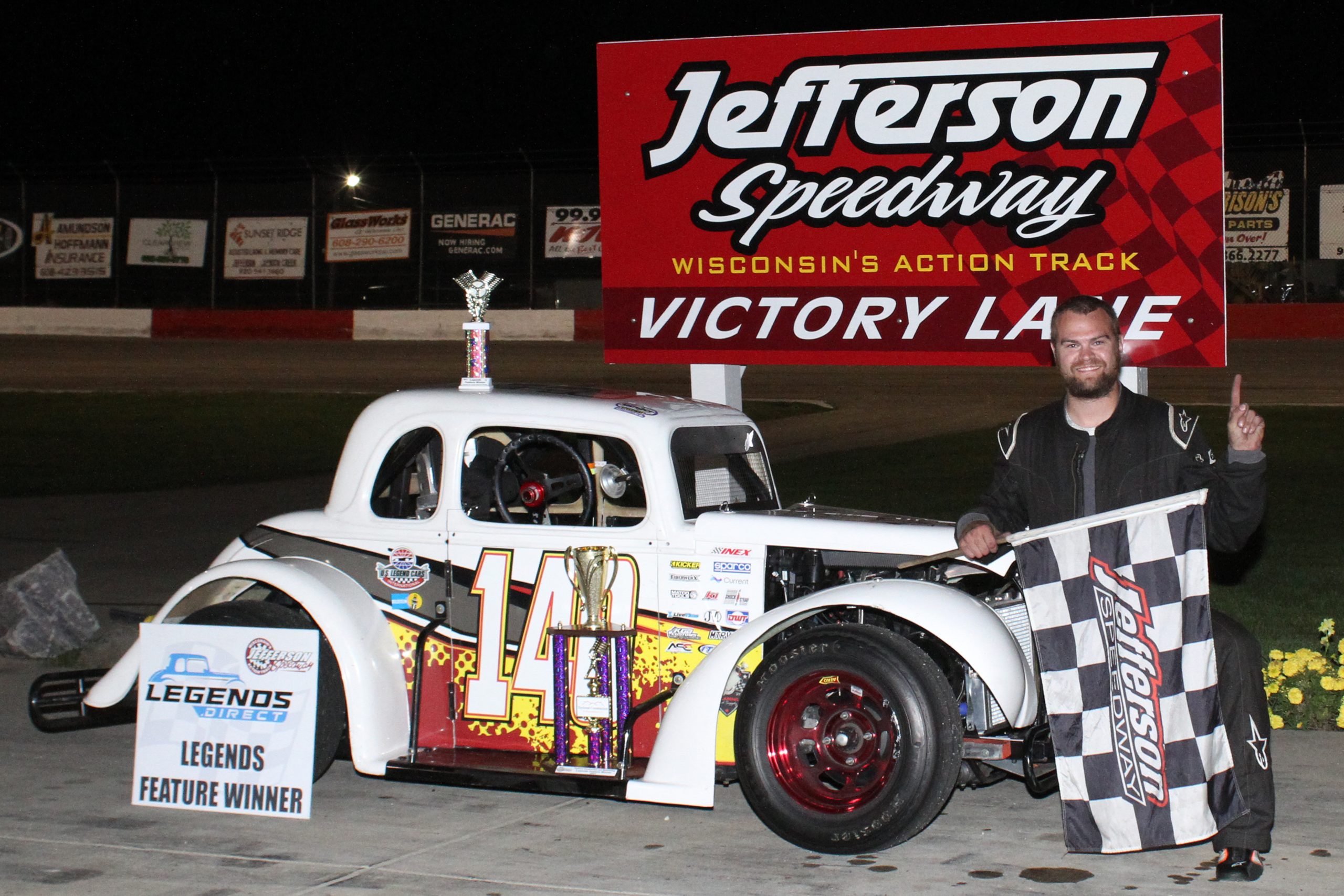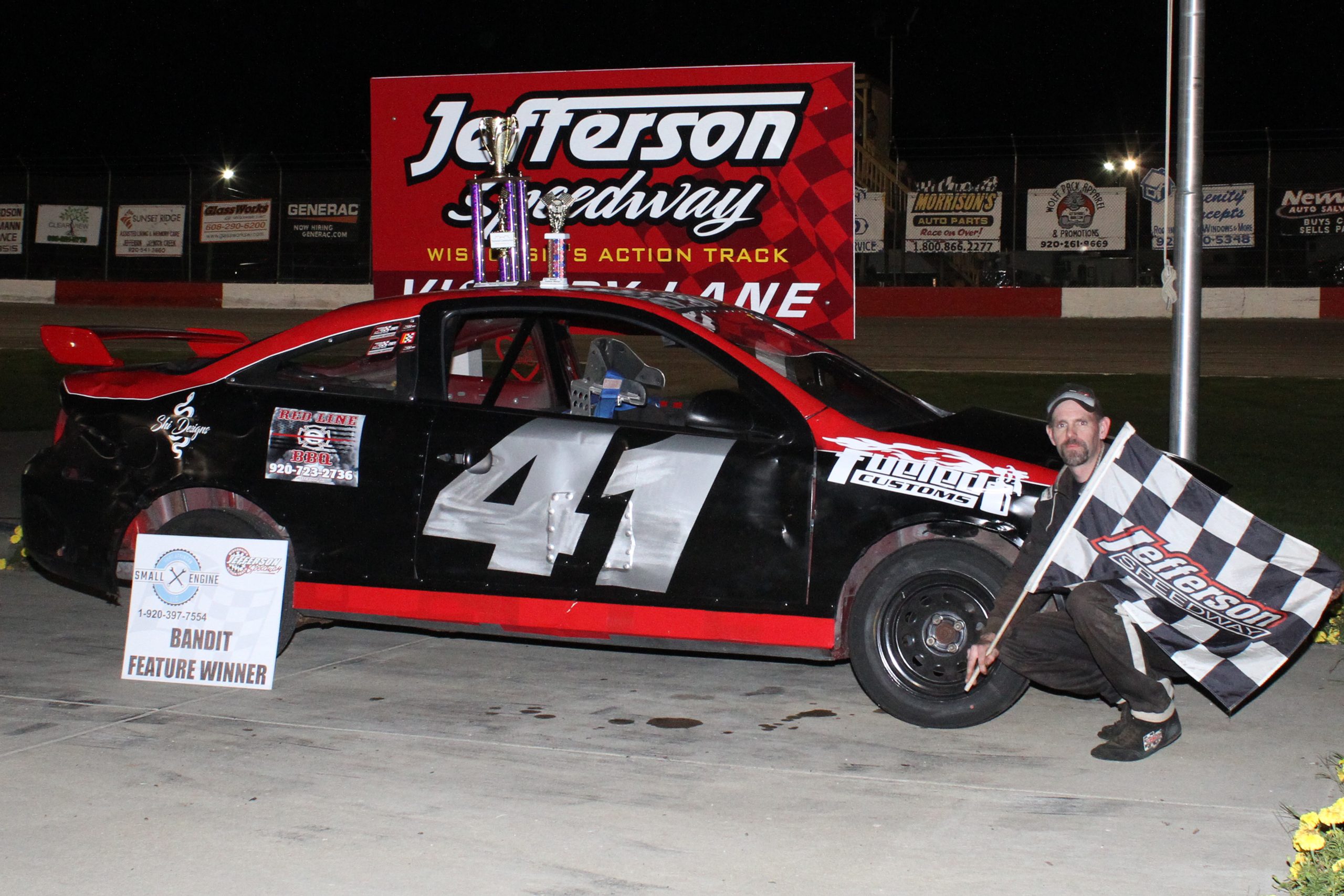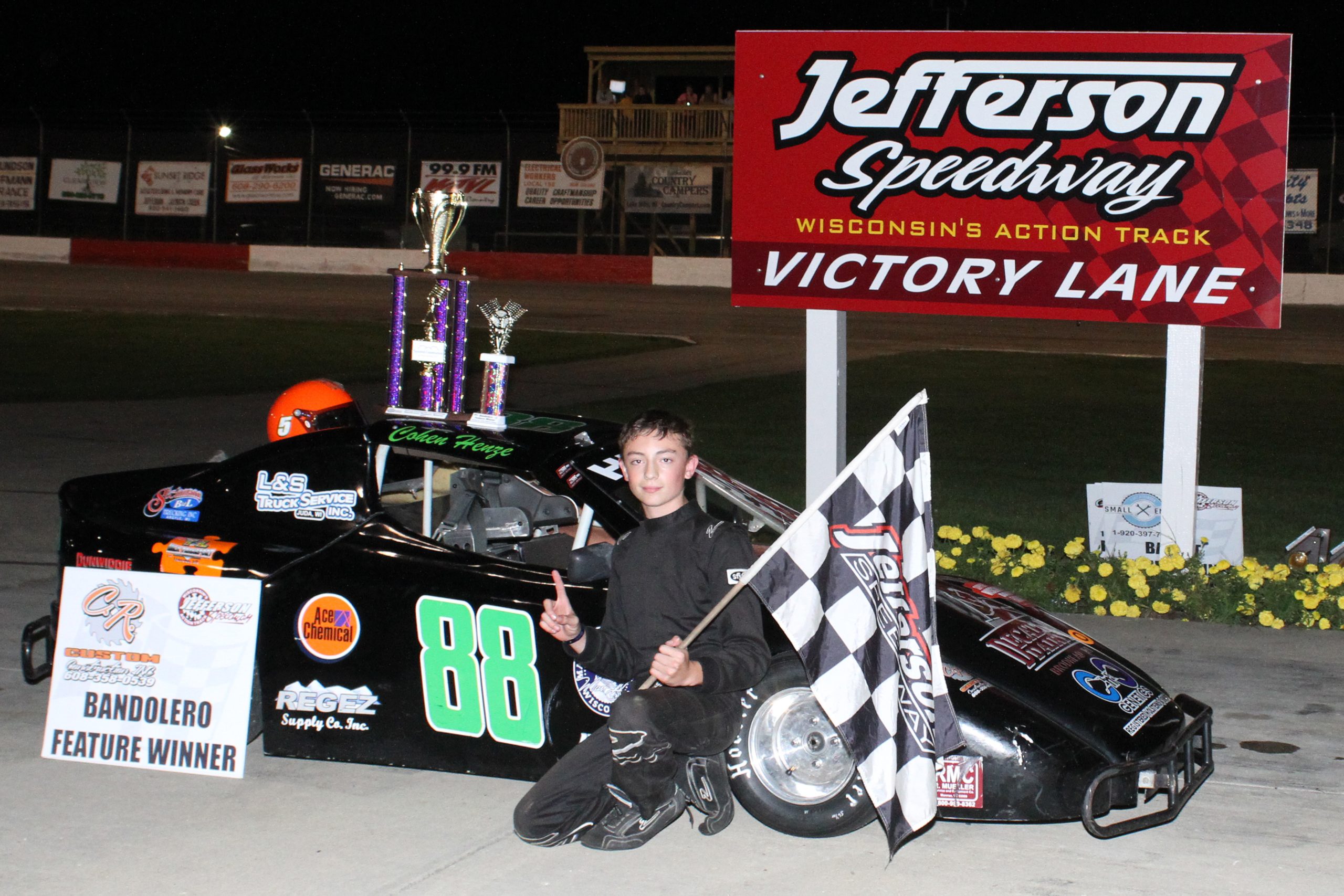 Nottestad Notches More Feature Wins
CAMBRIDGE, WI (Saturday, August 14, 2021)      5 time Jefferson Speedway Late Model champion, Dale Nottestad of Cambridge, continued to flex is championship muscle on Saturday night. The current point leader added two more feature wins to his 2021 racing resume by capturing the second half of twin 40 lap features which was rescheduled from July. He then proceeded to charge to the front of the field in the Taylored Construction 60 lap feature and held off a stout challenge from Jason Erickson to pick up his second victory of the night.
After rain cut the Benninger Concrete Construction Night on July 31 short before the completion of the program, the second half of twin 40 lap Late Model features was delayed until August 14. Will Rece and Ryan Weyer paced the pack to green as they battled for control. Rece eventually grabbed the lead on lap two just before the first of two cautions slowed the action. Rece and Weyer once again led the field back to green with Rece reclaiming the lead on the restart. Nottestad fired up to third on lap seven and closed in on Weyer for second. On lap ten, Nottestad began taking a peek under Weyer. After getting by for second, Nottestad quickly began to pressure the early leader. Nottestad drew even with Rece on lap 15, completing the pass on lap 17 as he began to cruise. Nottestad showed the way though a final caution with two laps to go, hanging on to secure the win. Rece finished second followed by Kolton Guralski, Weyer and Stephen Scheel.
The Taylored Construction 60 lap main event got underway with Bruce Lee and Ryan Laatsch at the front of the field. Lee took the early lead on lap one, bringing Shaun Scheel along for second. On lap two, Scheel dove under Lee, taking the top spot for himself until a caution on lap nine slowed the pace. Scheel reclaimed the lead on the restart as he began to stretch his advantage. Will Rece moved up to second on lap 11 with Nottestad in his tracks for third. On lap 14, Nottestad slipped under Rece, stealing the second position a lap later. Nottestad began to reel in Scheel at the front, catching the leader on lap 20. Nottestad dove under Scheel as they racing into turn three. After a brief battle, the point leader cleared for the lead and began to pull away. Meanwhile, Jason Erickson was slicing his way to the front of the field. By lap 33, Erickson was making his move for third around Rece. Scheel was next in Erickson's sights as he closed in on second. Erickson began to apply heavy pressure to Scheel on lap 40, as he searched for the way around. On lap 44, with Scheel trying to protect the low side, Erickson drove to the outside through turns three and four. Erickson completed the pass a lap later and began to chip away at Nottestad's lead. Erickson got a little closer to the leader every lap as Nottestad looked to save his equipment for a final shootout. The shootout became a reality on lap 54 when a caution slowed the pace. Erickson and Nottestad restarted side by side for the final six laps. The duo launched a great battle for the lead as racing resumed, running wheel to wheel and rubbing fenders. But an incident behind them caused a final yellow flag with only three laps remaining. Being scored the leader before the caution, Nottestad led the way back to green with Erickson filling up his rear view mirror. Erickson remained glued to the leader over the final three circuits. On the final lap through turns three and four, Erickson made one last attempt to get by Nottestad. But Nottestad carried enough momentum to cross the stripe first and get his seventh feature win of the season. Erickson settled for second with Rece, Scheel and Kolton Guralski rounding out the top five.
The Hobby Stock 30 lap main event was claimed by Jim Tate Jr of Doylestown. Jordan Lamb led early from the front row with Jordy Egli up to second on lap three. Egli stalked Lamb at the front while Tate made his up to them. Egli began to peek under Lamb as Tate pulled into third on lap ten. Egli drew even with Lamb on lap 11 while Tate watched closely from behind. Egli moved out front a lap later while Tate followed under Lamb into second. On lap 18, Tate got to the inside of Egli, moving his machine into the lead on lap 20. Chris Flairty made a late race pass for second, but Tate was already well on his way to claiming the win. Flairty was second followed by Egli, Shane Radtke and Dave Trute.
Aaron Moyer of Hartford picked up the 25 lap Legends feature event. Travis Rose and Logan Taylor led the field to green. Rose took the initial lead with Taylor fighting back alongside. Taylor moved out front on lap two allowing Tony Moyer to move up to second Rose as well. James Lynch stole second from Tony Moyer just before the first of two cautions appeared on lap nine. Taylor and Lynch paced the pack back to green with Taylor once again claiming the lead. On lap ten, Dillon Schwanbeck charged up to second and alongside Taylor. Schwanbeck put his mount on the point on lap 11 with Aaron Moyer in tow for second. Moyer quickly drew even with Schwanbeck, taking the lead just before the second caution on lap 15. Moyer and Lynch led the field back to green with Moyer moving back into the lead and Schwanbeck following up to second. A lap later, Schwanbeck slipped back by Moyer, bringing Lynch along with him for second. With five laps to go, Moyer got under Lynch as the top three continued to swap positions. Moyer got to second and charged up alongside Schwanbeck. The duo made contact as they entered turn three, allowing Moyer to move back out front with Lynch under Schwanbeck. Lynch cleared Schwanbeck for second while Moyer charged to the checkers to get the win. Lynch finished second with Schwanbeck in third. Taylor and Robbie Morrison completed the top five.
Nick Newton of Lake Mills captured the 20 lap Bandit feature event. Gaven Smothers led lap one from the pole with Ethan Degner back to second. A caution on lap seven pitted Smother and Degner on the front row for the restart. As racing resumed, a competitor slipped through the infield and clipped Smothers, spinning him in front of the field to force another yellow. Smothers was forced to restart at the rear with Degner and Tyler White side by side at the front. White grabbed the lead on the restart with Newton in tow for second. Newton began to work over White at the front of the field. After several attempts, Newton drew even with White on lap 15. A lap later, Newton was alone out front. Newton held off White in the closing laps to secure the win with White settling for second. Brandon Johnson was third followed by Zach Barnes and Matt Krinke.
Juda's Cohen Henze hung on to claim the 15 lap Bandolero feature event. After an early caution, Haylee Flairty led the way. On lap three, Axel Oldenhoff moved up to second with Henze in his tracks for third. On lap four Henze got under Oldenhoff to take away the runner up position. A lap later, Henze drove alongside Flairty, clearing for the lead before the second caution waved on lap six. Henze led the way back to green with Avery Linnerud now up to second. Linnerud began to challenge Henze for the top spot while Henze tried to fend him off. The pair of youngsters raced through two more cautions with Henze keeping Linnerud at bay. At the checkers, it was Henze for the win with Linnerud a close second. Flairty, Collin Murphy and Bentley Thompson rounded out the top five.
In Road Warrior action, it was Matthew Thoma of Jefferson scoring his first feature win in the 15 lap affair. Rodger Stephenson led early from the front row after a caution on lap two. Thoma raced up to second on the restart and immediately went to work on Stephenson. Thoma drew even with Stephenson on lap three, clearing for the top spot and quickly pulling away from the field. AJ Accardi made his way up to second by lap six, but Thoma's large advantage was too much to overcome as Thoma flew by the checkers first. Accardi finished second followed by Bill Reynolds, Stephenson and Garrett Meister.
Next Saturday, August 21, is a full program of racing with time trials at 4pm and racing at 6pm. Jefferson Speedway is located halfway between Jefferson and Cambridge on Hwy 18. Please visit jeffersonspeedway.com for more information.
JEFFERSON SPEEDWAY RACE SUMMARY
Late Model-
Make Up Feature from July 31, 2021
| | | |
| --- | --- | --- |
| Pos | Start Number | Competitor |
| 1 | 2N | Dale Nottestad |
| 2 | 15R | Will Rece |
| 3 | 56G | Kolton Guralski |
| 4 | 12W | Ryan Weyer |
| 5 | 4SC | Stephan Scheel |
| 6 | 33S | Dylan Schuyler |
| 7 | 94E | Jason Erickson |
| 8 | 8S | Shaun Scheel |
| 9 | 37R | Seth Reamer |
| 10 | 61E | Jerry Eckhardt |
| 11 | 18L | Ryan Laatsch |
| 12 | 3O | Laney Osborne |
| 13 | 41T | Mike Taylor |
| 14 | 9K | Paul Kisow |
| 15 | 40P | Scott Patrick |
| 16 | 97S | Kyle Smith |
| 17 | 47M | David Malisch |
| 18 | 16P | Tyler Petersen |
Qualifying
| | | | |
| --- | --- | --- | --- |
| Pos | Start Number | Competitor | Best Lap |
| 1 | 94E | Jason Erickson | 14.219 |
| 2 | 2N | Dale Nottestad | 14.376 |
| 3 | 4SC | Stephan Scheel | 14.43 |
| 4 | 37R | Seth Reamer | 14.436 |
| 5 | 12W | Ryan Weyer | 14.453 |
| 6 | 33S | Dylan Schuyler | 14.458 |
| 7 | 56G | Kolton Guralski | 14.5 |
| 8 | 9K | Paul Kisow | 14.509 |
| 9 | 11M | Bryce Miller | 14.517 |
| 10 | 8S | Shaun Scheel | 14.528 |
| 11 | 15R | Will Rece | 14.537 |
| 12 | 18L | Ryan Laatsch | 14.609 |
| 13 | 17R | Noel Ramge | 14.662 |
| 14 | 77L | Bruce Lee | 14.683 |
| 15 | 61E | Jerry Eckhardt | 14.686 |
| 16 | 97S | Kyle Smith | 14.693 |
| 17 | 47M | David Malisch | 14.811 |
| 18 | 17G | Cole Gray | 14.818 |
| 19 | 40P | Scott Patrick | 14.825 |
| 20 | 3O | Laney Osborne | 14.911 |
| 21 | 16G | Russ Grossen | 14.916 |
| 22 | 41T | Mike Taylor | 14.974 |
| 23 | 7K | Ed Kubicz | 15.152 |
| 24 | 36S | Steven Schlosser | 15.183 |
| 25 | 16P | Tyler Petersen | 15.24 |
| 26 | 20W | Dale Warner | 15.251 |
Heat Races
| | | |
| --- | --- | --- |
| Pos | Start Number | Competitor |
| 1 | 16G | Russ Grossen |
| 2 | 7K | Ed Kubicz |
| 3 | 47M | David Malisch |
| 4 | 17G | Cole Gray |
| 5 | 41T | Mike Taylor |
| 6 | 20W | Dale Warner |
| 7 | 3O | Laney Osborne |
| 8 | 36S | Steven Schlosser |
| | | |
| --- | --- | --- |
| Pos | Start Number | Competitor |
| 1 | 37R | Seth Reamer |
| 2 | 2N | Dale Nottestad |
| 3 | 97S | Kyle Smith |
| 4 | 33S | Dylan Schuyler |
| 5 | 77L | Bruce Lee |
| 6 | 18L | Ryan Laatsch |
| 7 | 8S | Shaun Scheel |
| | | |
| --- | --- | --- |
| Pos | Start Number | Competitor |
| 1 | 94E | Jason Erickson |
| 2 | 61E | Jerry Eckhardt |
| 3 | 56G | Kolton Guralski |
| 4 | 17R | Noel Ramge |
| 5 | 11M | Bryce Miller |
| 6 | 12W | Ryan Weyer |
| 7 | 15R | Will Rece |
Last Chance
| | | |
| --- | --- | --- |
| Pos | Start Number | Competitor |
| 1 | 61E | Jerry Eckhardt |
| 2 | 47M | David Malisch |
| 3 | 41T | Mike Taylor |
| 4 | 16G | Russ Grossen |
| 5 | 97S | Kyle Smith |
| 6 | 7K | Ed Kubicz |
| 7 | 40P | Scott Patrick |
| 8 | 17G | Cole Gray |
| 9 | 3O | Laney Osborne |
| 10 | 36S | Steven Schlosser |
| 11 | 20W | Dale Warner |
Feature
| | | |
| --- | --- | --- |
| Pos | Start Number | Competitor |
| 1 | 2N | Dale Nottestad |
| 2 | 94E | Jason Erickson |
| 3 | 15R | Will Rece |
| 4 | 8S | Shaun Scheel |
| 5 | 56G | Kolton Guralski |
| 6 | 17R | Noel Ramge |
| 7 | 61E | Jerry Eckhardt |
| 8 | 97S | Kyle Smith |
| 9 | 4SC | Stephan Scheel |
| 10 | 16G | Russ Grossen |
| 11 | 33S | Dylan Schuyler |
| 12 | 77L | Bruce Lee |
| 13 | 18L | Ryan Laatsch |
| 14 | 12W | Ryan Weyer |
| 15 | 41T | Mike Taylor |
| 16 | 11M | Bryce Miller |
| 17 | 37R | Seth Reamer |
| 18 | 47M | David Malisch |
Hobby Stock-
Qualifying
| | | | |
| --- | --- | --- | --- |
| Pos | Start Number | Competitor | Best Lap |
| 1 | 2T | Dave Trute | 15.487 |
| 2 | 114 | Chris Flairty | 15.576 |
| 3 | 4D | Bud Riedner | 15.616 |
| 4 | 27T | Jim Tate  Jr | 15.62 |
| 5 | 20G | Jevin Guralski | 15.72 |
| 6 | 26R | Chico Riedner | 15.772 |
| 7 | 52R | Shane Radtke Jr | 15.824 |
| 8 | 5R | Robbie Rucks | 15.839 |
| 9 | 0K | Jordan Egli | 15.845 |
| 10 | 01B | Mike Bollinger | 15.849 |
| 11 | 71D | Jason Dunn | 15.943 |
| 12 | 24E | Dalton Egli | 15.962 |
| 13 | 2W | Chester Williams | 15.983 |
| 14 | 41L | Jordan Lamb | 15.984 |
| 15 | 22B | Korey Bengsch | 15.992 |
| 16 | 55B | Lucas Buckingham | 16.01 |
| 17 | 33R | Jimmy Robinson | 16.015 |
| 18 | 05B | Tucker Bodendorfer | 16.018 |
| 19 | 10B | Jon Benniger | 16.059 |
| 20 | 22E | Chuck Egli | 16.099 |
| 21 | 23NB | Nick Bruley | 16.111 |
| 22 | 23JB | Jessica Breunig | 16.113 |
| 23 | 67N | RJ Nicholson | 16.167 |
| 24 | 8W | Chase Wangsness | 16.22 |
| 25 | 44H | Ryder Hebbe | 16.465 |
| 26 | 65S | Brandon Sanborn | 16.485 |
| 27 | 71T | Jamie Tate | 16.533 |
| 28 | 7W | Jim Wolf | 17.158 |
| DQ | 14R | Andy Raley | 16.009 |
Heat Races
| | | |
| --- | --- | --- |
| Pos | Start Number | Competitor |
| 1 | 67N | RJ Nicholson |
| 2 | 8W | Chase Wangsness |
| 3 | 44H | Ryder Hebbe |
| 4 | 23JB | Jessica Breunig |
| 5 | 65S | Brandon Sanborn |
| 6 | 71T | Jamie Tate |
| 7 | 23NB | Nick Bruley |
| | | |
| --- | --- | --- |
| Pos | Start Number | Competitor |
| 1 | 22B | Korey Bengsch |
| 2 | 10B | Jon Benniger |
| 3 | 05B | Tucker Bodendorfer |
| 4 | 22E | Chuck Egli |
| 5 | 55B | Lucas Buckingham |
| 6 | 33R | Jimmy Robinson |
| DQ | 14R | Andy Raley |
| | | |
| --- | --- | --- |
| Pos | Start Number | Competitor |
| 1 | 26R | Chico Riedner |
| 2 | 114 | Chris Flairty |
| 3 | 27T | Jim Tate  Jr |
| 4 | 01B | Mike Bollinger |
| 5 | 5R | Robbie Rucks |
| 6 | 24E | Dalton Egli |
| 7 | 41L | Jordan Lamb |
| | | |
| --- | --- | --- |
| Pos | Start Number | Competitor |
| 1 | 52R | Shane Radtke Jr |
| 2 | 2W | Chester Williams |
| 3 | 4D | Bud Riedner |
| 4 | 0K | Jordan Egli |
| 5 | 2T | Dave Trute |
| 6 | 20G | Jevin Guralski |
| 7 | 71D | Jason Dunn |
Consy
| | | |
| --- | --- | --- |
| Pos | Start Number | Competitor |
| 1 | 65S | Brandon Sanborn |
| 2 | 67N | RJ Nicholson |
| 3 | 23JB | Jessica Breunig |
| 4 | 44H | Ryder Hebbe |
| 5 | 8W | Chase Wangsness |
| 6 | 71T | Jamie Tate |
Last Chance
| | | |
| --- | --- | --- |
| Pos | Start Number | Competitor |
| 1 | 33R | Jimmy Robinson |
| 2 | 22E | Chuck Egli |
| 3 | 22B | Korey Bengsch |
| 4 | 10B | Jon Benniger |
| 5 | 23NB | Nick Bruley |
| 6 | 67N | RJ Nicholson |
| 7 | 65S | Brandon Sanborn |
| 8 | 05B | Tucker Bodendorfer |
| DQ | 14R | Andy Raley |
Feature
| | | |
| --- | --- | --- |
| Pos | Start Number | Competitor |
| 1 | 27T | Jim Tate  Jr |
| 2 | 114 | Chris Flairty |
| 3 | 0K | Jordan Egli |
| 4 | 52R | Shane Radtke Jr |
| 5 | 2T | Dave Trute |
| 6 | 2W | Chester Williams |
| 7 | 20G | Jevin Guralski |
| 8 | 4D | Bud Riedner |
| 9 | 26R | Chico Riedner |
| 10 | 41L | Jordan Lamb |
| 11 | 5R | Robbie Rucks |
| 12 | 33R | Jimmy Robinson |
| 13 | 10B | Jon Benniger |
| 14 | 01B | Mike Bollinger |
| 15 | 22B | Korey Bengsch |
| 16 | 22E | Chuck Egli |
| 17 | 24E | Dalton Egli |
| 18 | 71D | Jason Dunn |
Legends-
Qualifying
| | | | |
| --- | --- | --- | --- |
| Pos | Start Number | Competitor | Best Lap |
| 1 | 140 | Aaron Moyer | 15.643 |
| 2 | 27DS | Dillon Schwanbeck | 15.759 |
| 3 | 54S | Kenny Storkson | 15.792 |
| 4 | 76L | James Lynch | 15.93 |
| 5 | 7M | Ben Massman | 15.998 |
| 6 | 89O | Chad Olds | 16.001 |
| 7 | 32M | Robbie Morrison | 16.017 |
| 8 | 90G | Michael Guderski | 16.045 |
| 9 | 41R | Travis Rose | 16.122 |
| 10 | 41M | Tony Moyer | 16.156 |
| 11 | 4T | Logan Taylor | 16.178 |
| 12 | 57S | Mike Storkson | 16.293 |
| 13 | 7H | Emma Hunstiger | 16.55 |
| 14 | 04D | Donald Denman | 16.761 |
| 15 | 93R | Bill Ryan | 17.219 |
Heat Races
| | | |
| --- | --- | --- |
| Pos | Start Number | Competitor |
| 1 | 4T | Logan Taylor |
| 2 | 57S | Mike Storkson |
| 3 | 41M | Tony Moyer |
| 4 | 90G | Michael Guderski |
| 5 | 41R | Travis Rose |
| 6 | 04D | Donald Denman |
| 7 | 93R | Bill Ryan |
| 8 | 7H | Emma Hunstiger |
| | | |
| --- | --- | --- |
| Pos | Start Number | Competitor |
| 1 | 76L | James Lynch |
| 2 | 27DS | Dillon Schwanbeck |
| 3 | 32M | Robbie Morrison |
| 4 | 140 | Aaron Moyer |
| 5 | 54S | Kenny Storkson |
| 6 | 89O | Chad Olds |
| 7 | 7M | Ben Massman |
Feature
| | | |
| --- | --- | --- |
| Pos | Start Number | Competitor |
| 1 | 140 | Aaron Moyer |
| 2 | 76L | James Lynch |
| 3 | 27DS | Dillon Schwanbeck |
| 4 | 4T | Logan Taylor |
| 5 | 32M | Robbie Morrison |
| 6 | 89O | Chad Olds |
| 7 | 54S | Kenny Storkson |
| 8 | 90G | Michael Guderski |
| 9 | 7M | Ben Massman |
| 10 | 41M | Tony Moyer |
| 11 | 57S | Mike Storkson |
| 12 | 7H | Emma Hunstiger |
| 13 | 41R | Travis Rose |
| 14 | 93R | Bill Ryan |
| 15 | 04D | Donald Denman |
Bandit-
Qualifying
| | | | |
| --- | --- | --- | --- |
| Pos | Start Number | Competitor | Best Lap |
| 1 | 71J | Brandon Johnson | 14.38 |
| 2 | 15P | Carson Phillips | 14.439 |
| 3 | 61B | Zach Barnes | 14.576 |
| 4 | 41N | Nick Newton | 14.613 |
| 5 | 64R | Trent Rueth | 14.647 |
| 6 | 24W | Tyler White | 14.757 |
| 7 | 18S | Gavin Smothers | 14.776 |
| 8 | 165 | Ethan Degner | 14.81 |
| 9 | 12J | Ashlynn Jarlsberg | 14.813 |
| 10 | 5O | Ryan Oetzel | 14.924 |
| 11 | 133R | Waylon Robinson | 14.989 |
| 12 | 29K | Matt Krinke | 15.017 |
| 13 | 15K | David Kinjerski | 15.132 |
| 14 | 2W | Matt Weber | 15.384 |
| 15 | 4x | Dillon Eagan | 15.715 |
| 16 | 89K | Josh Kienbaum | 15.829 |
| 17 | 81B | Scott Barlass | 16.147 |
| 18 | 9B | Brian Brewster | 16.998 |
Heat Races
| | | |
| --- | --- | --- |
| Pos | Start Number | Competitor |
| 1 | 2W | Matt Weber |
| 2 | 89K | Josh Kienbaum |
| 3 | 81B | Scott Barlass |
| 4 | 9B | Brian Brewster |
| 5 | 4x | Dillon Eagan |
| 6 | 15K | David Kinjerski |
| | | |
| --- | --- | --- |
| Pos | Start Number | Competitor |
| 1 | 5O | Ryan Oetzel |
| 2 | 15P | Carson Phillips |
| 3 | 24W | Tyler White |
| 4 | 41N | Nick Newton |
| 5 | 29K | Matt Krinke |
| 6 | 165 | Ethan Degner |
| | | |
| --- | --- | --- |
| Pos | Start Number | Competitor |
| 1 | 71J | Brandon Johnson |
| 2 | 61B | Zach Barnes |
| 3 | 12J | Ashlynn Jarlsberg |
| 4 | 133R | Waylon Robinson |
| 5 | 18S | Gavin Smothers |
| 6 | 64R | Trent Rueth |
Feature
| | | |
| --- | --- | --- |
| Pos | Start Number | Competitor |
| 1 | 41N | Nick Newton |
| 2 | 24W | Tyler White |
| 3 | 71J | Brandon Johnson |
| 4 | 61B | Zach Barnes |
| 5 | 29K | Matt Krinke |
| 6 | 165 | Ethan Degner |
| 7 | 12J | Ashlynn Jarlsberg |
| 8 | 4x | Dillon Eagan |
| 9 | 2W | Matt Weber |
| 10 | 133R | Waylon Robinson |
| 11 | 18S | Gavin Smothers |
| 12 | 81B | Scott Barlass |
| 13 | 9B | Brian Brewster |
| 14 | 15P | Carson Phillips |
| 15 | 5O | Ryan Oetzel |
| 16 | 64R | Trent Rueth |
| 17 | 15K | David Kinjerski |
| 18 | 89K | Josh Kienbaum |
Bandolero-
Qualifying
| | | | |
| --- | --- | --- | --- |
| Pos | Start Number | Competitor | Best Lap |
| 1 | 52L | Avery Linnerud | 16.833 |
| 2 | 5C | Lincoln Cain | 16.849 |
| 3 | 88H | Cohen Henze | 16.997 |
| 4 | 11W | Kaeden Wangsness | 17.15 |
| 5 | 29O | Axel Oldenhoff | 17.203 |
| 6 | 7D | Easton Riedner | 17.221 |
| 7 | 9M | Collin Murphy | 17.525 |
| 8 | 08F | Haylee Flairty | 17.598 |
| 9 | 64B | Cooper Bodendofer | 17.728 |
| 10 | 22T | Bentley Thompson | 17.825 |
| 11 | 70K | Keegan Kehoe | 17.847 |
| 12 | 17W | Teegan Wangsness | 17.893 |
| 13 | 8J | Jayden Johnson | 17.95 |
| 14 | 60G | Chase Gottschalk | 17.981 |
| 15 | 19L | Brennan Lensing | 18.113 |
| 16 | 111K | Marianna Kubicz | 18.125 |
| 17 | 22G | Chase Gronert | 18.167 |
| 18 | 61E | Paegan Ellingson | 18.221 |
| 19 | 10B | Emily Billings | 18.396 |
| 20 | 06B | Parker Bodendorfer | 18.673 |
| 21 | 16L | Carli Lenz | 18.715 |
| 22 | 7J | Harley Johnson | 19.289 |
| 23 | 17L | Mason Lenz | 19.477 |
| 24 | 114 | Peyton Kubicz | 20.356 |
| 25 | 04B | Brycen  Boyer | 20.515 |
Heat Races
| | | |
| --- | --- | --- |
| Pos | Start Number | Competitor |
| 1 | 10B | Emily Billings |
| 2 | 16L | Carli Lenz |
| 3 | 04B | Brycen  Boyer |
| 4 | 7J | Harley Johnson |
| 5 | 114 | Peyton Kubicz |
| 6 | 06B | Parker Bodendorfer |
| 7 | 17L | Mason Lenz |
| | | |
| --- | --- | --- |
| Pos | Start Number | Competitor |
| 1 | 22G | Chase Gronert |
| 2 | 61E | Paegan Ellingson |
| 3 | 19L | Brennan Lensing |
| 4 | 111K | Marianna Kubicz |
| 5 | 60G | Chase Gottschalk |
| 6 | 8J | Jayden Johnson |
| | | |
| --- | --- | --- |
| Pos | Start Number | Competitor |
| 1 | 17W | Teegan Wangsness |
| 2 | 22T | Bentley Thompson |
| 3 | 08F | Haylee Flairty |
| 4 | 9M | Collin Murphy |
| 5 | 64B | Cooper Bodendofer |
| 6 | 70K | Keegan Kehoe |
| | | |
| --- | --- | --- |
| Pos | Start Number | Competitor |
| 1 | 5C | Lincoln Cain |
| 2 | 7D | Easton Riedner |
| 3 | 52L | Avery Linnerud |
| 4 | 29O | Axel Oldenhoff |
| 5 | 11W | Kaeden Wangsness |
| 6 | 88H | Cohen Henze |
Consy
| | | |
| --- | --- | --- |
| Pos | Start Number | Competitor |
| 1 | 10B | Emily Billings |
| 2 | 7J | Harley Johnson |
| 3 | 06B | Parker Bodendorfer |
| 4 | 114 | Peyton Kubicz |
| 5 | 04B | Brycen  Boyer |
| 6 | 16L | Carli Lenz |
| 7 | 17L | Mason Lenz |
Last Chance
| | | |
| --- | --- | --- |
| Pos | Start Number | Competitor |
| 1 | 61E | Paegan Ellingson |
| 2 | 8J | Jayden Johnson |
| 3 | 19L | Brennan Lensing |
| 4 | 10B | Emily Billings |
| 5 | 22G | Chase Gronert |
| 6 | 17W | Teegan Wangsness |
| 7 | 7J | Harley Johnson |
| 8 | 60G | Chase Gottschalk |
| 9 | 111K | Marianna Kubicz |
| 10 | 70K | Keegan Kehoe |
Feature
| | | |
| --- | --- | --- |
| Pos | Start Number | Competitor |
| 1 | 88H | Cohen Henze |
| 2 | 52L | Avery Linnerud |
| 3 | 08F | Haylee Flairty |
| 4 | 9M | Collin Murphy |
| 5 | 22T | Bentley Thompson |
| 6 | 11W | Kaeden Wangsness |
| 7 | 61E | Paegan Ellingson |
| 8 | 8J | Jayden Johnson |
| 9 | 29O | Axel Oldenhoff |
| 10 | 19L | Brennan Lensing |
| 11 | 5C | Lincoln Cain |
| 12 | 10B | Emily Billings |
| 13 | 64B | Cooper Bodendofer |
| 14 | 7D | Easton Riedner |
Road Warrior-
Qualifying
| | | | |
| --- | --- | --- | --- |
| Pos | Start Number | Competitor | Best Lap |
| 1 | 14A | AJ Acardi | 16.465 |
| 2 | 38R | Bill Reynolds | 16.486 |
| 3 | 9T | Matthew Thoma | 16.624 |
| 4 | 8R | Brittany Reynolds | 16.646 |
| 5 | 15G | Aaron Genske | 17.011 |
| 6 | 21M | Garrett Meister | 17.096 |
| 7 | 16S | Roger Stevenson | 17.392 |
| 8 | 17Z | Kevin Zimmerman | 17.647 |
| 9 | 22C | Myles Cowley | 19.087 |
Heat Races
| | | |
| --- | --- | --- |
| Pos | Start Number | Competitor |
| 1 | 21M | Garrett Meister |
| 2 | 16S | Roger Stevenson |
| 3 | 17Z | Kevin Zimmerman |
| 4 | 38B | Scott Barlass |
| | | |
| --- | --- | --- |
| Pos | Start Number | Competitor |
| 1 | 8R | Brittany Reynolds |
| 2 | 38R | Bill Reynolds |
| 3 | 14A | AJ Acardi |
| 4 | 9T | Matthew Thoma |
| 5 | 15G | Aaron Genske |
Feature
| | | |
| --- | --- | --- |
| Pos | Start Number | Competitor |
| 1 | 9T | Matthew Thoma |
| 2 | 14A | AJ Acardi |
| 3 | 38R | Bill Reynolds |
| 4 | 16S | Roger Stevenson |
| 5 | 21M | Garrett Meister |
| 6 | 15G | Aaron Genske |
| 7 | 17Z | Kevin Zimmerman |
| 8 | 38B | Scott Barlass |
| 9 | 8R | Brittany Reynolds |